Wi-Fi networks have evolved tremendously over the last few years. The latest technology that can take your home Wi-Fi to the next level is mesh networking. So, what's unique about this mesh network you may ask? Well, suppose you live in a huge house with several rooms separated by walls built out of solid concrete, a regular Wi-Fi router will simply not be good enough for providing an adequate range. This is exactly where Wi-Fi mesh routers come into play and show their prowess.
There are already plenty of mesh routers are available in the market right now. You may have a hard time deciding on which one to go for. Here are the 7 best Wi-Fi mesh routers to ensure maximum Wi-Fi range.
What is WiFi Mesh Routers?
These routers are designed to fill every nook and corner. Mesh is to offer Wi-Fi coverage that's free of any dead spots. The network range of a conventional Wi-Fi router can be improved with the help of a range extender. However, the results are nowhere close to what these mesh routers have to offer. The technology has in fact been used way earlier for federal and military applications, where the signal strength is absolutely crucial.
The Wi-Fi routers working is pretty straightforward. These devices make use of multiple access points that are totally spread out in a given area. This is to ensure maximum possible coverage.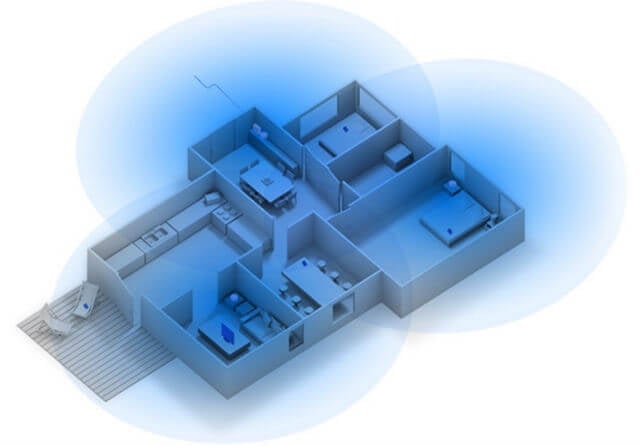 The covered area is significantly the better option when compared to a single high-end router. Drop-offs, buffering, slow and dead spots can be nearly eliminated with these high-end mesh routers. If you're currently living in a huge home with at least 3000 square feet, you will be able to immediately notice significant improvements in your home Wi-Fi network by purchasing a Wi-Fi mesh router.
Related: Best Portable WiFi Routers for Travelers.
Best WiFi Mesh Routers
If you're still sticking with a conventional router, it's high time to upgrade your home Wi-Fi to a mesh network. Mesh Routers can significantly enhanced coverage that's free of dead spots, drop-offs and buffering.
Eero Pro Wi-Fi System
This is the company that pretty much started the craze for home mesh networking. For gaining such a reputation, the company doesn't fail to impress us with their Pro Wi-Fi system. This includes three Eeros, that's fully capable of covering a 3-5 bedroom home. Thanks to the inclusion of three Eeros. The Pro Wi-Fi system will be able to provide a powerful tri-band mesh. Make no mistake, as this is the second generation Eero that we're talking about. You can expect the performance to be twice as fast. The Wi-Fi system supports both MU-MIMO and beamforming, so we've got no doubts regarding its potential.


The Eero has two auto-detecting Ethernet ports that allow you to connect to your modem and any other device, say an Ethernet switch or printer. Unlike several other home Wi-Fi systems and traditional routers, Eeros receive automatic security updates frequently. In case a new threat arises, an update can be made immediately, so there's nothing to worry in this regard. The companion app for the Eero is pretty simple and straightforward so that even beginners find it easy to understand. All in all, this home mesh Wi-Fi system is literally perfect for Ethernet-wired homes, if you're looking for the best possible performance.
Buy from Amazon
Google WiFi System
Coming from a hugely popular and reputed brand, we have no doubts regarding the potential and quality of the Google Wi-Fi system. Thanks to the use of mesh networking, Google Wi-Fi will be able to provide coverage throughout your home, regardless of its size, and also help in eliminating dead zones and buffering. A single Google Wi-Fi point covers up to 1500 sq. ft, but considering that the entire system comes with a set of three points, you'll be able to cover homes up to 4,500 sq. ft in size. If that's still not good enough for you, additional Wi-Fi points can be purchased for even more coverage.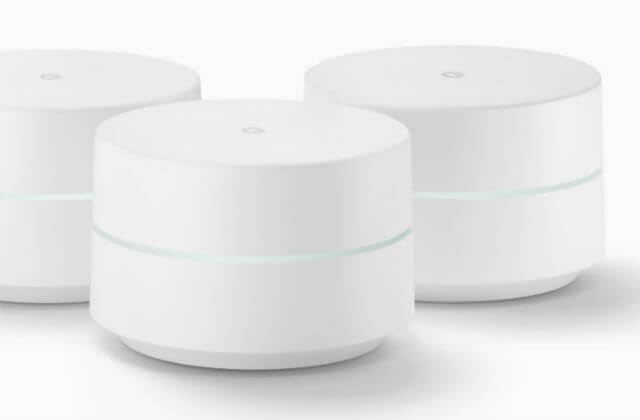 The Google Wi-Fi system adopts a technology called Network Assist, that keeps the connection fast by always selecting the clearest channel and fastest band for all your devices. Unlike most Wi-Fi routers that are currently out there on the market, the Google Wi-Fi has no web-based interface. Instead, the only way to set up and control this network is by making use of the new Google Wi-Fi mobile application that's available for both iOS and Android devices. The app is polished and neatly designed with uncluttered controls that let you check out what's connected, prioritize devices and restrict Wi-Fi access on children's devices.
Buy from Amazon
Linksys Velop Triband Home Wi-Fi Mesh System
Next, on the list, we've got a powerful tri-band Wi-Fi mesh system that's capable of covering even the biggest homes, as the maximum range goes all the way up to 6000 sq. ft, due to the inclusion of 3 nodes, each of them providing 2000 sq. ft coverage. This mesh Wi-Fi solution is built to connect with each other in a single network configuration. Suppose a node loses connection, the remaining units will automatically re-establish the internet connection, so there's no need to worry as far as this department is concerned.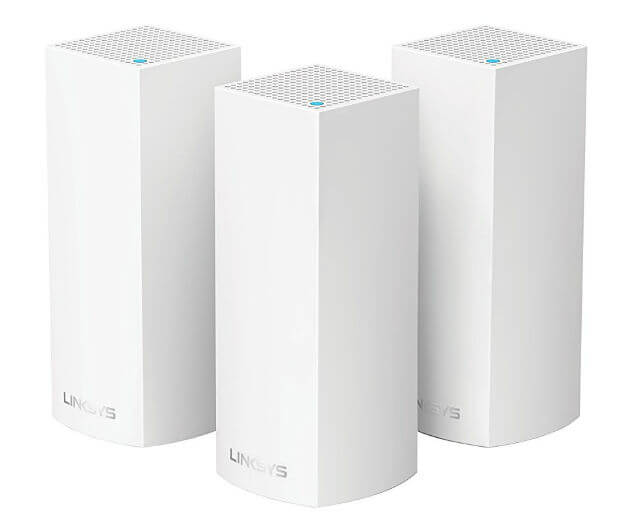 Similar to the other mesh routers that we discussed above, the Linksys Velop comes with a companion app that guides users through a quick setup process. It's pretty simple to use and lets you set parental controls, guest networks, auto-fix node using a smartphone and much more. Due to the dynamic tri-band technology that the Google Wi-Fi packs, Velop will be able to provide super-fast speeds through its combination of three Wi-Fi radios. That being said, the icing on the cake is support for Amazon Alexa voice assistant, thereby letting you use voice for controlling your new home mesh Wi-Fi system.
Buy from Amazon
Luma Whole Home Wi-Fi
There are three hexagon-shaped modules included in this home Wi-Fi system that promises to cover any home up to 3000 sq. ft without any dead zones and buffering. This mesh network automatically scans and neutralizes any malware that's detected, to make sure your devices remain protected. Smart parental controls let you restrict the Wi-Fi access to children, by setting a user rating of G, PG or PG-13 for each person on the Wi-Fi network. It's worth keeping in mind that this is just a dual-band router and not a tri-band router like some of the devices featured in this list. However, it's powered by quad-core Qualcomm processors, so we've got no complaints regarding Luma's performance.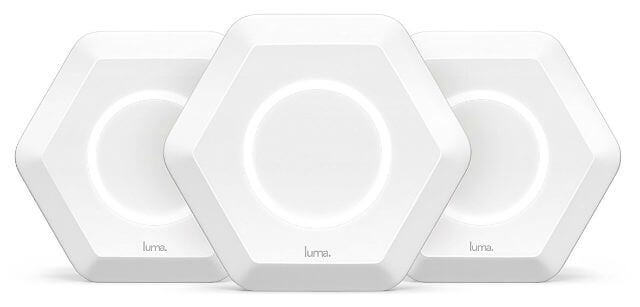 Just like the other mesh routers that we discussed above, the Luma Home Wi-Fi system includes a companion app that's available for both Android and iOS, with which you'll get complete control over your router. The app also lets you know all the devices that are connected to the Wi-Fi network and everything they're doing on it. Similar to Linksys Velop, the Luma fully supports Amazon Alexa voice assistant, so that you can control your home Wi-Fi without even using your hands. Compared to the Eero, the Luma is much more affordable, thereby making it an option that you simply cannot resist.
Buy from Amazon
Netgear Orbi Home Wi-Fi System
When it comes to Wi-Fi routers, Netgear has a huge reputation and fan following. A Mesh Wi-Fi system from this brand is something that was much awaited. The Orbi Router manages to live up to the expectations. The Netgear Orbi comes with two Wi-Fi satellites those are capable of providing a range up to 5000 sq. ft. However, you can boost the coverage even further by purchasing an additional satellite separately. The Wi-Fi system supports tri-band technology. With this, the data flow for your connected devices is well-maintained using a dedicated backhaul connection. Dead spots and drop-offs should no longer be a concern to you once you start using the Orbi.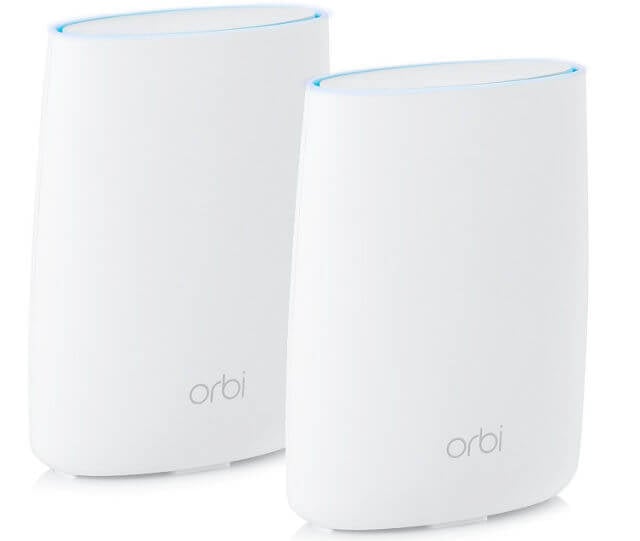 Setting up the Orbi is quite simple and can be quickly done by making use of the Orbi app that's available for Android and iOS devices. All you got to do is, plug in your system, and follow the simple instructions displayed on the PC or mobile device, to get the entire home online. This tri-band Wi-Fi system provides a single Wi-Fi network for every single device at your home. Users will also be able to set up a separate and secure Wi-Fi network for visitors and guests to use. That being said, one of the standout features of the Netgear Orbi is its Amazon Alexa support. This lets users control their Wi-Fi system with just their voice.
Buy from Amazon
Samsung Connect Home Mesh Wi-Fi System
Next, on the list, we've got a smart home Wi-Fi system with mesh networking from Samsung. It's capable of covering homes up to 4500 sq. ft, without leaving any dead spots, drop-offs and buffering. This blanket covering is to be expected from a mesh Wi-Fi system with three nodes. Coming from Samsung, the Home Mesh Wi-Fi system fully supports Smart Home Hub functionality. Samsung Connect lets you easily connect electronic devices including cameras, lights and voice assistance. This Wi-Fi system comes in a pack of 3. If you want even more coverage, you can purchase additional modules separately.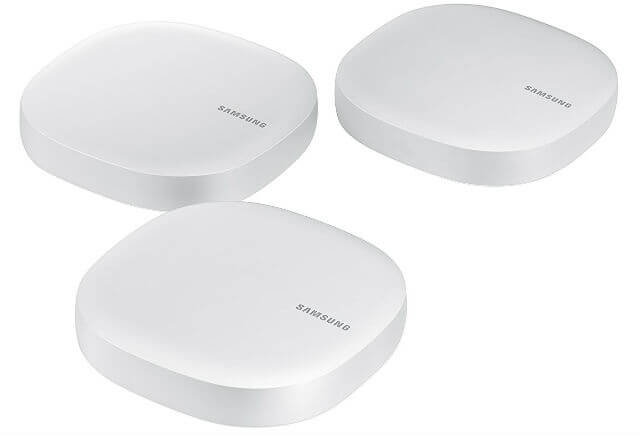 Users will be able to set up and configure their Wi-Fi networks by making use of the Samsung Connect app that's available for iOS and Android devices. Setting up parental controls and creating network access for guests have been made easy with the help of this application. Manufacturer claim that this Wi-Fi system is capable of providing speeds up to 866 MHz on the 5 GHz band. This is an impressive number, to say the least. For an asking price of just under 280 bucks, we think this router-cum-smart hub that eliminates dead spots and drop-offs is worth every penny that you're paying for.
Buy from Amazon
TP-Link Deco M5 Home Wi-Fi Mesh System
TP-Link has gained popularity for pricing their Wi-Fi routers aggressively compared to their competition. Deco M5 Home Wi-Fi mesh system is no exception in that regard. Deco comes in a pack of three, where each module is capable of offering coverage up to 1500 sq. ft. TP-Link's Adaptive Routing Technology chooses the fastest path for device connections and keeps the Wi-Fi network running fast. The Wi-Fi system also supports the company's HomeCare feature, that brings comprehensive security in a home Wi-Fi system. It also features built-in antivirus and malware protection, which is powered by Trend Micro.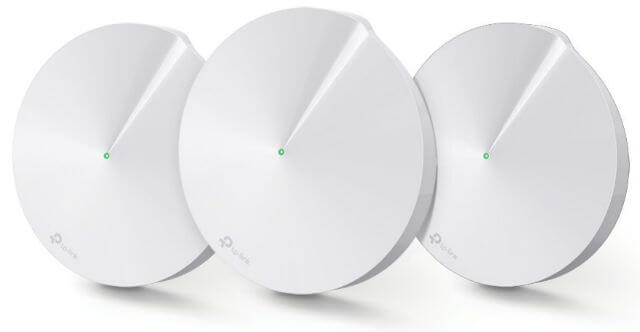 Drop-offs, dead spots and buffering will no longer be a problem once this Wi-Fi system is installed in your house. Users will be making use of the Deco app to control their home Wi-Fi. This app lets you adjust parental controls and create separate accounts for guests. The maximum coverage of 4500 sq. ft provided by these three nodes. You can purchase an additional unit for even better coverage. Users will also be able to prioritize bandwidth depending on the tasks. This is to make sure the best performance from every device. With prioritization, you can keep your preferred connections running fast.
Buy from Amazon
Well, Are you interested in getting your hands on Mesh WiFi? We're glad that we could list some of the best home Wi-Fi mesh systems, available in the market. Depending on your budget and coverage requirements, your choices may vary. So, which one of these mesh Wi-Fi routers are you planning to go for, and why? Do let us know in the comments section down below.