Smart keys are replacing the need for physical keys. You don't need your physical key if you have Airbnb or rented properties. You can instantly set access and remove access right from your smartphone. Just in case the client doesn't want to use the smartphone, you can create a temporary PIN for them. Smart locks allow hosts to give guests temporary access to their properties without exchanging keys, eliminating lost keys and late check-ins.
To help you find the best smart lock for Airbnb properties, we have compiled a list of products below.
SwitchBot Wi-Fi Smart Lock with Wireless Keypad
What We Like: WiFi and Bluetooth | Durable Design | Minimal Installation | SwitchBot App Support | Alexa and Google Assistant Support | 7 Unlocking Methods | 6 Month Battery backup
The SwitchBot WiFi Smart Lock is simply great. It is minimalistic in design and extremely smart when it comes to smart features. Compared to all those high-end smart WiFi Door Locks, the SwitchBot Door Lock does have what it takes to be the number one, and that too at a fraction of the cost.
You can make this Smart Lock more powerful with the fingerprint Keypad, offering you multiple ways to access it. This deal you see here is a combo that includes the SwitchBot Door Lock, the Keypad, and the SwitchBot Hub Mini. You could even get the Door Lock alone at an exciting price of just below $100.
The single most exciting and user-friendly aspect of this smart door lock is that you can get it installed all by yourself. You don't need additional tools or any rewiring; all you need to do is fix it into your existing deadbolt. Once done, the unit works by itself once you are near the door. And yes, the SwitchBot Door Lock works well with almost all existing door locks.
SwitchBot Wi-Fi Smart Lock Review: Convert Your Door Lock to Smart in Minutes
Sifely Keyless Entry Door Lock
Today's Deal: $30.00 Off
What We Like: Temporary Key Generation | Smartphone App | Easy Installation | Supports Google Assistant and Alexa | Access Log Monitoring | Works on 4 AA batteries
The Sifely smart door lock is a convenient and secure option for homeowners, property managers, and tenants of Airbnb and other short-term accommodation providers. A key can be generated remotely and then sent to guests. The fingerprint reader, code keypad, key fob, smartphone app, and traditional keys all work together in this state-of-the-art keyless entry smart door lock.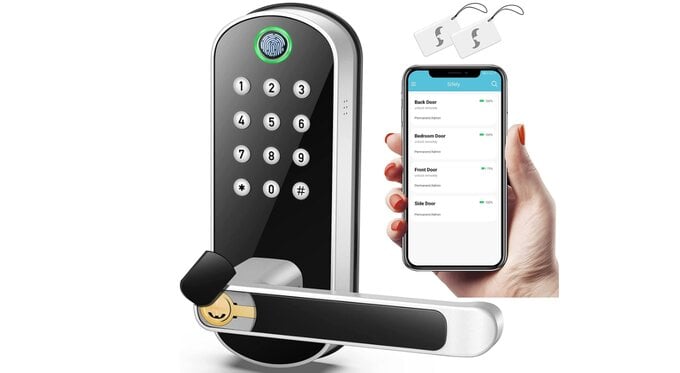 Using only a Phillips screwdriver, the Sifely Door Lock may be installed in minutes. The doorknob can be switched to suit either left- or right-handed use. When used with the Sifely WiFi Gateway, smart door locks may be locked and unlocked from afar, customized with PIN codes, and monitored in real time.
The device operates on 4 AA batteries, which should last a full year. Both Alexa and Google Assistant can be used with the Smart Lock. For Airbnb owners, an access log monitoring system keeps track of visitors.
Hornbill Wi-Fi & Bluetooth Smart Lock with G2 Gateway
What We Like: G2 Gateway enables voice assistant access | Auto lock after 5 seconds | Anti-peep technology | Easy to install | Temporary Access keys | Manual Key entry available
Hornbill Smart Lock enables you to grant temporary access for a set period of time (a few weeks, a few hours, etc.) and then withdraw that access whenever you need to. Make a temporary access code available to visitors, staff, and guests. Eliminate the risks of misplacing, losing, or duplicating your keys. You can use your phone, the keypad, or a mechanical key to lock and unlock it. Manage who has access to your keyless building and when from the palm of your hand. Works with the Alexa and Google Assistant voice assistants using the included G2 gateway.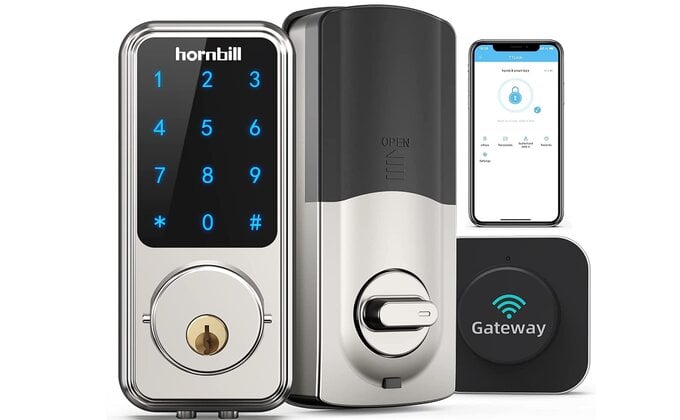 The Hornbill Smart Lock can automatically lock when you're not home after 5 to 120 seconds. Incorrect passcode attempts will trigger a 5-minute lockout on this smart lock. The latest anti-peep technology allows it to snap pictures of would-be invaders. Simple installation requires only a screwdriver and a drill, which takes no more than half an hour.
Eufy Smart Lock Touch & WiFi Review: Finally A Stylish Door Lock with WiFi
Hornbill Smart Door Lock with Keypad
What We Like: Anti-peep technology | Smartphone-based access control | Low battery alerts | Traditional key supported | Autolock within 5 minutes | Temporary access and revoke
With Hornbill Smart Lock, you can provide access for a limited duration and revoke it at any point. Provide guests, visitors, and staff with a temporary access code. Prevent the hassle and potential danger of losing or having duplicate keys made by installing keyless entry. Locking and unlocking it is possible via the smartphone app, keypad, or traditional key.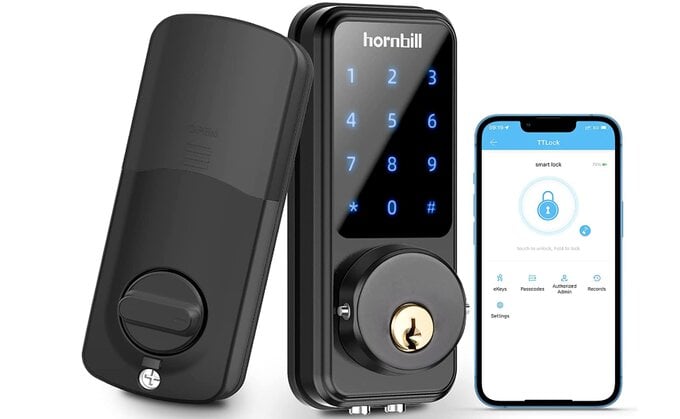 Hornbill Smart Lock has an automated locking feature that can be set from 5 to 120 seconds. This smart lock has a 5-minute lockout timer that activates after three unsuccessful passcode tries. With its cutting-edge anti-peep technology, it can take images of intruders. The setup process takes less than half an hour and only requires a screwdriver and a drill. The smart lock keyless will alarm or provide an app-based status update when its power supply is low.
SMONET Keyless Entry Door Lock
Today's Deal: $60.00 Off
What We Like: Electronic Key Sharing Support | Built-in Backlight | Powered by 4AA Batteries – lasts six months | Automatic Lock | 300 Unique Codes | 1000 Individual fobs | Aluminum body
The SMONET 7-in-1 smart lock can be unlocked with various methods, including a PIN, app-based login, fingerprint, fob, or key. This smart lock is compatible with both Google Home and Alexa. Electronic key sharing is available on this smart deadbolt lock. It boasts an aluminum body, an in-built backlight, and a long battery life; just 4 AA batteries can power 5000 uses (approx. six months).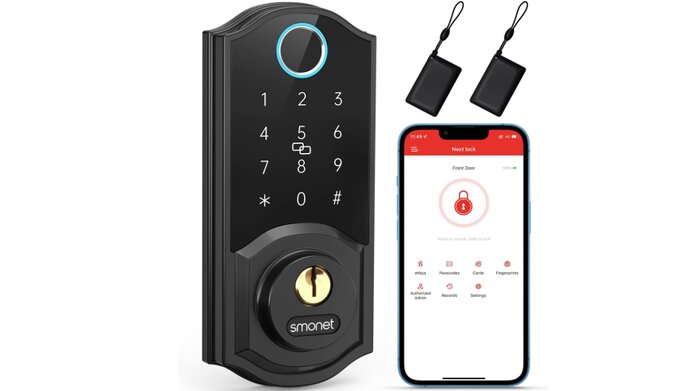 If you enter the wrong password too many times, the SMONET Smart Keyless Door Lock will lock itself for 5 minutes for your protection. It can recognize fingerprints in under half a second. You can program up to 300 unique passcodes and 1000 individual IC fobs (2 fobs supplied). Installing this electronic door lock takes 20 minutes and a Phillips screwdriver.
Hornbill Smart Door Lock Works with TTLock
What We Like: TTLock App supported | Anti-peeping protection | IP65 Water resistant | Anti-impact Zinc Alloy | Low battery alarm | Electronic Key based access
The Hornbill Keyless Entry Lock may be unlocked and locked using Bluetooth, the TTLock app, the electronic keypad passcode, or the physical keys. Use the app to create unique passcodes, revoke or change existing ones, and adjust Access Permissions as needed. Anti-peeping protection enables a secure unlock experience. The IP65 water resistance allows a weatherproof operation.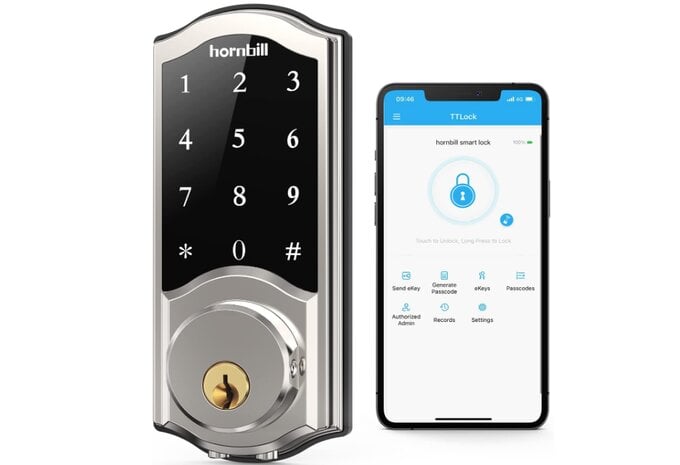 In accordance with your requirements, you can provide an electronic key to the family or tenant or grant administrative access. With the included screwdriver and drill, you can install the hornbill deadbolt lock in a matter of minutes. Anti-impact Zinc Alloy construction makes it ideal for industrial settings. The deadbolt locks for 5 minutes if the wrong code is entered five times. It also has a low battery alarm for notifying and support for a backup battery.
The Ultimate Buying Guide for Smart Door Locks
Lockly Secure Plus Bluetooth Smart Lock
Today's Deal: $47.20 Off
What We Like: Secure Plus Patented PIN keypad | Saves 99 fingerprints | Supports Google Assistant and Alexa | Electronic Key (ekey) access | Offline access codes | Real-time monitoring enabled
The Lockly Secure Plus Patented PIN Genie keypad features four virtual buttons, each of which may be programmed to one of three different numbers. The PIN location is shuffled after each usage, so the digits are always different. Lock opening in 0.5 seconds after fingerprint detection and ultra-fast access in 0.3 seconds. The next-generation 3D biometric fingerprint sensor can save up to 99 unique prints.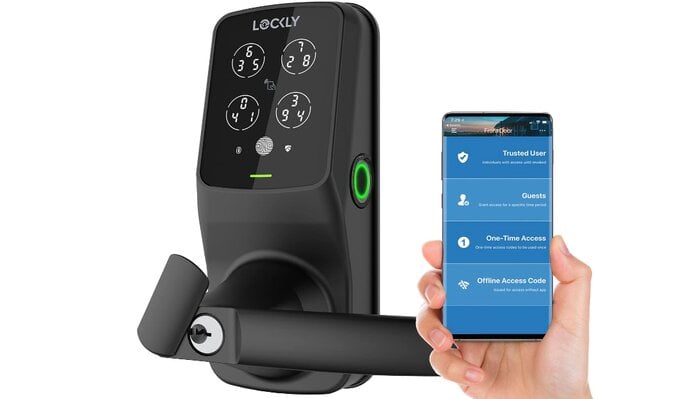 The Lockly App's mobile control features make it possible to lock and open your door from anywhere. Use your voice to unlock, lock, or check the status of your door locks with the help of Alexa or Google Assistant. With this door's customizable auto-lock feature, you'll never have to worry about forgetting to secure it. Lockly's e-keys and badges make revoking access for guests and friends easy. Only approved users can obtain offline access codes and provide real-time monitoring and alerts.
SMONET Bluetooth Keyless Entry Keypad
Today's Deal: $45.00 Off
What We Like: 0.5-second fingerprint unlock | Anti-peeping function | Unique code generation | 4AA Batteries for 12 months operation | Backup Power source support | Works with Google Assistant and Alexa
SMONET Smart Lock can identify your fingerprint in half a second and unlock the door in one, far quicker than fumbling about for your keys. It works with both the Alexa and Google Assistant platforms. It allows you to use your phone, a keypad, fingerprint, an IC fob, or even mechanical keys to open the door. You will have real-time access to data on who unlocked the door and who entered an incorrect passcode. For added security, you can use the Anti-Peeping option, which requires entering a random passcode before or after the actual password.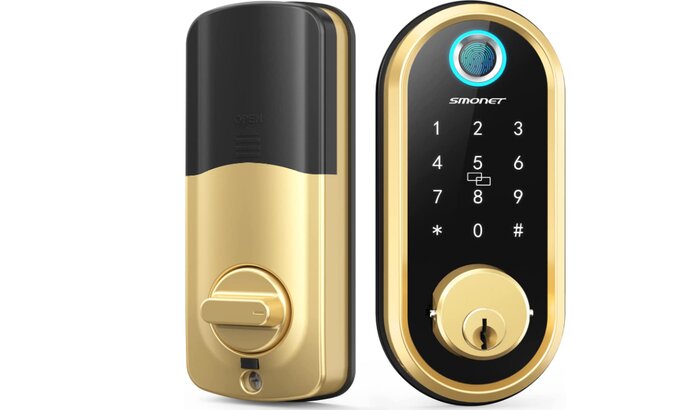 Guests, friends, housekeepers, and workers can all have unique passcodes thanks to the Code Door Lock's flexible settings. Its touchscreen interface is easy to use, and its alloy construction and lengthy battery life (4 AA batteries) allow it to unlock 10,000 doors (approx. 12 months). If you enter the incorrect password more than five times, the device will lock itself for five minutes. Using a backup power source, you can regain access to your Smart Lock once it has low battery life.
7 Best Smart Desk AI Robots for Adults and Kids
Hornbill Keyless Entry Digital Front Door Lock with Gateway Hub
What We Like: Bluetooth unlock | Electronic Key Sharing (ekey sharing) | 4 AA Batteries (six-month battery life) | TTLock App support | Track Unlock data in real-time | Zinc Alloy construction
The Hornbill Smart Door Lock is a Bluetooth door lock that can be unlocked with a passcode, unlocked remotely, with e-key sharing support, and locked automatically using a smartphone app. If the wrong passcode is entered more than five times, the electronic deadbolt will lock itself for five minutes. A single set of 4 AA batteries may power it for up to 5000 uses (approx six months). The app also provides a real-time battery life indicator.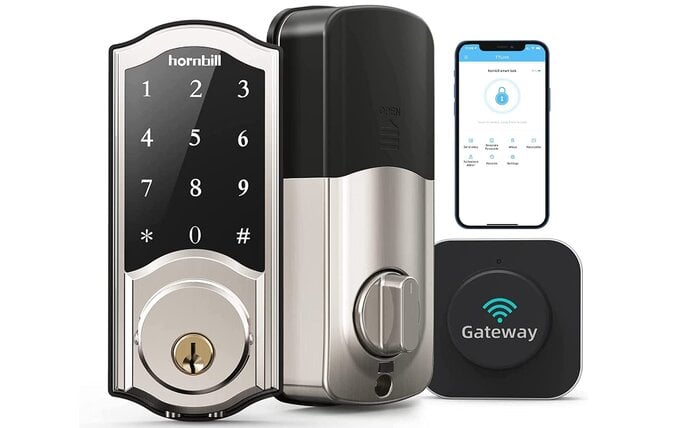 Locking and unlocking your Hornbill Smart Lock can be done with a key, the TT Lock app, a keypad, Alexa, or by hand. You can do it remotely if you're away from home and want to lock or unlock your door. The app allows users to track unlock data in real time, making it ideal for administering newly acquired home furnishings, workplace supplies, and residential real estate. This digital door lock's front and rear panels are constructed of Zinc Alloy, making them anti-impact and well-suited to industrial settings.
SMONET Touchscreen Keypad Deadbolt
What We Like: Full HD OLED Keypad Display | 4 AA Battery operation | Zinc Alloy construction | Anti-peeping technology | Combined unlock – Password + Ekey or Smartphone + Ekey | Supports Google Assistant and Alexa
There is an Intimate EKEY feature built into SMONET Digital DeadBolt that allows you to grant access to specific users of the app. It works with both Google Home and Amazon's Alexa. The SMONET Smart Lock has a Full HD OLED screen, a Zinc Alloy casing, a longer battery life than comparable products, and it operates on just 4 AA batteries which last for approx. six months.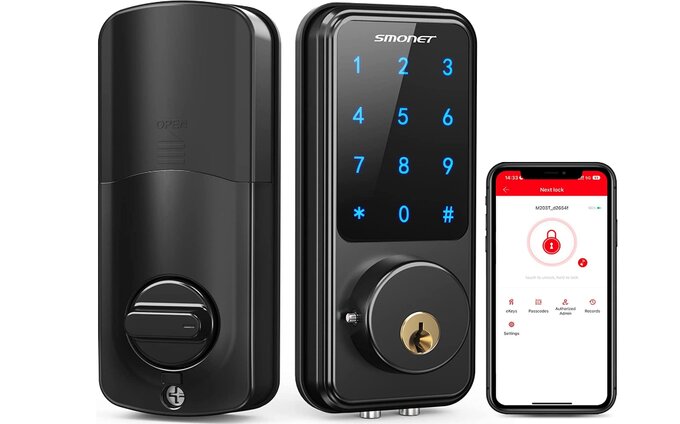 If the wrong password is entered more than five times, the keypad will lock automatically for five minutes. Unlock/Lock Anytime when within Bluetooth range; unlocking is possible even when not online. You can purchase SMONET WiFi Bridge to connect without Bluetooth if you find yourself out of range. The unlocking technique uses code + smartphone (Hit Unlock button to unlock, long press Lock/enter the passcode and press "#" to unlock) + e-key, shared password, Alexa unlocks, and e-key.
A high-quality smart lock can greatly improve the safety and efficiency of your Airbnb. Depending on how much security you need and what you already have, you might not be able to use just any smart lock. These are the best smart Airbnb door lock products that you can find reasonably priced and offer great value for money.