SSD based laptops, whether a Windows or MAC operating system, can speed up and extend laptop battery life. There are certain things you should know to handle SSD laptop. This guide describes all about Solid State Drives and Monitoring Tools that must read while you work with SSD based laptop.
Since there are no moving parts, SSDs are shock proof and capable of writing & reading data faster than spinning hard drive. Here, we are listing all the tips and tweaks an SSD user should know. This will help the user to keep the performance and lifespan of Solid State Drive.
If you are still working on a Hard Disk Drive based Laptop, this is the time to upgrade to SSD. Based on the performance and speed improvement that offer by SSD, it is worth to invest in Solid State Drive.
What is a Solid State Drive?
Solid State Drive is a non-volatile flash-based memory and a good alternative to Hard Disk Drive. SSDs have no moving parts and saving data on a flash-based memory.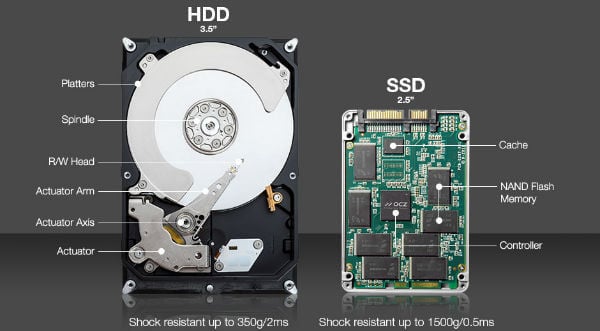 Compare to Hard Disk Drive's spinning head technology, SSDs are writing and reading data using digital signals. There are more interesting details about SSD that you can refer from WiKi.
Benefits of Solid State Drive
Since there are no spinning heads, SSDs are consuming less battery power to write and read data. SSDs are shock proof and keep your data safe and free from data loss with sudden impacts. SSDs can access your data fast and write data quicker than spinning heads in HDD.
Should I Replace HDD to SSD?
An SSD can improve the performance of your laptop. Solid State Drives can cut down your system booting time significantly. An SSD based laptop can open installed software and applications with blazing speed. You will not experience any lag time while you save or move your files within SSD. All these benefits you can enjoy just with an upgrade of your traditional HDD to SSD.
How to Choose Right SSD for Laptop?
However, when you shop SSD for your computer, there are a bunch of things you should know to pick the right drive. There are certain parameters you see relevant while selecting your SSD.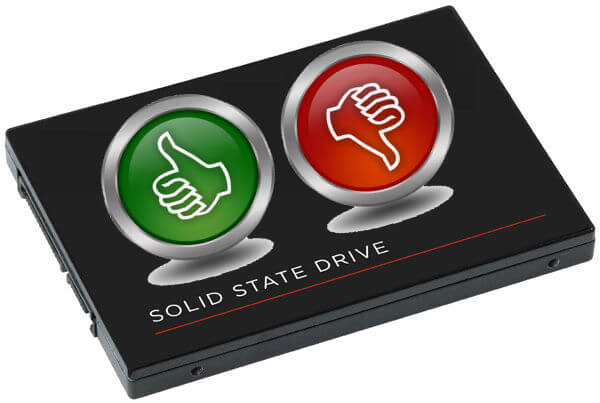 Few of these parameters may not have significant roles in your SSD choice. It is better to know the critical parameters of the SSD before you select the drive. For more information, please refer Things Should Know before you Buy SSD article. 
The Best SSDs for Windows
SSDs are coming with dedicated managing tools to work on different Operating System. There are dedicated SSD drives built for Windows and MAC OS. We recommend selecting the right drive based on your PC operating system. There is a list of recommending Solid State Drives for Windows.
The Best SSDs for MAC
Start shopping SSD for Mac? Yes, replacing traditional disk to an SSD is the best possible hardware update for your computer to boost the Mac performance. Apple starts shipping SSD MacBooks for past three years. Now, almost all Macs from Apple including MAC Book Pro and MAC Book Air are coming with built-in Solid State Drives. We have Best 5 SSD drives exclusively for Mac users.
The DOs and DON'Ts for SSD
Once you have installed SSD on a laptop, don't treat your SSD drive like you did before with HDD. There are certain things not supposed to do, while you work with SSD. To avoid any mistake while you deal with SSD, it is better to read about 7 Dos and Don'ts for SSD Users.
Best Tools to Tweak & Maintain SSD Life
As you know, SSDs can improve the performance and speed of your laptop. There are a bunch of tweaking tools that you can rely on to maintain the performance of Solid State Drives.

Tweaking of  SSD can offer more speed and extend its life to the maximum.  You can depend on Best 4 Tools to Tweak SSD and Recover Performance back on Your Laptop.
SSD Tools for MAC
There are specific tools available in the Apple Store to measure SSD performance for MAC users. Most of these tools are capable of enabling Trim function for your laptop. We listed best 3 SSD Tools for MAC to Maintain SSD Drive.
Mac SSD Life Time Monitor App
The manufacturers want to give the consumers the speed that is crucial for today's life and SSD fulfills it completely. However, if they are treated poorly the speed of an SSD will reduce at a rapid rate. Depending on the use of SSD used for saving data, there are many SSD life check tools for Mac. With these SSD life tools, you can evaluate the performance of SSD as well as its life. SSD life tools can help a lot and Mac SSD Life Time Monitor App.
We listed all about SSD that is relevant for laptop users. The major players in the SSD market are trying to squeeze more storage capacity into less space. The manufacturers like Samsung, Toshiba are already launched huge size of SSDs (in terra bytes) and seeking new solutions to cut down the footprint. This will bring high capacity Solid State Drives in terabyte size to the market with the same price and maybe a smaller size.