No need to answer nuisance phone calls anymore. You can block unwanted calls and select only phone calls you like to answer. With Android Apps to Block Unwanted calls,  can stop telemarketing calls and even debt collectors phone calls before they waste your time.
These Android nuisance call blocker apps are absolutely free and also update with contact list from your social media friends list. Out of these lists, there are some powerful call blocking apps like Truecaller, those can search telephone numbers worldwide and able to read reviews about a particular business to update their blocklist database.
Editor's Note: We have updated this article with more apps and features, that you can read here: 5 Free Android Apps to Block Unwanted Calls and SMS.
TrueCaller
Truecaller is the collaborative phone directory that makes it easy to get in touch with people across the globe. Truecaller also shows you who the caller is instant, blocks unwanted calls and so much more. Truecaller enables you to search +950 million phone numbers worldwide, keeps your phonebook beautiful and up-to-date by adding your friend's latest Facebook and LinkedIn-pictures and birthdays and protects you from spam calls.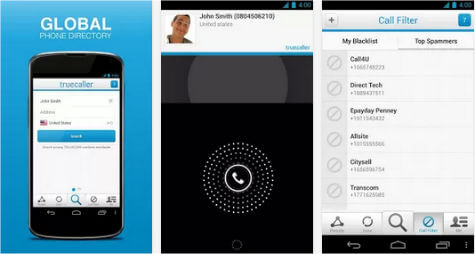 Some of the features include lookup mobile and landline numbers from all over the world, Caller ID to see who the unknown caller is before answering. Block calls from your personal blacklist and blocks common spam callers thanks to the community blacklist. Connect to your Facebook or LinkedIn account to get your friends latest social status information immediately when they call you. TrueCaller help you to keep your phonebook up-to-date with your friends latest address info, pictures and much more.
PlayStore Link: TrueCaller
Mr. Number
Mr. Number is the powerful call blocker and text blocker that you can use on Android phone. This app block texts and calls from a person, a business, a prefix, or the world. You can add 'Suspected Spam' to your block list and Mr. Number blocks them all automatically.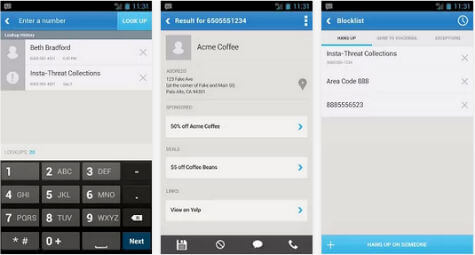 Mr. Number allows reverse lookup phone numbers and gets more info about US businesses that call your mobile phone. This helps to intercept calls and texts from private/unknown numbers automatically.
PlayStore Link: Mr. Number
Well, we listed the best Android Apps to block calls and Truecaller app is a deal breaker with an extensive database of an unwanted number. We recommend one if this app on your Android phone that let you block nuisance calls or stop unwanted calls like telemarketers or spam calls.