Now you can keep all your friends birthday emails scheduled in advance to deliver right on their birthday every year. Nice catch, right? It is pleasant and surprises feeling when you share a text or email messages on your friend's birthday. There are a few online tools that can help you to utilize this recurring email or email scheduler features. These online tools can work with your Email account to schedule future emails. You can write any number of emails and schedule a future date and time to send, or even you can set to send as recurring emails. To compose your emails, you have to choose repeating frequency as daily, weekly, monthly or yearly, select a delivery time and set to send future or recurring, that is it.
With all these features, here are the Best Online Email Scheduler for Future and Recurring Emails.
RightInbox
RightInbox helps schedule emails to set a future send date for your emails. Right Inbox will automatically send your emails at the specified time. In addition to scheduled email, RightInbox let you add a reminder to an email, get notified when you need and follow-up emails.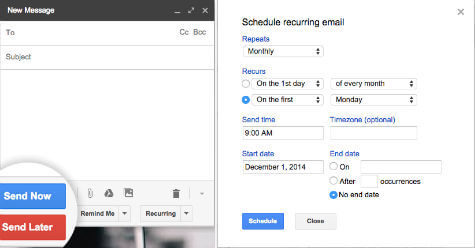 Recurring Emails is another feature from RightInbox. You need to Choose
repeating frequency
as daily, weekly, monthly or yearly and select a delivery time to send emails automatically at a recurring interval automatically. Right Inbox is for Google Chrome, Mozilla Firefox, and Safari. Install it in 30 seconds, auto send, schedule emails with follow-ups, reminders and recurring emails.
Website Link: RightInbox
Related: Best 5 Free Android Apps to Schedule your Messages for Future.
Related: How to Schedule Emails on iPhone to Send Later?
Boomerang Email
Boomerang Email for Gmail lets you take control of when you send and receive email messages. With Boomerang, you can write an email now and schedule it to be sent automatically at the perfect time. Boomerang will archive your message. At the time you choose, we'll bring it back to your inbox, marked unread, starred or even at the top of your message list.

Use Boomerang for Gmail's powerful response tracking feature to remind you to follow up on emails after no response. When writing an email, you can set Boomerang to give you a reminder if you don't get a reply after a certain amount of days. If the message comes back to your inbox without a response, you can then react by sending another email to follow up.
Website Link: Boomerang
SndLatr
SndLatr integrates nicely and one of the best GMail schedule. You just have to install a small extension for Firefox or Chrome. It also works with Google Apps. 
This Gmail Send Later tool does not mess around with your emails or alters any data of your Gmail. Scheduled emails stay in your Drafts folder. You can edit them there just like any other email.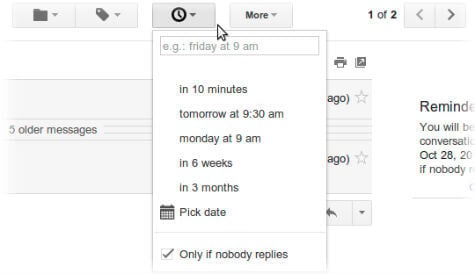 You can set a future date for an email to be sent. SndLatr will send email automatically at the specified time. Reminders bring conversations back to your inbox at a later date. This is a nice tool to keep your inbox clean. Just archive the conversation after setting up a reminder, and it will be back in your inbox when you need to deal with it.
Website Link: SndLatr
LetterMeLater
LetterMeLater.com allows you to send emails at any future date and time you choose. With this service, you can write emails with your existing email address, and they will get sent at the exact date or dates that you specify.
Website Link: LetterMeLate
Related: How to Take Intruder Snaps and Email from Android
There are other scenarios need to schedule email or use Gmail send later. You may need to send an important email to deliver in foreign office in a different time or set up an email now and send later. The features include support for file attachments and rich HTML content to add style and structure. If you are a Gmail user, there is Gmail Scheduler, that can utilize to send Gmails later on a scheduled time and date. These Gmail Send Later tools can send emails from any of your email addresses and also import your contacts and create group mailing lists.