Apple ID gives you easy access to a variety of Apple services, including the iTunes Store, Apple Online Store, iChat, Email, Contacts Back-Up, Find iPhone, iDocs, and more. You can get an email ID with '[email protected]' if the user id is available.
Apple is giving 5gb of space with one ID for all their service as free. This method, you do not need any Apple device to get an id.
You need a valid email address from any email provider like Gmail, Yahoo, or Hotmail or any other service.
Please click here to start. Enter your primary email address as your Apple ID. This will be used as the contact email address for your account. Please note that this email address must be verified before you can use certain Apple services.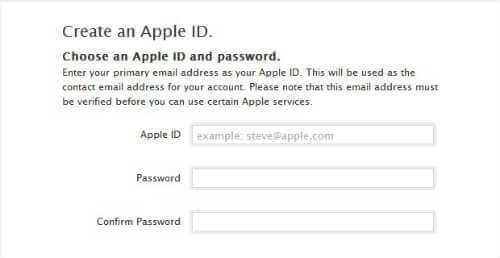 Select a security question or create one of your own. This question will help us verify your identity should you forget your password.
Combined with your security question, this will help us verify your identity if you forget your password or need to reset it. Following steps and please enter your name and mailing address and other required data.
As final step, check on Apple privacy policy and click on create apple id, you are done. Once you done you can go to this link to login iCloud.

Please enter your username and password, login, and enjoy the Apple world with iTunes Store, Apple Online Store, iChat, email, Contact Back up, Find iPhone, iDocs.
Alternate Way: If you own an Apple device, then when you try to set up your iCloud account, it will give you a choice to create apple id. This tutorial is good for those who do not own Apple devices, still want to make an apple ID.
Wait a minute!. Do you think you already registered in Apple, forgot your ID. Check here to proceed with  forgot Apple ID process.