Skype is an excellent audio and video chat application widely used for personal and official meetings. However, there are a bunch of good skype alternatives in the market those are providing better user experience and amazing features. Through Skype video conference and conference call Skype, an individual can video chat with more than one person at the same time for team meetings and similar purposes.
There are many alternatives to Skype video call apps. These Skype alternatives are better than this Microsoft app in many ways. Here is a list of Skype alternative apps for your PC and Smartphones.
Facebook Messenger
Through the video calling feature in Facebook's Messenger app, you can have face to face conversations with your friends and family members easily. Just start a video call during a conversation by choosing the video icon in the top right corner. To start the video call, both people on the ends should have the Messenger app.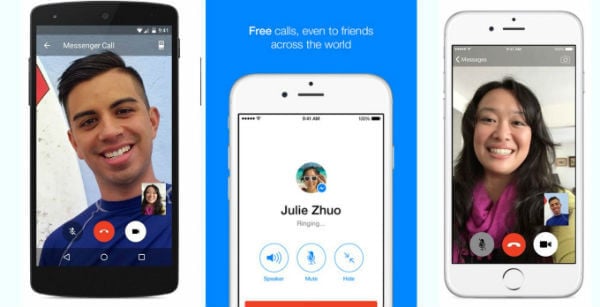 You can also cut the video feed while video conferencing and just enable the audio on your end. The user can easily talk to their Facebook contacts that are made from a mobile phone to another phone regardless of the operating system.
Maximum number of participants in a Video call: Only one, just ensure that you have a good internet connection | Download Messenger: Web | Android | iOS | Windows
Viber
When the company launched the video call feature in the app for its users, then it was only available for desktop users, but now this video chat app can make Viber video calls on mobile. Just open your contacts in the Viber app and find the contact to which you want to make the video call. On the screen of the user, click on the video call option to engage in a face to face conversation with the contact. It is a good alternative to Skype video call.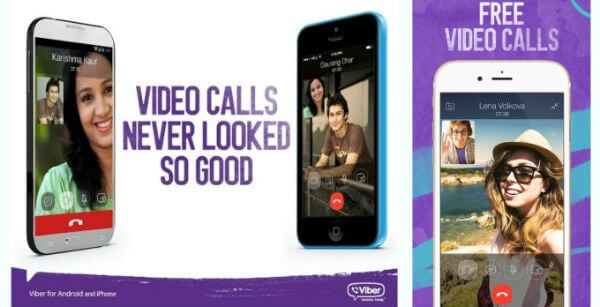 While making the video call, the receiver has the option to avoid the video call and receive it as a normal free call. It also allows you to switch between the cameras from front to back, which can be done by just click on the camera button during the call.
Maximum number of participants in a Video call: Group calling for up to 40 people along with a single person video call option | Download Viber: Desktop | Android | iOS | Windows
Line
Developed by a Japanese subsidiary named Navier, Line is currently used by more than 450 million people all around the world. The app allows the users to make free peer to peer calls on the supported devices. From the pull-down menu of the chatroom, you just have to select the Free Call to video call for making the call.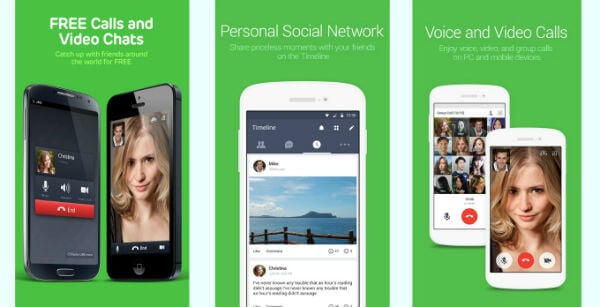 Sometimes it's hard for texting to go more, so there is a little diversion present in the app in the form of games and stickers helping keeping things rolling. You can also switch quickly from a video call to voice call easily during the conferencing.
Maximum number of participants in a Video call: One in a single call | Download Line: Android | iOS | Windows
Wire
Wire chat app is a nice UI chat app designed to work with PC and smartphone platform. This chat app lets you chat with your friends with a username and support one to one and group chat up to 10 participants. Wire is an open source app offering full end-end encryption for communication and completely ad-free. This chat app similar to Skype supports audio and video calls with audio messaging.
Maximum number of participants in a Video call: 10 people | Download Wire: Windows | MAC | Linux | Web | iOS | Android
Related: Best 7 Free Apps to Lock your WhatsApp and Facebook in Android
Tango
It is one of the most popular and free video calling app available for people having a simple and intrusive interface. Tango offers high-quality video and voice calls that can be accessed just by fulfilling a simple registration process where you have to give your phone number and email address.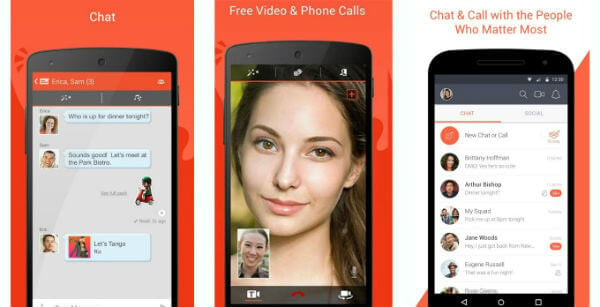 However, Tango is not recommended for business calls as many business people encountered difficulties while using the feature for their purposes. Tango promises to give you the best quality video calls for free.
Maximum number of participants in a Video call: One on One calling | Download Tango: Android | iOS
Imo
Imo chat app is quite known for their simple and friendly interface for making easy video and voice calling all around the world. The video calls made through the app offers great audio and video quality that is highly optimized for the mobile devices. It has some great features for the people and serves best for the people that are looking for a simple video call service containing no hassle.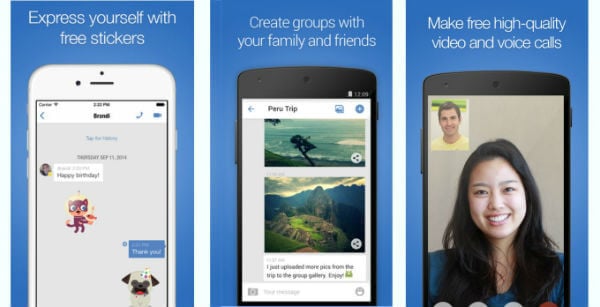 The app offers encrypted chats and calls to the users working fine with 3G internet connection. IMO allows you to make group calls any person in the world without any trouble encountered.
Maximum number of participants in a Video call: One in a single call and four in a group call | Download Imo: Android | iOS | Chrome
Hangouts
Considered as the best alternative to Skype video conference call and quite easy to utilize as compared to other alternatives to Skype video call. Hangouts for Google allows you to stay in touch with your contacts working on multiple platforms and easy to use anytime you want.
Turn any conversation into a video call simply with a tap. For the desktop users, there are many fun elements present in the app like Draw and Effects, etc, increasing the excitement and joy while talking face to face.
Maximum number of participants in a Video call: 10 people | Download Hangouts: Online | Android | iOS
ooVoo
Through ooVoo, you can get best quality video calls that can be done with anyone in the world. The tool offers the highest quality video calls that are entirely free with crystal clear audio and video that is not present in most of the video call tools. Due to its great features, the app is loved by many people.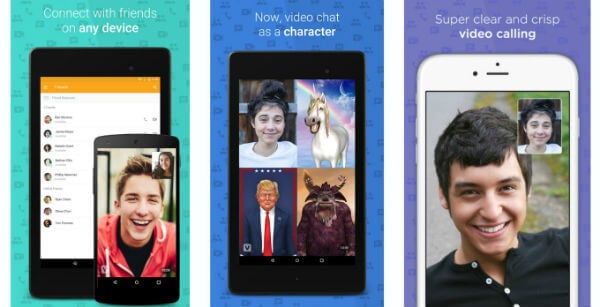 During video calls, you can send text messages, images and videos during a video call. With advanced video technology, you can be sure for fewer call drops. It shows only four faces during group video call at a time.
Maximum number of participants per Video call: 12 people | Download ooVoo: Android | iOS | Windows
These Skype alternative apps are not just for video and audio chats, these video and audio chat apps are supporting multi-platforms to use with different OS PC and Smartphones. Talking to others is simple through instant messengers and video calling apps accessible on our PC or mobile devices.
Related: Best 5 iOS Apps To Detect and Block Annoying Calls on iPhone
With these skype alternative apps, you can easily get more features compared to Skype and have a very good time while having one face to face conversation with your friends and family.