There are a lot of cool tricks and hidden gems embedded with Facebook Messenger apps. You can send and receive money with Messenger apps, play games, send voice clips, the list of features are going on. Most of don't know that you can use Facebook Messenger app to request a ride on Uber or Lyft. The Snapchat like Secret chat feature is also embedded in Facebook messenger for the users. The regular users also might have never tried these hidden features of Facebook Messenger in their daily use.
We can't cover all the features and tricks of FaceBook messenger here. However, we listed the best tricks and tips of Facebook Messenger that should know before you use the Messenger app next time to chat.
Play Games by Sending an Emoji
How many of you know that you can simply play some small games on Facebook messenger? That too by sending an emoji to your friend! Not only that, you can also challenge your friend for beating your high score. You can follow these simple Facebook messenger trick to experience this cool feature on Facebook messenger.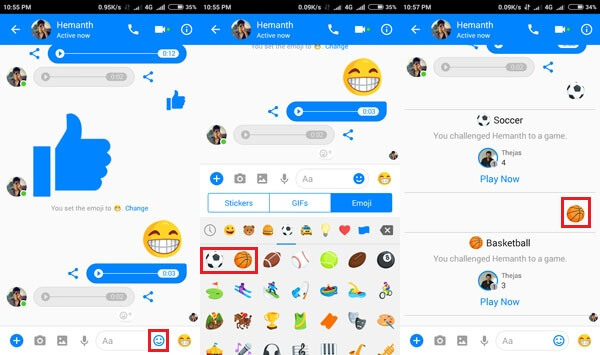 Open Facebook messenger from your device. Open your friends' chat screen. Click on the message box and choose a smiley icon on the left end of the message box. Select emoji from Stickers, GIFs & emoji. Now you may choose the games category emoji. You can send the Football or basketball emoji in which the games are hidden to your friend. Now Tap on the emoji that you just sent to a friend. That's it! Your game has begun. Try to achieve good score and challenge your friend to beat your score.
Related: Complete Guide to Secure Android from Facebook Data Collection
Hold Gallery Icon in your Attachment to Send a Selfie
One of the most hidden and straightforward Facebook messenger tricks is to send a Selfie or get a Selfie of your friend without editing or doing a stylish pose. For that, just open your Messenger, open friend's chat, and go to the left side of your message box. There, you can see a "+" sign, a camera icon, a gallery icon, and a joystick icon. Tap and hold on the gallery icon for more than 3 seconds.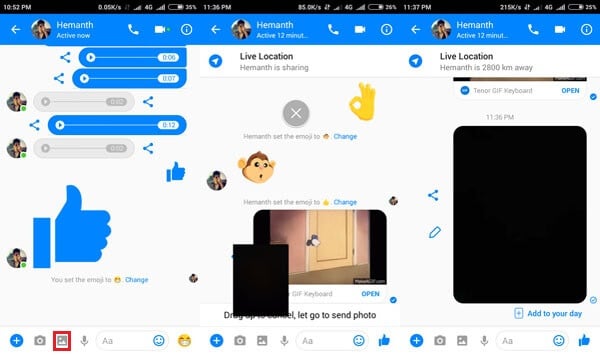 This Facebook messenger trick will open your front camera. And, remember, the moment you release the hold from the gallery icon will result in sending your unexpected click to your friend. You can have good fun with your friends by using this simple Facebook messenger trick.
Change Default Thumbs up Emoji for Each Conversation
Fed up with sending and receiving the default thumbs up emoji on Facebook messenger? You can customize your default emoji very easily. Follow this Facebook messenger trick to customize your default thumbs up Emoji.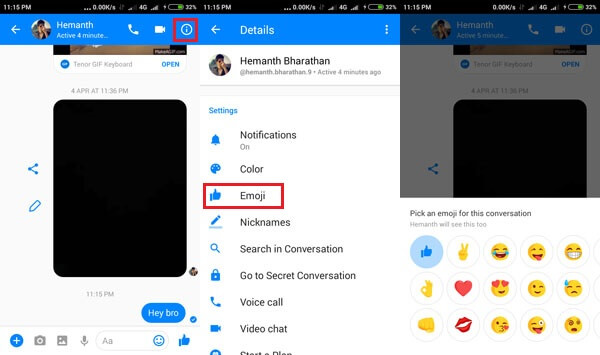 Open any of the friend's chat window to start with. On the top right corner of the chat screen, you will find the alphabet "i." Tap on "i," that will open a customization window. From that list of options, choose required Emoji. A wide variety of emojis are available there to choose for a conversation with your friend. Select any appropriate Emoji for the future conversations with your friend and impress them.
Just like the default thumbs up emoji, the customized emoji also will enlarge its size on holding on it.
Send Voice Clips through Facebook Messenger
Sending voice clips is one of the commonly used Facebook messenger tricks for the users. Instead of typing, the user can send voice clips to their friend as in Whatsapp messenger by following these tips.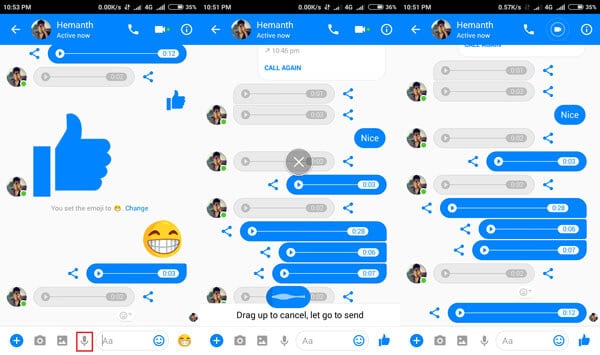 Open Facebook messenger on your mobile. Then, open any of your friends chat. Go to the downward left part of your message box. There you can find a mic icon along with a gallery, camera and plus sign. Now tap and hold the microphone icon for sending a voice clip. You may notice the dotted lines just on top of the icon, that will move like sound waves to indicate sound recording. Once finished, release your finger to send it to a friend. If not required, drag it upwards to the chat screen for deleting the recorded voice clip.
Send Current Location with Messenger
First of all, you have to turn on the location services in the device for sending your current location. Now follow this Facebook messenger tips for sharing the current location.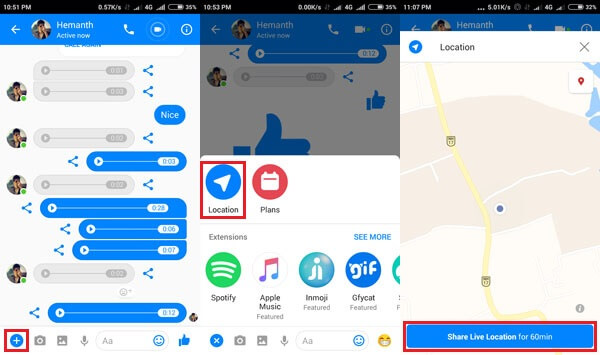 Open the chat in which you have to share the current location. In the left down corner of the device, you can find a "+" sign. Now tap on it. A box will appear there, and we need to tap on "Location" in it. A Google map will be displayed on your device showing the current location along with the option of sharing.  This location sharing will last for 60 minutes that you can choose. Make sure that you already granted permission to get location info for the Facebook messenger. Otherwise, go to the App manager and customize the settings for sharing your current location.
Related: How to Share Live Location on iPhone with Message Apps?
Sent Animated GIF on Messenger
The user can send animated GIF files within the Facebook messenger app. Also, they can search directly for animated GIF files across the Facebook messenger. Almost all users love to use this Facebook messenger trick as it is simple and fun to send a GIF to a friend or beloved ones.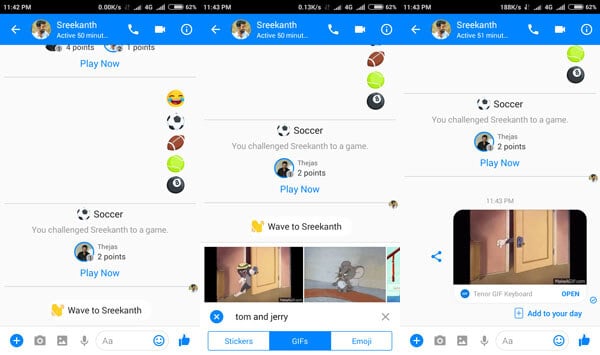 For sending an animated GIF, the user has to select a friend's chat first. Then, go to the right end of the message box, to find a smiley icon. Tap on the smiley icon gives the user three options like STICKERS, GIFs & EMOJI. Now, Tap on GIF option to see the wide range of GIFs within the Facebook Messenger application. There you can find the option to search the application for choosing the right one for showing their emotions.
Facebook Messenger to Request a Ride with Uber or Lyft
Facebook Messenger is a messaging app or a medium of social network for sure. Moreover, they are now trying to connect people directly with its new features. Before trying this Facebook messenger tip, make sure that your messenger has been updated to its latest version. Also, make sure that you had permitted the messenger app to read your location. This feature will work only if the Uber and Lyft services are available in your area.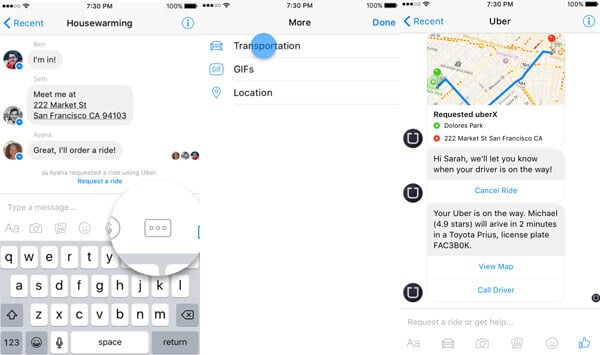 Open any chat conversation thread with your friend. From the bottom row of icons, tap on the icon of three dots. It will pop up a new menu which contains the "Request a Ride" option under "Transportation." This shows the services like Uber or Lyft according to the availability of their service in the area along with the estimated time to reach. Now, you can book the ride or cancel the booked ones, if not required.
Request/Send Money with Messenger
How many of the messenger users know that this cool app can be used for transferring money? Yes, the Facebook messenger can also act as a medium for sending and receiving money. Follow this Facebook messenger tricks to convert your messenger to a simple banking app. Open any chat thread with your friend to start.
At the bottom of the message box, tap on "$" from the ribbon of icons. Now you can enter the amount directly to send money to your friend. In the top right of your chat screen tap on "pay" to complete the payment. Ensure that, you have added your debit card to send money before doing this.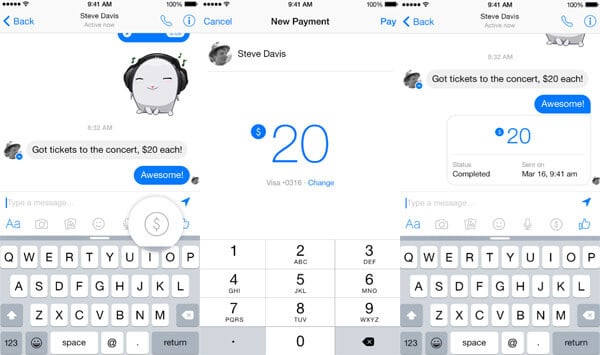 You can also receive money from your friend using Facebook Messenger App. Open the chat thread from your messenger. Tap "add card" to the message. Then add your debit card to accept money from your friend for the first time.
Related: Gmail Money Transfer: A Complete Guide to Transfer Money with Email.
Ignore the Messages from Inbox
If you find any conversation causing disturbance for you, you can easily move their future chats to Message requests. This trick in Facebook messenger is useful since it can do that without unfriending them or making them unaware of disturbance.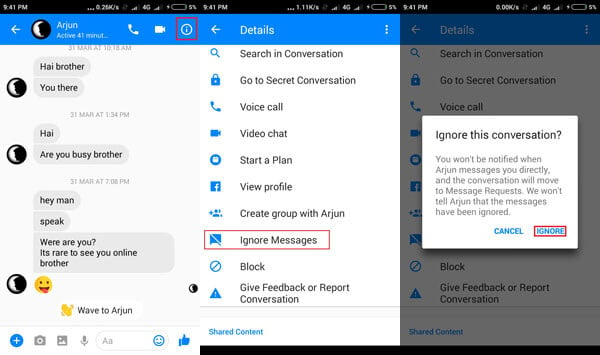 Open the conversation thread that causes the disturbance to you. In the top right corner of the chat, tap on "i." Now, scroll downwards and tap on "Ignore Messages." Facebook messenger will ask you to confirm before doing it. Tap on "ignore" there for ignoring the conversation.
Start a Secret Chat (Disappear after a Time Period)
Secret conversations are encrypted conversations from one device to another. You can start a secret chat that will disappear after a finite time. Follow this Facebook messenger tips for that.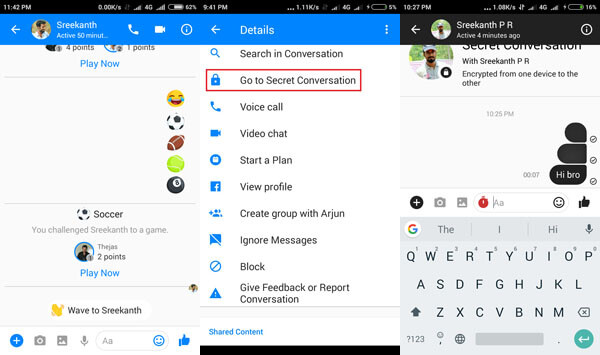 Open a chat with whom that you have to start a secret chat. Tap on the "i" icon the top right corner of the app screen. Scroll down, and tap Go to secret conversation there. Now you can type as usual in the message box as your secret message. The default time for disappearing the messages will be 10 seconds. The user can change the default time by tapping on the clock icon on the left side of the message box.
Best Tips and Tricks for Facebook Messenger
A wide variety of messaging apps are being launched and popular in social media nowadays. Facebook Meesgenr apps are one of the chat apps widely used. This Messenger app is so popular and built with a lot of additional features. We listed the cool tricks of Messenger app that you can try when you chat with your friends next time.