With iOS 16, your iPhone lock screen is not boring anymore as you can access many things like weather, reminders, health, and more by adding relevant widgets without unlocking your iPhone. If you are using a lot of Google Apps on your iPhone, now you can access many Google features from your lock screen without opening Google apps.
In this article, let's see how to access the Google apps with a single tap from your iPhone lock screen.
In our daily life, we depend on Google for a lot of things like searching for our queries, getting directions to commute to the workplace or home, listening to music, watching YouTube videos, and more.
To make things easier, Google has added many helpful lock screen widgets for the Google apps. If your iPhone runs iOS 16 or later, you can try out the widgets below to save time.
Google News Widget
I check the Google News app at least once to scroll through the latest headlines quickly. I will read the news in detail, only if I'm interested. If you are like me, then you will find this Google News widget pretty useful as it shows real-time headlines on your lock screen.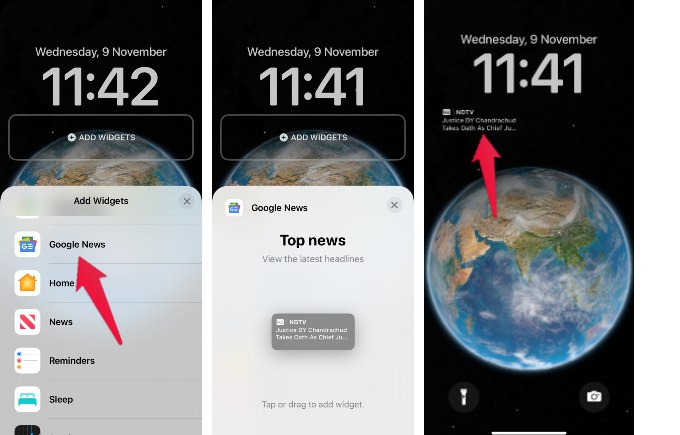 If you come across an interesting headline, then just tap on it from your lock screen. The detailed news article will get opened in the Google News app.
Google Maps Widget
Google Maps has two lock screen widgets. With the Maps search widget, you can search restaurants, shops, gas stations, and more from the lock screen.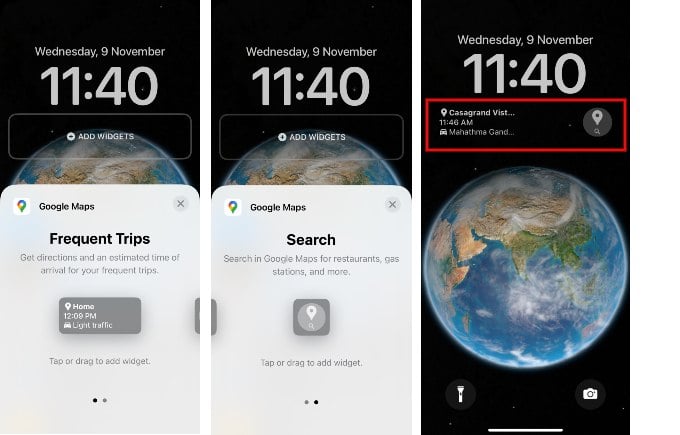 By using the Maps Frequent Trips widget, you can get real-time traffic updates and travel time to frequently visited places like your workplace or home. Maps Frequent Trips widget will work only for your pinned locations on Google maps.
This comes in handy to see the real-time traffic on your iPhone screens. You can schedule your trip or plan your drive based on this real-time data that shows on your iPhone lock screen.
11 Best Lock Screen Widgets for iPhone
Google Drive Widgets
There are three helpful Google Drive Widgets that will help you easily access the files on your GDrive and work with them.
Starred: Access your favorite files
Search: Search any file stored on your GDrive
Suggested Files: Open the recently accessed file.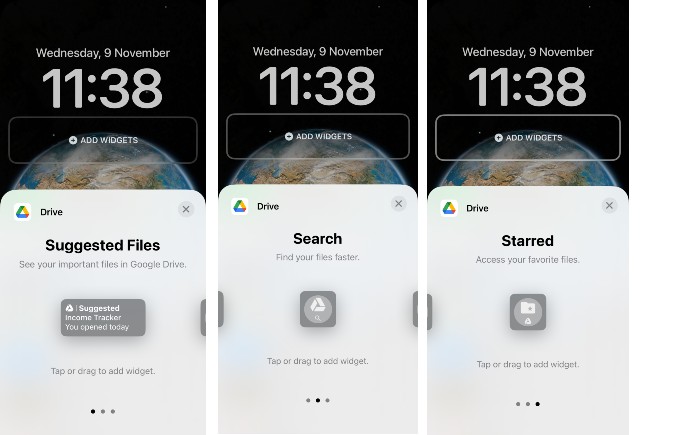 Personally, I like the Suggested Files widget, as I can quickly open the last accessed file and continue my work without wasting time searching for it.

As you know, Google Drive is one of the toughest to navigate through your iPhone screens. This makes it a bit complicated if you have multiple levels of sub-folders inside your Google Drive.
This lock screen widget will be an easy-access shortcut for Google Drive users to add to their iPhone Lock Screen.
iPhone Lock Screen Now Gets Widgets and Here Is How You Can Get It too
Chrome Lock Screen Widget
Many iPhone users, especially those who recently switched from Android, will prefer using Chrome over Safari. By using the four Chrome Lock screen widgets on your iPhone, you can quickly start a Google search with text or voice from your lock screen.

You can also open incognito mode if you want to go for private browsing. If you are a game lover, you will find the Dino game widget to kill time.
YouTube Widgets
Do you have a YouTube Music subscription? Then, you can listen to the songs of your favorite artists right away from your iPhone lock screen.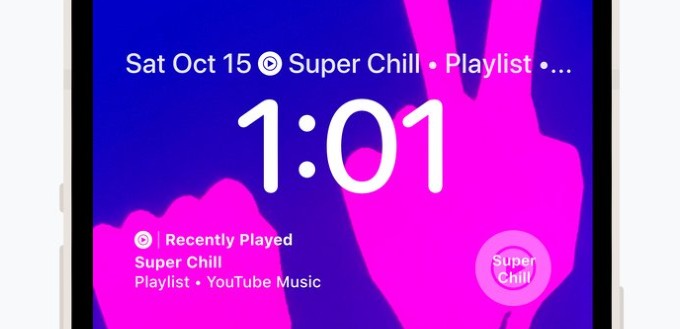 You can access recently played songs with a single tap using the YouTube Music Lock Screen widget.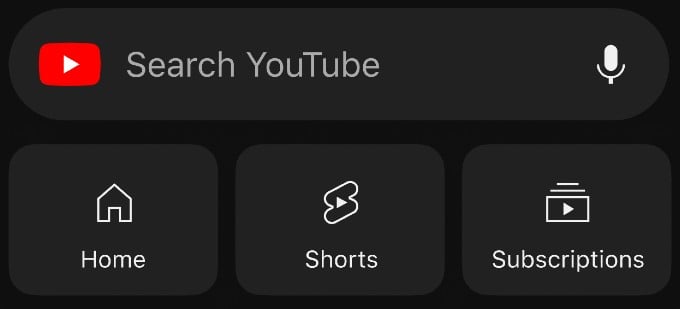 Besides the lock screen widget, you can use YouTube Home Screen Widget to search and play YouTube videos or shorts quickly.
Google Search Widget
Whether you use Chrome or Safari, Google is the default search engine. To search quickly from your iPhone lock screen, you can add the Google Search widget to your lock screen.

In addition to voice and text search, you can use this widget to translate, get help to finish your assignments or homework, or even shop for the things you want. You can also access Google lens from this widget.
Gmail Widget
The Gmail lock screen widget will show you the number of new messages in your inbox. As per the information on the Google blog, Google will further improve this widget so that you can also know which inbox categories, like Social or Promotions, contain new messages.

I found this Gmail widget quite handy for getting a heads-up on the number of emails in the morning.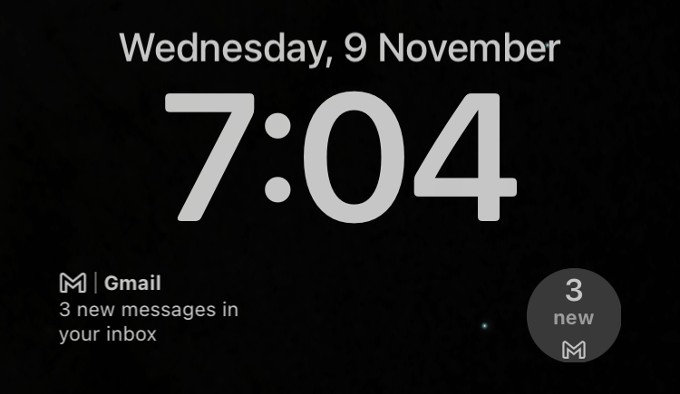 You can find all these lock screen widgets for Google Apps on the Add Widget menu on your iPhone, provided it is running iOS 16. If you can't find some widgets, they will be rolled out soon. You can refer to our detailed guide on How to Add Lock Screen Widgets on iPhone in case you are new to using widgets.
Well, these lock screen widgets for Google apps will be handy for many users to access the frequently used features from the lock screen quickly. Especiall, the Google Map, Google Drive lock screens widets on your iPhone is going to be worth to try.