With the new Apple Watch's blood oxygen calculation, ECG, walking steadiness measurement, our iPhone turns into a pocket-sized health record. Now when you go to a doctor, you must have wondered how to share Apple Health app data with your doctor from the iPhone. You can now actually share Apple Health data with doctors from iPhone itself.
With real-time wellness and fitness information, Apple Health data sharing will be helpful for doctors to take a look at your health history instantly. Let's see how we can share iPhone health and fitness data with doctors.
Content
Share Apple Health App Data with Doctor on iPhone
To share your Apple Health data with your doctor, make sure your doctor uses an iPhone with iOS 15 or newer updates in it. You can share Apple health data with doctors or family from the iOS 15 or newer versions. Let's see how to share Apple Health data with doctors from your iPhone.
Launch the Health app on your iPhone. Make sure you are seeing a "Sharing" tab at the bottom of the screen. Tap on it.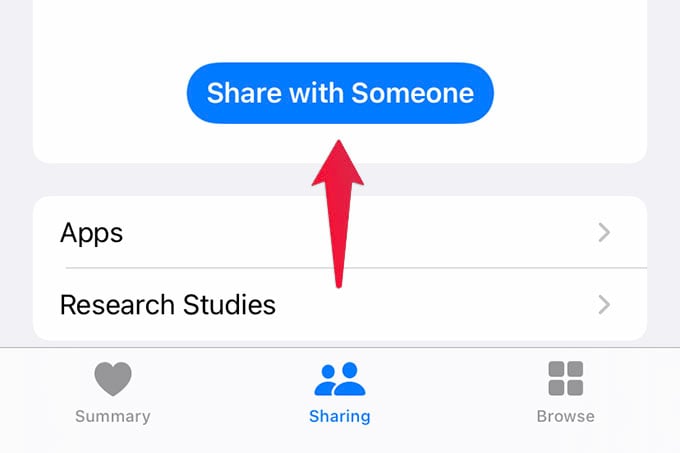 If you are sharing the health data with someone for the first time, you will see the "Share with Someone" button on the screen. Tap on it to begin the health data sharing setup.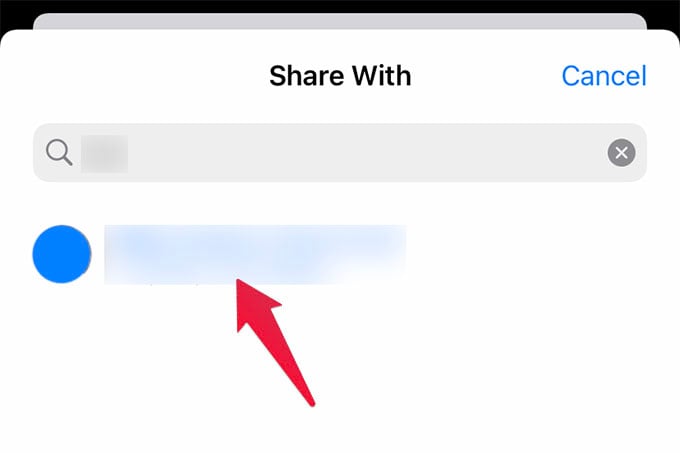 From the pop-up window, search for the contact number of your doctor. If your doctor has a supported iPhone and iOS version, you can select the doctor's contact.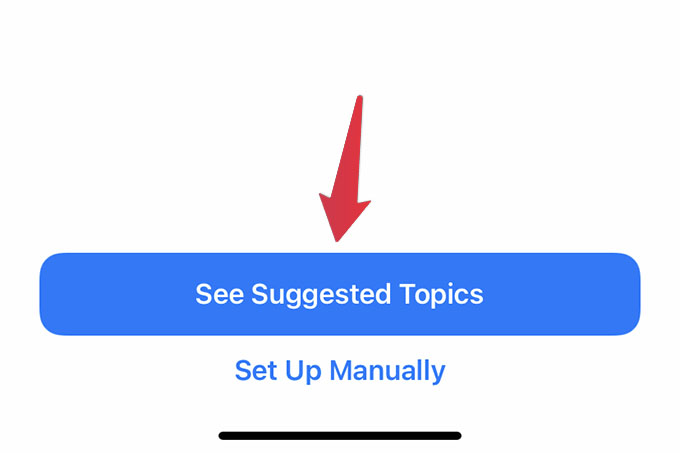 From the next screen, tap on "See Suggested Topics" or "Set Up Manually" to move forward.
Choose the health alerts you want to let your doctor see, toggle them on. Once you are done, tap Next.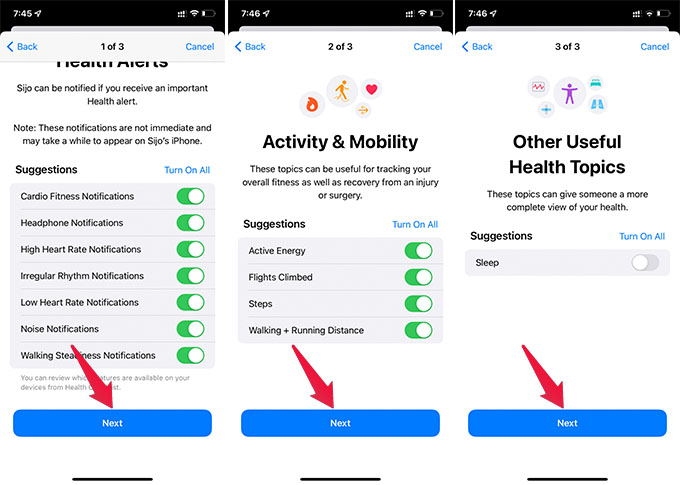 The next screen will ask you to choose the activity data you want to share with the doctor. Choose if any. Otherwise, simply tap Next.
Now, you can choose to share your sleep information with the doctor and then tap Next again.
Once you select all the Apple Health data to share with your doctor, you can review your options one last time. You will get a preview option to see how the doctor will be able to see your health app data from your iPhone.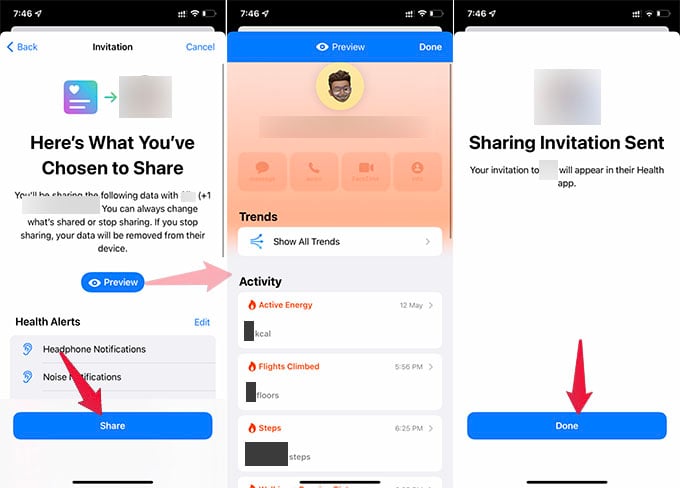 Tap Share at the end to start sharing your health data with your doctor. That's it.
You now invited your doctor to see your health data from the iPhone Health app all the time. Your doctor can see the summary of your health information in their Health app. It will not share full details of your health or fitness data for privacy. Your doctor will get an alert on the iPhone health app if your heart rate hits an unusual number or so.
Most important thing to note here is the privacy. Apple restricts the health data visible to the only person you shared with. But you need to make sure you are sharing your health information with the right person.
Stop Sharing Your Health Data with Someone on iPhone
Once you start sharing your iPhone health data with someone, you would be so bothered about your privacy. In case you come to know that you share your Apple Health data with the wrong person, or you shared too much health data, you can easily put a stop to it.
To stop sharing your health data with someone on the iPhone Health app, launch the Health app first and go to the Sharing tab.
On the screen, you could find the person (or the list of people) you shared your health data with. Tap to select the person.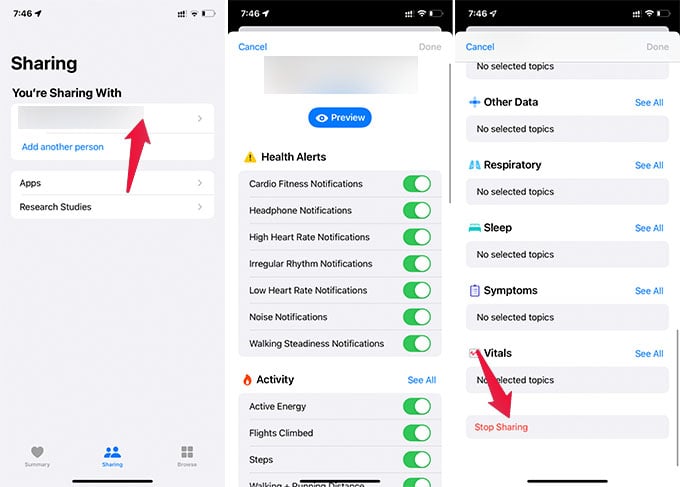 The next screen will show you all the health information you shared with the person. Toggle off or on any health record, you want to share with. You have full control over your privacy in Apple Health app sharing.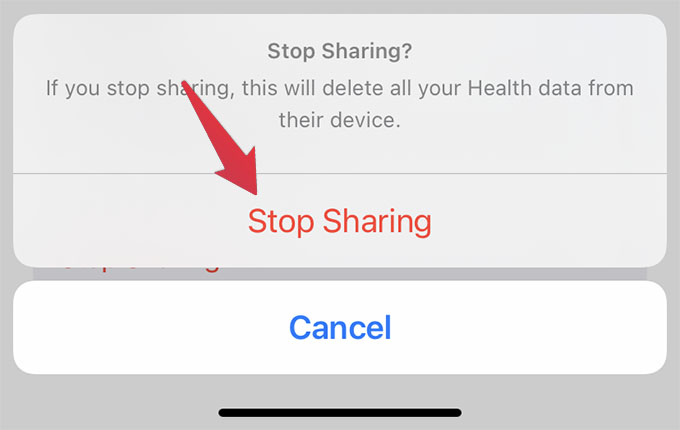 In case you want to stop sharing all health data with the person, scroll down to the end of the page. Tap the Stop Sharing button at the bottom. Confirm to stop sharing any health data at all.
Once you stop sharing health data with someone, all your health information is removed from their iPhone immediately.
How Do I Record My Health Data on iPhone?
Until now, we talked about sharing the health records and data with the doctor from the iPhone. If you are not aware of the health and activity recording on your iPhone, well, there is an app for that already. Your iPhone app has a "Health" app that can record your daily activities, exercises, lifestyle, and health conditions.
So, how comes your iPhone get your health information? There are various iPhone health tracking devices available that are connected to your iPhone. For instance, Apple Watch can track your heart rate, ECG, blood oxygen saturation, sleep patterns, respiratory rate, and more. Amazfit Bip watches are capable of tracking your heart rate 24/7, sleeping patterns, and pretty much more.
Likewise, there are tons of Apple Health-supported health and fitness tracking devices available. It even includes smart weigh scales, glucometers, thermometer, blood pressure monitor, and whatnot. Go ahead and check out our pick of the best iPhone health monitoring devices you can use with the Apple Health app.
Once you start syncing your smart health monitor with iPhone, your health data get uploaded to the Health app automatically. You can then share this regularly monitored health information with your doctor or family who takes care of you. As we saw above it is easy to share Apple Health data with doctors from your iPhone.