You don't need an Apple Watch or expensive smartwatches to sleep your tracking behavior and ensure well-being. Amazfit Bip and Bip S have a sleep tracking feature. They help you track your sleeping behavior, deep sleep and light sleep pattern, and more. If you have an Amazfit smartwatch and still not sure how to track your sleep with it, we heard you.
In this guide, we will cover how to set up and track sleep using Amazfit Bip, Bip S, Bip S Lite, or Bip U smartwatches.
Content
Set Up Amazfit Bip Automatic Sleep Tracking
Amazfit Bip has a sleep tracking feature that runs automatically. Unlike activity recording, you do not need to specify when you are going to bed. By using the sensors, heart rate, and motion, Amazfit Bip or Bip S can start tracking your sleep automatically. If you did not enable it, you can turn on Amazfit Bip automatic sleep tracking from your phone itself.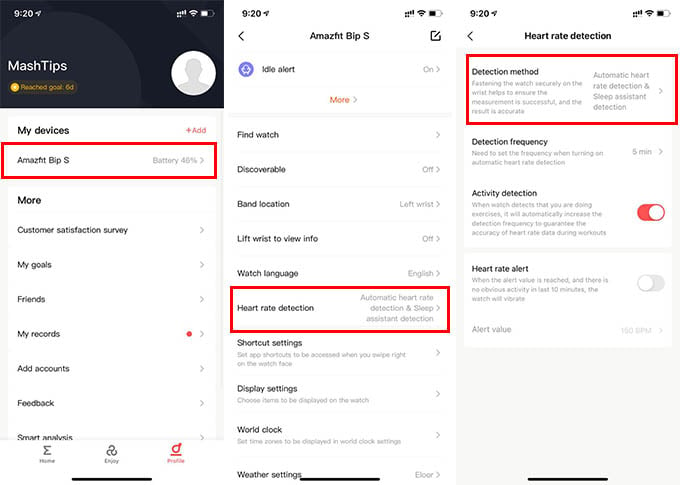 Open the Zepp app on your Android or iPhone.
Go to the Profile tab.
Tap on your Amazfit Bip device.
From the next screen, tap on "Heart rate detection."
Go to Detection method.
Choose "Sleep Assistant" or the one after that.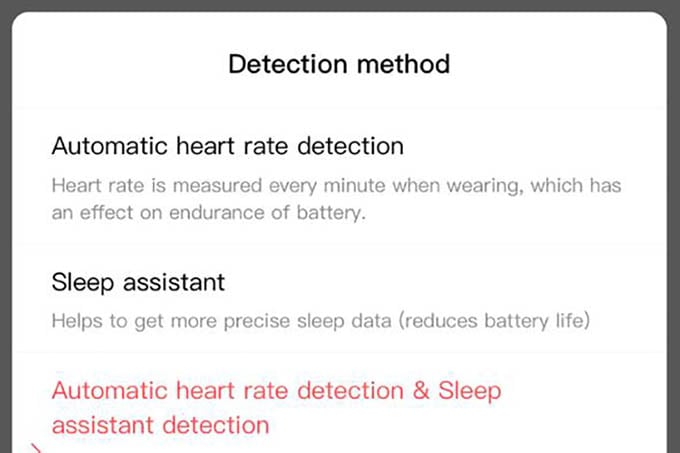 Once you enable the automatic sleep tracking option for Amazfit Bips S, your smart wearable starts to track your sleep behavior whenever you fall into sleep. It even records your short naps and irregular sleep.
Related: How to Control Music on Google Home Using Amazfit Bip
Change Sleep Goals in Amazfit Bip
For a better sleep analysis and data, it is better to specify your sleep goals. Thus the watch can match it against your recorded sleep data. This can ensure you get a healthy minimum of sleep every day.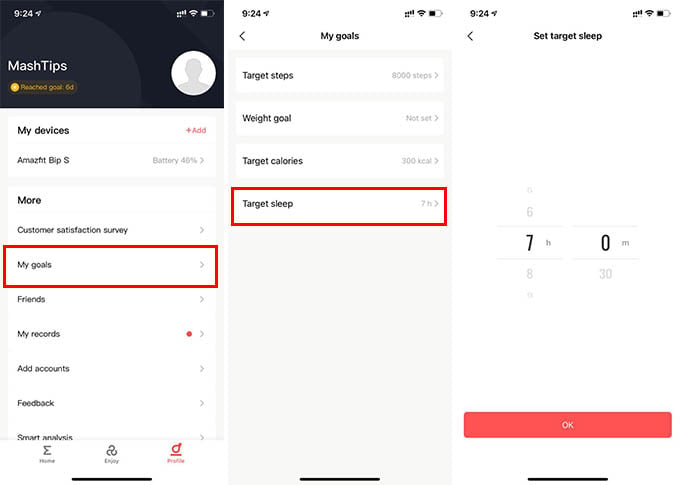 Open the Zepp app and go to the Profile tab on your phone.
Tap on the My goals option.
Go to Target sleep.
Choose your target sleep hours and tap OK.
The recorded sleep data and sleep goals will be used to analyze your lifestyle and well-being. You can thus stay healthy by using the Amazfit Bip or Bip S.
Analyze Your Sleeping Behavior Using Amazfit Bip
Amazfit Bip records your sleep data and shows it in an easily understandable chart format. From the graphs and charts, you can analyze your sleeping behaviors and patterns, letting yourself see if you are getting enough sleep every day.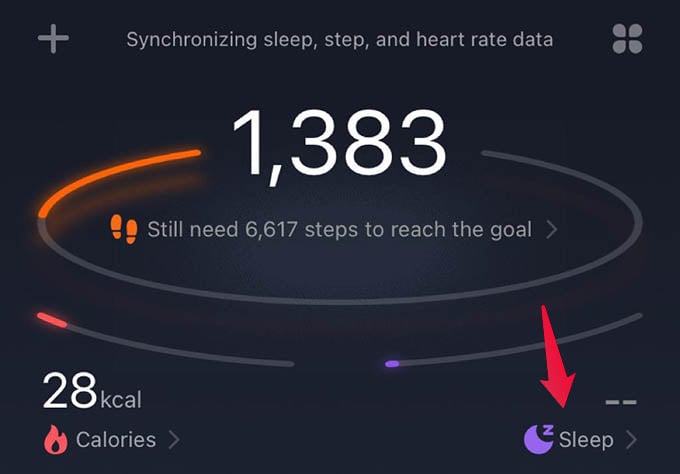 To see your sleep data analysis, tap on "Sleep" from the Zepp app home screen. There you will see the sleep data in different color charts. Mainly three types of bedtime data will be shown in there – light sleep, deep sleep, awake. The sleep score is automatically set by the app based on your sleep goals and target achieved.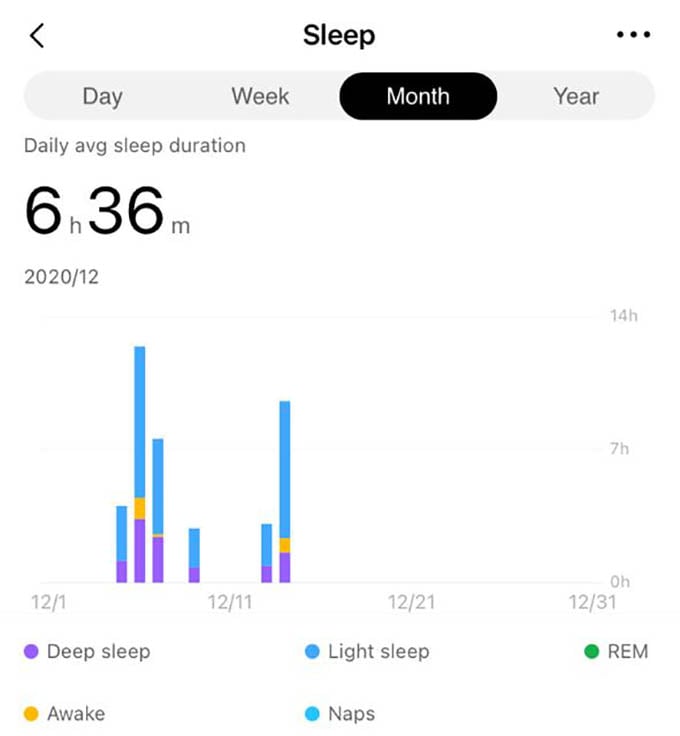 For more sleep remarks like deep sleep notes, night sleep regularity, scroll down from the same screen. There you will find the times you awake during sleep, woke up time, bedtime, and more. You will be amazed, for sure.
The chart can extend to see more sleep data for the whole week, month, or year. Plus, it shows you how good or bad is your sleep pattern compared to other Amazfit users.
Sync Amazfit Bip Sleep Data with Apple Health App
Apple Health app on iPhone has a sleep section. If you thought it was for the Apple Watch users only, you are probably wrong. The Amazfit Bip or Bip S on your wrist can sync the recorded sleep data with Apple Health. To get this, you need to connect the Zepp app with the Apple Health app.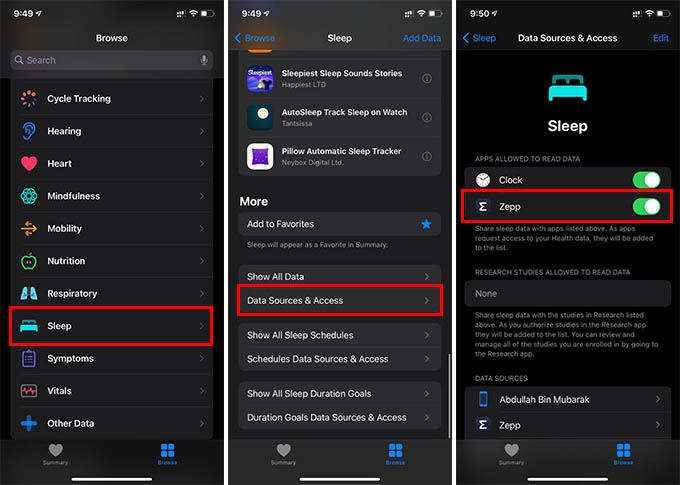 Open the Health app on your iPhone.
Go to the Browse tab and tap on Sleep.
Scroll down and select Data Sources & Access.
Toggle on Zepp from the next window.
After allowing the Zepp app to read or write health app data, your sleep information will be found in the Apple Health app as well. The Health app on the iPhone shows the sleep records in the graph but does not show detailed information as the Zepp app does. Syncing Amazfit Bip sleep data with the Apple Health app is really helpful when you use the iPhone Health app for other wearables and health trackers.
Sleep Tracking feature in Amazfit Bip and Bip S are pretty powerful and detailed, compared to most other smartwatches in the market. It even shows more data than the latest Apple Watch could do. We always recommend using the sleep analysis feature in the Zepp app to get more insight into your sleep behavior.