The best part about iOS 16 is the option to customize the lock screen by adding widgets, in addition to the dynamic island. You can check your AirPods battery level to check your next flight ticket status right at the lock screen. There are many lock screen widget apps available for iPhone users to choose from.
Let's look at the best lock screen widgets you can add to your iPhone's lock screen running on iOS 16.
Best iPhone Lock Screen Widgets Apps
Flighty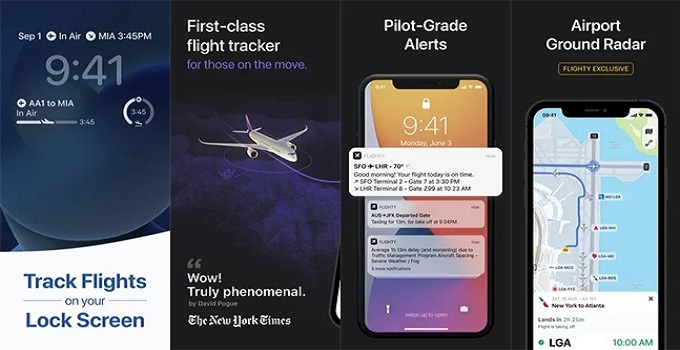 Flight is a lock screen widget that is very useful for regular flyers. This is an app that tells you everything about your flight. Whether it's the flight number, its current status, destinations, as well as your baggage claims, Flighty has now been updated to add widgets to your lock screen, which means you can easily access a lot of your flight data without having to unlock your phone and launch the app.
Flighty has no ads and also allows you to sync with your iCloud. When you pick up the Pro version of Flighty, you can access more exciting data, such as where your plane has been for the last 25 hours, pilot-grade FAA delay alerts, arrival forecast, and delay predictions. Flighty also lets you track your friend's flights and stay updated on the weather.
Key Features: Real-Time Gate, Time and Flight Status Data | Check Seat Numbers | 2 Way Calendar Sync | Pilot Flight Time-table | Multiple Assistants
Download: Flighty (Freemium)
Related: iPhone Lock Screen Now Gets Widgets and Here Is How You Can Get It too
Widgetsmith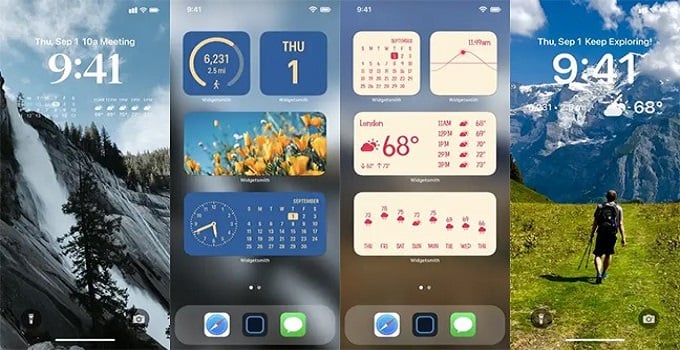 Widgetsmith's main aim is to allow users to create and customize their widgets for the home and lock screens. You can set up one widget that acts as a different widget during the day. The widgets can be set up to show the weather, astronomy, date, and even photos. You can customize the size and color of the widgets you add to the home screen and lock screen.
When you purchase the premium version of Widgetsmuth, you can add widgets that provide information such as the tide and weather. Easily integrate your Apple Watch data to Widgetsmith so that you can easily view all the stats from your workouts on your phone via the widget.
Key Features: Adjust Text Size and Color | Change Clock Sizes | Set Widgets to Change Automatically | Set URL for Timed Widgets
Download: Widgetsmith (Freemium)
Carrot Weather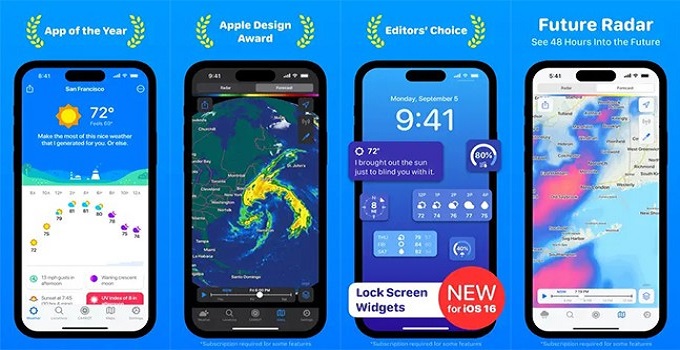 Not a fan of the Apple Weather app or even Dark Sky? Carrot Weather is the perfect weather app for you. The app has a ton of widgets that you can add to your home screen and lock screen. You can add any type of widget to your lock screen related to the weather, such as UV Index, daily forecast, high and low temps for the day, or even hourly forecasts.
With the premium version of Carrot Weather, you can get additional access to weather information, such as lightning strikes. You can also get access to widgets via Carrot Weather premium. The premium subscription also unlocks the ability to customize various aspects of the widgets.
Key Features: Custom Design Own Widget | Multiple Types of Weather Widgets | AR Support | 60+ Achievements
Download: Carrot Weather (Freemium)
Related: Get Beautiful Custom Spotify Widgets on Android With These Apps
Color Widgets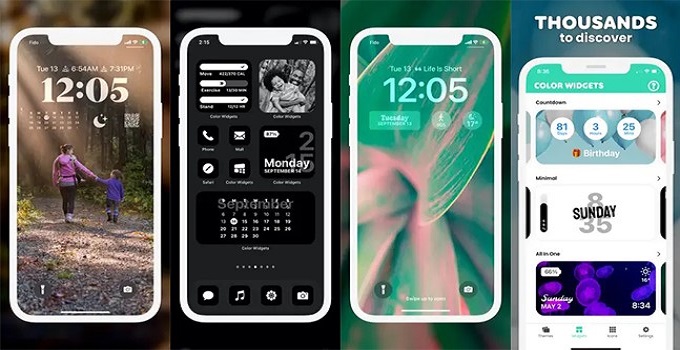 Color Widgets is an app that allows you to create your widgets. You can personalize it to how you like and display whatever information you like on your home screen or lock screen. Apart from the widgets, you can add different themes and icon packs to make your device stand out. For most of it, Color Widgets is free to use with an optional monthly subscription that unlocks additional features.
You can add widgets that show you the time, date, battery, music, calendar, and even the step counter details. Color Widgets can also sync data from your Apple Watch, which can be displayed as widgets on your lock screen.
Key Features: Customizable Widgets | Thousands of Styles to Choose | Transparent Widgets | Change Icon Packs and Themes
Download: Color Widgets (Freemium)
Top Widgets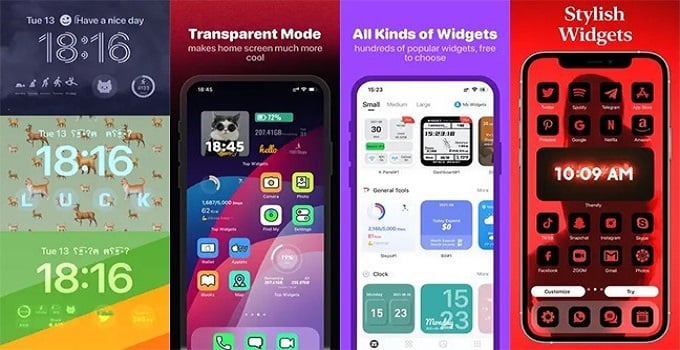 Top Widgets is one of the most popular widget apps for devices running on iOS 16. Top Widgets has a large number of widgets that you can add to customize your home screen and now also your lock screen. You can add widgets that display the time, calendar, photos, weather updates, reminders, step counter, and quick launchers.
Top Widgets also allows you to customize widgets' font, color, and style. The installation process is simple and relatively quick. The app has many icon packs for you to choose from. Another reason Top Widgets is popular is that it's free with additional payments needed to be made.
Key Features: Multiple Widget Choices | Easy Customization | High Rated App | Create Custom Widgets
Download: Top Widgets (Free)
Related: 10 Best Custom iPhone Widgets Apps to Stylize Your iPhone Home Screen
Themify- Widgets & Icon Themes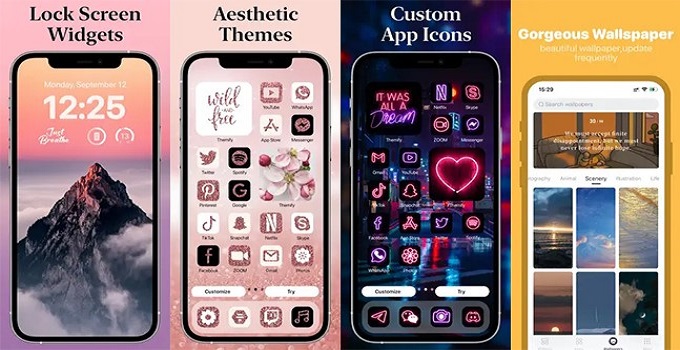 Want an app that gives you a variety of customization options? Themify has it all. Whether it's the widgets, icon packs, or still and live wallpapers, Themify has it. You can choose from over 10,000+ icons to spice up your device. Looking into the widgets, Themify has several widgets that can be customized to show info such as the time, date, battery percentage, and weather.
You can purchase a subscription that allows unlimited access to various resources such as the still and live wallpapers and the large collection of icon packs.
Key Features:3 in 1 Theme | Large CIon Pack Collection | Customizable Widgets | Depth Effect Wallpapers
Download: Themify- Widgets & Icon Themes (Freemium)
Screenkit – Widget, Icon Themes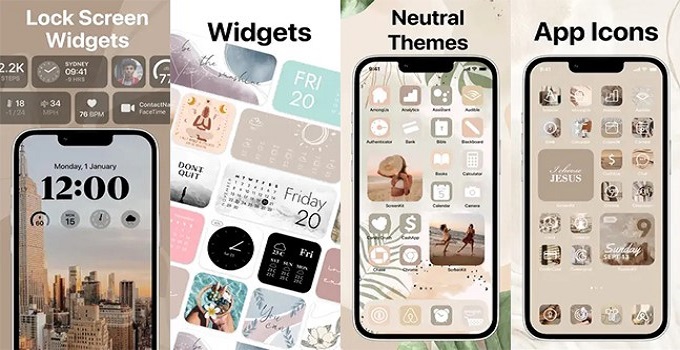 Looking for an app that has a lot of customization options? Screenkit is your choice. Screenkit has over 500 widgets that you can choose to add and customize to your device's lock screen. Screenkit has a variety of wallpapers, themes, and icon packs to make your iPhone look the best. Speaking of widgets, you can choose the large variety of pre-designed widgets that cater to showing you info like the time, date, calendar, and the usual information.
Not a fan of the widgets choices that come with Screenkit? Simply use the widget-maker to create your Screenkit widget. Such customizable options allow you to be more creative. You can change the text, background colors, decorations, style, and appearance.
Key Features: 500+ Widgets Available | Aesthetic Wallpapers and Icon Packs | Create Custom Widgets and Themes
Download: Screenkit- Widget, Icon Themes (Freemium)
Related: How to Get Spotify Widget on iPhone Home Screen
Photo Widget – Aesthetic Icons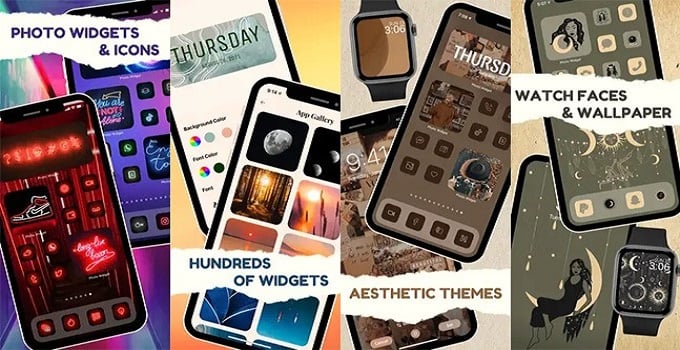 Going by the app's name, Photo Widget is all about adding cool widgets that display photos you can choose. You can choose to display a single photo or an album of photos with the Photo Widget. You can also crop and add filters and frames to the images in the widgets. Apart from just photo widgets, you can also choose from calendar, date and time, battery, and even weather widgets.
Photo Widget also lets you create your own wallpaper with the built-in wallpaper maker Photo Widget allows you to customize your widgets by changing the widget's text, font, and background color. Thanks to the color picker, you can also match the widgets with the coins.
Key Features: Heavy Customization Options | Wallpaper Creator | Sticker Options for Photo Widgets | Completely Free | MAtch Widgets Icons and Wallpaper with Color Picker | Watch Faces for Apple Watch
Download: Photo Widget – Aesthetic Icons (Free)
Parcel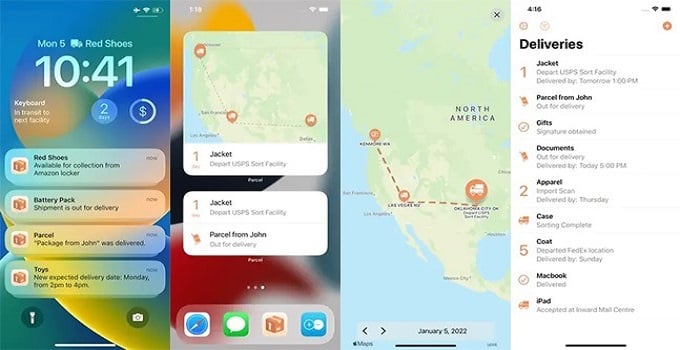 Tracking where your ordered packages are can sometimes be a headache, especially if you order from multiple stores online. With the Parcel app, you no longer have to worry about opening the app to see the status of your package. With the new lock screen widgets, users can simply add the widget, and you can see the real-time status of your particular package. All this without having to unlock your device and launch the app.
With the Parcel app, you can track your products from over 300+ delivery services. You can also use the barcode scanner to track your packages immediately. The Parcel app shows you the packages on the map, and you can add up to three packages simultaneously.
Key Features: Easy Package Tracker | Three Lock Screen Widgets | Track 300+ Delivery Services
Download: Parcel (Freemium)
Related: How to Add iPhone Widgets on Your Home Screen: A Complete Guide
Just Press Record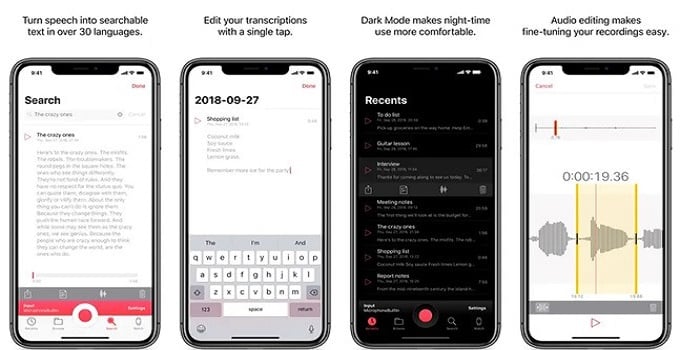 Are you a student or a journalist that always wants to have some sort of audio recording tool present? Well, install Just press Record. With Just Press Record, you can add a record widget to your lock screen and easily record any audio immediately with just one tap. You can easily pause, resume or stop the recording with just one tap.
You can easily share and transcribe audio files via other platforms and back them up using Apple's iCloud. Want to edit your recording? Just Press Record allows you to do that within the app itself.
Key Features: Easy Transcribe | Easy Share and Edit | One Tap Record| Pro Audio Quality | Easy Apple Watch Integration
Download: Just Press Record (Paid)
Things 3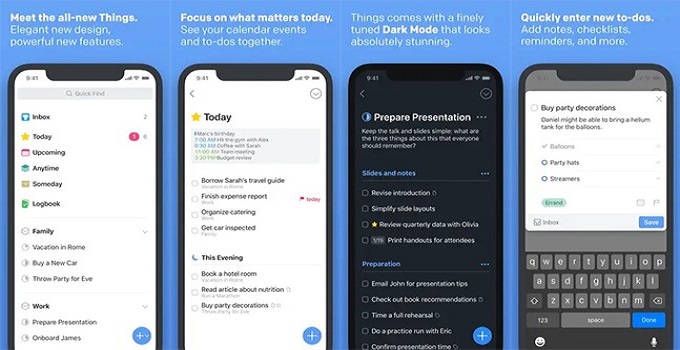 Taking notes on your iPhone has now gotten easier. With lock screen widgets, Things 3 now allows you to easily see your To-Do List, a Show List, and Today's Progress by simply adding a widget to your device's lock screen.
Key Features: View To-Do Lists Easily | Share With Other Apps | Inbox and Deadlines With a Single Tap
Download: Things 3 (Paid)
These are the best apps that you can install on your device to take advantage of adding widgets to your lock screen. Many apps will gradually get updates to add widgets to your lock screen. From this list, the Parcel and Just Press Record are essential widgets that improve your productivity by reducing the number of taps to open the app.