TikTok has taken the world by storm. Even though there are plenty of red flags and insane video challenges that are hurting people left, right, and center, teens and even adults can't get enough of it. That is not to say that all TikTok videos are bad. Some of them are actually pretty cool. In case, you want to download TikTok videos online, Android or iOS, we have a couple of ways to share.
There are plenty of cool videos of dance, songs, movie dialogues, and even stunts that you might want to download and save. The below methods will help you achieve just that.
Let's begin.
1. Download TikTok Videos on iOS
The default way to save TikTok videos on iPhone or iPad is pretty easy. Download the official TikTok app on your phone and scroll to or open the video you want to download. Tap on the Share button and scroll to find the Save video button in the lower scrollbar.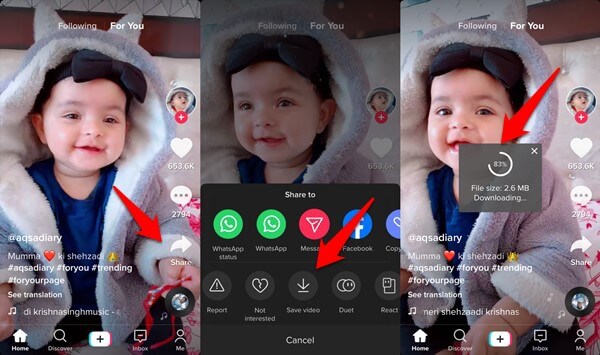 The app will ask for file storage permission. This happens only the first time. Once you allow, you will see that the video is download in real-time. It shouldn't take more than a few seconds seeing how TikTok videos are short in nature.
2. Download TikTok Videos on Android
The steps for downloading TikTok videos on Android smartphones remains similar to its iOS counterpart. Open the video and tap on the Share button. If the video is publicly available, you will see a Save video option below. Tap to begin download process.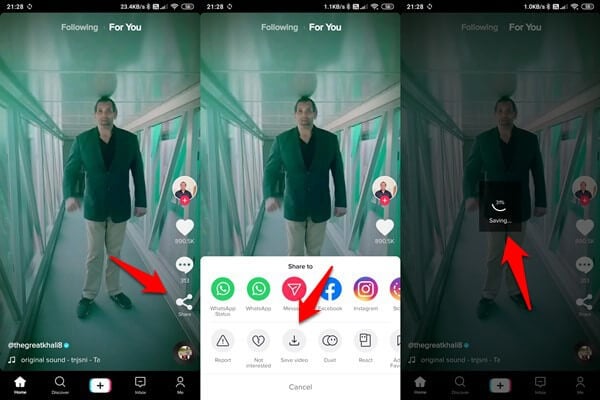 Give necessary permissions if asked for. Not many people know this but TikTok offers privacy and security options where you can choose who can download your videos. Similar to other social media sites, there are three options. Noone, Everyone, and friends only.
You don't have to even sign up or create an account for this method to work.
3. Download TikTok Videos Without Watermark (Android)
While the above two methods are enough for most users, there is a drawback. It will add a watermark to the downloaded TikTok video that some users don't like. If you want to download TikTok videos without watermark, there is an app for that. Well, there is an app for pretty much everything these days, so why not for downloading TikTok videos?
The Video Downloader for Social Media app is only available for Android users. Sorry, iOS folks but I couldn't find an app that works for you. If you know any app that can download TikTok videos without watermark on iPhone and iPads, do share with us in the comments below.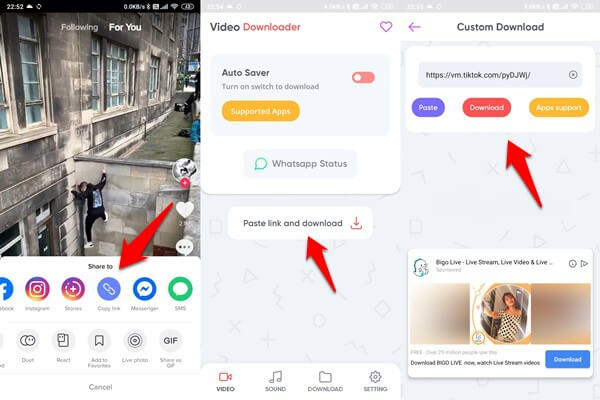 Moving on, download the app using the link below. Open TikTok and copy the link of the video you want to download. You will find the option when you tap on the Share button. Open the social media downloader app and tap on the Paste link and download it to paste the link and then tap on Download to initiate the process.
Download Video Downloader for Social Media: Android
4. Download TikTok Videos When Nothing Works
Not all videos show the Save video button when you tap on the Share option. The Video Downloader app that we shared above also doesn't work for all apps. It will only download some videos while others will simply show an error. A lot will also depend on the privacy and security settings of the TikTok user who has uploaded the video. Still, there are workarounds and you can save videos. There are two ways to do so.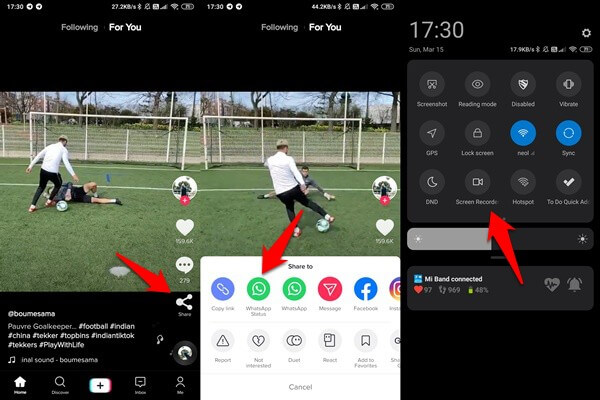 The first way is to tap on the Share button and send the video via WhatsApp or via email or some other app. There are a number of options available in the share menu and you can use any to send a copy to yourself. This trick will work for both Android and iOS smartphones and tablets.
5. Download TikTok Videos Using on Any Platform
Another way is to use a screen recording app to record whatever is showing or playing on your smartphone. Users of Mi or Xiaomi smartphones should relax. Their phones come with a built-in option to record screen in the notification menu. Users of other brands like OnePlus and Samsung can use a third-party app from the Play Store.
We have covered screen recorder apps for Android, iOS, Windows, and macOS. What you can do is open TikTok and favorite the video that you like and want to download. Then you can use one of the screen recorder apps for the respective platform to record the screen and save a copy of the video.
Download TikTok Videos
These are the best ways for downloading TikTok videos on Android, iOS, Windows, and macOS. You can then use these videos to watch them offline or even create your own TikTok videos. TikTok can be addictive as hell. Make sure you are not wasting precious time on the platform too much. People have been known to waste hours on the platform, swiping one video after the other.