Most of the laptops come with decent webcams, but not always best for a business meeting or an important work meeting. In such cases, you might want to get a dedicated webcam with higher resolution, say, Full HD or 2K. One such webcam is the Anker PowerConf C200 2K USB Webcam. We got enough time to spend and pass a word about it to you.
Let's begin.
Anker PowerConf C200 2K USB Webcam: Overview
With the Anker PowerConf C200 2K USB Webcam, you can choose how much you want the camera to cover the area. It ranges from 65°, 78°, to 95° of FOV that too without compromising the quality of the image. The 2K ultra-clear resolution makes sure that you and even your important presentations are crystal clear.
Moreover, the Anker PowerConf C200 2K USB Webcam will automatically focus on anything you move into its frame. This you can carry on the meeting/call without any disturbance. The focus of your audience will remain continuous on you.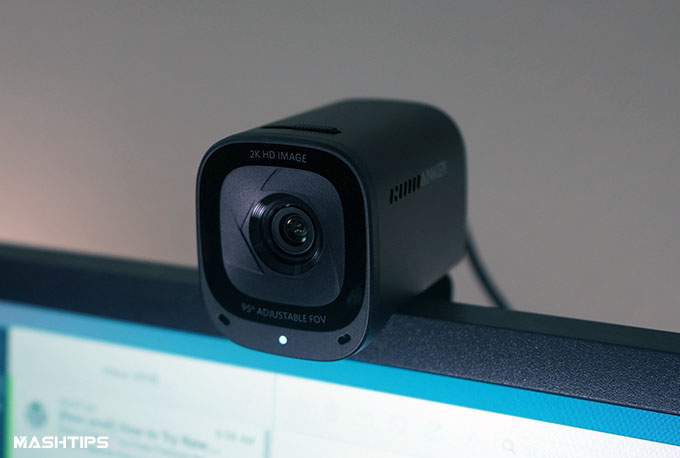 Of course, Anker has also understood that there might be times when there will be a change in the ambient light. The PowerConf C200 2K USB Webcam's big aperture ensures that the available light is used to the best for that call even when there is low light in the room.
Apart from that, Anker has made sure that they not only cover the video part with utter clarity but audio too. The PowerConf C200 2K USB Webcam comes with a dual-mic setup that uses AI to recognize and pick up your voice by reducing any background noise.
Related: Anker PowerExpand Elite 13-in-1 Thunderbolt Docking Station for MacBook Review
Specifications: Anker PowerConf C200 Webcam
Let's have a look at the technical specifications of the PowerConf C200 2K USB Webcam before diving into more details.
Specifications
Anker PowerConf C200
Camera Resolutions
Resolution – [email protected]
[email protected]
[email protected]
320×[email protected]
Field of View (FOV)
65°, 78°, 95°
Sensor
5 MP CMOS (1 / 2.7 in.)
Focus Distance
15 cm to 3 m
Focus Type
Automatic focus
Video Codec
MJPEG, YUV
Color
Black
Microphone
Dual stereo microphones
Voice Algorithm
AGC (Auto Gain Control)
ANC (Auto Noise Cancellation)
Voice Pickup Distance
3 Meters
Supported Operating Systems
Windows 7 or later
macOS® 10.11 or later
Design
At 2 x 1.6 x 2.1 inches the Anker PowerConf C200 2K USB Webcam feels like bite-size. Not only that, it weighs around 83 grams which translates to a lightweight webcam. With that, it also makes sense to mount it right on top of your laptop or desktop too.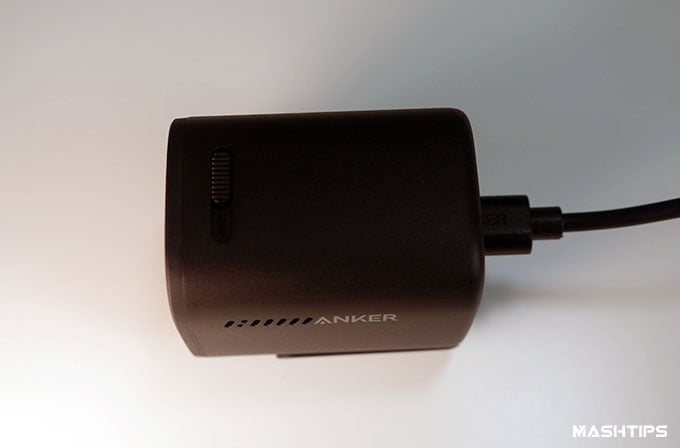 While on the top, it does not intrude your view beyond the system. Hence, you wouldn't mind the design of the webcam too. Especially since it is not big and bulky or even widespread.
On the front of its aperture, you will find a cover. This cover comes in the scene when the camera is not in use. Yes! You can simply (and manually) slide what's called the built-in privacy cover shield, for privacy. This switch is located on the top of the camera. Anker understands the importance of privacy these days. Hence, the privacy cover feature makes sense when you are working on your laptop or desktop.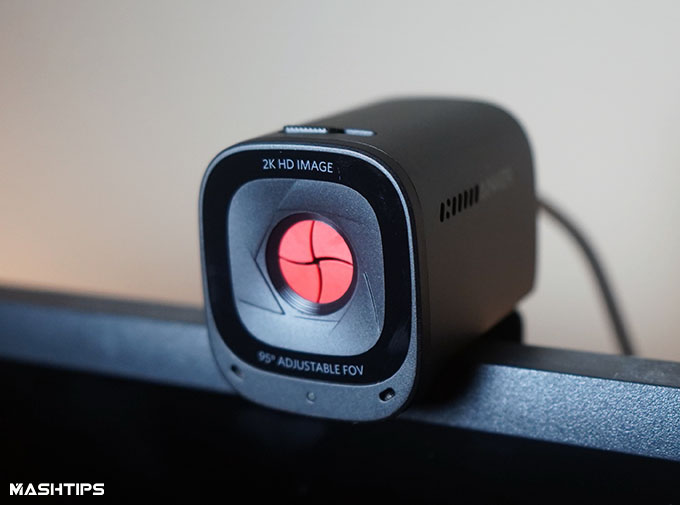 Behind the privacy cover, is the Autofocus 2K HD lens. The PowerConf C200 2K USB Webcam also encompasses a built-in 5 MP CMOS sensor. This comes with three resolution options (as mentioned in the specification sheet).
On the same side, you will see two symmetrically arranged microphones on the bottom sides of the webcam. Between them is a tiny LED light that functions as an indicator light. At the back, Anker has provided a USB C-port that goes right into your computer.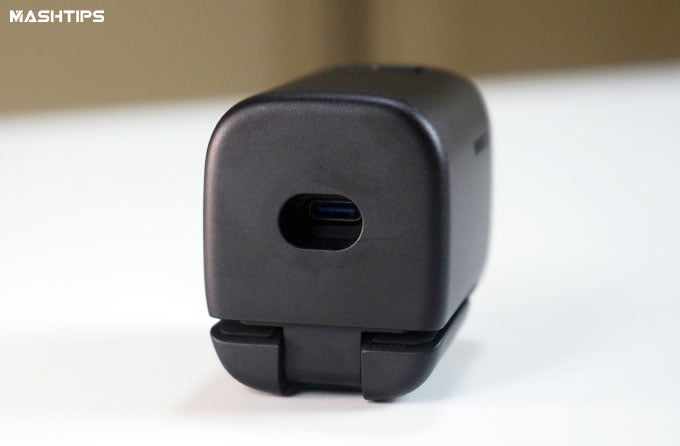 Once mounted – which we will discuss in a bit – you will notice that it looks sleek yet stout sitting on top of your system. This is all thanks to the chamfered corners of the Anker PowerConf C200 2K USB Webcam that gets a flow going.
Also, if you look at it from the side, it does not look anything less than a smart webcam. What adds to its smartness are the slants and dots that work as vents too. You will find these vents on both sides of the webcam. Below these, you will find an adjustable clip or stand to mount the webcam at just the right angle.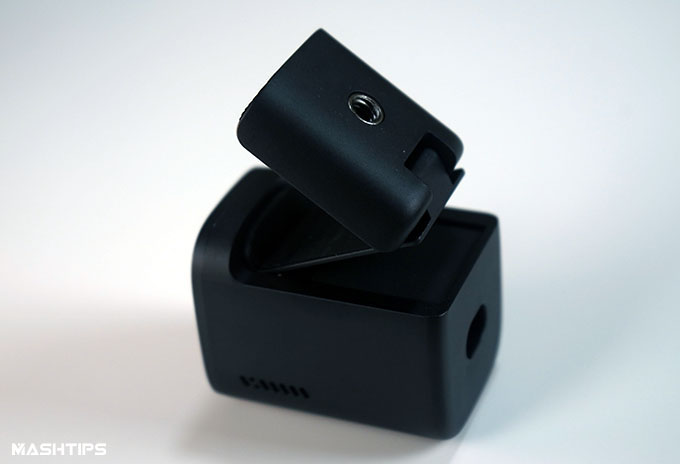 This has a non-slip rubber that is attached at the bottom to grip the top of the screen. And last but not least, at the bottom-most part of the webcam, Anker has provided a tripod threading. You can mount the camera on a tripod and use it at different heights and angles.
Related: How to Use Your Android Phone as a Webcam for Windows PC
Installation and Setup
The Anker PowerConf C200 2K USB Webcam offers quite an easy setup and hence it is one of the most simple plug-and-play devices. Anker offers you two options to mount the webcam on your laptop or desktop – clip-on and tripod mounting options.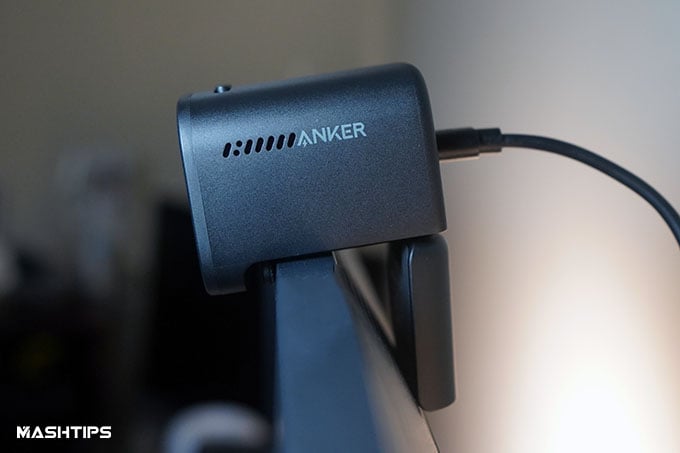 With its default clip-on mount, you can place the webcam on top of your laptop or desktop monitor. You can unfold this clip in accordance with the size of the top of the laptop or desktop monitor. Once it is mounted, the clip can be adjusted to secure the same and tighten the grip. You will still have the freedom to adjust the view of the camera by moving it up and down after mounting.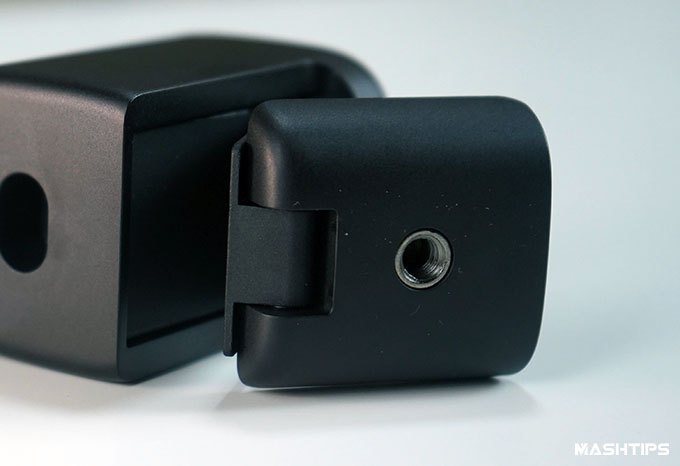 Another option to mount the Anker PowerConf C200 2K USB Webcam is by using the tripod grip at the bottom of the webcam. In this way, the clip can be folded in to mount the webcam on a tripod that is compatible with ¼-inch threading.
Connecting the Anker PowerConf C200 2K USB Webcam to your laptop or desktop:
Anker will provide you with a USB-C connector that you can plug in the USB-C port located on the back of the webcam. After that, you can use the connector on your laptop or desktop to further connect the webcam. Since the Anker PowerConf C200 2K USB Webcam supports Plug-and-play, your laptop or desktop will instantly recognize and connect the webcam.
It will also give you a prompt message on your system. However, in case you do not see the popup or cannot establish the connection, try another USB port on your laptop or desktop and restart it. Download the app on your PC and upon opening it, the LED light will light up white. This is a sign of the webcam being paired up.
Furthermore, you may have to manually select the webcam and its built-in microphones for your PC system or software. In order to do that in Windows, you can Go to Settings > Privacy > Camera and turn on "Allow apps to access your camera". Here, you can turn on every app on your system with which you want to use the Anker PowerConf C200 2K USB Webcam. Also, after opening the webcam app, you may have to switch to the Full HD Camera.
For Mac OS, you can go to the Apple menu > System Preferences > Security & Privacy, and then choose Camera from the list on the left side. Here, locate and choose the app or apps you want to enable camera access for and check the box alongside that app name to enable camera access for that application.
For apps like Zoom, etc. you can go to Settings > Video > Camera and choose this particular webcam to be used in that software.
For the controls of the Anker PowerConf C200 2K USB Webcam, you will have to first make sure that you slide the cover on the camera lens for privacy. This will not only stop the camera from a complete view, but it will also turn off automatically.
Installing and using the AnkerWork Software for PowerConf C200:
Once you connect the webcam to your system, the laptop will recognize the device right away. However, if you want to use the webcam further, go right ahead and install the AnkerWork software on your PC and update the firmware as well.
To update the Anker PowerConf C200 webcam's firmware from your PC, follow the below steps.
On your laptop or desktop, launch the software and go to Device Mode > Inspection Update.
For further options, head to Device/Image Settings to customize settings. This setting will let you reduce the background noise and enhance vocals. And to do that, you can select the microphone pickup angle via the Audio settings.
Note: The AnkerWork software only supports Windows 7/8/10/11 and Mac OS 10.14 and above. Anker PowerConf C200 can only be used with Windows 7/8/10/11 or Mac OS 10.13 and above.
Related: 10 Best Webcams for Video Conferencing and Live Streaming
Video Quality and Performance
As soon as you connect the device, and the system recognizes the webcam, it launches the software and the interface is right in front of you. In this software, you will be able to see the image quality settings. Here it will display the resolution it is shooting at. Example: 1440p resolution, which is a 2K image quality.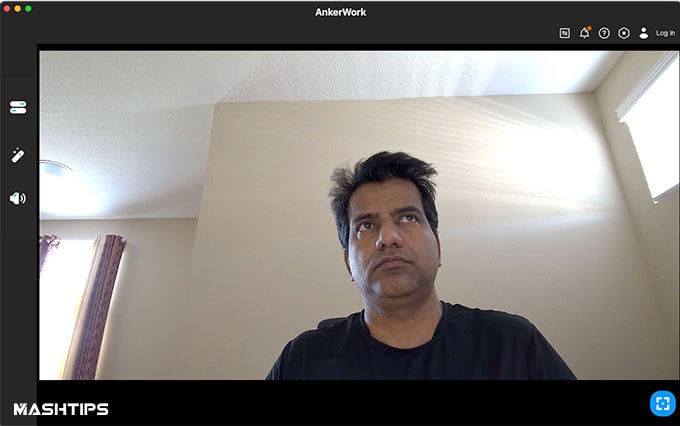 If you look at the image you have captured, it will be crystal clear. Thanks to its autofocus, the camera makes sure that it continuously captures you and feeds the audience with sharp image quality. It is also in the times when you are not moving and you are in the middle of a presentation, and you want to show a document or a flier on the go.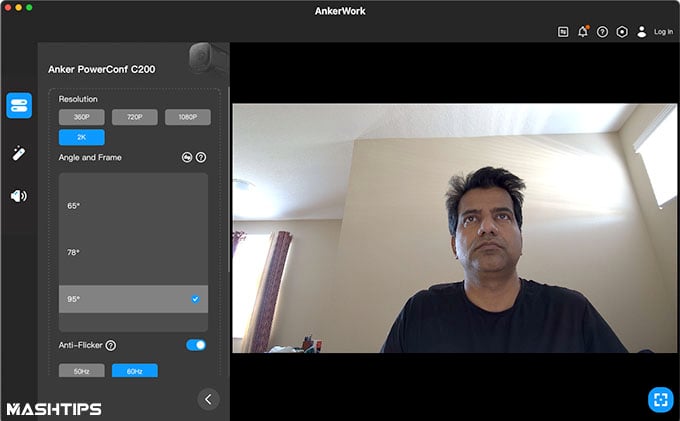 Anker PowerConf C200 2K USB Webcam also makes sure that it makes the best use of the ambient light and optimizes the output to your audience for better clarity and crisp visuals during daylight. However, I thought of getting an extra light for meetings during nighttime. Also, the autofocus tracking needs a bit of improvement since it was not that fast enough.
Compare it with the usual webcam that comes with your laptop or as an attachment to your desktop screen. You will see the difference in the image captured by the camera attached to your laptop or desktop which is usually 1080p at full HD. If you compare your regular meeting webcams with the Anker PowerConf C200, you will see how the overall video quality on the latter is better.
Pros and Cons
What We Liked:
Lightweight design
Privacy shutter
FOV adjustment
Strong low-light performance
Dual microphone
What We Disliked:
Software could lag
No inbuilt support for virtual background and video recording
Key Features: 2K ultra-clear resolution | Larger aperture size | Automatic brightness correction | Dual microphones | FOV adjustability | Built-in privacy cover | Auto-focus in 0.5 seconds | Plug and play PowerConf C200 with the included USB 2.0 cable | Easy to carry | USB 2.0
Related: 8 Best Fixes for Google Meet Video and Mic Not Working
What Is in the Box
The Anker PowerConf C200 2K USB Webcam is a very capable webcam that is well suited for individuals who are on the go. With its FOV adjustability and mobility, it is a great choice and a companion for someone who isn't too tech-savvy too. Let's take a look at what comes along with the tiny little webcam.
With the full delivery, you will be getting;
1 x Anker PowerConf C200 2K USB Webcam
1 x USB C to USB A cable
1 x USB C to USB C cable
1 x Quick start guide
Pricing and Availability
At below $70, The Anker PowerConf C200 2K USB Webcam is a great grab of a deal. Firstly, it comes with a 2K resolution that gives you consistent quality. Its AI makes sure that the subject, which is you most of the time, stays in focus. This way, you won't have to worry about looking at your preview screen every now and then. And that right there is a game-changer for professionals, friends, family, and even infants who do not know about the how-tos of a webcam.
Hence, if you are rooting for quality at a cost, you know how to rush to the nearest dealer or even find it on Amazon.
One of the important things it does is, with all that it has to offer, it is a simple Plug-and-play device that does not need a technical mind too. And with that, it brings in mobility in these times where you might work out of 4 different locations in a day.
Final Thoughts
By bringing mobility and quality into one camera, Anker has shifted the way we used to think about a webcam. Since it isn't just limited to the video aspect of it, Anker has stretched and achieved what a video conferencing tool needs now. With an output of 2K resolution, while flipping frames at 30 per second, it does not heat up too much, and there is no lag in the video transfer.
When it comes to the design bit, it isn't too big and bulky either. Anker has also given an embedded tech that cancels the noise from your surrounding environment to ensure that your audience listens to just your voice. It works exceptionally well in low-light situations too. This is one of the factors that will work in favor of the professionals who tend to get closer to the screen.
And with the privacy coverage in the camera, they've not only got your privacy in place but the protection of the lens too. The Anker PowerConf C200 2K USB Webcam is a simple webcam to use with the USB A or USB C cord based on your preference without any hesitance.