Google keeps the Android OS pretty fresh with new features and on-device machine learning is one of them. Android 12 has machine learning, but with a catch – it wants your personal data for that. Your personal information and activities are taken for this. Google promises these data to never leave your phone, so they are safeguarded already. But they are still stored within your phone and you may be worried (you probably should be). If that's the case, Google lets you clear these personal data and set your mind free.
Let's find out what this machine learning does to your personal data and clear them from your phone.
Where Is Your Personal Data Stored by Google for Machine Learning?
While Google included the Machine Learning feature for Android users, it ensured privacy in the first place. Private Compute Core is a new feature on Android 12 that collects all the user information that is used by the device for machine learning. All of this data stays on the device and Google never has any access to this data.
To further enhance privacy, the Private Compute Core exists in a sandbox. That is, it is isolated from the rest of the Android system and apps. Any smart suggestions, features, and results based on machine learning are always hidden from any apps or even the keyboard unless you choose to use them.
That being said, Google simply wants your personal data to be stored and processed inside your smartphone. It never leaves your phone, nor the Google has access to it. There is nothing to worry about the privacy of this collected data, though, here is how you can delete them.
Related: Use These Android Browsers for Privacy; Incognito Tabs Are Not Safe Anymore
Delete Private Compute Core Data on Android 12
While this data stays on your phone, according to Google, Android 12 still gives you the option of deleting it. You can delete all the data ever collected, or you can delete the data collected within the last 24 hours or just the last hour. Let's begin.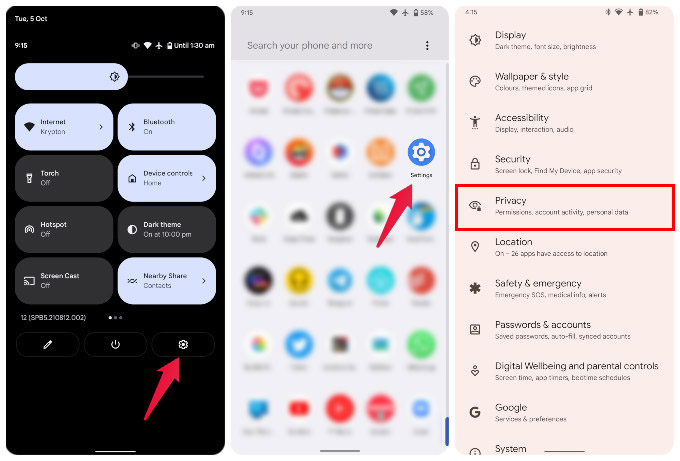 Open the Android Settings app from the quick settings page or the app drawer.
Scroll down and select Privacy.
Go to Private compute core.
Select Clear data at the bottom.
Select your preferred choice on the popup dialog.
Tap Clear data.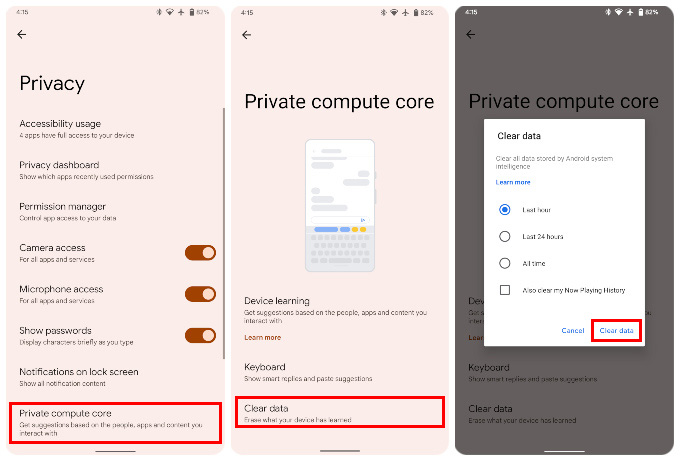 When you do that, there's no confirmation or prompts to let you know if the data is cleared. While that's something Google can definitely improve upon, it did work. The data collected within the last hour, or 24 hours or all time is deleted.
Related: How to Get iPhone Privacy Dots for Camera and Microphone Access on Android
Android 12 Private Compute Core exists in a separate partition, as well as in a sandboxed environment. The whole reason it even exists is that Google does not want users to be concerned about this data being shared with anyone else. After all, the related features work on very personal and sensitive data. For instance, the smart reply feature in Google Messages or the notifications gets access to your incoming messages. Nobody would want this kind of data on any servers.
As such, the Private Compute Core on Android 12 and its separation from the rest of the operating system and apps should put your privacy concerns at ease. If not, now you know how to delete Private Compute Core data in Android 12.