Handheld gaming consoles are one of the coolest pieces of tech. You can play many engaging and powerful games on these palm-sized gaming consoles without connecting to an extra TV or gaming monitor. There are many such devices that let you play from retro games to extreme PC games, and we have listed the best of them here.
Here is our list of the best handheld gaming consoles you can buy in 2022.
Best Handheld Gaming Consoles
Handheld gaming consoles range from simple Nintendos to fully functional WWindows PCs that can run almost any game. Here we listed the best consoles from all the ranges and we will help you choose the best one that suits your need at the moment. Let's begin.
Nintendo Switch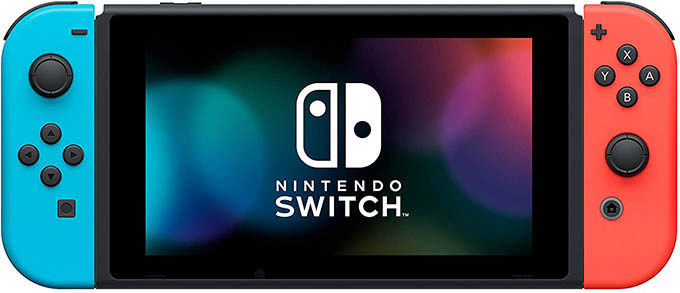 Nintendo Switch is overall the best handheld console available in the market right now. It has lots of distinctive features. It comes with a large 6.2-inch screen that works in 720p resolution. The new OLED screen provides great visual quality for the users.
The best part of the handheld console is that it can be easily docked onto the case and connected to the TV screen. Using this feature, all of your favorite games can be played on bigger screens. Even though the handheld screen supports only 720p resolution, the console can give an output of 1080p on TV screens.
The Nintendo Switch comes with 2 Wii joy-con game controllers that can be detached from it. These Joy-Cons can be used as controllers individually or together. The feature that the controller can be used by 2 people, which provides the freedom of multiplayer gaming. If you have 2 joy-cons, 4 players can play their favorite games together.
The handheld console allows continuous gaming from 2.5 hrs up to 6.5 hrs, this depends on the game you play. The handheld console has several modes of operation. The Nintendo Switch is the best option if you are looking for a great handheld console. The portability and features it offers make it exceptional.
Key Features: 3 Play Styles | TV mode | Tabletop mode | Handheld mode | 6.2-inch touch screen | 4.5 – 9 Hours of Battery Life
Related: 14 Best Nintendo Switch Pro Controller
Nintendo Switch Lite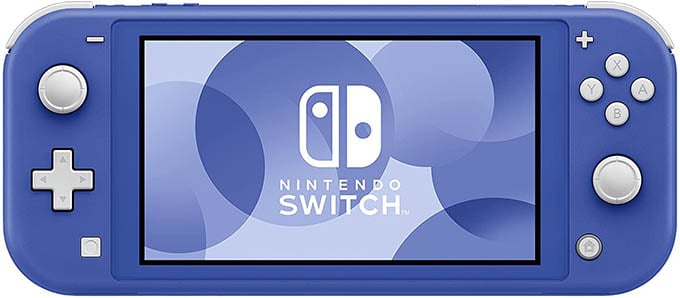 If you are looking for a lighter and more compact console, the Switch Lite is your perfect companion. The handheld console is very lightweight and has a lot of features.
The Nintendo switch light handheld gaming console has almost all features of the Switch Pro except the external display connectivity and detachable Joy-Cons. This means it cannot be connected to tv screens, unlike the Switch Pro.
The Switch Light comes with a 5.5-inch screen that has a 720p resolution. It has all the standard controllers from the switch including the D-pad, and other standard buttons. The handheld console allows more Joy-Cons to be connected wirelessly to it. The main feature of this handheld console is the offline multiplayer capability.
The Switch Lite comes with WiFi, Bluetooth, accelerometer, gyroscope, and light sensor. Considering all the aspects, the switch light is the best option if you are looking only for a portable and handheld gaming console and an even affordable price tag.
Key Features: Highly optimized | Handheld play | Nintendo Switch features | 5.5-inch screen
Steam Deck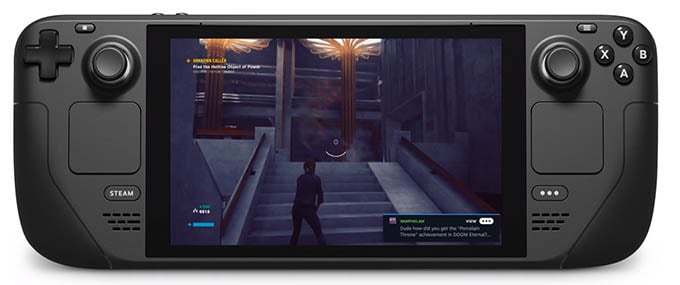 The steam deck is Valve's new handheld gaming PC. It is simply a mini-computer with a controller attached. The Handheld console features 720p gaming with a design similar to the Nintendo switch.
The steam deck runs the Linux-based SteamOS from Valve. The handheld console comes with a 4 core Zen 2 CPU that supports up to 8 threads. It has an RDNA 2 architecture GPU that even supports raytracing. The device comes in various storage options, all of which are SSD's.
The controllers of the steam deck are slightly similar to the Joycons, but not detachable. It has sturdy common buttons and 4 extra rear buttons in the back of the console. All these buttons can be customized using the custom key binding option. This allows the player to set the button configuration according to their purpose.
Its trackpads work similarly to mousepads and can be very helpful when playing first-person games. The console also has a touch-enabled 7-inch screen with capacitive triggers.
Key Features: Mini PC | All features of steam available | All PC games supported | Smooth and efficient
Buy Now: Steam Deck (Coming Soon)
AYANEO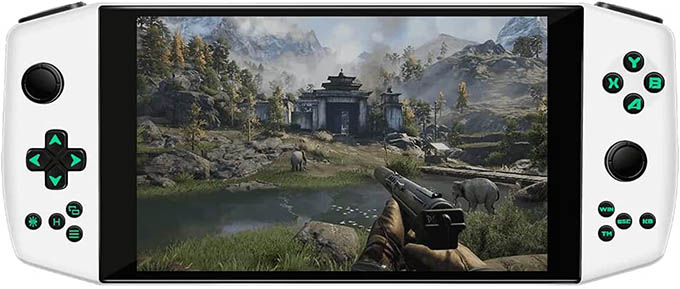 Having a handheld device with the latest Ryzen processor is a great concept. The AYA NEO is a handheld console with a powerful Hexa core Ryzen 5 4500U CPU Vega 6 graphics. The device also has 16 GB LPDDR4 RAM that provides high performance. The controller comes with all the basic buttons and alignments that provide depth while gaming.
All this power produced by the system is put to use by a bright 7-inch large high color gamut screen. The display of AYA neo has a resolution of 1280*800. The handheld console has a large battery that can give you a gaming time of up to 140 minutes. The speakers are not up to the mark but give you the option to plug in headphones.
Key Features: Powerful processor | Great display | great battery backup | High storage capacity
Related: 7 Best Gaming VR Headsets to Play Games Immersively
GPD WIN 3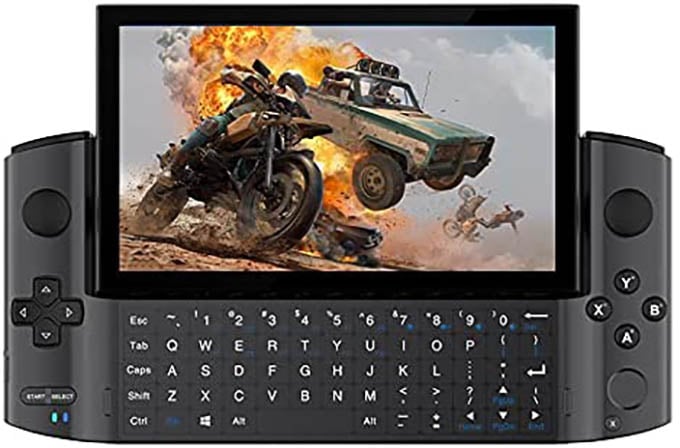 The GPD win 3 is a handheld mini gaming PC that serves the same use as a console. The handheld console comes with an Intel i5 1135G7 processor along with the intel iris XE graphics. With its 16GB of RAM and Windows 10 OS, you can get the same performance as a gaming PC.
The main attraction of the GPD win 3 is its sliding screen. The 5.5-inch hips display slides away to reveal a fully functioning manual keyboard under it. This is in addition to all of its controller buttons and 2 rear buttons.
The Thunderbolt port, fingerprint scanner, MicroSD card slot, and backlight keyboard are added advantages of the handheld gaming console. The device can hold up to 3 hours on a full load battery.
Key Features: Good battery backup | Powerful processor | Large and expandable memory | Fingerprint scanner
Nintendo 2DS XL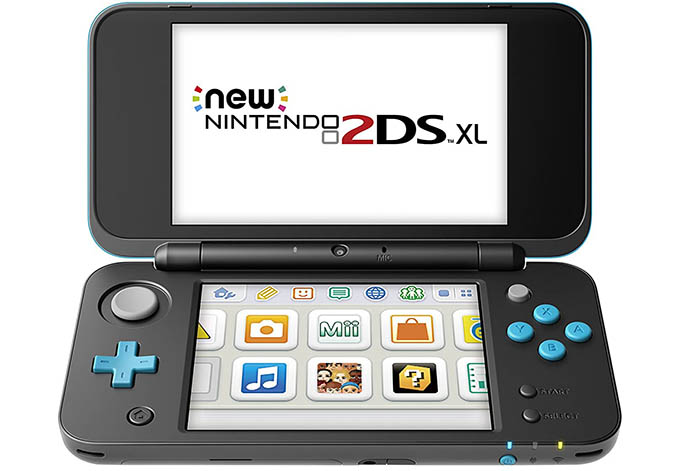 The Nintendo 2DS XL is one of the cheapest handheld console devices available in the market. It is not only cheap but also offers great performance. It is a solid handheld gaming console. The 2DS XL has a large touch screen as well as a small second screen.
The Nintendo 2DS XL comes in a folding model along with a C stick button and an NFC reader. Apart from other models, it does not have 3D functionality. The handheld console comes with a front and rearview camera. A quad-core arm CPU helps the console to run thousands of 2D/3D games.
Key Features: intuitive camera control | Lightweight | Amiibo features | Budget-friendly
Related: 10 Best Racing Wheel For Gaming Consoles
GPD XD Plus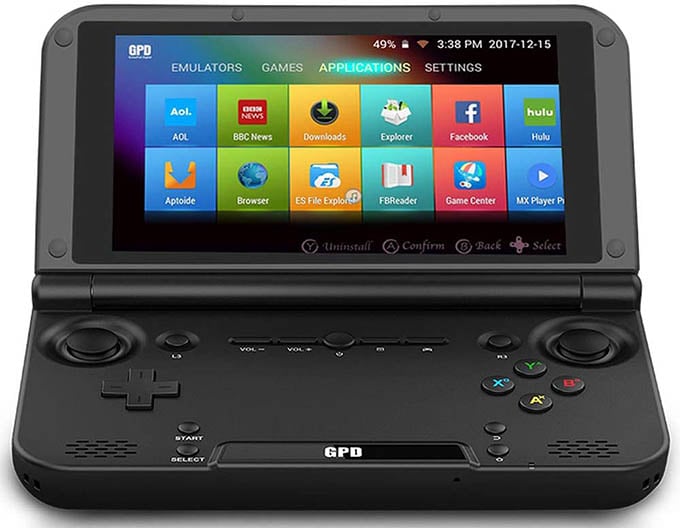 The GPD XD plus is one of the best Android handheld gaming emulator consoles you can get now. The gaming console has a 4-inch HD touchscreen display. A Dual-core A72 processor is present inside the console that can go up to 2.1 GHz speed. The console offers 4 GB of RAM for optimum performance.
The GPD XD Plus handheld gaming console has a folding shape with lots of buttons. It has all the standard controller buttons along with other functionalities. The device packs in a single lithium battery that offers 8 hours of game time after a single charge. The gaming console comes with 32GB of internal space for you to download and run as many games as you want.
Key Features: Vulkan Engine support | Hexa-core processor | High-performance CPU | 6700MAh battery
Sony PS Vita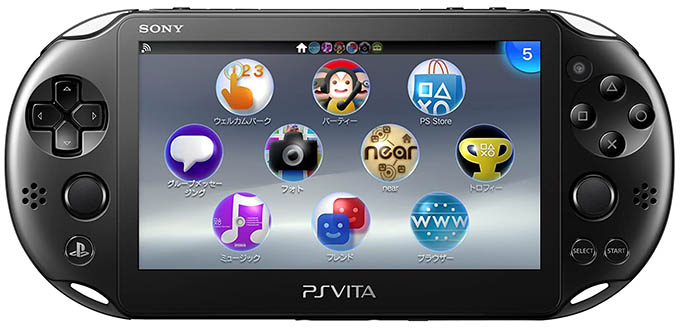 The PSP introduced by sony was one of the best handheld gaming consoles out there. PS Vita is its upgraded model. Old, but still a good pick. The handheld gaming console from Sony is very thin and lightweight. It comes with a 5-inch quarter HD OLED display.
The Sony PS Vita has all the basic controls like d-pad, triangle, x, start, select, circle, square buttons, etc. It also comes with an external card slot and an audio output port. A touchpad is also present in the handheld gaming console. It also offers a 2.3MP front and rear camera.
The PS Vita is powered by an Arm cortex A9 quad-core 2 GHz processor with 512 MB ram. The device has an accelerometer and gyroscope when combined gives a 6-axis motion sensing control. The Bluetooth and WiFi connectivity are also enabled for a better connectivity.
Key Features: 5 inch OLED screen | touchpad | 6 axis motion control | front and rear camera
Related: 10 Best Gaming Headsets for PC, PS4, Xbox& Wii U
Powkiddy RGB 10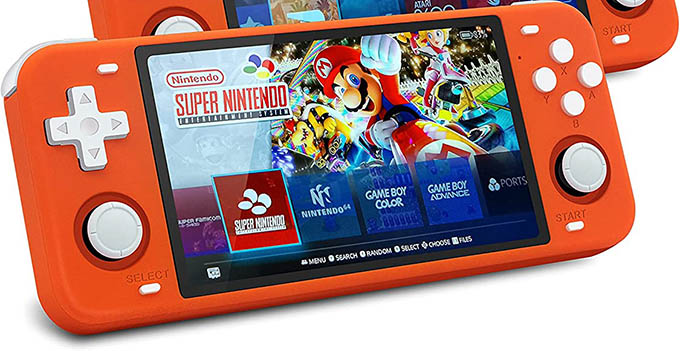 The Powkiddy RGB 10 max handheld video gaming console has a 5-inch IPS HD screen. The handheld gaming console comes with an internal SD card with 128 GB of storage space that has more than 17000+ games.
The handheld gaming console is able to add more than 20 emulators that support formats like N64, PS1, CPS, NEO, GEO, GBA, NDS, etc. The RGB 10 gaming max handheld console supports lots of retro handheld games as well.
The Powkiddy console offers 8 hours of playtime on a single charge with the help of its larger 4200mAh battery. Connectivity includes a USB C port, ,WiFi and Bluetooth. The Powkiddy RGB 10 max handheld console is a solid option if you love retro games and wish to play games from other retro platforms.
Key Features: 17000+ classic games | Built-in 128G SD Card | 8 hours battery backup | Enhanced eye protection
Retroid Pocket 2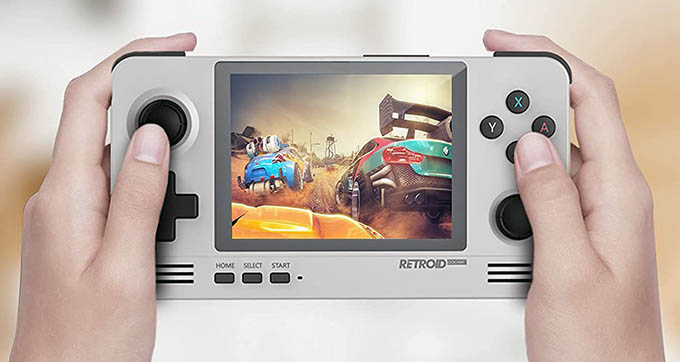 The Retroid pocket 2 is the ideal companion for people who love to play retro games. The device basically runs on Android 6. Even Though it is fairly an old version of Android, it gets the job done seamlessly. The handheld gaming device has a 3.5-inch IPS screen that provides a resolution of 640×480.
The Retroid pocket 2 packs in a MediaTek MT6580, Cortex A7 quad-core CPU that works at 1.5 GHz speed. It supports a micro HDMI connection and has a USB type C port. The headphone jack and LED power indicator are an added advantage to the device.
The gaming console has switch styled analog stick, Home, Select, Start, A,B,X,Y, and a slider-type button. It also has support for Bluetooth and WiFi. The 4000mAh battery provides sufficient charge for the devices working up to 3.5 hours. The cool Retroid theme and support for a lot of android games make this handheld gaming console one of a kind.
Key Features: Retro Game Console | Mini HDMI port | Dual boot system | Android
Related: 10 Best Bluetooth Game Controllers for Android
These are some of the best handheld gaming consoles that are currently available in the market. Even Though the most modern smartphones support a lot of games, such handheld dedicated gaming consoles are so hard to replace.