VR games give you a real-life experience while playing them, but you will need sophisticated gaming VR headsets or Virtual Reality headsets. Unlike playing with gaming monitors, you will feel like you are in the virtual world of the game you are playing when you game using VR headsets.
Here let us look into some of the best VR headsets for gaming now.
Best VR Headsets for Gaming
Not every VR headset you see is built for gaming. There are tons of games that support a range of VR headsets and that's what we are listing here today. Let's begin.
Oculus Quest 2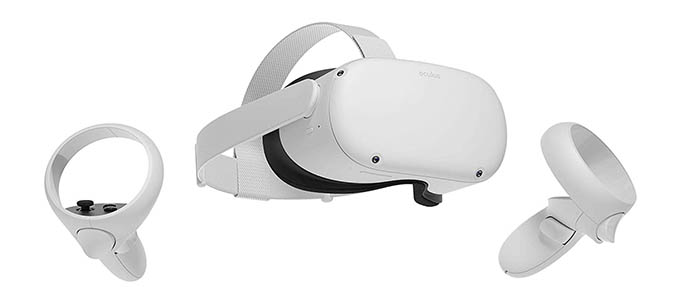 Oculus Quest 2 is one of the best VR headsets available in the market currently. It comes with an all-in-one design that requires no computer or console for it to work. It has a wireless design that can provide a battery life of more than 2 hours. The VR headset also has a higher resolution of 1832*1920 pixels per eye. This gives a crispier and clear picture while using the device.
The gaming VR headset also has a pass-through mode that allows the player to see the outside world without removing the headset. The oculus quest 2 is a little lesser comfortable than other VR headsets due to its inbuilt battery and head straps. The straps can be replaced for better comfort.
Quest 2 has well-designed and built controllers for VR gaming and control. It also has a cool feature of controller-less control that allows the user to use real-time tracking of fingers to control apps. The VR headphone requires a Facebook login for users and it comes in two memory variants.
Key Features: Wireless | Next level hardware | pass-through mode | comfortable | Finger tracking
Related: 12 Best VR Games for PC to Play Using Oculus, Vive, and More
HTC Vive Cosmos Elite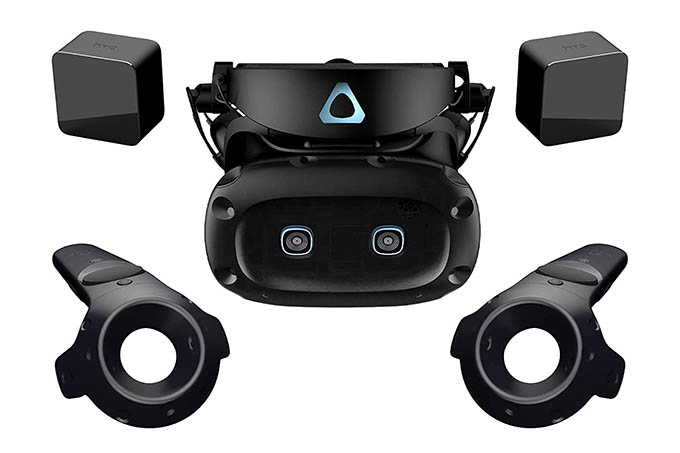 The HTC Vive Elite provides a top-level VR experience. The device mainly focuses on a PC-based VR experience. It requires a display port 1.2 or newer and a USB A port for connection. The VR headphone also comes with 2 base stations and an outside inside tracking system. The 2 base stations should be placed correctly for accurate tracking. The device also provides a reduced screen door effect due to its better functionality.
The HTC Vive cosmos elite has a resolution of 1440*1700 pixels per eye that works at 90 Hz. The field of view of the headset is up to 110°. The gaming VR headset is very comfortable and lightweight. The flip-up visor makes it easier for the user to view the outside world without removing the headset. The device also provides the option to adjust the inner pupillary distance as well as enough room for glasses.
Key Features: Lighthouse tracking | 90 Hz | Flip-up visor | Vive reality system | High Resolution
PlayStation VR

The PlayStation VR is one of the best dedicated gaming VR headsets you can buy. It requires a PS4 to work with and can only be used with a PlayStation 4. The adjustable design offers the player a much higher degree of comfort level. The gaming VR headset offers extreme comfort once it is set up and ready to go. Additional cosmetics in the headset give a pitch dark view inside the VR headset.
The PlayStation VR has a single camera for tracking. The display offers a resolution of 1080*960 pixels per eye. Compared to other newer generation VR headsets, this is quite low. But the VR headset has many advantages. Access to all the PlayStation exclusive VR games is the main advantage of the headset. The PlayStation 4 has a large library of VR games that are primarily built for the PlayStation VR.
The VR headset works well with the DualShock 4 controller, but can also be enhanced by using a motion controller and camera from Sony. The PlayStation VR restricts the player from 180° movement due to its limited view but is a great option if you own a PlayStation 4 console.
Key Features: Exclusive for Playstation 4 | motion controller can be paired | large library of PS4 VR exclusives | Extremely comfortable
Related: 10 Best AR App for iPhone to Experience VR
Oculus Rift S

The oculus rift S is a budget-friendly gaming VR headset that comes at an attractive price tag. It comes with a resolution of 2560*1440 pixels per eye at a refresh rate of 80 Hz. The VR headset does not have inbuilt audio headphones, but it comes with 2 speakers and a headphone jack which offers more freedom.
Oculus Rift S does not have a lighthouse tracking system. So no external cameras have to be placed in order for the device to work. The VR headset has its own camera tracking system, which once set easily tracks your movements. The headset can be used with windows in order for a virtual desktop interface. The visuals provided by Oculus Rift S feel more realistic due to its placement.
Key Features: VR gaming library | Oculus touch controllers | Oculus insight tracking | High-quality optics | PC-based controls
Valve Index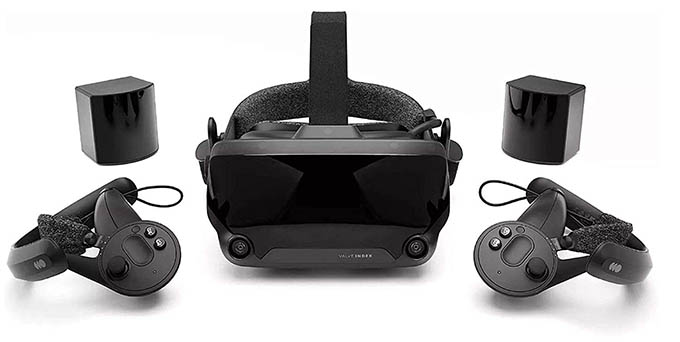 The valve index is a highly refined gaming VR headset that is designed specifically for the steam library. It provides a very high resolution of 2880*1600 pixels per eye and has a field of view of about 110°. It can be paired with a pc with a good CPU and GPU. All VR games from the Steam library including the exclusives can be played in the valve Index headset.
The Valve Index provides high-quality visuals and very high comfort at the same time. The controllers that come with the Valve Index are some of the best and offer great haptic feedback. The VR headset requires 2 camera boxes to be placed accordingly for the best motion tracking. Valve index is one of the best and premium headsets that is currently available in the market if you are into VR gaming.
Key Features: Designed for steam library | High resolution | Support for Steam VR exclusive games | 110-degree FOV
Related: 8 Best 360 VR Video Camera with 4K Video Quality
Microsoft Hololens 2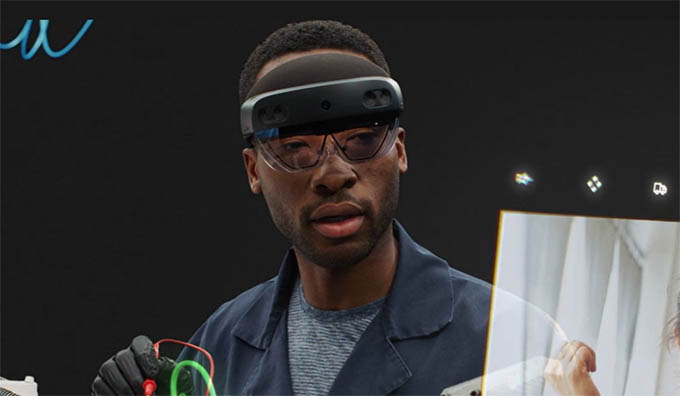 The Microsoft Hololens 2 mainly concentrates on the industrial side rather than gaming. It is a consumer-ready device that packs features that can become useful in the long run. The Mixed Reality headset is very costly and is made for people that look for new possibilities.
The Microsoft Hololens 2 is a mixed reality device that uses two AR lenses for providing a virtual reality experience. The device understands the surrounding around it and places the object in these surroundings. It has a highly efficient depth sensor that makes this possible. The VR headset is very comfortable due to its evenly distributed weights. The battery lasts up to 3 hours.
The front flip allows the player to adjust the lenses for their comfort. The main focus of Hololens 2 is to make virtual interactions more seamless and easier. The virtual meetings, gatherings, sizing, and shaping of materials are all good features that make this VR headset stand out from the crowd.
Key Features: Industrial Application | AR interface | Virtual interactions | Finger tracking | Eye-tracking | Voice operation
Buy: Microsoft HoloLens 2
HP Reverb G2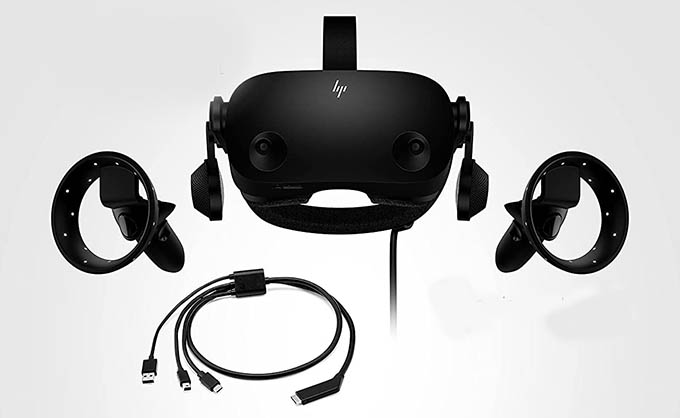 The HP reverb G2 is the VR headset that packs the highest resolution on our list. It has a resolution of 2160*2160 pixels per eye that works at 90 Hz. This makes the HP reverb G2 the most crispier and clearer VR headset that is currently available on market. It is very comfortable to wear due to its lightweight and has a field of view of about 114°.
The Reverb G2 comes with inbuilt headphones that offer a spatial audio experience but lack a headphone jack. A mini display port and USB C port are required for the device to be plugged onto the PC. The flashlight mode is a cool feature present in this gaming VR headset that allows the user to see the outside world. Windows mixed reality is required for the VR headset to work properly. Mixed reality to Steam VR can also be installed from the steam to play the latest VR games in steam.
Key Features: Highest resolution | IPD adjustment | Flashlight mode | Windows mixed reality
Related: 7 Best VR Headsets to Experience Virtual Reality on iPhone & Android
These are the best gaming VR headsets that are available in the market currently. Most of the devices are built for PC and require at least an Intel Core i5 or AMD Ryzen 5 processor along with a GTX 1060 or RX 580 to work properly. All these gaming VR headsets offer a great experience and good comfort for the users.