Cryptocurrency is a whole new asset class that came into existence with the launch of Bitcoin in 2009. Since then, more than 8000 coins and tokens have been launched so far. As more people began investing in cryptocurrencies, a need for a cryptocurrency portfolio tracker arise. How do you track your portfolio and investments on the go. Add to the fact that the crypto markets are highly volatile, and the need for a real time tracker becomes even more important.
Let's take a look at some Android and iOS apps that will let you follow your investments in real time, so you can make more informed decisions in time.
1. Blockfolio
Blockfolio is one of the most popular crypto portfolio tracker out there. The UI is beautiful and there is a dark theme that's truly black. It supports over 300 exchanges right now. You just have to give it read access using the API key, and it will import all past transactions into the app. After that, it will track all movements of price and new investments on the exchange in real time. You can also input entries manually, but that's too much trouble in my opinion.
There is a passcode lock however no support for fingerprint yet. There is a Markets tab to track market movements. Add a coin/token to the watch list to track movements in real time, and get notified via notifications. A news tab that aggregates stories from a number of sources.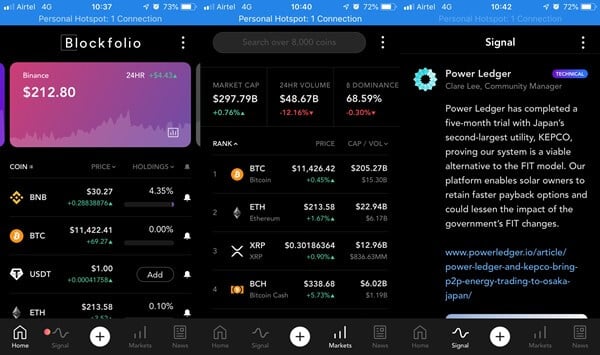 But what I like is the Signal tab. Teams and founders can directly update the community and readers on what's happening with their project here. That way, you receive first-hand info on your favorite coins without relying on media. A more reliable way to stay updated. Over 400 teams, mostly popular projects, are using Signal to share regular updates.
Blockfolio is completely free to use and there are no ads either. The app has been funded by VCs. That means at some point, expect either ads or an in-app purchases.
Download Blockfolio for Android and iOS
Also Read: How to Stop Crypto Mining and Cryptojacking on PC
2. Delta
Delta is one of Blockfolio's biggest competitors. Delta brings some new and innovative features to the table. You can not only add exchanges to your portfolio, but also wallet addresses. That means coins stored on wallets like Trust Wallet can also be reflected in your portfolio, giving a true and more accurate picture of your holdings.
The market tab has 3 price options including 1 hour and 1 week. Useful for understanding trends. There is a news tab but you can also personalize it. All coins and tokens in your holdings will be followed automatically. Plus, you can select coins and receive news targeted to those coins only under the Following tab.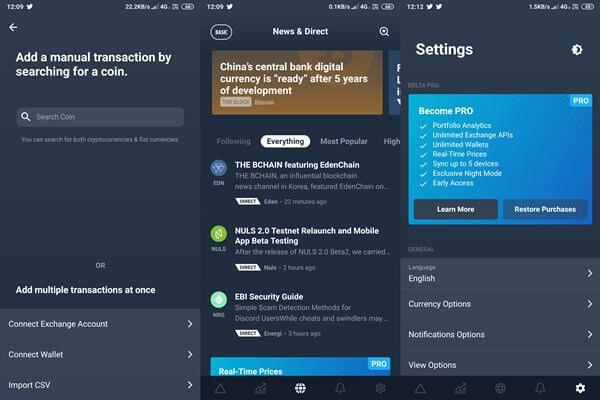 There is support for both passcode and fingerprint lock, dark theme, currency and notification settings, and a pro plan that will cost $58.99 yearly. Yup. You get multiple device sync, real time prices, unlimited wallets, and detailed analytics. The free version has no ads which is cool.
Delta offers the ability to fine tune the news and price settings to your liking. The ability to add wallet addresses is icing on the cake. Overall, one of the best cryptocurrency portfolio tracker apps.
Download Delta for Android and iOS
3. Coin Tracking
Coin Tracking follows suit where you can not only add exchanges using API to track crypto portfolio, but also add wallets to track their balances. To create an account, you will have to visit their official site though. Not only that, you will also add wallets and exchange info through the site.
I am not sure why but the app is view-only and you can't make changes of any kind. You can add entries manually or import. They will generate some useful charts to analyze your investments and gains/losses. You can set alerts but no way to track news.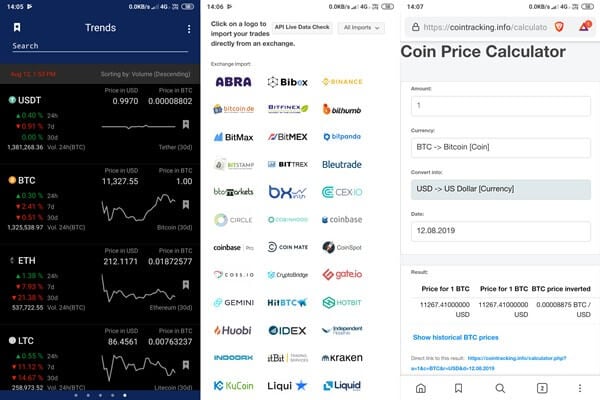 On the plus side, you can check coin trends and historical prices of coins/tokens. There is a fee calculator and currency converter with a date option. It means you can track changes in different currencies (fiat and digital) for current and historical values. Awesome.
Coin Tracking has a free plan which is limited. Their pro version will cost BTC 0.014 and Unlimited will cost BTC 0.030 per year. Yes, all payments are in BTC. I guess that's why they have a robust currency converter in place.
Download Coin Tracking for Android and iOS
Also Read: 7 Best Personal Finance Software for Mac and iPhone
4. Coin Stats
Coins Stats brings the best of all the cryptocurrency portfolio tracker apps combined. Taking things one step further, you can add exchange, wallet, and even hardware wallet like Ledger and Arkane to track your crypto investments.
Drilling down a specific coin will reveal insights. There are four to choose from. Useful to draw conclusions based on what other Coin Stats users are doing or holding.
There is a news tab where you can follow the market, but also receive direct updates from the developer team. Similar to how Signal works on Blockfolio. I like the alerts feature. I can set it to alert me by volume, price, and market cap. Plus there is a dedicated alert system for pump, breaking news and new trading pairs. Still not happy? Create your own alerts.
Coin Stats has a free plan which is limited and ad-supported. The pro version will cost you $39.99 which is at par to what other crypto portfolio managers are charging right now.
Download Coin Stats for Android and iOS
5. Gem
Gem is the new kid on the block with a colorful UI and an active dev team. It supports about 20 crypto trading exchanges which covers most major platforms. The charts it creates are colorful and insightful.
They are working on their own wallet which is scheduled to arrive anytime in 2019. While there is a way to track market prices, it lacks support for hot and cold wallets as well as the ability to track news.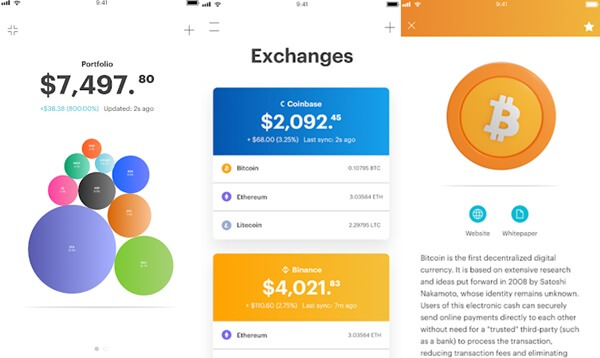 Gem is more suitable for beginners who are just getting their feet wet. You can tap on any coin or token to know more about their objective, whitepaper, and links to official site. A good way to educate yourself.
Gem is currently free with no ads and that makes sense. The developer needs to on-board more users.
Download Gem for Android and iOS
Also Read: 5 Best Budget Apps for Couples to Manage Personal Finance
6. Crypto Compare
Crypto Compare's mobile apps are too simple and basic at the moment, but that should change in the near future. The reason why it made the list is because the site is feature rich. You can track price of different coins across different exchanges. Useful for margin traders.
There are a lot of reviews for coins, mining tools, and even wallets. You can read details like who controls private keys, user ratings and reviews, and so on. Same goes for mining tool providers. There is also a news tab.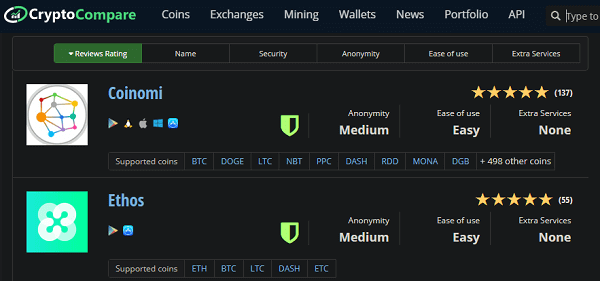 Crypto Compare is data driven. They collect a lot of data on different aspects of the cryptocurrency market and present it in a dashboard for you to compare. I wish their mobile apps were equally data rich. My fingers are crossed.
Download Crypto Compare for Android and iOS
Cryptocurrency Portfolio Tracker
Blockfolio remains my number one choice because it offers almost all features you did want from a crypto portfolio tracker, for free. Hard to beat that but don't expect it to stay way for long. Delta is fighting neck and neck with Blockfolio. It's a personal preference between these two. Coin stats is close behind and the alerts feature is hard to beat.
While Gem is more suitable for newcomers, Crypto Compare is for those who like their data and know how to work with it. Only drawback are the mobile apps that lack that data.