Personal finance software can help you to manage your money flow in a better way. Money management is the most critical task in both personal and business life. For helping the business owners and personal finance management, there are many finance software is available for Mac.
The budgeting apps are smart enough to send notifications to any unusual bank and credit card activity in real-time. In addition to this, these finance managing software tools can notify you of any interest charged on credit cards and bank accounts. There are free personal finance software apps and premium budget software for finance management. Free budgeting software is also good enough to record and summarize your cash flow and help to manage your personal or business budget in every month.
Here is a list of best personal finance software for Mac to get the centralization and overview of spending habits.
Banktivity 5
Banktivity formerly known as iBank 5, is one of the best personal finance software for mac in Apple Store. YBanktivity finance management software is the best choice for those who want to track transactions and manage the personal finance, that is better than simple accounting software.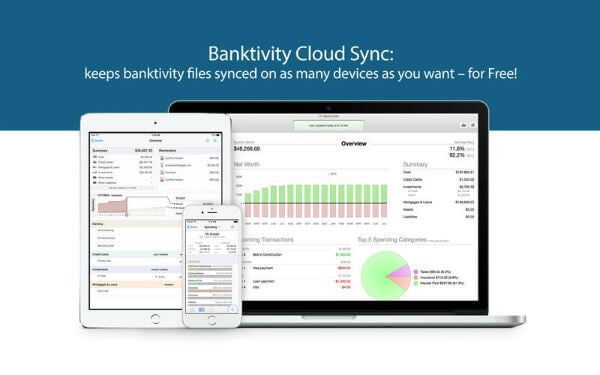 This Mac budget software can connect more banks and credit card accounts than other free software. The Banktivity Mac app can get enhanced investment support for bonds and offers dismissal of similar transactions from the bank data downloads. You can acknowledge your mistakes by comparing the past, current or projected projects.
Related: These iPhone Apps will Earn Money back While You Shopping.
Through Banktivity cloud sync, you can sync your banktivity files on more than one device for free to get access to them whenever you want to. The app effortless manages your transactions, allowing control over the budgets, stock portfolios, etc.
Download: Mac $64.99 | iPad $19.99
2. MoneyWiz 2 – Personal Finance
MoneyWiz 2 allows you to efficiently control all your financial transactions, making this budget software a top choice among all the personal finance software for Mac. This finance software allows you to import the data from other apps and ensures a smooth run due to its sleek and sturdy interface.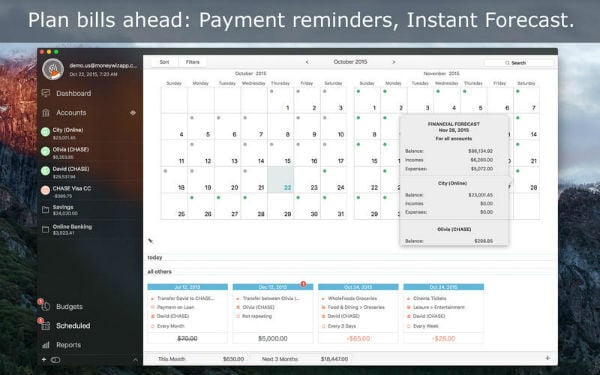 MoneyWiz automatically monitors your financial transactions and assigns them in the needed budgets and build custom reports based what you acknowledge regarding your money. MoneyWiz 2 budget software is there to assist in online banking, downloading all your transactions and you can use any file on it from CSV, QIF, OFX, QFX to MT940 file.
Related: A Complete Guide to Transfer Money Online with Email for Free
Make your transaction entry to be fast with the software. The finance software is helpful in budget tracking and protects your data with a PIN which can be set for a particular time period. The PIN will auto-erase on 10 wrong attempts for maximum security and comfort.
Download: Mac $24.99 | iPad $4.99
3. Debit & Credit – Personal Finance Manager
Looking for a personal finance software, that offers convenience and at the same time has the needed features, then Debit & Credit software is the right choice for you. With this budget software, you can easily reconcile your accounts with the bank statements for eliminating any disparities and getting the extra help to keep the accounts in shape.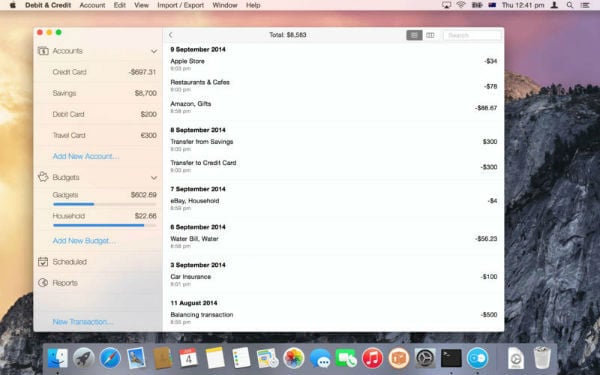 Create a new transaction in a matter of seconds and save the locations of the places where you go often, helping you to record the expenses easily. Get clean and crisp reports along with Split categories, pending transactions, transaction export, file attachments (with sync), transaction tags. Debit & Credit Mac software comes in eight color themes available for selection in the settings of the software allowing you to customize your experience.
Related: 3 Free Smartphone Budgeting Apps to Monitor Finance Transactions & Alert
Download: Mac Free | iPad Free
4. Moneydance 2015
Moneydance is one of the best personal finance software for Mac handling multiple currencies and doing any financial task virtually with ease. This Mac Budget Software has more reporting options than the majority of other software inherits; giving you centralized access to all the data related to your financial transactions.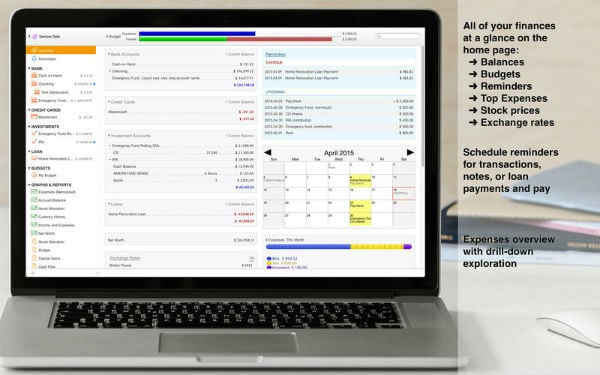 Follow your investments and focus more on your portfolio through the software. Never miss a payment by scheduling for single or recurring transactions. Send online payments quickly and attach images, PDFs, and other such files to transactions. It learns how to categorize the downloaded transactions automatically. Create and control your budget like a breeze also ensures the inflow as well as the outflow of money through Moneydance.
Download: Mac $49.99
5. Ms Finance
Standing out from the crowd, Ms Finance is there to solve all the troubles encountered with the previous personal finance software. The app makes the tracking and paying off bills convenient by bringing them to a single place.
It handles multiple accounts with the support for the transfers between the same currency accounts. Create custom reports to show any financial data virtually through the report assistant. Forecast your financial requirements for the future through Ms Finance. Get accurate statements regarding the balances of your account to get the needed help. The developers of the software have tried to make the design and user interface to be intrusive and simple as possible to allow the user to access the features easily.
Download: Mac $14.99
6. Quicken 2
Quicken is well known for financial management and offer iPad and Mac software. Finance Management Software can import all your bank transactions safely & automatically. This excellent software can automatically categorize your spending. The additional features like portfolio performance, make informed buy/sell decisions and find funds that fit your goals are nice features to make this one of the best finance software.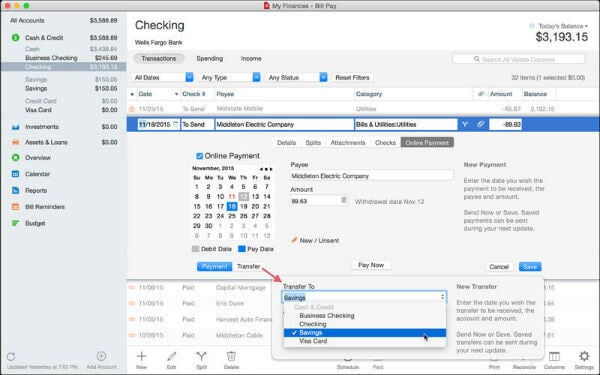 Quicken automatically generates bill reminders and pay your bills with Quicken Bill Pay and offer investment tracking, offline use & enhanced search
Download: Mac $74.99 | iPad Free
7. iFinance 4
iFinance is a personal finance software inheriting some great features, making it worth a try. You can easily compare your investments to the rest of the market. It is a good program that can easily handle the transactions of varying forms.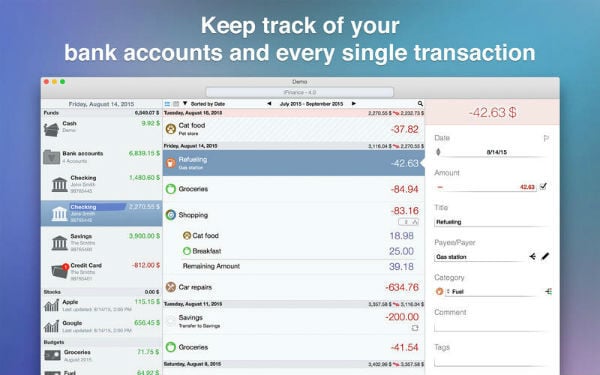 The Mac finance software analyzes your finances and maintains its records through Cloud Sync or Wi-Fi. It gives the users easy to customize charts as well as reports; iFinance 4 clearly arranges the transaction lists of all your financial resources, group different types of expenses.
Download: Mac $29.99
Know how the assets perform with the reports made by the tool. iFinance offers the user a broad range of easy to customize charts and reports giving you the precise reports on the source of money and the spending without any trouble.
Best financial software must have the capability to securely connect all your bank accounts and credit cards in one place. This software can track your income and expense in real-time and advice to manage the budget and invest the money in diverse ways in the coming future. In addition to this, these financial software tools summarize all your monthly expenses and automatically set a budget for each category to limit your spending.
Related: This Is How You Can Convert Your TV to Smart TV Under $99 Budget
Through with these personal finance software for Mac, you can track your expenses and the balances of your account for the best management of money and credit cards. With efficient management of money, you can get early warnings regarding the upcoming financial fines, interest payments, and bills.