Is Smart TV smart to spend additional bucks for it? You may need to spend a couple of hundreds more on a Smart TV. Smart TV allows to connect to the internet and browse the web, watch movies from your favorite streaming services like Netflix, Hulu, etc. It offers you all your entertainment in one box.
Keep in mind while you run behind Smart TV. There are dedicated devices those are smarter than your TV, which can offer better user experience and features for a lower price. Smart TV, not all televisions are offering the same features, and once you buy one brand of smart TV, you stuck with that. Here these streaming devices will help you to chose what you want with more flexibility.
If you buy these devices, you can have a variety of dedicated features, and those are independent of TV brand. You chose your streaming device and connect to any TV, and you have your Smart TV.
Al of these streaming devices are coming in two different form factors. One is a USB Stick size device that can connect directly to your TV's HDMI port. The second one is a wallet size box that can connect to your TV through an additional HDMI cable. Both of these are working with the help of low power USB power supply.
All of these devices listed here is a one-time investment to buy and use. You can enjoy the free channels on these streaming devices or get paid channel subscriptions. These streaming devices are fetching the video through your Wi-Fi or via Ethernet port.
For best performance and uninterrupted streaming, these devices require more than 1MB download streaming internet speed connection (your DSL connection is powerful to offer more than that).
The most popular on this streaming device category is Roku Streaming box or stick. Roku has tons of built-in Roku channel apps that can install on your streaming Roku device to stream video or music to your TV.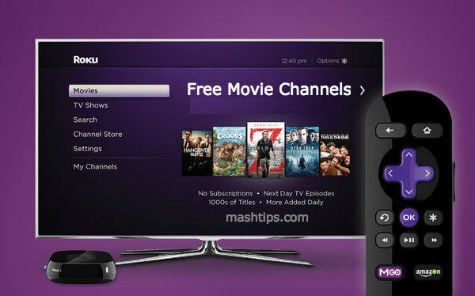 There are paid and free channels and coming with Roku devices that offer videos, TV shows, songs, etc. Roku is coming with a separate remote control and remote apps for iOS and Android.
Chromecast from Google is a streaming device that plugs directly into the HDMI port on your TV. This device doesn't have any channel apps to install on a device like Roku. This streaming device works like e bridge between your smartphone and TV, and there are tons of apps for iOS and Android.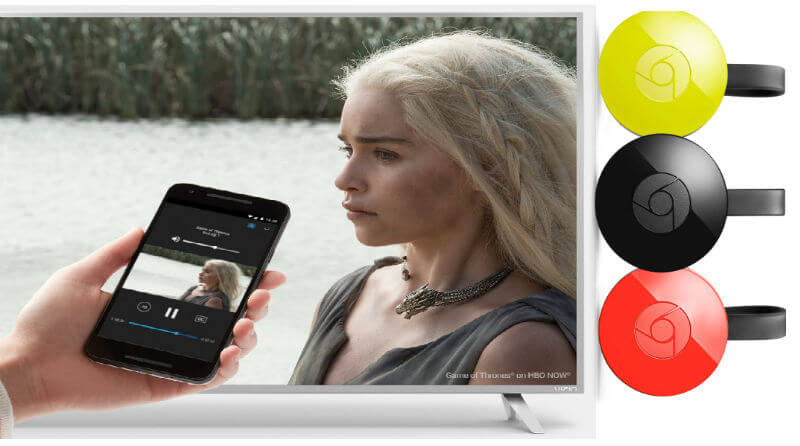 You can stream shows, movies, sports and other videos direct from your Android phones or tablets, iPhones and even from Chrome browser with the help of a plugin. Chromecast has come with plugins that work with Chrome browser that can stream local videos direct from Windows and MAC computer. There is no dedicated remote for Chromecast, but coming with dedicated smartphone apps.
Apple TV is a top box that supports streaming directly from your iOS devices such iPhone, iPad, etc. You can practically airstream your MAC desktop screen to your TV using Apple TV. Like other streaming devices, Apple TV has dedicated remote control and smartphone apps.
There are apps dedicated to Apple TV, that can stream videos, movies, music, podcasts, feeds, etc.
Amazon Fire TV can stream HD video to your TV with Fire TV streaming device. Apple TV support best streaming experience for the cost of less bandwidth internet connection.
Amazon TV is coming through dedicated channels and also can stream movies from Amazon Prime Videos for premium members.
Please see more details and difference of these devices hardware and streaming capability.
Roku3 vs Chromecast vs Apple TV vs FireTV
[table width="100%"  colwidth="20%|20%|20%|20%|20%"]
Device | Roku 3 | Chromecast | Apple TV | Amazon fireTV
List Price | <$95 | <$35 | <$95 | <$99
Buy From | Amazon | Google | Apple | Amazon
HDMI 1080p | Yes | Yes | Yes | Yes
Processor | Dual-core | Single-core | Single-core | Quad-core
Memory | 512 MB | 512 MB | 512 MB | 2 GB
Wi-Fi | Dual-band/Dual-antenna (MIMO) | Single-band | Dual-band/Dual-antenna | Dual-band/Dual-antenna (MIMO)
Netflix | Yes | Yes | Yes | Yes
YouTube | Yes | Yes | Yes | Yes
HBO GO | Yes | Yes | Yes | No
Hulu Plus | Yes | Yes | Yes | Yes
Crackle | Yes | Yes | Yes | Yes
Vevo | Yes | Yes | Yes | Yes
Pandora | Yes | No | No | Yes
Additional Stream | Amazon Instant Video | Google Play Movies | iTune Movies & Shows | Amazon Instant Video
Device Support | Android, iOS | Android | iOS, MAC AirPlay | Kindle Fire[/table]
Most of these devices are supporting native OS smartphones in addition to these streaming channels. Apple TV is offering you to stream the video from iOS device and MAC using AirPlay; Google Chromecast offers you to play with your Android device and Amazon fireTV from Amazon Fire Tablets.
Don't just go behind Smart TV unless you need it. Shop around for this streaming device and smart TV and make a smart decision. Your Smart TV may outdated with new updates. It is cheaper to replace an outdated streaming device than an outdated Smart TV.