When it comes to media consumption, not everyone might prefer the small screen sizes of the iPhones and iPads. Well, if big screen experience is your thing, then you might be interested in hooking up your Apple devices to the TV in your living room. In fact, it's pretty easy to get this setup if you have the required hardware.
From watching movies and photos to playing video games, there are plenty of benefits that you can take advantage of, by connecting your iOS device to a TV. Primarily, users can make use of either wired or wireless connections to hook up iOS devices to their TVs.
As far as wired connection is concerned, you don't really have the freedom to move your device around, so this method is pretty much limited in terms of flexibility. However, with a wireless connection, you can move around freely as long as both the devices in question are connected to the same Wi-Fi network.
Depending on your personal preferences and budget, you can opt for either of these methods and purchase the necessary hardware. Well, without further ado, let's take a look at the hardware that you'll need to purchase, in order to connect your iPhone or iPad to the TV in your living room:
Connect iPhone and iPad to TV (Wired)
If you want to take the lesser expensive route, then the wired solution is probably the better choice, Sure, you'll have to handle the cables, but since it's a direct connection, this method is more reliable and lag-free in comparison to wireless solutions.
Apple Lightning Digital AV Adapter
Key Features – Cost: $45 | Streaming Quality: H.264 | Screen Mirroring | Buy from Amazon
This adapter connects to the iPhone or iPad by making use of its Lightning port. Since it sports an HDMI port, users will be able to easily hook up iOS devices to their TVs with the help of a regular HDMI-to-HDMI cable. For video transmission, the Digital AV Adapter will utilize H.264, so there are doubts regarding the efficiency of the compression. As far as quality is concerned, the adapter supports up to Full HD 1080p video.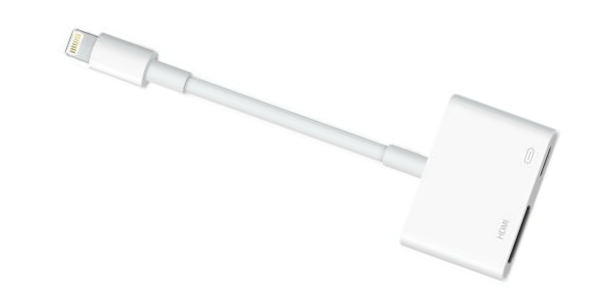 It's worth noting that the Digital AV Adapter even has an additional lightning port that can be used for charging your device, which is pretty useful when your device is running out of juice pretty quickly due to screen mirroring. If you're using an iPhone 4S or older, you'll need to purchase the Apple 30-pin Digital AV Adapter to connect it to a TV. The $45 asking price might be too much for many, but there are several third-party adapters available on the market at a much lower price point.
Connect iPhone and iPad to TV (Wireless)
Most of the people don't like to fiddle around with cables, and this is where wireless solutions kick in, as they offer much more in terms of flexibility. Users have the freedom to move their iPhone or iPad anywhere in the house, as long as it's connected to the same network as the hardware that's connected to the TV. However, the connection is not always reliable and input lag is something that users will have to deal with.
Apple TV
Key Features – Cost: $149 | Streaming Quality: H.264 | AirPlay Screen Mirroring & Media Streaming | Buy from Apple
This tiny little black box is capable of turning your iPhone or iPad into a media streaming machine. In addition to all the screen mirroring features that you expect, Apple TV is also capable of receiving media content from your iOS device and stream it to your TV with the help of Apple AirPlay. The feature works like a charm, especially if you have reliable and fast wireless network at your home. Some iOS games can even take advantage of AirPlay, and can turn your iPhone or iPad into a second screen or controller for more functionality.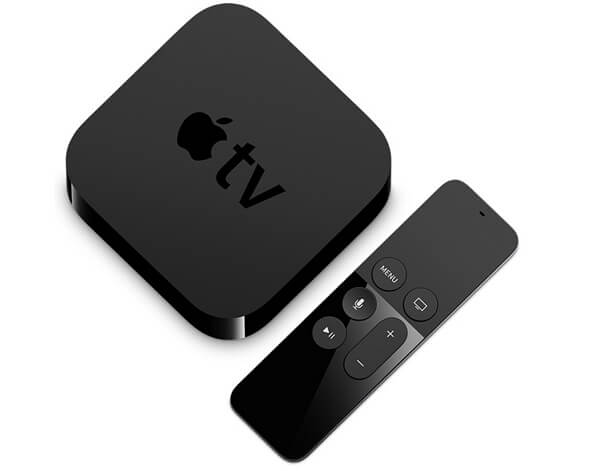 Well, this solution might very well be the best in terms of functionality, but if you're on a tight budget, you'll be better off without the Apple TV, as the unit costs nearly 150 bucks for the 32 GB variant and 200 bucks for the 64 GB variant. In addition to screen mirroring and media streaming capabilities, the Apple TV has its own dedicated App Store and can also be considered as a media hub that can be used to watch movies, music and TV shows.
Google Chromecast
Key Features: Cost: $40 | Streaming Quality: H.264 | Media Streaming | Buy from Google
If you feel like the $150 price tag for the Apple TV is expensive, then the much more affordable Google Chromecast is definitely the one you should be going for. It costs just $40 and manages to bring some nifty features to the table. As long as an app has Chromecast support, users will be able to cast media from their device to the TV, at the push of a button. Popular applications like YouTube, Netflix, Hulu, Plex, etc. has Chromecast support, so users will be able to experience movies, TV shows, and other videos right on the big screen without any hassle.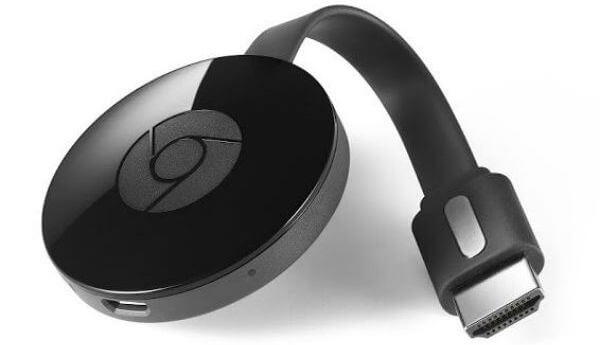 However, unlike Android, users will not be able to mirror their screen to the TV with the help of Chromecast. This is pretty much due to the restrictions imposed by Apple in its closed ecosystem. The Google Chromecast makes use of the HDMI port on your TV to establish the connection, so you don't have to worry about running into compatibility issues. It even costs lesser than Apple's Lightning Digital AV Adapter, so if you're not really concerned about screen mirroring, the Chromecast might very well be the better option.
Well, to sum it up, both wired and wireless solutions for connecting your iPhone or iPad to the TV has its fair share of advantages and disadvantages. If you're on a budget or you don't have a reliable Wi-Fi network, the wired solution is pretty much the obvious choice. On the other hand, if flexibility is your top priority and you have a stable Wi-Fi network, the wireless solution is certainly the better option. That being said, the Google Chromecast provides a good balance between affordability and flexibility, thereby making it a great option, especially if you can overlook the fact that it lacks screen mirroring. So, which one of this hardware are you planning to buy? Do let us know in the comments section down below.