YouTube is the best place to have your video content on the internet as it is free and allows you to upload lengthy videos. You must have seen videos longer than 3-4 hours on YouTube. But are you stuck with an error saying "Processing Abandoned, Video Is Too Long" while trying to upload a video just longer than 15 minutes? Well, you are not the only one.
In this guide, we will see how to fix the processing error on the YouTube channel while trying to upload lengthy videos.
Fix "Processing Abandoned" Error on YouTube Channel
There can be multiple reasons why your video processing is abandoned in your YouTube channel. It can be due to the upload limit, file size, and even video length. Let's check through each possibility and fix this issue once and for all.
Verify Your YouTube Channel to Increase Upload Limit
Your YouTube channel needs to be verified in order to get permission to upload videos longer than 15 minutes. No matter how many videos you have posted so far, you still cannot upload longer videos (than 15 minutes) unless you verify your channel. Now, don't get this "verification" confused with the blue tick verification on Facebook. YouTube simply asks you to verify your identity by confirming a mobile number. That's it.

If you are stuck with the "Processing Abandoned, Video Is Too Long" error in your YouTube channel, you need to check your channel's verification status right away. To check YouTube channel verification status, go to https://www.youtube.com/verify/ from your computer.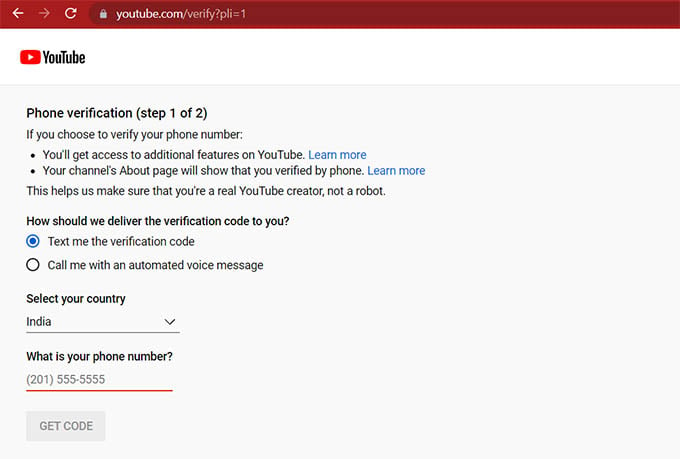 If your channel is not verified, you will be asked to enter your phone number followed by choosing your country code.

Click 'Next' once you enter your phone number. Then you will have to enter the verification code received in your phone number. Your channel will be verified when you enter the code and click the 'Submit' button.
You will then see a message like below when you successfully verify your channel.

Now you can go back to the Creator Studio and reupload the same video. You can then see the video getting processed instantly. YouTube does this extra step to verify that you are an actual creator and not a bot.
Related: 15 Ways to Protect Your YouTube Channel from Hackers: YouTube Channel Security
Check for Video Size and Length
If your channel is already verified and the error still occurs, then you must check whether you are trying to upload a video longer than the highest video length limit on YouTube. For any YouTube channel, the duration limit of a video is 12 hours, and it must be under 256GB too.
Does your video exceed any of the limits above mentioned? Then you must trim or compress your video to the above limits and try uploading again.
Ensure Correct Video and Audio Formats
YouTube supports almost any video file format but still has some limitations. Before uploading any videos again to your channel, make sure they are of any of the below formats:
.MOV
.MPEG-1
.MPEG-2
.MPEG4
.MP4
.MPG
.AVI
.WMV
.MPEGPS
.FLV
3GPP
WebM
DNxHR
ProRes
CineForm
HEVC (h265)
Related: 10 Best Free YouTube Thumbnail Maker Online
Once you have gone through all of the above and fixed them, your videos should be processed by the next time you start uploading. If the problem still has not been fixed yet, you will need to check with any copyright claims or disputes.