Signal Private Messenger has many advantages over rival messaging apps, mostly in terms of privacy-related features. Every little feature in Signal is designed with a privacy-first approach. This approach does have some downsides, but it's a trade-off some might find worthwhile. One of these is how do you backup Signal messages and restore Signal back up again.
Today we'll look at how to backup and restore Signal messages across your devices easily.
Content
Backup Signal Messages
Signal has no data on you except your phone number and the PIN associated with it. For security reasons, Signal also doesn't offer to store your backup data to Google Drive or any cloud storage service. Signal stores your messages backup to the local storage on your phone or PC. So the backup and restore process involves a few more steps.
From the Signal app, tap on the profile icon to access Settings.
Go to Chats and media > Chat backups.
Tap on the TURN ON button.
Select CHOOSE FOLDER on the popup dialog.
Navigate to the local on-device folder that you want to save the backup to.
Tap on the big blue button at the bottom to allow Signal access to that folder.
Select ALLOW again on the popup dialog.
Note down your passphrase, check the checkbox and then select ENABLE BACKUPS.
Next, tap on the Create backup option to create a new backup.
Keep your passphrase safe and secure because if you lose it you'll lose access to all your Signal chat data. The backup is stored in the previously selected folder on your device locally. So if you lose the backup file you will lose your data.
Still, it is advisable to copy the backup on your computer. If you want, you can also manually store your Signal backup file to Google Drive or any other cloud storage service of your choice.
Restore Your Signal Backup
If you already have a Signal backup file, and you can restore your Signal messages pretty easily. Whether you want to restore the Signal backup on a new device, or on the same device after a reset, you will need the backup file earlier created. Hopefully, in case of a reset, you had that file backed up somewhere else.
Move your Signal backup file to your device's storage, if it's not already there.
Install and launch the Signal app.
Select Restore backup and then CHOOSE BACKUP.
Navigate to the backup file and select it.
Tap on the RESTORE BACKUP button.
Enter your 30-digit passphrase and tap RESTORE.
You can then choose to select a Backup folder on the next step or choose NOT NOW to continue with the further steps.
Once you finish setting up your Signal account with your phone number, all your chats should already be there waiting for you. This is how you restore Signal backup on your phone to get back all backed up messages.
Related: 15 Best Signal Tips & Tricks You Should Try Out in 2021
What if You Forget the Signal Backup Passphrase
As mentioned previously, you cannot restore your backup without the 30-digit passphrase. There is no way around that. However, before you run into a situation where you need to restore the Signal backup and don't have the passphrase, you can get a new passphrase.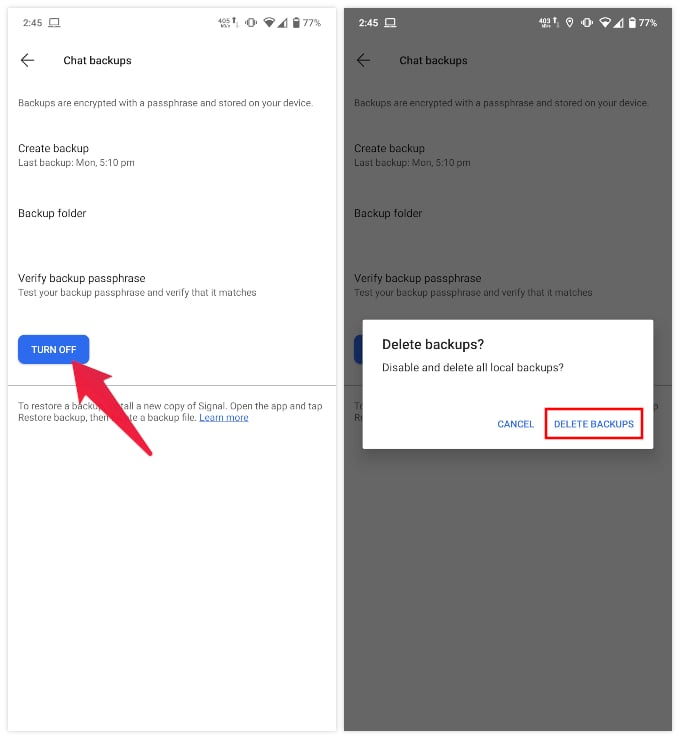 Just go to Signal Settings > Chats and media > Chat backups and tap on the TURN OFF button. Next, select DELETE BACKUPS on the pop up dialog and then follow the steps mentioned above to create a new backup.
Related: How to Clear All Chat History in Signal in One Click
Why Is Signal Backup So Complicated
As you may notice, this is a more complicated process than you will find on Signal's rival messaging platforms. Let's consider the two most popular Signal alternatives which are Telegram and WhatsApp.
Telegram is simple, and works much like every other messaging app. All the chats and other data is stored on servers, which then bring it to any new device that you sign in from. It does not require your phone, and you can use it simply on the web, or a desktop, or your iPad, without even having it on your phone.
Related: How to Fix Telegram Not Connecting or Working on Android
WhatsApp works more like Signal. Your data isn't really stored on the company's servers. Instead, WhatsApp backups are stored in your Google Drive storage to store that data if you have turned the feature on. WhatsApp does store some data on their servers to recognize you. So when you log in to WhatsApp on a new device, WhatsApp, with access to your Google Drive, restores all your chats, media, etc.
WhatsApp and Signal are both limited by their approach since the chats are not stored on servers but on the user's phone. WhatsApp uses Google Drive to provide a seamless data restore process. However, many high-profile cases of leaked WhatsApp chats are proof of why it's not a very secure method. And that also explains why Signal avoids it and opts for saving the Signal backup on the local storage of your device.