Many YouTubers use the screen captured video in order to demonstrate the working of a program or review a game. With the help of the best screen recorder software on Windows, you can record each moment and every movement easily that is there on your desktop as well as save it as a video file. There are several Windows screen recording software is available at your disposal whenever you want to access them. But not the best screen recorder is free and stacked with the needed characteristics for proper screen capturing.
Here are some of the free screen recording software for Windows to capture your desktop movements in video format.
CamStudio
Camstudio, one of the best screen recorder, is more like an open-source screen recording software that can capture your screen activity and audio to AVI files by highlighting the path of the cursor. You can also develop voice-over type videos and also the one having text annotations.
This Windows screen recorder software offers some additional features like options include cursor controls, the ability to chose an entire screen, a window, or a portion of it. You can tune into its Picture-in-Picture mode which comes handy for YouTubers and others who want both the screen and themselves visible for others.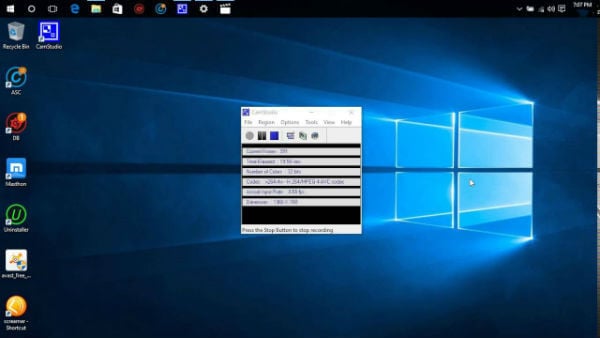 Record in high-quality resolution with lossless codec. With CamStudio, you can alter the resolution of the videos before exporting it for various platforms as and when needed. You can also AVI files into flash when needed as well and last, of all, it is free to use. Check out its 'Help' section to get everything you need when you get stuck somewhere.
Key Features: High-quality screen captions | Picture-in-Picture mode | Records in Lossless Codec | Add text comments & annotations
Website Link: Camstudio
Related: How to Take Screenshots on Windows with Screen Sketch
Ezvid
This windows screen capture tool is to make videos and slideshows on your Windows operating system. Ezvid has one-click screen capture and recording functionality that allows the people to instantly begin with the screen recording.
Besides, having the features of a screen recorder, it also inherits the characteristics of being used as a voice recorder. Ezvid allows you to resize, add text/images to the recorded video before uploading them online.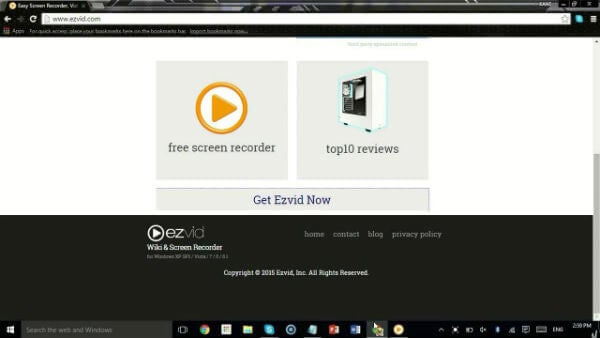 The software takes the help of improved C++ binaries that enables it to untap the potential of multi-core CPUs. You can select the region to record or set it up to record the whole screen. It also has an on-screen drawing tool that enables annotation & more. There's a built-in video editor that comes with the app. You can use it to output almost everything from slideshows to presentations to youtube videos.
Key Features: Easy to use | Capture, Annotate, and Draw on videos | Built-in Video Editor | Direct YouTube upload | Multi-core CPU support
Website Link: Ezvid
Jing
Coming from TechSmith known for their Snag it, Jing is a great free tool for screen recorder software that lets you plan, capture and share the recorded videos in just a couple of minutes. It saves a history of your captures so one can locate and edit them in the coming time.
The video recorded can be no more than five minutes that is preferable for short tutorials and presentations. Upload your capture or video to screencast.com to share them with anyone. Jing lets you select any window or region to capture and mark up the screenshots with a text box, arrow, highlight or picture caption.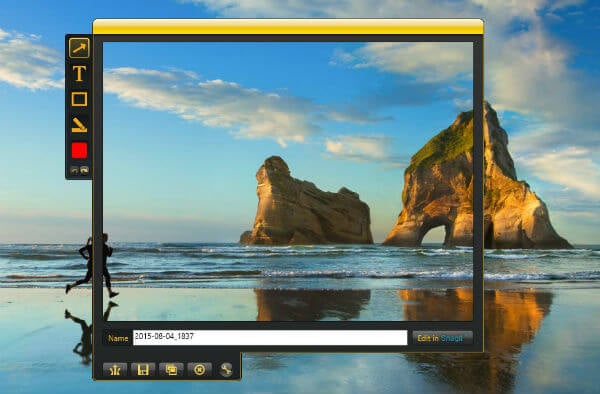 Select the region you want to capture or select the whole screen and edit later. You can save the captured screenshots and recordings in local drive or cloud-based services like Google Drive or cast it via Screencast. Overall, Jing supports full-sized video recording into system audio and webcam video as features that might interest you.
Key Features: Regional & Full Screen recordings | Takes Screenshots & video recordings | Sync with Cloud-based services
Website Link: Jing
Related: Best 5 Free Remote Desktop and Screen Sharing Tools
OBS Studio
OBS Studio is an open-source free video recording software and live streaming tool. You can get high-performance real-time video/audio capturing and mixing, with unlimited scenes. The additional filters are available for video sources such as image masking, color correction, chroma/color keying, and more. The built-in audio mixer is coming with filter functions such as noise gate, noise suppression, and gain.
OBS Studio sports a modular UI that makes it way easier to move and adjust the layout elements that you can adjust as per your liking. It also comes with a tonne of settings be it for configuration of the software or adjust factors including streaming capability and more. The app is a wholesome package for those looking for recording and streaming. It is used by pro gamers alike on Twitch and others for its prowess over others.
Key Features: Unlimited number of scenes | Intuitive Audio Mixer | Easy to use & configure
Website Link: OBS Studio
Icecream Screen Recorder
Icecream Screen Recorder is widely accessible on Windows, Apple and Mac operating system. Serving as a great tool, one of the most prominent features of the Icecream Screen Recorder is the scheduling of screen capture sessions. During the recording, you can place the webcam input in the preferred size and place. With the audio mixing capabilities of the screen recorder, you can give a level to the audio quality of the video.
You can record a huge range of content such as games, webinars, webcam videos, screen, and webcam, etc. You can also select the 'Last Area' to commence recording areas asap. Next up, there is a tonne of other features such as trimming recordings, hotkeys, adding mouse effects, etc.
Key Features: Picture-in-Picture Mode for webcam | Record screen, audio, & annotate | Add a watermark | Easy to use | Scheduled Screen Recording
Website Link: Icecream Screen Recorder
Screencast-O-Matic
With Screencast-O-Matic, capturing your desktop's screen is now a simple and easy task. Create videos with all the necessary tools like zoom, add texts and automated captioning as well as many more. Share as well as protect your content with collaborative video management tools.
Keep your recordings safe in a dedicated place that is way far from your computer and secured all the time. Add your voice for the narration as well as your face with the webcam in the video during the screen recording process.
The Pro version packs in features like a script editor for perfectly-timed recordings. Automated captioning is added in this premium version for use as well. You can alter the settings around system audio for better interception of internal & external sounds. An expanded music library lets users add stock music & more in the bland screen recording. There's a screenshot tool with the app that you can use to grab quality screen grabs.
Key Features: Picture-in-Picture Mode | Add stock music | Trim rough edges | Script Editor | Screenshot tool
Website Link: Screencast-O-Matic
Bandicam
Start recording by selecting the area of the screen with Bandicam. You can easily draw as well as an outline of the video and screenshot in real-time. Add the webcam video over the recording to show your feelings and experience over the process. You can easily make your own logo image on the video to add a personal touch to the video.
Adding the logo makes your brand and your profile more recognizing. Add the mouse click effect and animation while recording the screen of your desktop. The tool also allows the recording of the screen via external video devices without any trouble.
Bandicam is a well-recognized software when it comes to screen recording. It is efficient in terms of recording high-quality videos that you can adjust the resolution for. It is equipped with a slew of features as stated above and it is super easy to use.
Key Features: Real-time Drawing | Easy to use | Webcam overlay | Add logo/watermark | Record audio for narration
Website Link: Bandicam
iSpring Free Cam
Make a recording of your entire screen or select the area with the app. iSpring Free Cam inherits a video and audio editor to turn our draft video into a well-rounded one. After recording the screen, you can easily cut the necessary parts of the video.
Polish the audio by adjusting the video as well as add some fading-in and out effects with simple controls. You can easily mute the sounds in several areas of the video without any trouble. The saved video will be of WMV format and will inherit HD quality (720p) resolution. Share the videos to YouTube with a single click with the tool.
The premium versions adds-on to the list of features with webcam overlay support, annotations & hotkeys. You can add transition effects, multi-track timeline, insert pictures and shapes, and whatnot.
Key Features: Free to use | Capture screen & voice over | Records system sounds | Remove background noise | Save locally or upload
Website Link: iSpring Free Cam
TinyTake
Capture the images and videos of your computer screen with TinyTake. You can easily record the video with a duration of 2 hours or 120 minutes. It is entirely up to you to record the whole screen or just a particular region. Annotate your video with the help of a text box, arrow and highlight it.
Publish your screen capture online with a shareable link. You can easily access your past videos and uploads them with the history section of the tool. Assign custom short-cut keys to launch a specific action on hitting them. The tool is also a proxy server friendly and allows you to operate it freely.
The tool is also proxy server friendly and allows you to operate it freely. It is also equipped with a screenshot tool to grab quality images of the current screen.
Key Features: Record screen, audio, & webcam | Tools for Annotation | Proxy Server Friendly | Screenshot tool
Website Link: TinyTake
ActivePresenter7
ActivePresenter is one of the best screen recorder and screencast video editor for Windows. There is no watermark over the recorded video as well as no time limit over the recording process. Record your desktop's screen in the crystal-clear quality with the tool to get excellent results.
Experience the best built-in advanced audio as well as video editor features to ensure the best video. Add animations as well as animated effects to your videos with gesture effects to give the video a professional look as well as feel. It does supports lossless codecs in MKV format for further processing.
Select the area you want to capture or select the whole screen if you need it. ActivePresenter7 brings its cavalry of features including tools for annotation along with video overlays. You can choose the file format you want the app to render the recorded videos including MP4 and WebM for YouTube uploads. The app can record both external and internal sounds at the same time.
Key Features: No Watermark | No Time Limit | Ad-free | Advanced audio/video editing tools | Tools for annotation
Website Link: ActivePresenter7
Ezvid
For a large number of people, Ezvid is one of the easiest screen recorder and video editor tool. The tool comes with instant face cam and allows the users to make audio better with voice synthesis. The interface of the app is quite interactive and comes with instant slideshow maker to turn your video into a slideshow.
You can easily draw on your screen while recording and add the best tracks with free bundled music offering of the tool. Create a video in a matter of minutes instead of hours with the help of the tool.
Website Link: Exvid
Icecream Screen Recorder
Icecream Screen Recorder is a great tool that enables any person to capture any part of the screen. You can capture and save the area in the form of a screenshot or video file. Get more control over the recording process with the suite of tools and options that allow professional screen capture with audio.
Draw, outline as well as add arrows to the screen recording during the process with the tool. You can easily access the captured videos and screenshots with the project history feature of the tool. Add your personal watermark to the screen capture video.
Website Link: Icecream Screen Recorder
oOCam
oOCam is a freeware utility build with the screen capture and screen recording functionality. You can use this application to take a screenshot of whatever is displayed on your PC's screen or take a screenshot of a certain region on the screen or on the entire screen.
You can drag the 'green-colored box' to alter the area you want to capture. Use on-screen annotation tools to add a zing in the recorded videos. The app comes alive with a plethora of features including mouse effects, hotkeys, watermarks, and others.
oOCam can make a video recording of whatever is on your screen; record the screen & audio input, record audio input only, record system audio, record from the microphone, record a game. You can totally skip the music and add your own as per your choice. oOCam works with 32- and 64-bit versions of Microsoft's Windows operating system.
Key Features: Free to use | Screenshot tool | On-screen annotation tools | Multi-core processing | Mouse effects & hotkeys
Website Link: Findmy Soft
Snagit
Snagit is a premium screen capture software from TechSmith, a paid tool that helps people to capture and record the screen for diverse purposes both on Windows and MacOS. With the premium version of this screen recording software, Snagit has powerful editing tools, free tech support, and services based on the cloud. The latest version of the tool inherits a GIF feature allowing you to convert the captured video into GIF to enhance it.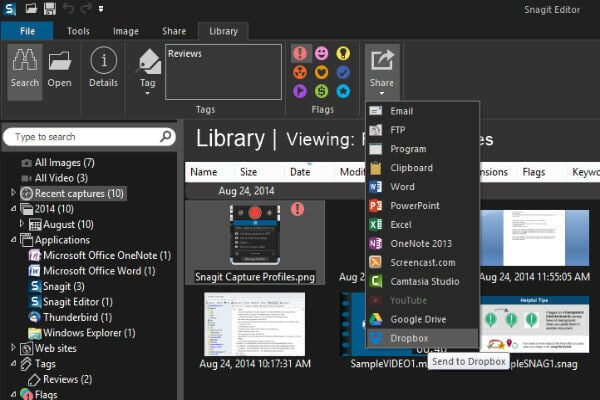 This premium tool is truly at its best with a built-in video editor that lets users edit the videos a bit. It also has a tonne of other features such as it can record webcam, annotate videos, etc. It is equipped with professional tools that aid in annotation such as text replace, simplify tools among others. It can make objects in the video move with the Smart Move feature and there's more to find out.
Key Features: Direct Share to Box & Slack | Convert images into GIFs | Record screen & webcam | Draw and Annotate
Download from Website: Snagit (paid)
Camtasia
Record almost anything on your desktop whether it is a small window or whole screen. Edit the recorded video in the simplest manner with the easy to use the timeline and slow it down if you want to. Polish every video with professional video editor effects as well as drag and drop the effects that you prefer on the timeline.
Record the keystrokes on the screen for making the tutorials more learning and allow the others to follow along. Use the music tracks to set the perfect mood for your video and add any music from the royalty-free track library of the tool.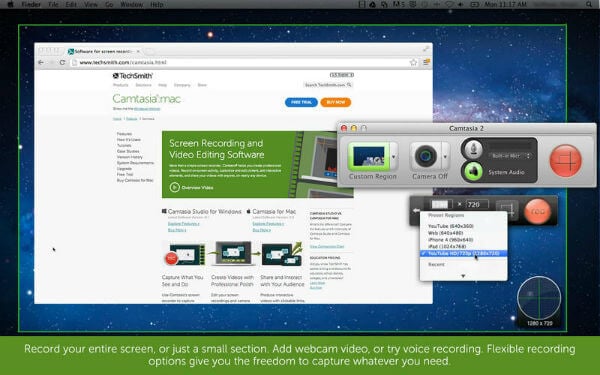 Camtasia is a full-blown video editor tool on Windows which has a built-in screen recorder. It is injected with a slew of features including Magic Wand to move or remove objects. The Simplify Tool lets you convert screenshots into simplified graphics. There's a feature to capture anything from scrollable web pages to horizontal scrolls, and a bunch of others you can check out.
Key Features: Full-fledged video editor | Simplify Tool | Webcam overlay| Magic Wand | Animated GIFs
Download from Website: Camtasia (paid)
Microsoft OneNote
OneNote from Microsoft is capable of record screenshots to keep the records. But are you aware that OneNote is also capable of recording windows screen and saving as video files? OneNote can record and save audio notes, video notes in addition to the screenshots and images.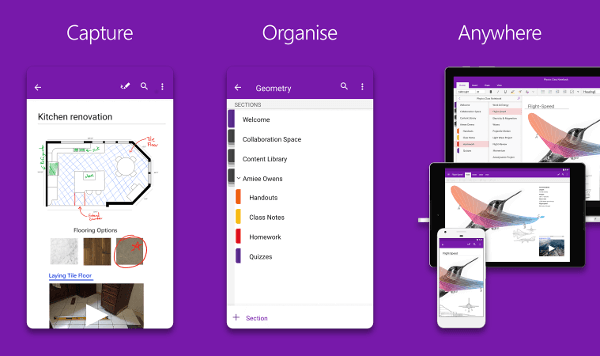 To start recording, click a location on the page in OneNote where you want to place the recording, and then,  click Insert > Record Audio (for audio notes), or click Insert > Record Video (for video recording with optional audio). Please refer to more details for different versions of OneNote recording guidelines.
Key Features: Record Audio & Video | Tag notes
Website Link: Microsoft OneNote (paid)
ActivePresenter8
ActivePresenter8 is the successor to ActivePresenter7 listed above. ActivePresenter is another paid app that can be your super companion when it comes to educating and tutorials. For the extra cash paid, the person can add interactivity to the project.
Special gesture effects can be added to the video to increase the spotlight. With its export to a video window, one can set various parameters before processing the final footage. You can use the Freeze Frames option to suspend the screen movements for a while. All layers can be manipulated, altered, and modified from its Timeline.
The app offers 100% Lossless Quality with high-quality videos on the go. Use the Full Motion Recording to record the screen and embed it in a slide with a slew of annotation tools you can use. Use the webcam overlay feature so add your webcam video onto the screen recorder.
Key Features: Smart Capture | Full Motion Recording | Lossless Quality | Internal & External Audio Recording
Website Link: ActivePresenter8
In some cases, it is the best means of illustrating anything to someone that is there on your screen. From the recording made, you can develop a 'how-to' video with extreme preciseness. The recorded video from the screen recorder software is a great way than just capturing the screenshots as you are able to show the exact description of the working that is to be done.
The number of screen recording software is huge, giving you the means to record my screen whenever desired. These screen recording software tools inherit good screen capture quality offering you something more than an image.