Screen Sharing or Remote Access capability is useful when you want to share a PowerPoint presentation or programming code with your team to work together. Remote access can be used to access somebody's PC and resolve a particular issue on their PC or you can use to train them in a particular application feature.
Nowadays, there are plenty of tools available to access the desktop remotely or exclusively for screen share purpose. Let us go through a couple of Free Screen Sharing Software for Windows & Mac those are easy to install and lightweight.
JoinMe
Screen Sharing | Meeting Tool | Lightweight | 10 Participants for free version | Supports Windows, Mac, Android, iPhone | Link: Join Me
This is my favorite tool to share desktop screen. JoinM is platform independent, very light weight screen sharing software and pretty easy to use. As per JoinMe website, join.me combines instant screen sharing and powerful meeting tools in an app that anyone can use to present, train, demo or concept.

join.me is designed to be intuitive and accessible, providing features that you'll use every day for everything from show-and-tell to formal presentations. The free version is supporting up to 10 meeting participants to share the screen, able to share control, supporting multi-monitor, allow to make internet calls, chat and send files. JoinMe also supports iPhone / iPad and Android platforms.
TeamViewer
Screen Sharing | Remote Control | Online Meetings | 25 Participants | Supports Windows, Mac, Android, iPhone | Link: TeamViewer
TeamViewer is the All-In-One software for remote support and online meetings. This screen share tool can remote control any PC or Mac over the internet. Team Viewer can support large international meetings with up to 25 participants.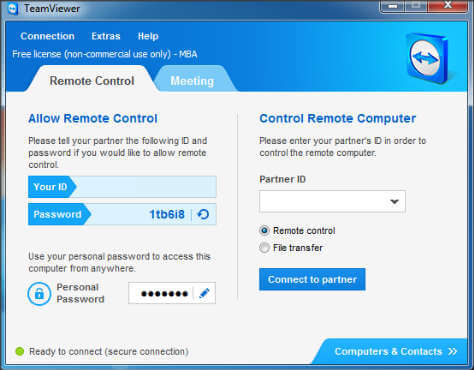 In addition to scheduled meetings, TeamViewer supports instant meetings, invite colleagues, business partners, or customers to share your screen.You can make meetings and presentations lively and interactive by video transmission, VoIP, chat, teleconferencing, whiteboard, file sharing, and screenshots. TeamViewer supports iPhone, iPad and Android OS.
LogMeIn
Remote Control |  Supports Windows, Mac, iPhone | Link: LogMeIn
LogMeIn free offers free remote access to your desktop so you can open files, check your email, run programs and stay productive from your mobile device or any computer over the Internet.

LogMeIn helps you to quickly and easily control your remote computer over the web from anywhere. It can control your computers on the go with LogMeIn on iPad/iPhone at free cost.
SkyFex
Remote Control |  Supports Windows, Mac | Link: SkyFex
SkyFex is a free tool for secure access to remote computers. It's easy to use from the web. SkyFex supports most popular web browsers and works through firewalls, proxies, and NAT.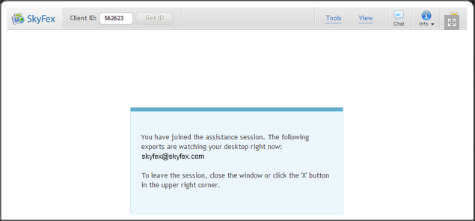 SkyFex can help your users and students right from your computer. Get remote control, send/receive files and show your own desktop for instructions. SkyFex is capable of delivering presentations to colleagues and partners: easily connect, share desktop and can use annotation tools.
ShowMyPc
Screen Sharing | Online Meetings | Supports Windows, Mac, Linux, Android, iPhone | Link: ShowMyPC
This tool can support remote support and meeting services for all users. You can share your screen with the participants in the free version of ShowMyPC tool.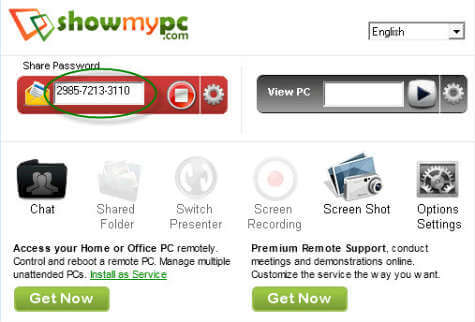 ShowMyPC also supporting MAC, Linux, iPhone and Android platforms.
CrossLoop
Remote Control | Supports Windows, Mac, Android | Link: CrossLoop
This tool can be used to share your desktop with someone, supporting unlimited sessions and access your own computers from the remote location.

CrossLoop also supports remote reboot and reconnect, that is very useful while you try to install some applications which require a reboot after installation. CrossLoop supports mobile remote access with Android application.
Now you can troubleshoot other computer or monitor remote system right from your local PC by using these free remote screen sharing tools. Most of these apps are supporting all platforms like Android, iOS, Mac, and Windows. These apps are also good for online meetings, desktop screen sharing in addition to remote control.