How will you get rid of annoying spam calls and marketing messages? Well, there are numerous solutions we explained before to block telemarketing and spam calls. This includes third-party apps like Truecaller to identify spam calls and avoid answering them. However, most of these apps work only for calls and sometimes you might need to pay money in order to get the full features of the app.
In countries like India, there are too many competitors in every industry. Hence, the companies are sending automated messages and calls almost every day to promote their products/services. Even if you don't answer those telemarketing calls, you cannot avoid the messages as they get stored on your phone. Fortunately, Telecom Regulatory Authority of India (TRAI) has come up with a solution (TRAI DND) in India to eliminate the spam calls/messages received on your phone.
What is TRAI DND?
TRAI DND (Do Not Disturb) is a free mobile app developed and released by the telecommunications regulatory body (TRAI) set up by the Government of India to look after the Telecommunication Sector of the country. The app allows users to report the calls/SMS received from the telemarketers to their respective Telecom Service Provider (TSP). And, your provider will process the request within 7 days and take the necessary actions to block those unwanted calls/SMS from reaching your phone.
How to Install and Block Calls using TRAI DND App
Initially, the app was released only for the Android smartphones as Apple was reluctant to list the app on its AppStore. Now, the TRAI DND app is released for the iOS users as the tech giant had agreed to include the app on its store. Let's see how to use the TRAI DND on iPhone in the following sections.
Also Read: Best Landline Call Blocker Devices to Block Robocalls
Step 1: Install TRAI DND app
First, install the TRAI DND app on your iPhone. Use this direct link to download and install the TRAI DND app on your iPhone. In order to install this app, your iPhone should have at least iOS 12.1 or latest software. Unfortunately, you cannot install this app if you are using an old iPhone (like iPhone 5 or older models) which doesn't support the iOS 12 release. And, the TRAI DND app is compatible with other iOS devices like iPad and iPod Touch.
Step 2: Register for DND
Once you have installed the app, the next step is to register for DND by providing your phone number.
Open TRAI DND app on your iPhone.
Here, you will be shown the description of the app. Tap Continue button.
Next, tap Register for DND button.
Tap No Calls and SMS to completely block all marketing calls/ SMS. Alternatively, if you would like to receive SMS/calls from certain categories like Health, Education etc, then select those categories to allow SMS/calls. Currently, the app lists the below categories:
– Banking/Insurance/Financial/Credit cards
– Real Estate
– Education
– Health
– Consumer goods & automobiles
– Communication/Broadcasting/Entertainment/IT
– Tourism & Leisure
Once you have selected your desired categories, tap Done button on the top right of the screen. Then, tap OK button displayed in the pop-window.
Now, the app will send an SMS to the toll-free number 1909 with your DND preferences. Within a few minutes, you should receive an acknowledgment from the toll-free number. Plus, you will receive an SMS from your service provider about the DND request. Your DND request will be processed within 7 working days. And, you should receive an SMS when it gets activated.
Step 3: Enable DND extension on iPhone
In order to report the spam calls/messages, you should allow the TRAI DND to view your service messages. Once you finish Step 2, the app will prompt you to make the needed changes in your settings to enable the DND on your phone.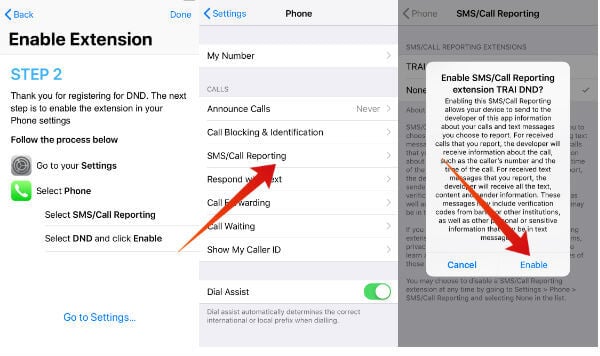 Tap Go to Settings button after you had finished Step 2. Now, you will be taken to the Settings screen on your iPhone
Scroll down to find Phone and tap on that option.
Then, tap SMS/Call Reporting
Next, tap on the option TRAI DND. Then, a Pop-up window will be displayed on your screen which clearly describes the data which will be accessed by the app on enabling the option. Just tap the Enable button to activate the DND feature on your phone.
Now, the Do Not Disturb feature is successfully activated on your iPhone.
Related: Do Not Disturb: How to Use DND on iPhone and Hidden Features.
Step 4: Report Spam Calls/Messages
Here comes the most important feature of this app: Reporting calls/messages. By default,  the TRAI DND app will not block SMS/calls from banks, insurance companies or other reliable businesses you have subscribed. Before reporting a call/SMS, double check and make sure that it is really a spam to avoid blocking known numbers.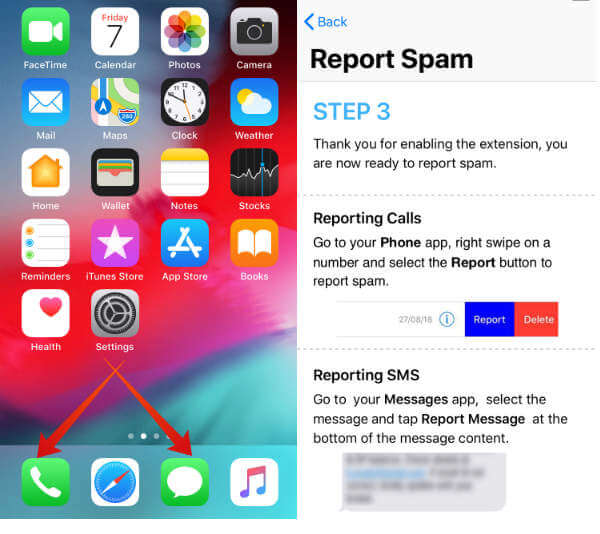 To Report Calls
Navigate to the Phone app from your home screen. Just swipe right on the phone number and tap the Report button to report that number as spam.
To Report SMS
Open the Messages app from the home screen of your iPhone. Go ahead and select the message you would like to report as spam. Just tap the clickable text Report Message.
All the complaints will be sent to the toll-free number 1909 via SMS without deducting any charge for the message.
Is TRAI DND Secure?
No doubt, the TRAI DND is a reliable app as it is released by the government of India. However, the app will be able to read all your messages including the SMS you receive from your banks related to the account balance, OTP (One-Time Password) or any other sensitive information. And, this information is clearly displayed on the screen before enabling the TRAI DND extension Even though this data sharing is unavoidable, there is a small workaround. The user can disable the DND extension (Step 3) and enable that only when there is a need to report a call/SMS. This might prevent the app from accessing your SMS at all times.
Even though the TRAI DND seems a good solution to get rid of the spam calls/messages in your iPhone, giving permission for a third party app to access our contacts and messages don't provide a better privacy.