Cloud services are offering better services that reduced the need for memory cards in smartphone devices. Cloud services are offering to save your files like photos, videos, and even your music files and most of them are coming for free for basic storage space varying from 2GB to 15GB. There are nice apps for Android phone or tablet to stream videos and music you already saved in your cloud account. Let us go through some music streaming applications that can play music stored in your cloud.
The benefit if cloud storage is that there is no need to transfer music files to your Android phone to play the music with the cloud. You only need to save MP3 or other music format files into your cloud account and you can directly stream this music to your Android phone whenever you need. The only downside is that data consumption in cloud streaming. There is an option in most of the streaming application given below to set your file for an offline play that does not need any data or Internet connection to play the music once it saved into your device for offline play. Let us see best Android Apps to Stream Music from Cloud in Offline.
Beat – Cloud & Music Player
'Beat' music player is a player that you can fully customize and floating controls, versatile cloud storage and simple folder directories that are rarely found on conventional music players.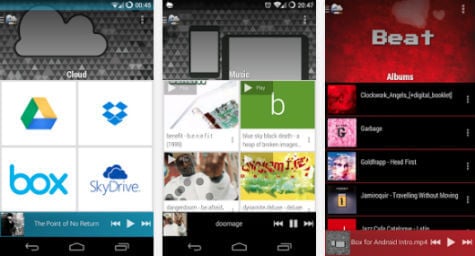 This player integrated with Dropbox, Google Drive, Box and Skydrive that is capable to stream your music from Cloud both online and offline.
Download from PlayStore
Related: Best 6 Free Android Apps to download and listen MP3 Songs Offline
My Music Cloud
This app lets you easily sync all your music – even from iTunes – to your Android phone. You can safely backup unlimited music for free and listen to 250 tracks on any computer, mobile phone, tablet, and television.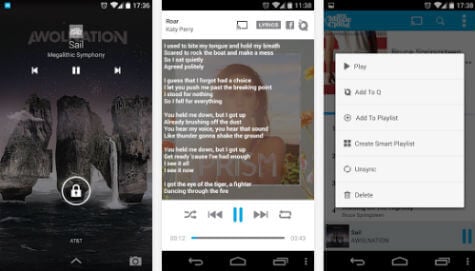 My Music Cloud Can automatically import your music from iTunes, Windows Media Player, Google Drive or Dropbox and play your music on any other device even in offline.
Download from PlayStore
CloudAround
CloudAround lets you play music from the cloud on your Android. You can add your cloud credentials to integrate and stream from the cloud. This app supports the following cloud services Dropbox, Box, SugarSync, Microsoft SkyDrive, Amazon S3, Rackspace Cloud Files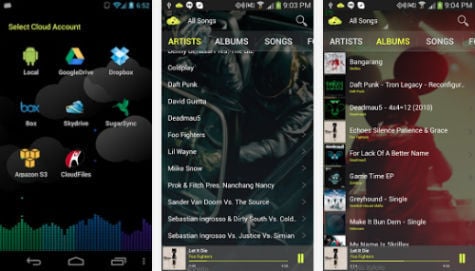 With the CloudAround music player, you will have an interface that combines all types of music in one place.
Download from PlayStore
CloudPlayer
CloudPlayer is a revolutionary music player that puts you in control of your music, no matter where it's stored. Use it as a traditional music player or link your Dropbox, OneDrive and Google Drive to create a giant cloud jukebox for all your music.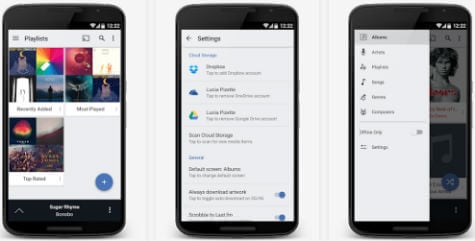 Stream or download songs from your cloud account for offline playback. Enjoy built-in AirPlay and Chromecast support, hi-fidelity lossless sound, 10-band EQ and support with AirPlay speakers, Apple TV, and other AirPlay devices.
Download from PlayStore
Related: 6 Best Apps to Download Movies on Your Android for Free
Most of these apps Android support Dropbox, Google Drive, Box and Skydrive and the nice thing about these is you can combine these space into one to see and organize your files in a most efficient way. Now, just put the files you need on any of the supported Cloud account folders and enjoy the music on your Android phone.