When you consider data saver browsers, those can compress and deliver the data when you browse the internet. These lightweight Android browsers can save data while you browse the internet and also load the web page faster than the regular browser. When you are using Wi-Fi, you oddest care about data saving, but Android data saving browsers are essential for those who depend on their smartphone for web browsing. Most of these data saver browsers are lightweight and take only a few MBs to install on Android phone.
Here is a list of best Android Data Saver browser for your tablet and smartphone that can use to browse fast without crashing your phone.
UC Browser
One of the best Android Data saver browser promises a zippy and personalized web browsing experience. UC Browser comes with inbuilt speed mode and allows you to have a fast web surfing. The browser also allows speed mode to enjoy the video and audio content without any wait by saving a considerable amount in data consumption.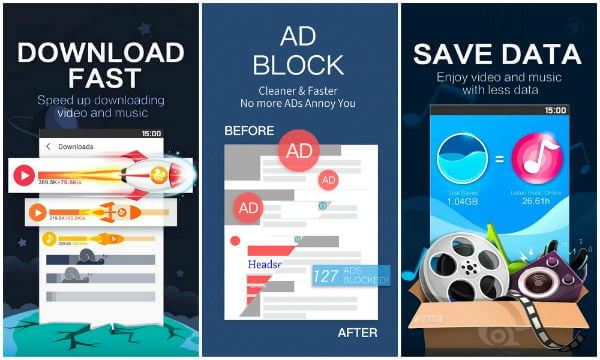 UC Browser is fast and stable and good for data saving while you browse video channels. With the Ad block feature, the user can browse clean pages with no ads. Use the Facebook Mode for speeding up your Facebook usage without any drain of more data.
Browser Data Saving: Saving Internet Data Usage over 60% | PlayStore Link: UC Browser
Related: 7 Best Lightweight Browsers for Android to Save Memory and Data
Opera Mini
When the talk about conversation data and light browsers comes up the name of Opera Mini is at the top both in lightweight and data saving while browsing. In the latest update of the browser, the users are given a built-in ad blocker and video download feature to make the web browsing experience faster.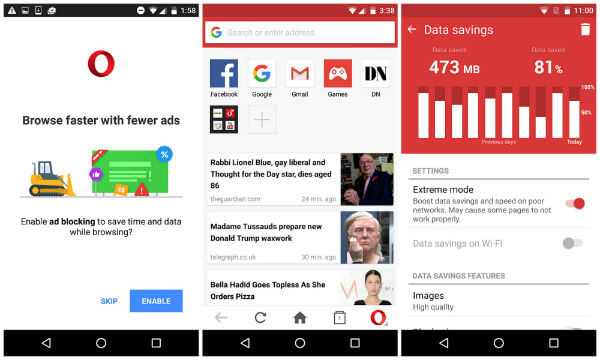 The Data saver browser app lets you do everything that you want without any wastage of data. The web browser keeps track of your data and the savings.
Browser Data Saving: High Saving Mode 50% | Extrem Saving Mode More than 60% | PlayStore Link: Opera Mini
CM Browser
The unique thing about the app is the lightweight size that is not more than 1.7 MB. It inherits a clean and simple user interface with customizable speed dial. CM Browser is known as one of best data saver and lightweight browser that come with antivirus engine protecting from malicious threats while browsing.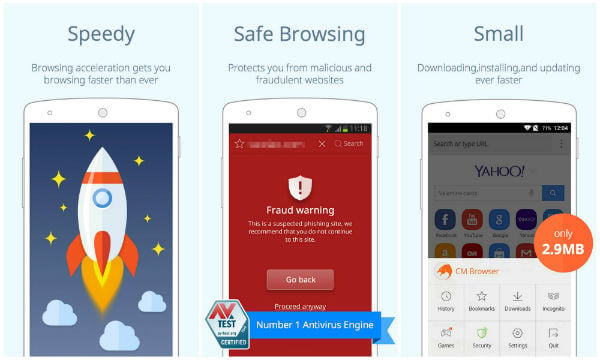 CM Browser offers do not Track settings and Page translator to increase the browsing experience. Dim the lights of a page in the dark with Night mode of the app. Use the browser in full-screen mode to avoid any sort of distraction while using.
Browser Data Saving: Saving Internet Data Usage over 40% | PlayStore Link: CM Browser
APUS Browser
APUS Browser was previously known as A5 Browser. The application comes in a size of 2MB and offering minimalistic as well as snappy functioning. Overall, the home screen of the app reminds of Apple's Safari browser. APUS browser also has browser accelerator increasing the site loading speed by 60% and decreases browser data consumption by 20%.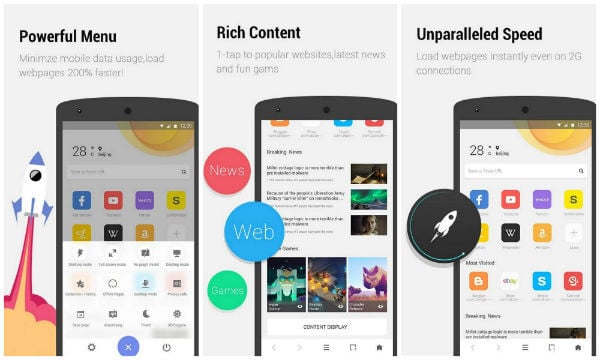 You can save the websites for offline viewing and save time. It allows users to switch between different tabs and access the site in PC mode as well as in mobile mode. From the in-page search feature, a person can search for anything at any time.
Browser Data Saving: Saving Internet Data Usage over 20% | PlayStore Link: APUS Browser
Related: Best Browsers for Android Phones and Tablets
APUS Browser Turbo
The Turbo data saver browser is coming from the developers of ASUS browser; it comes with the feature of two browsers in one app. APUS Browser Turbo runs fast and speeds up the use even on the slow 2G mobile internet. It also has a Turbo Data saving feature helping the user to save data on their connection. In the lowest setting possible, the browser also manages to give out decent user experience.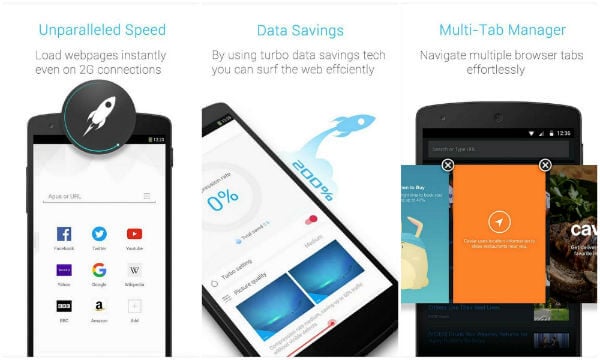 The user can also disable the images in the browser to save more bandwidth during browsing. Just like the standard APUS browser, one can save the pages for offline viewing.
PlayStore Link: APUS Browser Turbo
Ace Browser
A small and efficient browser app is all we need, and that can be fulfilled with Ace Browser. With just 4MB in size, it is a small and fast internet browser coming with privacy features. The browser can effectively boost the loading speed of a page along with saves the data by 60%.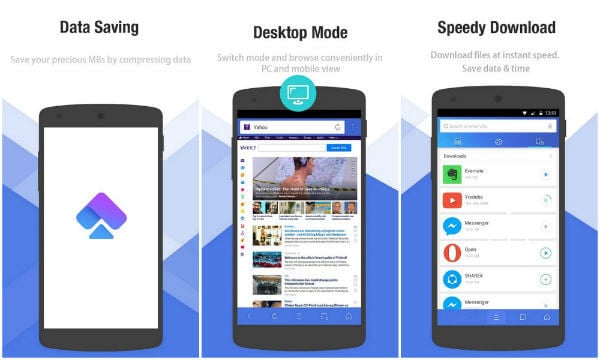 Through the browser Ad-Block add-on, the person can block the ads that are annoying and troubling. The browser app gives out the trending and latest news & video to the user for being connected to current updates in the world. You can quickly browse with speed and preciseness through this browser.
Browser Data Saving: Saving Internet Data Usage over 60% | PlayStore Link: Ace Browser
The new generation is using Android phone and tablet to browse the internet than PC. The simple reason is, it is convent and data plan is getting cheaper day by day. Android is coming with default Google browser (Chrome) that can meet all your browsing demands.
Related: These Android Apps Can Monitor Data and Limit Usage
On a regular flagship phone, the Android data Saver browser experience is going to be excellent in terms of quick page loading and less data consumption. Select one of these for your Android Smartphone and tablet for saving on the data plan and fast web experience.