Instagram is where you can post something that's funny or do some real business and make money. Whether you are an Instagram influencer or an average user, it is important to keep your Instagram account safe and secure. People who know you may find your Instagram password easily if it is easily guessed. To avoid compromising your social media account with others, it is important to switch on the Instagram two-factor authentication.
In this article, we will see how to keep hackers at bay by enabling Instagram two-factor authentication and see your login activity.
Enable Instagram Two-Factor Authentication
Two Factor authentication, aka Two-Step Verification, is an important step in securing your Instagram account. You will get an SMS or verification code on the authentication app every time you (or someone) tries to log in to your Instagram account.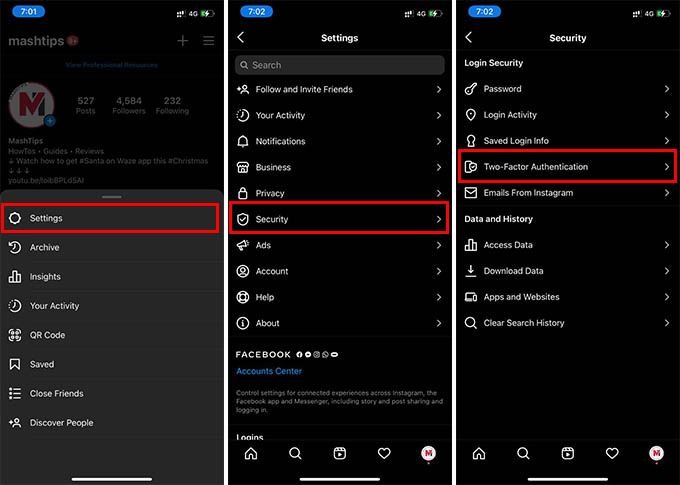 Open the Instagram app on your iPhone or Android.
Go to the profile tab.
Tap on the menu icon at the top right corner.
Go to Settings > Security.
Tap the "Two-Factor Authentication" option.
Tap Get Started.
From the next screen, toggle on either of the options.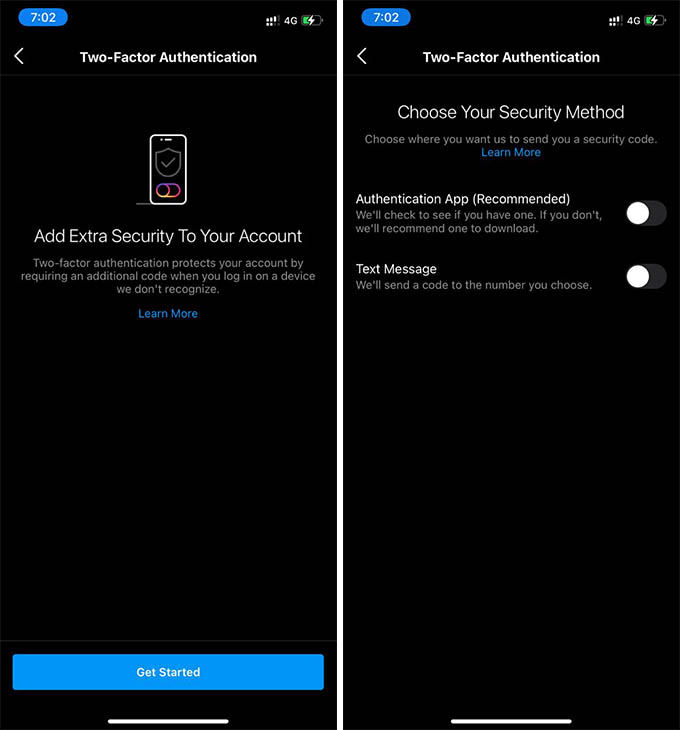 You can use the authentication from an authenticator app, or get 2FA codes as a text message on the registered cellular number. If you choose the authenticator app method, you will need to have the Google Authenticator app on your phone. You will also get a bunch of backup codes for your account in any case you lose access to your number or authenticator app.
Related: You Can Now Send Auto Disappearing Messages on Instagram
See Your Instagram Login Activity
Are you thinking of enabling the Instagram two-factor authentication followed by some unusual activities on your account? Then you want to look into your Instagram login activity as well. From there, you can find out who signed in to your Instagram account, from where, and which device.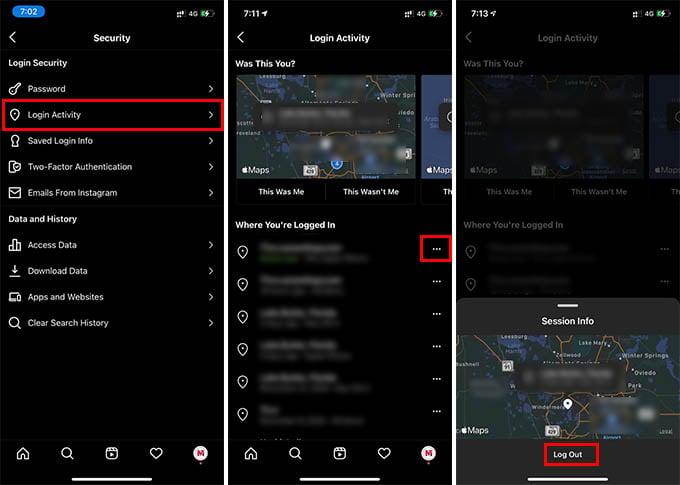 Go to Instagram settings from the app.
Tap on Security > Login Activity.
There you will find all the previously logged-in devices and locations.
Tap the three dots icon near any location and tap Sign Out to kick out any unauthorized sign-ins.
If someone already knew your password, you will see unwanted login activities on the Login Activities screen. Once you enable two-factor authentication for your Instagram account, other logins will be removed. Also, you can change your account password as an extra layer of security.