Voting apps are good for collecting feedback and opinions of individuals on any matter. It is easy to raise hands when in the office but what if you are working remotely which is the norm these days? Voting apps for Android and iPhone phones can help make a decision and collect feedback irrespective of where you are.
Here are the best voting apps for Android and iPhone users to try out right now.
Voting Apps for iPhone Users
The process is simple. You create a question or set of questions with multiple choice answers. The participants can then choose an answer based on their opinions or thoughts and the final results are revealed when everyone has voted.
Let's begin.
Polls for iMessage
Anyone who is using an Apple device knows how important iMessage is. You can now create polls right inside the iMessage app. No need to exit the app and open a third-party voting app. Polls for iMessage is a dedicated app that you can install right inside iMessage.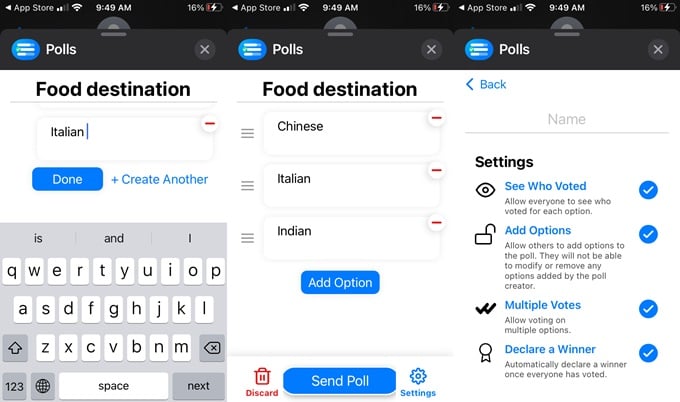 Users or participants of the conversation can vote on the poll and view results at the bottom of the chat. You can also create anonymous polls to collect just votes and not names. Participants can choose multiple options if required.
Polls for iMessage is free for iPhone users, just like the iMessage itself. A real value addition to the iMessage ecosystem.
Key Features: Custom Polls | Works with iMessage groups | Add links | Multiple votes | Winner declaration
Download Polls for iMessage (Free)
Also Read: The Ultimate Guide to iMessage Text Effects on iPhone and iPad
Poll Everywhere
Not everyone uses the iMessage for making decisions or voting on important matters. Poll Everywhere, as the name suggests, allows users to create polls everywhere so anyone can vote from anywhere.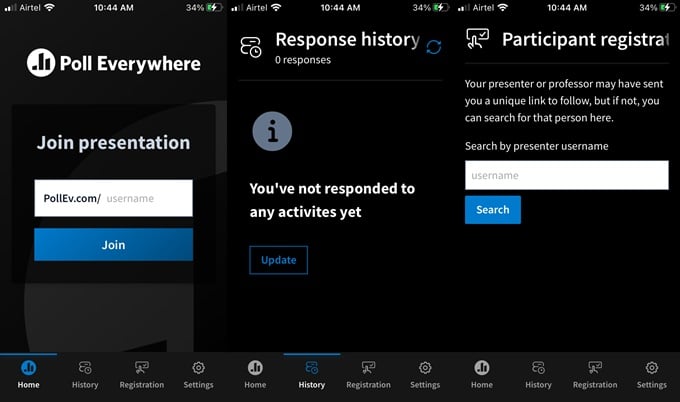 It's a live audience voting app where you create a poll to collect views and opinions in real-time from your audience. One example can be a board meeting where votes can be collected after asking a question during a presentation. Create a presentation or join one and you are good to go.
Key Features: Sign-in option to track assessments | Response history checker
Download Poll Everywhere (Free, In-App Purchases)
Related: How to Create and Use Group Planning on Google Maps
VoteUp
VoteUp is built around the ideology that 'everyone has an opinion but no one wants to make a decision'. Because with decisions comes responsibility. You will be held accountable for making that decision. VoteUp solves this problem.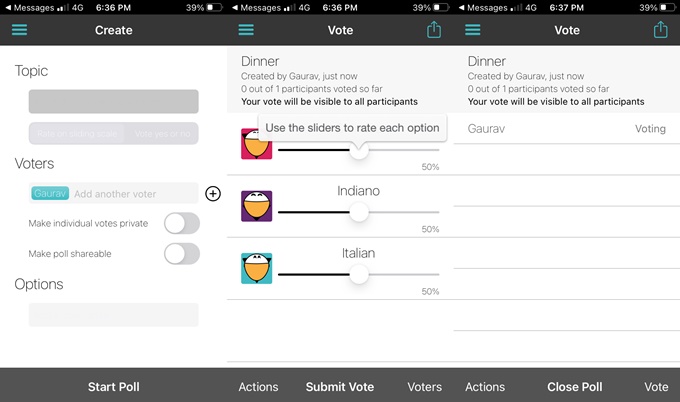 The steps are pretty simple. You ask a question and offer multiple options as answers. It is easy to add contacts to the voting app so they can submit their vote. The results will be visible once all votes are submitted.
Interestingly, you can also attach images to choose what to wear or which product/model to buy which is unique to VoteUp app. It's completely free to use.
Key Features: Vote by text message or browser | Large group polls | No login required | Different polls templates
Download: VoteUp (Free)
Voting Apps for Android Users
Well, if you have seen all voting apps for iPhone users and came down here for a good polling app for your Android phone, here are they.
Pollie
Pollie allows you to not only create a poll where users or participants can vote on important/mundane decisions but also share it via 3rd party apps. You can use both text or images to create polls and ask participants to vote.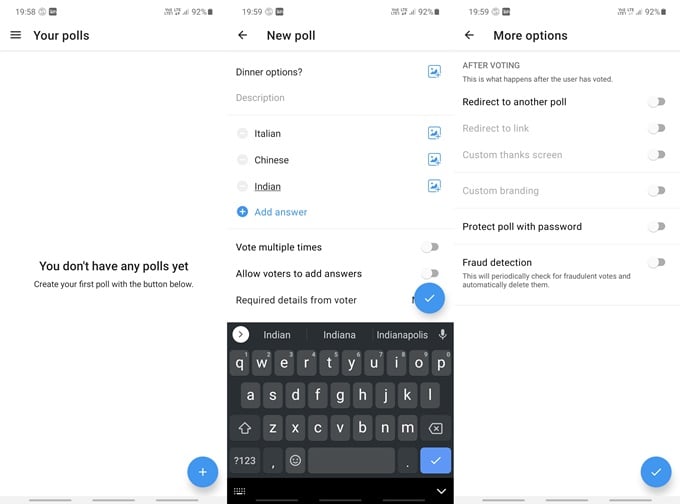 There is a deadline feature that instills a sense of urgency and solicitate timely voting. The poll itself can be anonymous or you can even collect the names and contact details of the voters.
Pollie also offers detailed graphs and other statistics if you are really serious about the voting process. Results can be exported to a CSV file which can then be imported to other apps. Pollie is free but comes with in-app purchases.
Key Features: Add images to polls | Limit votes a voter can poll | Set deadline | Anonymous voting | Authorized voting | Combine multiple polls | Graphs and stats
Download: Pollie (Free, In-App Purchases)
Voliz
Voliz is a WhatsApp voting app where you can create polls and share them in WhatsApp groups or even broadcast them. When creating a poll, there is an option to keep it private and let select participants only vote on it. Voliz has a pleasant UI that is easy on the eyes and easier to navigate with the bottom bar menu.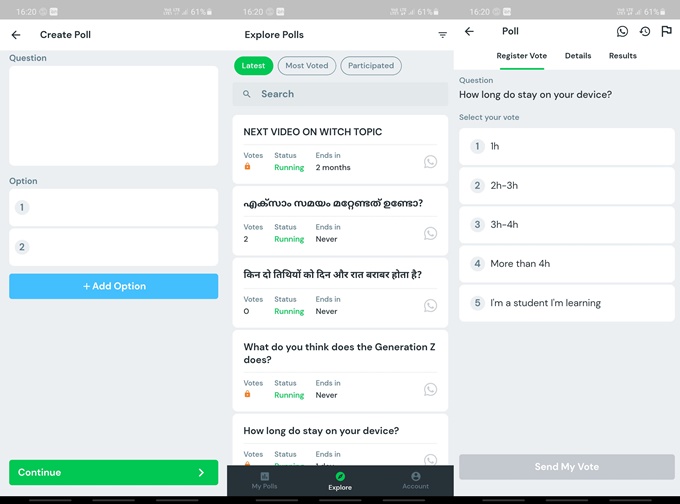 You can explore polls created by other users inside Voliz app and either view results of the vote or vote on them yourself. This is a good way to gauge public sentiment and opinion. Questions can be something fun or more on a serious note. Not suitable for making business decisions or as such but still a lot of fun.
Key Features: Result privacy | Private polls | Public polls | Social voting
Download: Voliz (Free)
Poll for All
While Voliz is a good voting app, it is limited to WhatsApp. Most of us and pretty much everyone you know has a WhatsApp account, but there are other social media platforms too. Poll for All allows you to share polls for voting on Facebook and even via email.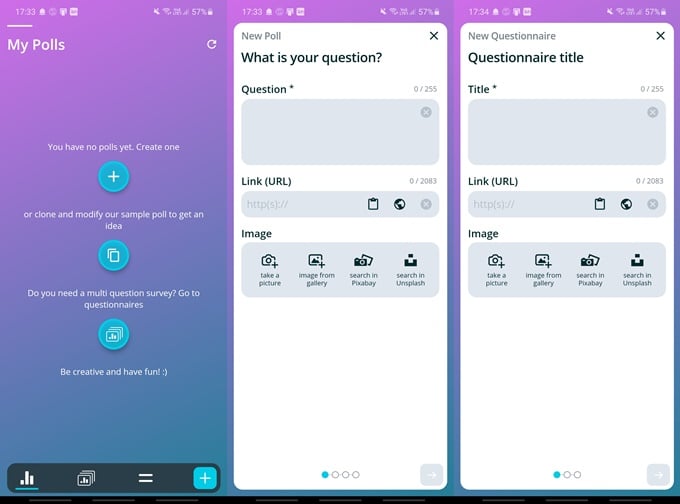 Not only can you create private polls, but also schedule events with date and time. The popular voting app also supports questionnaires. Adding links and images to the poll is easy and makes the voting process more fun and engaging. Poll for All is free but comes with in-app purchases.
Key Features: Private polls | Activity history | Schedules and events | Add images and links to poll
Download: Poll for All
Related: How to Use Facebook Messenger Rooms – Detailed Guide
There you go. There is something for everyone here. Whether you are an Android or iPhone user, there is a voting app that you can use to create polls, events, and even questionnaires. I like Poll for All on Android because of how it is designed, the flexibility it offers, and the features it carries. For iPhone users, they can look at Poll Everywhere.