Most iPhone users capture the best moments of their everyday life using the gorgeous camera on their iPhone. So, the gallery might contain lots of important and unimportant pictures. So, losing some important ones while bulk removing the other ones is a big issue. If you have lost your favorite photos from your iPhone, don't worry. There are some possible ways to recover deleted photos from iPhone.
Here are the top methods to recover deleted photos from iPhone.
Can I Recover Deleted Photos from My iPhone
Unlike Android devices, Apple iPhone does not allow complete storage access to any devices or apps connected. So, it is considered quite difficult to look for the removed photos on the iPhone, more than on Android. The Android filesystem is simply like on a Linux system and you can dig to any level for the lost files. But Apple is a closed environment in such cases.
So, if you have the same question as I had, Yes is the quickest answer. You can still recover deleted photos from your iPhone using various methods. However, the difficulty level depends on the method you choose. And, it is not fully assured to get you all the lost images. Read further to get the deleted photos from your iPhone.
Recover from Recently Deleted
All the iOS devices have an album named "Recently Deleted" which acts as the recycle bin for iPhone and iPads. Thus, whenever you initially delete an image from Photos app, it will then directly go to the "Recently Deleted" album. The image will not directly be shown in the Photos app. However, it will still be retained for at least 30 days and the storage space taken will be as same as before.
During the retaining period, you can either choose to permanently delete or recover the photos back to your camera roll. So, if you have deleted a picture from your Camera Roll, no need to worry at the first place. You can check your Recently Deleted album and recover if the photos are available there. Here is how to Recover Deleted Photos from the Recently Deleted album.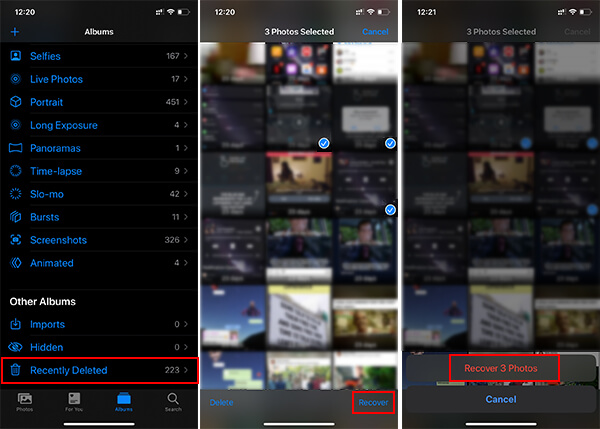 Open Photos app on your iPhone.
Tap Albums tab and scroll down to the bottom.
Open "Recently Deleted" from the screen.
Tap "Select" on the top right corner.
Select the photos you want to recover.
Tap "Recover" at the bottom right corner.
Confirm recovering the photos.
After recovering the photos from the Recently Deleted album, you can go to the corresponding album and find the removes images there.
Related: 8 Best Lightning Port Adapters & Converters for iPhones & iPads
Check with iCloud for Deleted Photos
Most of the iOS users have the iCloud Photos feature turned on by default. So, Apple keeps a copy of your Camera Roll and other albums in the iCloud Storage as well. If the iCloud Photos is on, making a single change to your iPhone's Photos will also reflect in iCloud. So, if you have permanently deleted a photo from your iPhone, it must be already gone from the iCloud as well.
However, as mentioned, all the photos will have an iCloud Photos backup. So, if you did delete a photo from iPhone while it was offline, there is a chance that you will get the same photo on iCloud Photos unaffected. But, in case you turn on Mobile Data or Wi-Fi on your iPhone after just deleting, you will lose the same from iCloud as well. Here is how to get very recently deleted image from iCloud.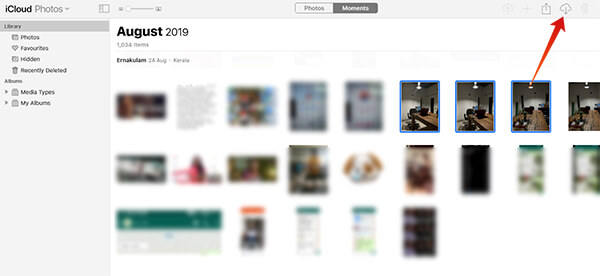 Do not turn on mobile data or wifi on your iPhone after permanently deleting the image. If it was on, then skip this method.
Open icloud.com from your Mac or PC browser and login using your Apple ID.
Click on "Photos."
Find your deleted photo and select all of them.
Download the photos.
Once you turn on the internet on your iPhone, the pictures you deleted will be removed from iCloud Photos as well. You can then copy the downloaded photos to your iPhone.
Also Read: How to Transfer Images from Android to Mac
Download Google Photos Backup
Google Photos is like the iCloud Photos alternative for Android users. Although, the service is available for iOS users and you can have all the images backed up to the cloud in nearly real-time. If you already enabled the Google Photos backup, there is a possibility that the recently captured images would have been saved to the cloud already.
So, you do not need to worry about deleted pictures any more if you are a constant user of Google Photos. You can simply check the Google Photos app for the backed-up images and then download the ones you want.
Unlike iCloud Photos, Google offers an unlimited photo back up option for all Google users. Most iOS users find it a bit difficult to check with iCloud storage and keep upgrading paid plan for more storage space. On the other hand, Google Photos can be used to store and retrieve images from any platform without much hassle. If you are using both Android and iOS smartphones, Google Photos will be the best companion. Here is how to set up Google Photos to back up your iPhone photos, to prevent from losing photos anymore.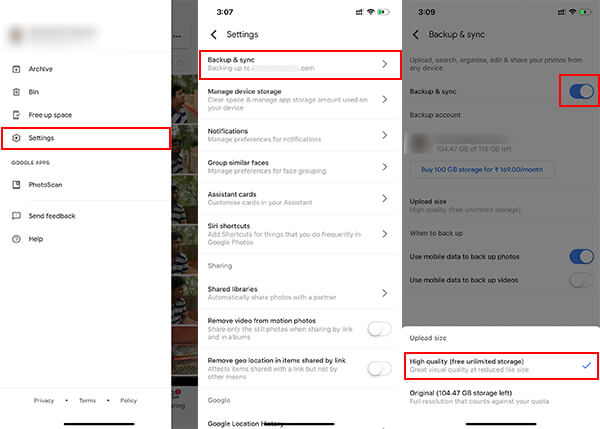 Install the Google Photos app from the App Store on your iPhone.
Log in using your mostly used Google Account.
Open the app and tap the hamburger menu icon at the top left corner.
Tap Settings.
Open Backup & Sync.
Toggle on Backup & Sync.
Tap "Upload Quality" and choose "High Quality" for unlimited photo storage.
It will sync most of your images over Wi-Fi. If the upload does not happen automatically, open the Google Photos app home page and refresh by swiping down and release.
Related: iCloud Storage Full: Transfer Photos from iCloud to Google Photos
Restore Photos Using iTunes Backup
Most of you must have the iTunes Backup and auto Sync Photos turned on with your PC or Mac. Thus, the iTunes will take the latest backup of your iPhone every time you connect it over USB Cable. So, if you just deleted some pictures from your iPhone and worried about it, think for a moment. The same pictures might be present on your laptop or Mac which lately backed up via iTunes. So, in order to check for the backup images on your PC, you must have already turned on the Photos Sync on iTunes, before the photos were deleted.
No need to worry if you do not have a backup of your iPhone on Mac or Windows. You can backup iPhone to Mac or Windows PC next time to avoid another data loss, and go through our guide to learn how.
If you are sure that your last iTunes Backup of your iPhone contains the images that you deleted permanently, then it is better to go ahead with restore backup. You can restore the entire backup to the iPhone through iTunes. Here is how.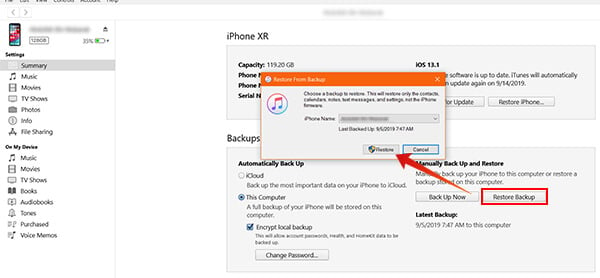 Connect iPhone with your PC or Mac.
Click on the Device icon on iTunes.
Select "Summary" from the left pane.
Under "Backups" section, click on "Restore Backup" button.
Follow the instructions and restore the old backup. You will then get all the pictures from the previous backup.
Use Third-Party Tools
There are many tools available out there which can help you discover the lost photos from your iPhone. However, none of them work similarly to the standard data recovery tools on Windows or Android. Instead, they can look on to the possible ways and fetches you the most possible data.
Some of them can help you extract all the data from your iTunes backup through authorization and you can choose to save images from previous backups.