How to transfer images from Android to Mac? As Android OS is widely known for simple to use, carrying thousands of applications and also comparatively lower in price. On the other hand, Mac OS is known for their build quality, seamless integration between OS and hardware and lesser security issues and so on. In most cases, we may need to transfer files and images between these two platforms. This can be done by using a USB cable but sometimes this isn't a viable solution. So, what else we can do to transfer images from an Android to Mac?
We've explained a few easy solutions here to transfer a couple of solutions to transfer images from Android to Mac.
Transfer Images from Android to Mac with USB MTP
One of the simplest ways to transfer images from Android to Mac is, by using a USB. All you need to plug both ends on the respective side of devices and let the Android show a popup notification.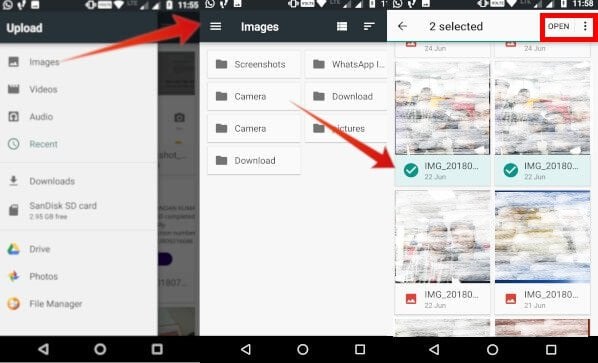 From menu, select Transfer files option. Once your Mac detects this, it will open an Android File Transfer wizard automatically. There tap on folders where you have already saved images.
Besides, you can also change the storage type (Internal shared storage or External storage). Next, Drag Image files from file Transfer wizard to Mac or you can Copy and Paste it directly to your Mac. Once transferring done, you can see all the images on your Mac.
Editor's Note: This method doesn't work as expected in some of the devices, so you can check other methods below.
Transfer Images from Android to Mac using Image Capture
You can use Mac proprietary Image Capture application if the aforementioned method isn't helping you to transfer images from Android to Mac. Image Capture application works well with all types of digital devices and can be the preferred choice if the above method doesn't work. It transfers image files fast with a thumbnail preview and gives you other options like Import To, Import All etc.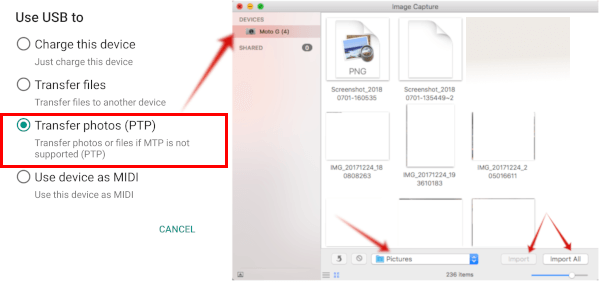 Here, you need to first select Transfer photos(PTP) from Android device menu notification. Then In your Mac device, Open Launchpad, search for Image capture application and open it. You can also find the same in the Application folder. Select the Android device from the left side under the Devices menu.
Now you chose the image files that you want to copy, pick a location where you want to paste those copied files and click on Import. If you wanted to import all images in one go, then select Import all option, which will import all images to your preferred location.
Editor's Note: if you want to see all image files preview then adjust the slider according to thumbnail size.
Transfer images from Android to Mac by Apps
Android or Mac is also known for hosting a varied range of apps that ease the job of almost everything which requires a web application or website. This holds true for transfer images from Android to Mac too, as there is n number of applications available.

For example, you can use the Android File Transfer App on your Mac and move images between cross-platform. First and foremost, Download and Install Android File Transfer on your Mac. Now open this before connecting your Android device. This opens a notification which you need to tap select USB for… notification. Once you tap that, then Drag Image files from file Transfer wizard to Mac. After completion, you can see all the images on your computer preferred location.
If you are facing some issues with the above-mentioned steps but still not succeed with transfer images. Then shift to the wireless method. Which is an effective way to transfer images from Android to Mac, and only requires a good bandwidth Internet connection.
Transfer Images from Android to Mac with Google photos
You will see that google photos app is pre-installed if you own devices that have stocked android os or Google own smartphones (nexus or pixel). You just need to sign in using Google account. Before sign-in, you can either opt in Backup & sync option with settings where you can choose from following options:
Upload size: Original (free resolution photos & videos) or High Quality (great visual quality at reduced file size). Note: For Moto devices, you will get free storage for two years for Original upload size.
Upload over Wi-Fi: You can either WiFi or select cellular data to backup images.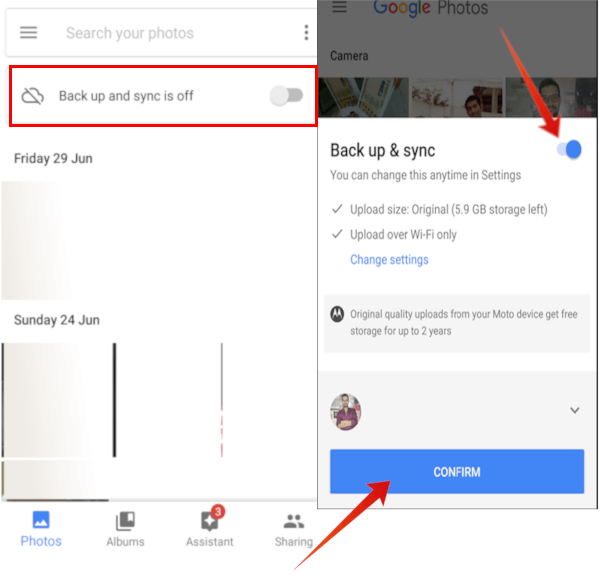 Once you sign-in it will upload all photos to google own cloud storage and from there you can download to any devices irrespective of platform.
Editor's Note: If you have images on your computer then you can access these images to other devices by uploading it to Google photos.
Transfer Images using Google drive
Don't you want to use Google Photos? You can use Google Drive to upload the images directly to Google drive. Google Drive comes pre-installed on most Android devices, if not you can download from PlayStore. You can open Google drive from the menu, if you are already logged in from your Gmail ID, then it will automatically pick the drive attached to that email id else, you need to log-in into your email account.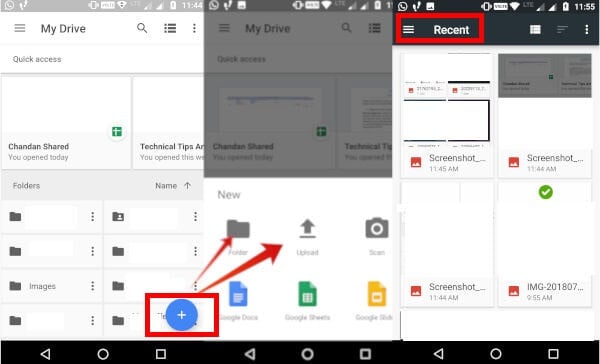 Next, Click on Plus icon, which will show you a number of options. Here, Either you can create a folder where you want to upload images or You can tap on Upload option, select hamburger icon from the left menu, select any of folder from options, then tap and hold for a second on all the images that you want to upload, tap on Open. this will start uploading images into your drive.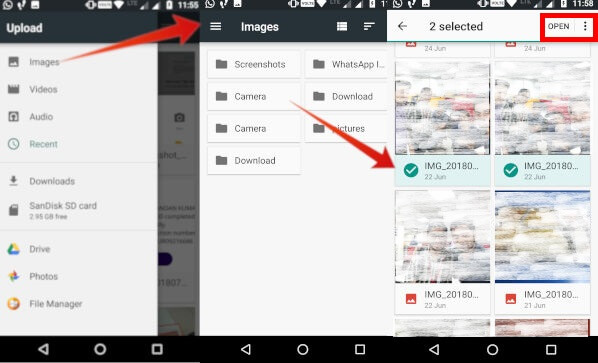 Editor's Note: If Google drive is not present in your device, then download it from play store. Search for Google drive in play store menu and select install.
Google photos and Google drive having some notable difference are as follows: On google photos, you can edit, search, organize into albums and backup images, while on google drive, you can organize into folders, insert into google sheets etc.
Editor's Note: You will get 15 GB of storage on google drive and need to purchase additional storage space from pricing guide for drive.
Transfer Images from Android to Mac using AirDroid
AirDroid is an app available on both Web version as well as Android play store. In order to use this app as image transfer medium, you need to download and Install AirDroid app on Android phone from play store. Open Airdroid web from the browser on your Mac.
Create an account on the website with an email address. Or You can sign up using your Facebook, Google or Twitter account too. Once done, open the app on your phone that you have installed at first step. Now You can move files from your smartphone to your computer or vice versa.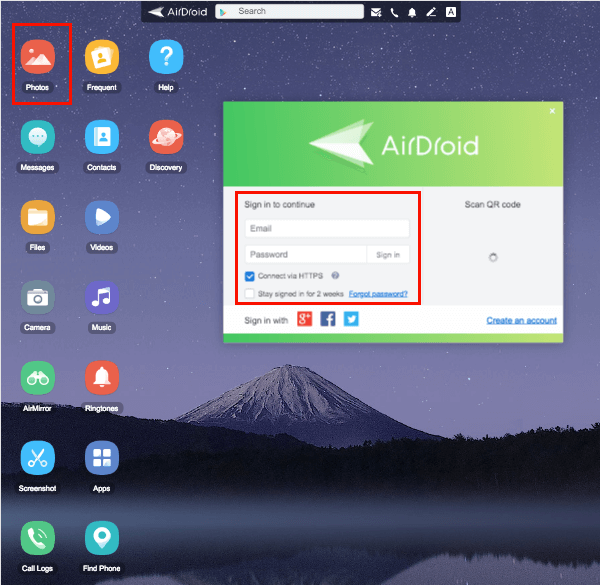 That's how you can transfer images from any android devices to Mac OS computer/laptops. If you want to know about transfer files Images from Andriod to Mac then visit our another article here.
There are a bunch of different solutions to transfer the images between Android and Mac. If you are looking for bulk image transfer with fast transfer speed, you can use USB cable solution. Just for one to two image transfer, WiFi transfer is a viable solution and convenient.