Snake is one of the most classic games to have ever existed on mobile. The original Sanke Xenzia game was featured on the classic Nokia feature phones from the early 2000s. While everyone remembers the original game, it is a bit difficult to play the game unless you own one of the classic Nokia phones that has the game.
Today we will look at the best Snake games out there that you can install and play on your Android devices.
Snake 97: retro phone classic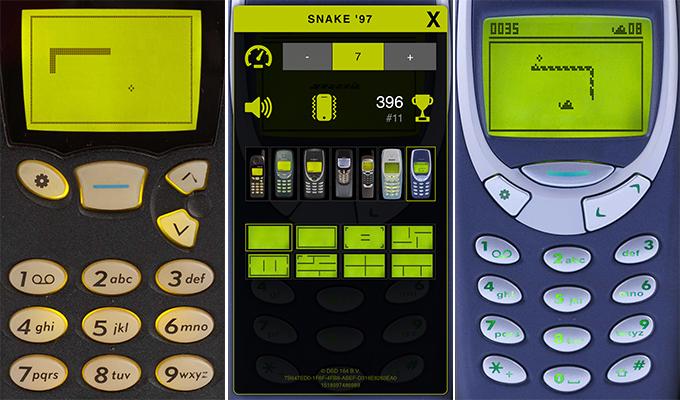 Here's a snake game that you can install on your Android devices and pretend that you are playing on an old Nokia feature phone. You can call this game the remake of the original Snake game. The snake game has 7 classic modes from various Nokia classic devices.
There are 9 original levels and  3 additional difficulty levels for you to play through. You can choose to play between Snake 1 and Snake 2. The game also replicates the classic monochrome dot-matrix screen, which micks the old-school Nokia devices. Just like the original, this remake also saves a high score that cannot be reset, making it only more interesting and challenging for you to pick up the game and try to beat your high score.
Key Features: Multiple Snake game Versions | DIfferent Difficulty Levels | Classic Audio And Sound Effects
Download: Snake 97: retro phone classic (Free)
Snake.io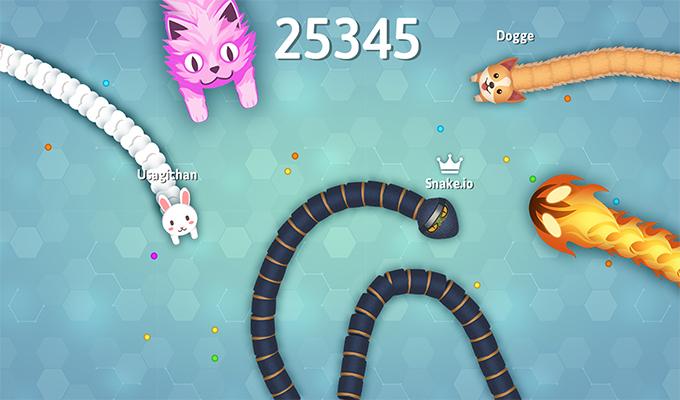 Snake.io is a snake game that is inspired by the very popular Slither.io. The aim of the game is that you start as a small tiny snake and have to pass through various levels, consume lots of food and grow up to be the biggest snake of the round. You need to ensure that you don't get attacked by the other snakes and objects in the game. Doing so will make your snake small and eventually lose the game.
Snake.io also has a multiplayer option to play with friends or other people online. Regarding the controls, there is an onscreen joystick that you can use to navigate and control the snake. Want to make the game even more fun, sit next to your friend and enjoy a local multiple snake battle game. There are many challenges for you to complete.
Key Features: Free | Multiple Modes | Local Multiplayer | Online Scoreboard | Single Player Mode
Download: Snake i.o (Free)
Slither.io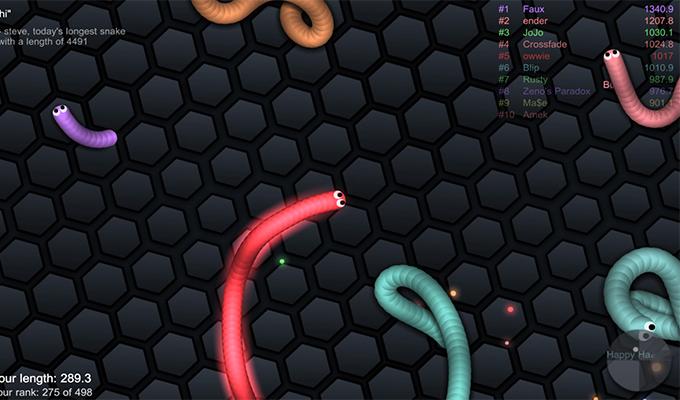 Slither.io is the original game where you play as a snake and compete against other snakes on the map. It's similar to that of Snake.io. This is a fun and competitive game where you must guide your snake to eat all the food items and stay away from the other snakes. The second you touch another snake, you are bound to explode, and you lose the game. Slither.io requires you to be a tiny snake because it gives you a lot of advantage
As a small snake, you can easily swerve and move through the map without being touched by the big snakes. The game has a single-player and an online multiplayer mode where you can compete with friends and other people from around the world. One cool feature of this game is you can also choose to play the game offline in case you run out of data or have no internet connectivity.
Key Features: Colorful Graphics | Singleplayer Offline | Multiplayer Online | Competitive Modes | Scoreboards
Little Big Snake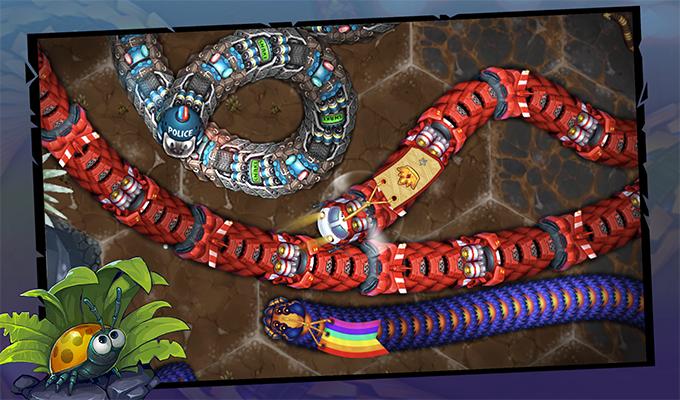 Little Big Snake is a funny adventure game where you are asked to be the biggest snake ever. To be the biggest snake, you will have to draw paths on the map, which help to guide your snake around. and attack your enemies, i.e., the other snakes. Throughout the map, you must lure the other snakes toward you. Once they crash into you, they die. Once they die, they leave behind nectar, which you must consume to progress through the map.
Apart from nectar, you will also have to collect different types of artifacts, keys, and other items to unlock levels, complete missions, and meet new allies. As you progress through the game, you also collect different snakes and need to grow them. The game lets you play offline as well as online with your friends.
Key Features: Missions and Levels to Unlock | Colorful Vast world | Multiplayer Mode | Collect Various Snakes
Download: Little Big Snake (Free)
Snake Arena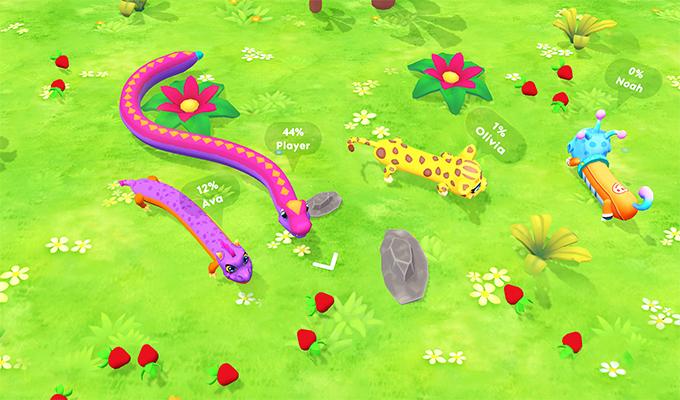 Snake Arena is another slither..io-inspired game. Like the other snake games on this list, you must be the big snake. You can eat the different food items available to grow. But you also must steer yourself away from obstacles and trap your enemies to be the big winner. The game has a good number of boosters that you can pick up to your advantage. These boosters can help you to move quickly and improve your skills
You can unlock new islands to play on when you win through various matches. The game has a ton of skins that you can add to your snake. There is even a particular ghost mode that you can play through, allowing you to pass through the obstacles and the other snakes. This is a great game to play to pass your time around.
Key Features: Multiple Game Leve | Collect Snake Skins | Unlock Boosters | Explore Different Maps
Download: Snake Arena (Free)
12 Best Free Roku Games for your Big Screen TV
Snake Off- More Play, More Fun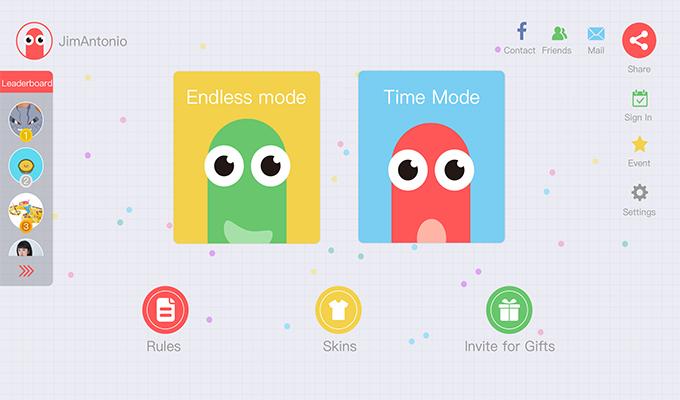 Want to play a reboot of the classic Nokia Snake game? Snake-Off is the game you need to install. You begin as a small tiny snake, who then has to grow up by eating different types of food and dodging obstacles. The game has an onscreen joystick that allows you to control the snake's movement. However, you need to ensure you don't touch any other snake because, if you do, you die.
You can even control the speed of your snake so that your high speed causes other snakes to crash into you, and then they die. Each match in the snake game will last up to 5 minutes. The game also has an Endless Mode where you can keep playing until you die. Then, there's the leaderboard where you can see the high scores and even try to beat the top high score.
Key Features: Two game Modes | Competitive Multiplayer | Online Scoreboard | Singleplayer | 5 Minute matches
Download: Snake Off- More Play, More Fun (Free)
Snake vs. Block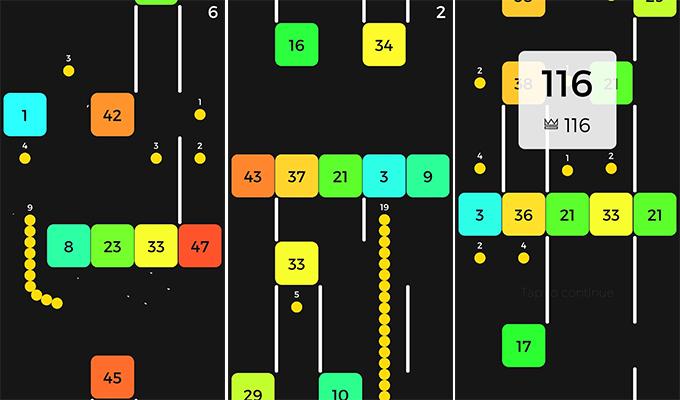 Snake vs. Block is an interesting snake game. In Snake vs. Block, you will have to guide your snake through the various balls spread across the map and ensure to break the various bricks that will be around blocking your path. The more balls you collect, the longer your snake grows. The game world has a pleasing mixture of colorful bricks and balls. The game has a simple control- all you need to do is swipe around.
Talking about the gameplay, there are no game modes as such. You have one single type of Gameplay-Endless Mode. This mode means you keep playing until you lose the level. This is a great way to keep playing the game and breaking out your best high scores. Snake vs. Block also allows youtube to challenge your friends and beat their high scores.
Key Features: Simple Swipe Controls | Endless Game Mode | Colorful Game Environment
Download: Snake vs. Block (Free)
Pizza Snake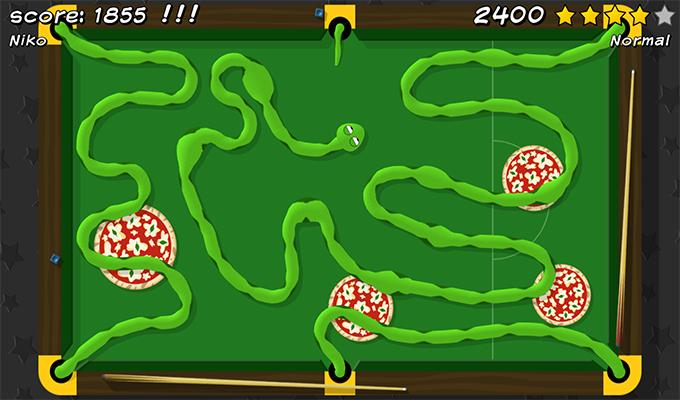 Pizza Snake is an interesting snake game that involves not only snakes but also pizzas. The game requires you to guide your snake through the game's levels and eat as many pizzas as possible. The more pizzas you consume, the more points you earn. Each level has 5 stars. You can play through 8 unique levels, which let you choose the difficulty between normal and hard. The in-game graphics are pretty good, considering it's a mobile snake game.
Pizza snake has original music and sound effects, making the game stand out from the other pens. The controls are simple and easy. Different maps are different. some might look like tablecloths, while others might look like a table or even as simple as a regal plain game map. Whether you are a young kid or an elderly person, you will love playing this game. You don't have to purchase any additional items with real money. However, there will be a few advertisements.
Key Features: Original background Music | two Difficulty Modes | Eight Levels | No- App Purchases | Violence Free Game
Download: Pizza Snake (Free)
15 Best Snake Cameras: Plumbing and Automotive Endoscopes or Borescopes for Phones
Snake Run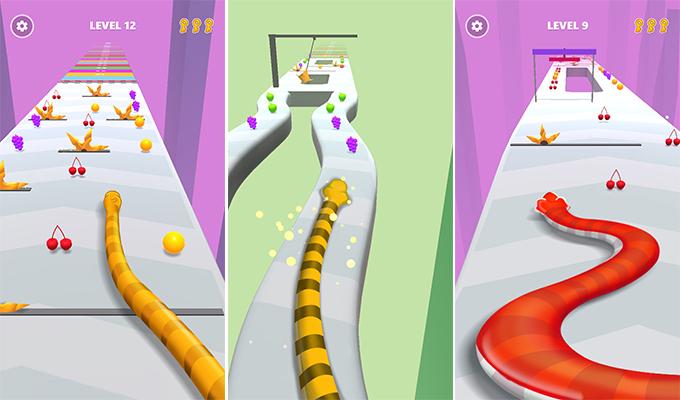 Snake Run is a fun modern take on the traditional Snake game from the classic Nikia devices. In this modern take, you get to slide through a long pathway instead of slithering and sliding around in a box and eating food. The controls are very simple and easy to learn. All you need to do is slide the snake to make it move towards the various fruits that it can eat and slide away from the obstacles that will eventually be your death.
Apart from the fruits, you will also be able to collect stars and rewards every time you complete the level. There are different paths that you can slither on. Some of them are large enough, while some of them are very narrow. The narrow ones require you to guide the snake carefully without falling off. When it comes to the game world, you can see that it is quite colorful, and each snake has its unique skin color. Great game to pass the time while waiting for the bus or cab.
Key Features: Simple Controls | Colorful World | Earn Rewards and Stars | Unlock Power Boosters
Download: Snake Run (Free)
Merge Snake!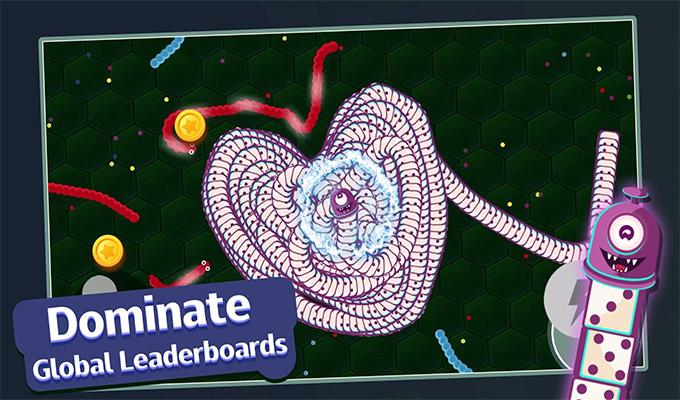 Merge Snake is an interesting snake game that will keep you playing for a long. The aim of this game is simple. All you have to do is control the snake and let it eat up the coins that will help you become rich. The more coins you earn, the richer you are; you can beat other players on the leaderboards with more coins. The game has an onscreen joy-con that you can use to control and navigate the snake across the mao.
In merge Snake, you will also be able to merge with another snake to discover new areas and grow and evolve the snake without any problems. The more you play, the more you earn. With those coins, you can unlock many more snake skins to stand out from the crowd. Speaking of the game's graphics, it's quite colorful and pleasing to look at.
Key Features: Merge and Explore | Leaderboard Scores | Earn Coins | Unlock Skins | SImple On Screen Joy-Con Controls
Neon Snake Game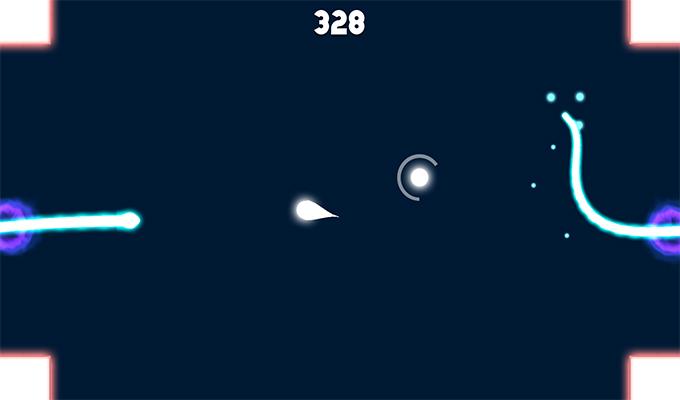 Neon Snake is exactly what you would expect. A game that has the famous snake but in a lovely Neon colored world. Yes, even your snake is dressed in neon colors. Controlling the snake is super easy. All you need to do is to control the snake using your finger by dragging it across the screen. The snake must be fed with all the glowing neon flyers and food bits. The glowing bits in the map keep moving randomly, so you must be quick with guiding your snake around the map.
With all the flyers zooming throughout the mao, you will have to watch for the ones that will make you lose points if you come in contact with them. The game is perfect for those who want a nice-looking game to play for a long or short period. The game can also be played when y our phone is offline. You don't need to have an internet connection to play the game.
Key Features: Offline Game | Neon World | Simple Controls | Challenging Modes Endless Modes | Maze-Designed Levels
Download: Neon Snake Game (Free)
Snake Towers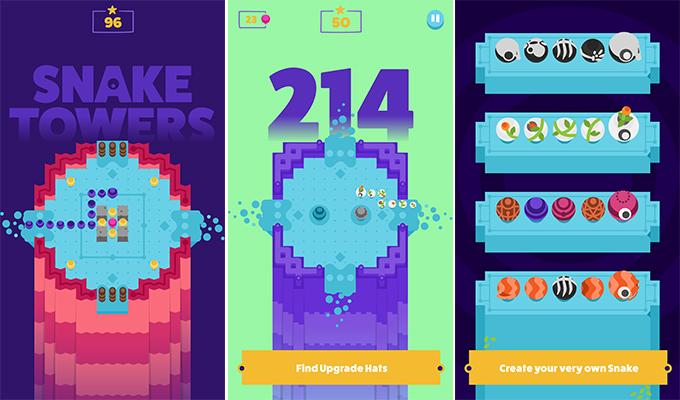 Snake Towers is a snake game that has you slithering around on towers. Each level lets you progress and explore the different towers in the game. As you explore the towers, you will have to look for shiny objects and various upgrades to help your snake progress. The game also requires you to look for gold pieces. These gold pieces help your tail to grow longer.
Snake Towers also have several rare gems for your journeys across various towers. Oh, and many upgrades will help improve your snake. Not all towers are good. There are also some towers called curse towers which will be a challenge for you. The map begins to vibrate, and your controls get inverted. Overall a great game that is simple yet challenging at the same time.
Key Features: Lots of Colelctibles | Upgrade options | Multiple Clalenges | Surprise Challenges | Create and Customize Your Snake
Download: Snake Towers (Free)
These are the best free-to-play snake games you can install and enjoy on Android devices. If you are confused about which ones are a must-play, you can play Snake Run, Snake off, and Slither.io. Of course, nothing beats the original Snake Zenzia game from the classic Nokia feature phones from the early years. If you have the device, it's the best snake game ever. But, if you don't, these alternatives are a better option.