The ability to change WhatsApp wallpaper has been on WhatsApp for a long time. This is the wallpaper that you see behind your messages when you open a chat. WhatsApp has built on this feature and includes a WhatsApp wallpaper library to make the experience easier and better.
Not only that, you can even set different WhatsApp wallpapers for light and dark themes on WhatsApp. This is useful because you probably don't want to have a bright and shiny wallpaper to ruin the dark theme or vice versa.
Let's begin.
Change WhatsApp Wallpaper with WhatsApp Wallpaper Library
WhatsApp wallpaper library is simply a built-in collection of wallpapers from WhatsApp. The wallpapers are divided into three categories that are quite self-explanatory.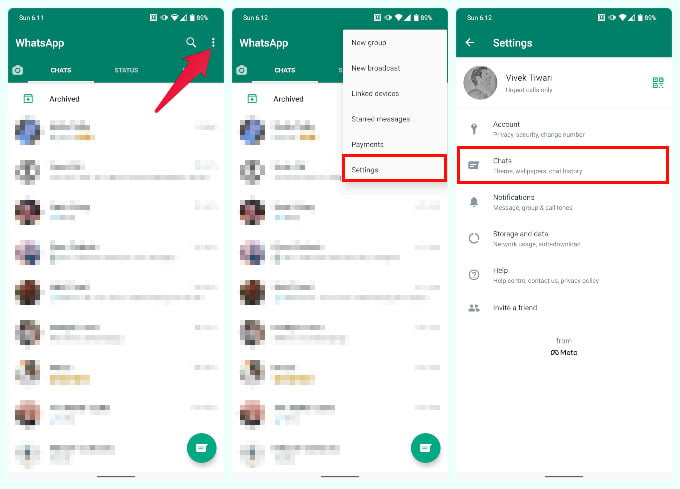 Tap on the three-dot menu button in the top-right corner.
Select Settings.
On the settings page, select Chats.
Next, select Wallpaper.
You'll be shown a preview of the current wallpaper.
Tap CHANGE below the preview.
Select from Bright, Dark, or Solid Colors. You can also select My Photos if you want to select a wallpaper from your phone's library.
Select the wallpaper, then tap SET WALLPAPER.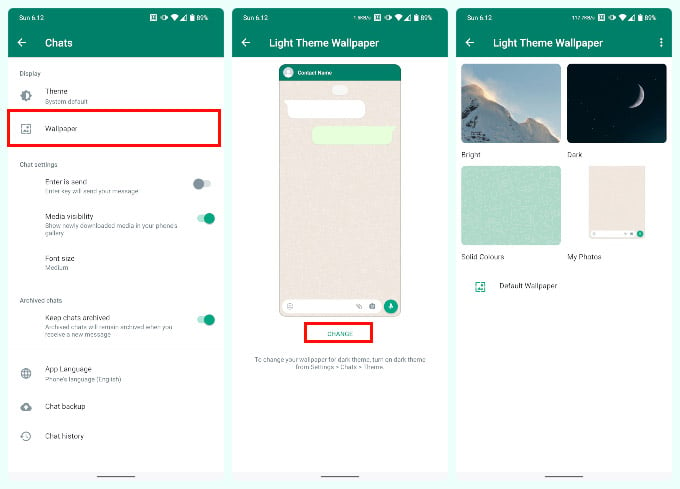 If you want to change WhatsApp wallpaper for the light theme, you must be using the light theme while changing the wallpaper. Similarly, to change the dark theme wallpaper, you'll need to be using the dark theme while changing the wallpaper.
Related: How to Send WhatsApp Message Without Saving the Number on Android
While you're using the dark theme, you can simply apply a dimming effect to your current wallpaper for the dark theme instead of selecting another. This is useful when you are using a picture from your phone's library which is bright. Normally, people don't have darker versions of their photos, after all.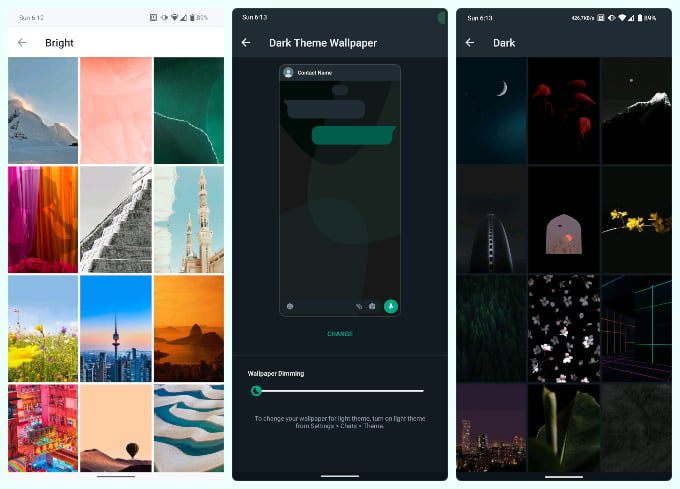 Several choices in the WhatsApp wallpaper library have both a light and dark version. This ensures that your favorite wallpaper goes along well with both light and dark themes. WhatsApp took its time bringing a dark mode to the app. But the attention to detail in its wallpaper selection process shows that they did it right.