Endoscopes make it possible to inspect narrow locations, such as plumbing fixtures and air conditioners, without breaking a sweat. These plumbing snakes with cameras are simple to set up and use as you can see the visuals right at your fingertips.
Here are the best portable endoscope cameras that you can buy this year.
Endoscope Cameras for Android and iPhone
Borescopes or endoscopes come with WiFi and Bluetooth connectivity, with support for your Android and iPhones. None of such snake cameras will have inbuilt screens for viewing the camera visuals. Instead, you can see them right on your phone using their apps.
Depstech WiFi Borescope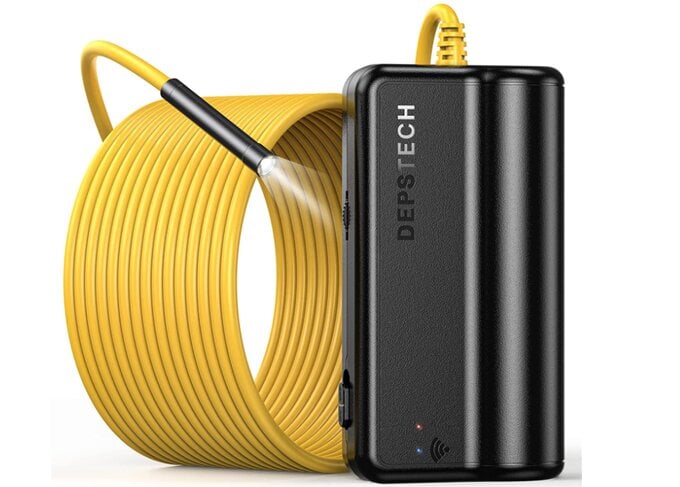 With its high-efficiency chip and 2592 x 1944-pixel HD inspection camera, the 8.5 mm Depstech Endoscope provides clear images even in confined spaces. The 2200mAh battery ensures a more extended working period, and the 33FT semi-rigid camera wire can be bent in various forms.
The plumbing snake camera uses Bluart 2.0 technology to eliminate shadows and boost highlights for sharper stills and video. The endoscope inspection camera has 6 LED lights, the brightness of which can be adjusted.
The waterproof endoscope can be used with any iPhone or Android smartphone. The camera has a focal distance of 3 to 16 inches, resulting in a greater viewing scope. The Depstech Endoscope helps check water tanks, pipes, and other home and commercial machines.
Key Features: IP67 Waterproof Design | 1944p Display | 2200mah battery capacity | Blueart 2.0 for Detailed images | Wireless Streaming | Camtele 2.0 for focus adjustment
Related: 12 Best Digital Multimeters for Electrical & Auto Mechanics
Oiiwak Wireless Endoscope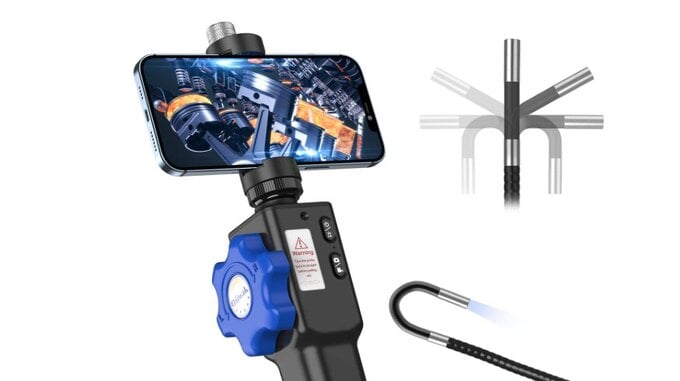 The Oiiwak two-way 180° articulating borescope probe has the ability to rotate flexibly in tight locations, allowing for a more detailed investigation. The WiFi endoscopic camera, which utilizes a CMOS sensor with a resolution of 2.0 megapixels, is able to record video in very high resolution and in real-time, which can assist you in locating the source of the issue.
The 8.5mm inspection camera and surrounding 8 LED lights to make it possible to capture a crisp image in low light. The high-capacity rechargeable 2200mAh battery can run for up to 3-4 hours.
Oiiwak wireless endoscope needs to pair with an Android or iPhone since it does not have an inbuilt screen. It's easy to start the inspection process; you must download the app and sync it with your smartphone. The endoscope does not have an IP certification, so it won't be safe to use inside plumbing.
Key Features: 8.5mm thin camera | WiFi enabled streaming | 2200mah battery | 180-degree articulating head | 8 LED lights for bright viewing
Depstech Wireless Endoscope Camera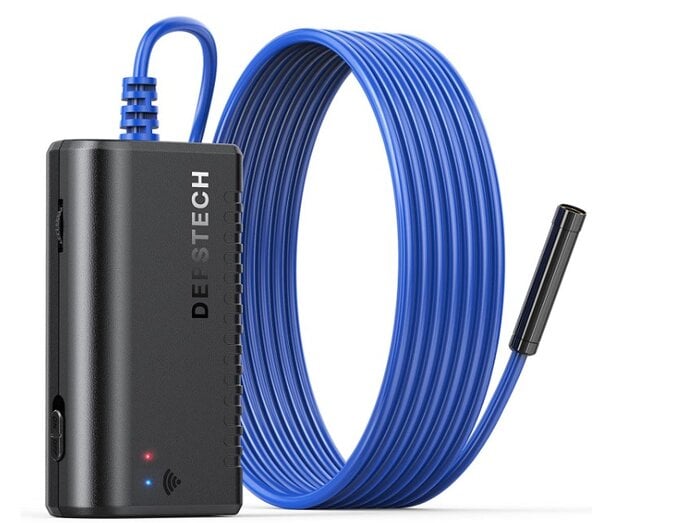 This WiFi endoscope works with iPhone or Android phones wirelessly. The 11.5-foot semi-rigid Snake camera cable allows you to reach every any corner while repairing your vehicle or household plumbing.
With an IP67 Waterproof, 8.4mm Diameter Probe equipped with 6 adjustable LED lights and a thin waterproof probe, this endoscope is suited for a variety of different sorts of environments. The resolution can be adjusted from 480P to 1080P.
You only need to connect to WiFi and install the app on your phone.
Key Features: 6 adjustable LED lights | IP67 Waterproof | 2MP Full HD 1080p camera | WiFi Supported
Video Inspection Cameras with Screen
Video inspection endoscopic cameras have inbuilt screen for an easy to use purpose. This comes in handy when you are working in the industry for longer time and do not want to take out your phone only for viewing purpose. Typically, these types of borescopes come with 4-inches of inbuilt screen with Full HD resolution.
Oiiwak Industrial Endoscope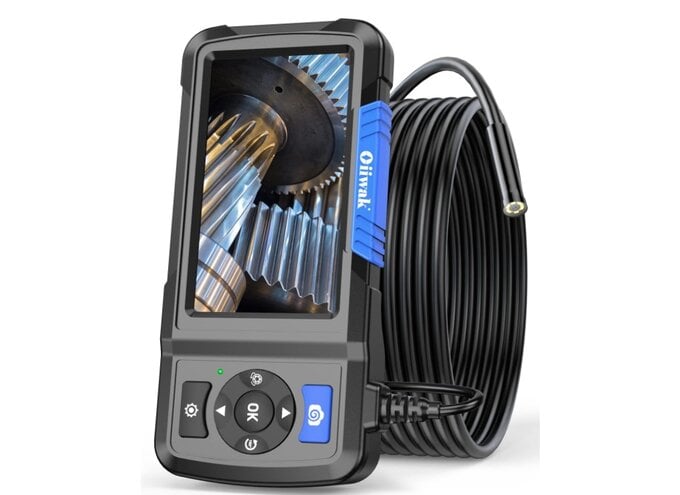 The Oiiwak Endoscope has a large 4.5-inch LCD screen with a horizontal viewing angle of around 170 degrees. This camera with a 6-LED array can easily capture full 1080P films and still images. With its 0.21-inch-diameter lens and 3.5-meter-long, flexible wire, the waterproof probe designed for professional inspection may reach previously inaccessible areas.
The built-in 2800mAh battery has the capacity to run continuously for approximately 4 hours. Easily switch the angle of the camera with the push of a button using modern Blu-Ray 2.0 technology for superior industrial inspection and excellent visuals.
The built-in display helps you insect any bore without having to connect to a phone. Oiiwak Borescope can assist you in resolving issues associated with pipeline checking, industrial machinery, sewage line inspection, automotive maintenance, and other matters involving difficult-to-reach areas.
Key Features: Large 4.5inch FHD display | 2800mah battery | Standalone usage supported | 2nd-gen CMOS chip for reduced lag | 170-degree wide angle
Teslong Professional Endoscope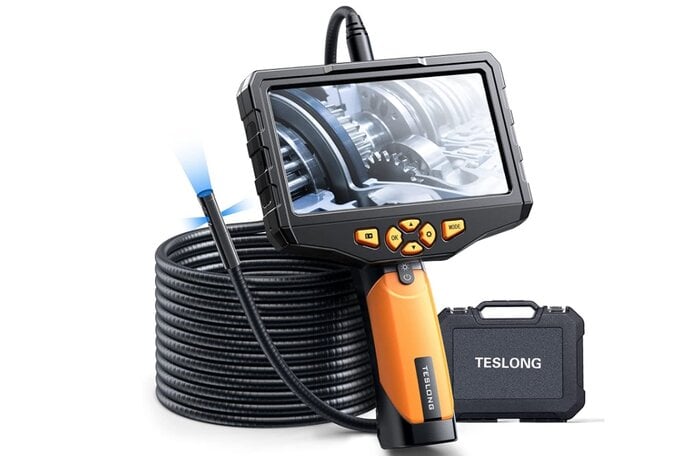 The Teslong Endoscope includes three cameras incorporated into the end of the camera's probe. You can switch between the front-facing camera and both side-view cameras with the push of a single button, giving you a combined field of view of 234 degrees. The built-in 5-inch IPS LCD allows easy inspection. This snake camera has a 32GB SD card for capturing and storing pictures.
The handheld borescope's built-in flashlight is a great addition to the cameras. The camera wire on the probe can be readily straightened or bent, and it holds its shape well enough to allow it to travel past obstacles and into most corners. This probe can function submerged for up to 30 minutes at depths of up to 3.2 feet.
This inspection snake camera's screen has a rechargeable 5000mAh battery. You may connect a separate camera probe to the same screen, making this a versatile camera probe even though they all differ in length, diameter, view angle, and focal length.
Key Features: Built-in 32GB storage | Large 5000mah battery | IP67 certified water-resistant | 234-degree field of view | 5inch IPS LCD
Related: 10 Best OBD2 Scanners for Android and iPhone
Oiiwak Autofocus Borescope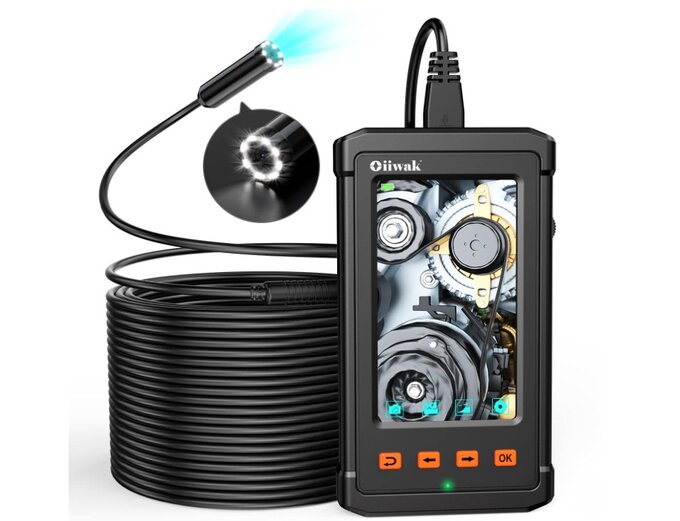 Oiiwak Autofocus Borescope has an enhanced 4.3-inch full-view monitor that rotates in all directions. In addition, the endoscope can be used at three different resolutions compared to other models: 1280 x 720, 1920 x 1080, and 2592 x 1944. Show the sharpest image possible through a 1944P Full HD screen.
With the addition of the 66-foot semi-rigid cable, coupled with eight dimmable LEDs, you can reach previously inaccessible areas, such as pipes, plumbing, interior walls, and so on.
Instead of relying on the typical endoscope's fixed focal plumbing camera, Oiiwak uses an autofocus HD 5MP camera lens. When taking photos or videos with an endoscope, the focus distance can be adjusted automatically (up to 5 centimeters/1.97 inches) like with a smartphone.
Key Features: Autofocus 5MP Camera | High resolution 1944p display | Third-gen CMOS chip for less lag | 32GB storage | EIght dimmable LEDs
KZYEE Triple lens Inspection Camera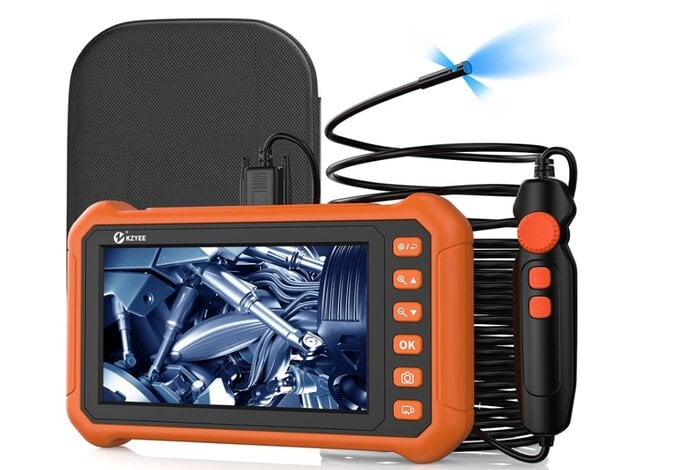 The KZYEE endoscope has an LCD with full HD video quality in real-time. Its 3800mAh battery can keep going for 6 hours of work. The 64GB memory card can be removed to copy the stored videos and photos. You can use this professional borescope to look inside everything from industrial gear to automobiles to pipes, HVAC systems, and walls.
The snake camera features three cameras and a 7-inch monitor to help you rapidly locate objects and get a clear look. The 11.5-foot semi-rigid cable allows the sewer camera to navigate into confined spaces while maintaining its original shape. The 8mm camera probe and its cable have an IP67 rating for protection against water.
Key Features: 7inch Full HD display | 3800mah battery | IP67 water resistant | 64GB internal storage | Third-gen low latency CMOS chip
Related: 8 Best Indoor WiFi Air Quality Monitors to Track Air Pollution Inside Your House
FPVERA Inspection Camera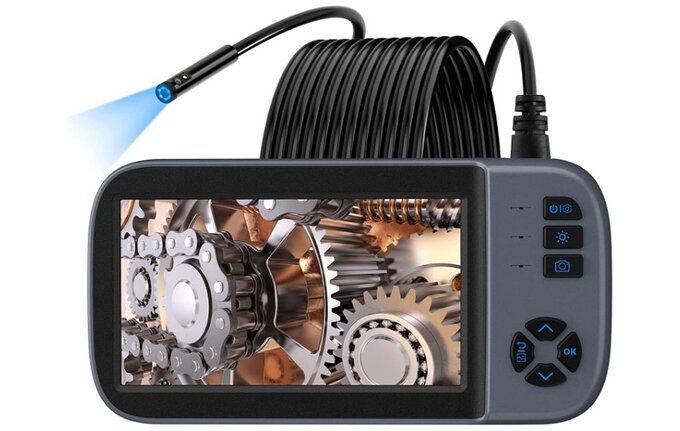 The 16.5-feet-long wire of the FPVERA camera probe is equipped with three independently adjustable LED light levels. The 16.5-feet cable on the camera is quite good for pipe inspection.
The dual-lens endoscope is simple to operate and does not require any additional hardware or a downloaded app in order to display. The 4.5-inch IPS LCD on the borescope inspection camera makes navigating the interface a breeze.
If you want to view more detail, the FPVERA inspection camera has a solution: two lenses, one on the front and one on the side. During the inspection process, you can toggle between the two cameras. The endoscope camera is submersible for up to an hour at a time and is waterproof to a depth of up to one meter and a half.
Key Features: 4.5inch IPS LCD | 1080p camera | Third-gen CMOS chip | IP67 Water resistant | 6 LEDs for bright viewing | 16.5ft Cable | 32GB TF Card
Teslong Triple Lens Endoscope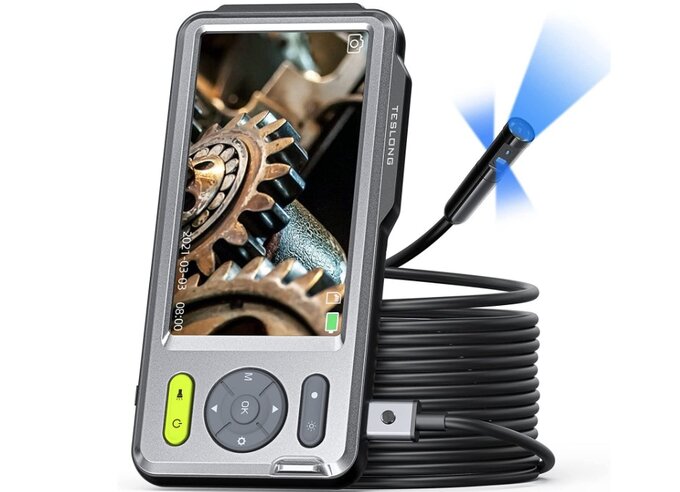 There is a 5-inch IPS display on the Teslong Triple Lens portable endoscope. In addition to its standard lens with a 4-inch focus, this camera also has short-focus, side-view cameras with 1MP and 1.2-inch focal distance that can focus more precisely on confined locations than traditional side cameras.
The camera tip of the borescope is equipped with eight independently adjustable LED lights, allowing for crisp imagery in low light. The powerful internal batteries allow for three to four hours of use before recharging.
The integrated peripheral cameras allow you to instantly switch between three distinct viewing angles within the current inspection area without repositioning the probe. It is also IP67 waterproof which allows for underwater inspection. The 32GB memory enables it to record videos and photos internally.
Key Features: 5-inch LCD display | 8 adjustable LEDs | 32GB internal storage | Triple Camera setup | IP67 water resistant
Related: 12 Best Outdoor Solar Garden Lights for Your Backyard Lighting Ideas
Teslong Dual Lens Endoscope Camera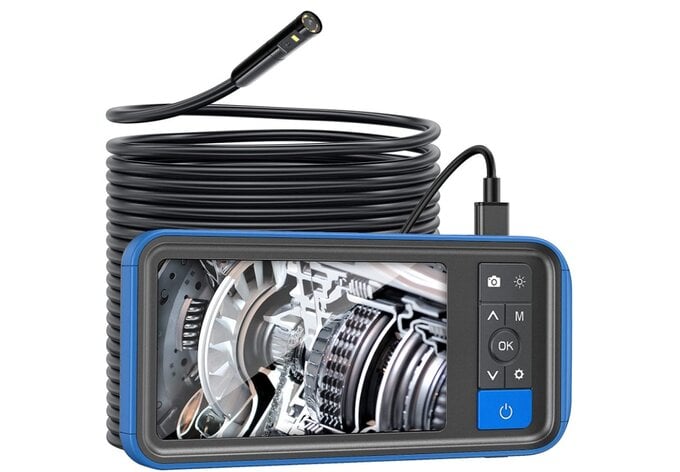 The Teslong dual-lens endoscope allows you to look in any direction. The camera on the side gives you a close-up view of 90 degrees. With its extra-long 15-meter (50-foot) probe and waterproof IP67 camera, your line of sight will be greatly increased.
The 4.5-inch IPS screen, with its built-in 2500mAh battery, provides clear images from any angle. This inspection snake camera has a 32GB MicroSD memory card that can capture videos and still images in the AVI and JPG formats. With its built-in microphone and speaker, it is also possible to make voice memos while recording.
The MS450 camera probe's zoom feature allows you to see more of the scene from any angle within its 180° field of view. Both the main and side cameras have maximum focus range of 4-inches.
Key Features: 4.5″ IPS screen | Built-in 2500mAh battery | 32GB MicroSD memory card | 180° field of view
Related: How to Check and Monitor MacBook CPU Temperature (Intel & M1 MacBooks)
TOSNOLY Borescope Inspection Camera
The TOSNOLY endoscope's camera is 7.5 times more luminous than conventional endoscopes' LCD monitors. The 5.0 mm inspection camera features a pair of FHD front and side view cameras. You can get a more detailed look at things with its 3x digital zoom-in option. It also includes a rotation feature that allows you to spin the image a full 360 degrees with the press of a single button.
The automotive borescope is waterproof to a depth of 1.28 meters (3.28 feet) thanks to its IP67 rating. Battery life of up to four to five hours is possible with the 3000mAh rechargeable battery.
Key Features: 1080p recording | 32GB storage | 360-degree automatic Spin | IP67 water resistant | 3000mah battery | 7 LED lights for bright viewing
NIDAGE Dual Lens Endoscope Camera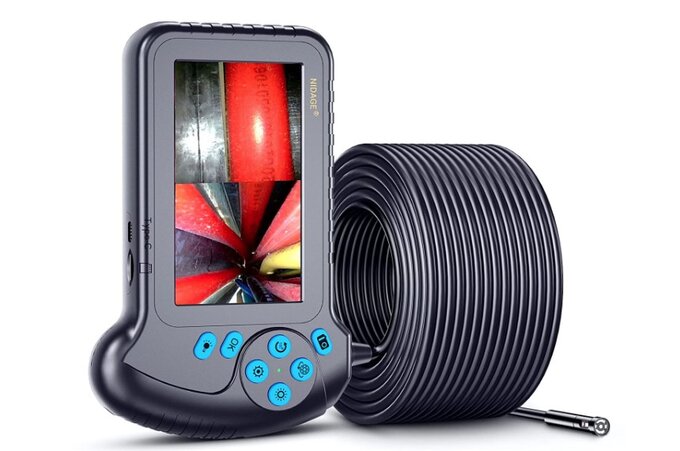 The 50 feet dual-lens inspection camera has a single-button interface for switching between a side view, front view, and a dual view. You can view the dual-lens image side-by-side on this snake camera from NIDAGE.
The camera has a resolution of 2.0 megapixels and is capable of recording HD video in a smooth 1080p resolution. The lens is IP67 waterproof and has 7 LED lights that can be dimmed to ensure clear vision in low light. The 5-inch screen on the NIDAGE digital endoscopic camera ensures crystal-clear images.
The included 32GB TF card can hold more than 10,000 photos or videos. The 2500mah battery in the display may be charged through a USB C connection. The long battery life of up to 4 hours means you can work with greater flexibility.
Key Features: 2MP 1080p camera | 32GB internal storage | 2500mah battery | 5 inch IPS LCD display | New CMOS chip
Related: 10 Best USB Digital Microscope to Buy in 2021
HantSkop Dual Lens Endoscope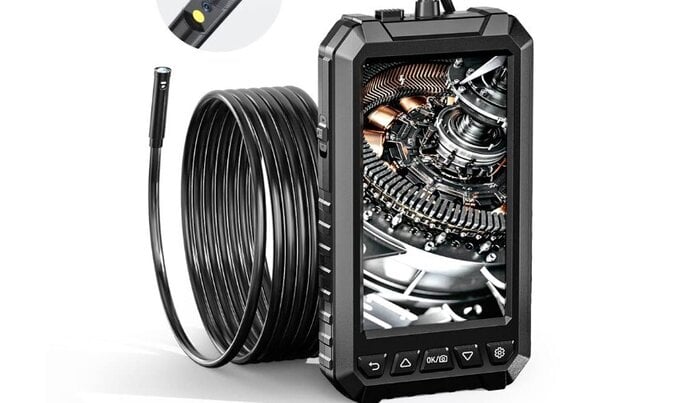 The HantSkop Borescope camera features a 5-inch HD Screen, so you don't need to connect to your phone. The 16.5 feet' detachable, semi-rigid wire is lightweight, portable, and simple to swap out. The snake with camera package comes with three helpful lens accessories: a hook, a magnet, a pair of side mirrors, and a protective cover.
A crisp field of view of 1.2-4 inches is provided by the design of the 0.2-inch front and side dual-lens. Underwater inspections and repairs are made easier with the water-resistant design. Plus, the 2000mah high-capacity battery gives you four hours of continuous inspection on the go.
Key Features: 1080p camera | 5-inch IPS LCD | 2000mah battery | 7 LED lights | 4-inches max focal distance
Related: 15 iPhone Built-in Apps That can Replace Your Household Tools
Depstech Industrial Endoscope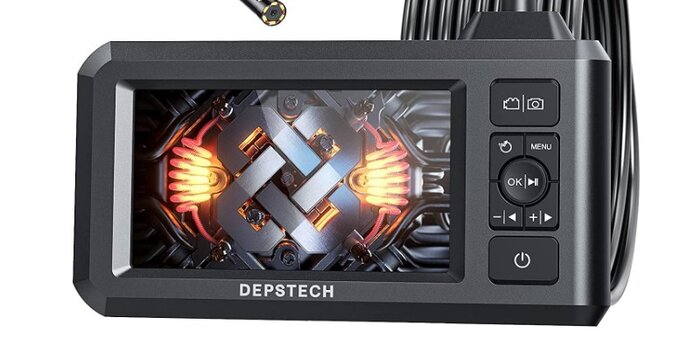 This endoscopic camera has a 2.0-megapixel sensor and can record smooth 1080p HD video. The wide-angle 4.3-inch TFT LCD offers a horizontal viewing angle of around 170 degrees. The built-in battery provides continuous power for about 4 hours and can be recharged via a USB connection.
The borescope camera can be rotated 180 degrees. With an IP67 rating for water resistance and three brightness settings, you'll be able to see well anytime. The primary camera has a 1.2 to 3.1-inches focal range, while the secondary camera has a 0.8 to 2.4-inches range. The 16.5-foot length of this semi-rigid wire means it can be twisted and reshaped easily.
The FOV 70° button on the endoscope camera provides a broader field of view even in a confined space. The inspection camera's Dual lens may be swapped to see multiple viewing angles without needing a side mirror.
Key features: 4.3 inch TFT LCD display | IP67 certified Water resistant | FOV 70 button for confined view | Second-gen CMOS chip | Bluart technology for detail preservation
Oiiwak Endoscope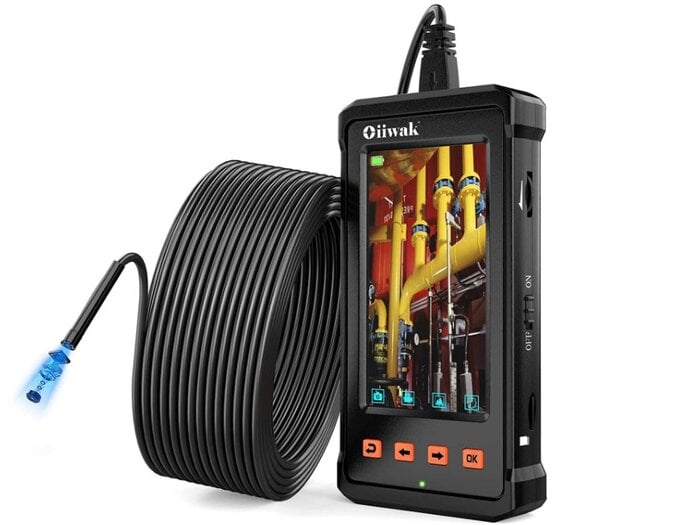 The Oiiwak Endoscope camera is able to take clear pictures with the six strong 6500K LEDs surrounding the lens. The 2800mAh rechargeable battery allows for continuous use for up to five hours. The 4.3-inch portable screen allows for the simple one-handed operation of all functions on this snake camera.
Its 0.33-inch, waterproof micro inspection camera can inspect drains, sewer pipes, heating vents, and air ducts. You can zoom in on the camera for a closer look and even change the direction in which the image is displayed.
Key Features: 4.3-inch LCD display | 32GB internal storage | Water resistant IP67 | 2nd-gen CMOS chip | 1080p recording camera | 2800mah battery | 6 LEDs for viewing in dark
Finding the most reliable and practical mobile endoscopic camera could be time-consuming. Above-listed are the finest snake cameras or borescopes, with many of them compatible with your Android and iPhone.