Did you ever get a message "The attachment size exceeds the allowable limit" when you try to send a large file by email? Sometimes we need to share large files online. Well, these files may be a video file or a large image raw file. As you know most of the free email providers are not supporting large file sharing and restricting the file size to MBs to attache with the email.
However, we do have a couple of other solutions to send large files by attaching with the email. Let us see the best free solutions to send large files by email.
Send Large Files with Gmail
Well, Gmail supports the maximum file size of 25MB by default email. However, there is a quick and easy solution to send files through Gmail larger than this 25MB file size. As you know Gmail is tightly integrated with Google Drive.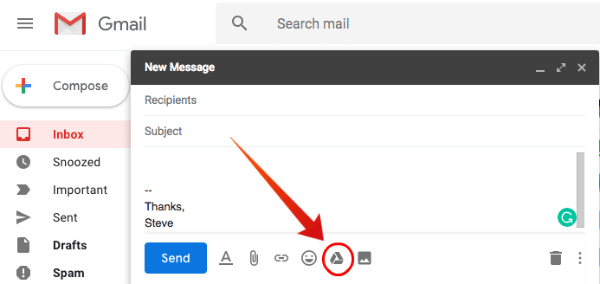 Google is providing an option to send the files via Google drive from the Gmail compose window. You can see a tiny Google Drive icon when you open Gmail on the browser.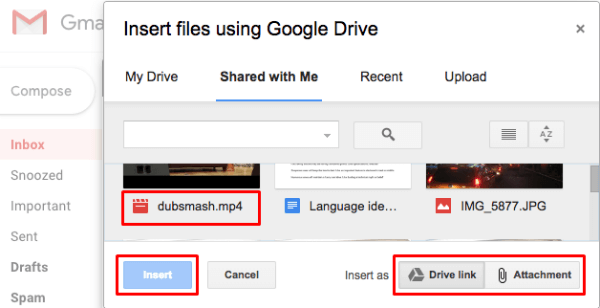 You can tap on the Google Drive icon and select the large files you want to share. If you don't have the file already in Google Drive, you can use the tab "Upload" to upload the file to Google Drive and share it with Gmail.
The Google drive will support most of the file types and the typical file size supported by Google Drive is up to 5TB. There are exceptions to this file size for presentations, Google Docs, and Sheets. Here is the full list of supported file and sizes on Google Drive.
Please be aware that, the maximum free space available for Google users is 25GB, and you won't be able to upload a 5TB size as long as you are a free Google Drive user. Moreover, you have an option to transfer the large file by ending as an attachment or drive link. The drive link is basically an URL that can be used by the email recipient to download the file.
Related: When you want to share a large file between Android and iOS, there are dedicated apps for that file transfer. We have a dedicated article to refer to How to Share Large Files between iPhone and Android Offline.
Transfer Big Files with Outlook (Hotmail)
The outlook is from Microsoft, and just like the Google drive, the Outlook is supporting OneDrive from Microsoft. Instead of directly attaching the file on OneDrive, you have to click on the down arrow near to the attachment icon on the Outlook email composer window.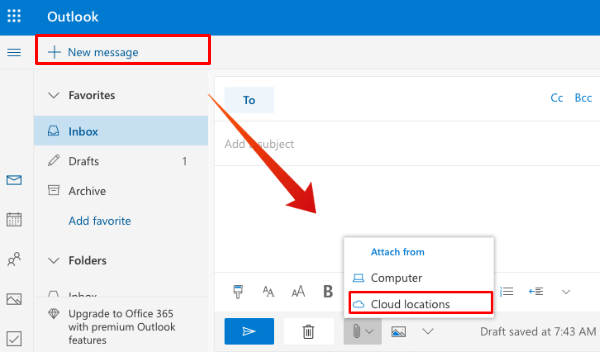 You will get the option to attach the file from the computer or Cloud locations. If you are using a free version of Outlook email, the file maximum file size to attach with Outlook email is limited to 20MB.
For the exchange servers and enterprise versions, this file size limited by the company servers and depends on the company policy. In general, if you want to proceed with a large file transfer through Outlook email, you have to depend on One drive service.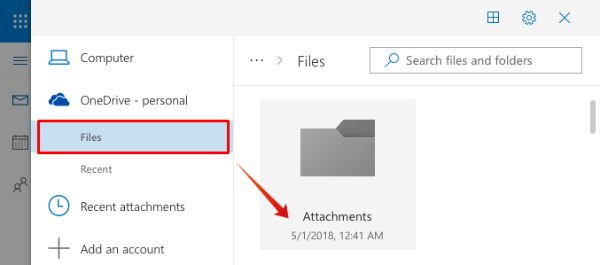 OneDrive is offering up to 15GB free space for free users, 1TB for office 360 subscribers, and supports 10GB file size to upload.  You can always upload the file into OneDrive before you compose the email and share the big file via Outlook mail.
Send Big Files with Yahoo Mail
Yahoo mail is not coming with a built-in solution like Onedrive or Google drive. The max file size supported by Yahoo Mail to email is 25MB. However, if you have any email service provider that does not have any built-in solution to share large files on email, you can depend on other file sharing services.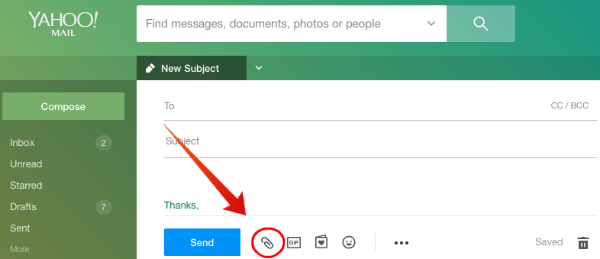 Yahoo was offering a solution to share the large files by integrating with DropBox. Unfortunately, with the latest updates, this direct dropbox attachment option is missing. However, you can use this Dropbox Free Service (up to 2GB) for sharing large files with Yahoo Mail or any other email provider.

The benefits of Dropbox sharing is that you can share a file or an entire folder with a link. Once you create the sharing links, you can email them to the recipient to access these large files.
Use File Hosting Services to Send Large Files
The file-hosting services are just like cloud drives, those can keep a file for a certain time, and you can share the file with a provided link. Once you upload the file to the File Hosting services, you have to share the file link with your teammates via your email service.
FileDropper is a simple file host service, that can use to upload a big file and get back a link to share via your email ID. There is no direct email option is available with this service. The maximum file size supported by this file hosting service is 5GB for a single file.
As we mentioned before, DropBox service can be used to share the file through email with sharing links. The DropBox service is free up to 2GB, and you can share the files with a link or through a public folder. Just like the DropBox, Google Drive and other cloud services are also offering to share large files with a link. The sender can share the link through the email to share the file using these cloud services.
Transfer Big Files with File Sharing Services
The file-sharing services are a combination of file hosting and email services. When you use these file-sharing services, you don't need a separate email provider. Instead of that, you can simply upload the file to those services, give the recipient an email address, and click send to share the fie. No need to worry about the file-sharing link here.
WeTransfer is a similar service that allows uploading large files up to 2GB in size. With WeTransfer, you don't need any email service. You can give your email ID., recipient email ID, and upload the file from your PC.
Once you click send, WeTransfer will retain the file for 7 days. The big file that you transferred will be available for 7 days. The premium service of WeTransfer can store up to 100GB and send up to 20GB files at a time with file password protection.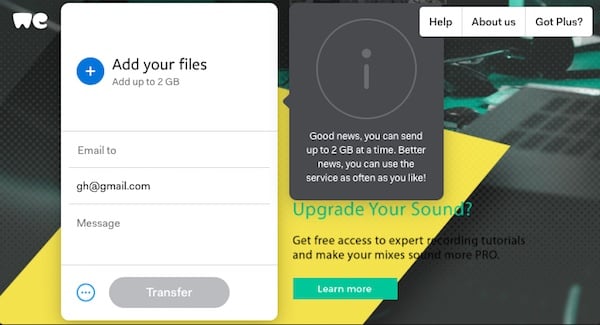 pCloudTransfer is a large file sharing service that supports free file transfer of big files. With the service, you can send up to 5GB (200MB Single file) without any fee. Moreover, this big file transfer service also provides an option to encrypt the files with a password before you send it. You can give a password and upload the file to encrypt. Now you have to enter your email, recipient's email, and message to send the file.
How to Send Large Files with Email
In addition to the email, providers like Gmail, Outlook, Yahoo are the other free email providers that we use. Most of these email services are supporting small files to transfer and send via email. However, there are a bunch of File Sharing Services that can use with these email providers to send big files.
When you want to send a large video file, you have to use this service to upload the file first. And later, share the file link with your recipient to share the file. The recipient can see the file and download it if they need it. Be aware, these file-sharing services may not be secured and do not use any files with Personal Information to share that data.
Before you try these services, you can try to zip the file. Sometime, the video and image files may come into almost half size when you zip the file. Similarly, when you want to share a PDF file, there are a lot of services available to shrink the PDF file size. These PDF compressing services may be able to cut down the size of the PDF file size to an acceptable size that can email directly without hitting the size limit.
Using these file hosting and sharing services, even you can send videos through email. The video files come in GigaByte size, and these file hosting services support up to 5GB to share for free.