Sometimes you don't want to leave a trace of your web browsing activity on your computer. Whether it's shopping for a gift on a shared PC or checking an account at an Internet cafe, you don't want to leave any evidence of your browsing or search history for others to see.

InPrivate Browsing helps prevent Internet Explorer from storing data about your browsing session. This includes cookies, temporary Internet files, history, and other data. Toolbars and extensions are disabled by default.
You can start InPrivate Browsing from from the New Tab page > Safety > InPrivate Browsing, or by pressing Ctrl+Shift+P.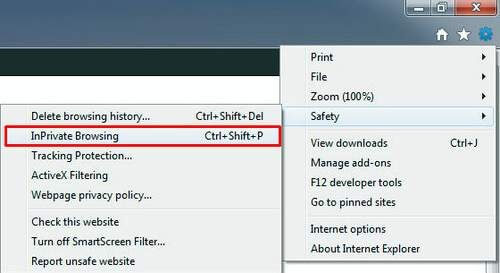 The following window will bring with a small outline of InPrivate browsing features. InPrivate Browsing helps prevent your browsing history, temporary Internet files, form data, cookies, and user names and passwords from being retained by the browser.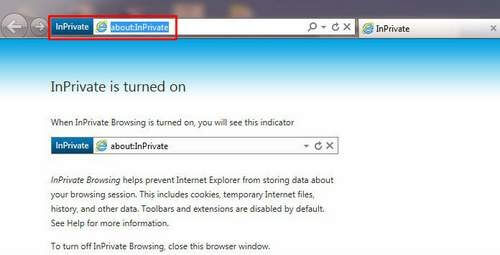 Internet Explorer launched a new browser session that wouldn't keep any information about webpages you visit or searches you perform. Closing the browser window will end your InPrivate Browsing session.

To turn off InPrivate Browsing, close this browser window. When you open next time the internet explorer launch a regular tab for browsing.
Do you want to know more details about private browsing in Internet Explorer, Google Chrome, Mozilla Firefox, Apple Safari, Opera, iPad / iPhone Safari? Please go through the entire article for Protect your data while browsing on a public computer.