Bluetooth FM Transmitter car kit lets you make hands-free calls and play songs direct from smartphone to your Car Stereo. There are Bluetooth car kits available for those who don't have built-in car Bluetooth connectivity. Most of the new car models are coming with built-in Bluetooth for a car, which wirelessly connects your phone to Car's audio system.
There is no need to take off your hands from the wheel, car Bluetooth adapters connect your smartphone to car audio system, and you can make calls, play music, ask Siri, etc. We explained our best to answer most of the questions I had before I buy Bluetooth Car Adapter Device. I hope these answers guide you to select the best Bluetooth adapter for the car.
Let us see the Bluetooth FM Transmitter Car Adapter Buying Guide that can Wirelessly Connect Smartphone to Car Audio System.
Wiring Requirements for Car Bluetooth FM Transmitter
No need to worry about additional wiring or aux pin into your car audio system when you use Bluetooth Car Kit, These gadgets are plug and play, and no additional wiring or setup need to operate. I bought one of this Car Bluetooth Adapter along with my favorite Car Dash Camera and tested in my car. Based on my experience, this article is worth for those who don't have a built-in Bluetooth Car Stereo in their car.
Editor's Note: If you don't want to continue the guide and want to buy the Bluetooth Car Adapter, please see the list of Car Bluetooth Adapters for Car Audio System.
Compatible Audio System for Bluetooth Car FM Transmitter
Bluetooth car kit will work with almost all the cars that have an FM Audio System and a 12V Car Cigarette Lighter Plug near to driver seat. I am pretty sure most of the cars have a built-in audio system with FM and AM radio and CD/DVD players. Some of them are coming with Aux-in input that can use to connect your music device's audio port directly into car Audio system. However, Bluetooth car kit works wirelessly and does not need to use this Aux-in.
Related: We already discussed a different article about the things You Should Know Before Buying Car Dash Camera. Meanwhile, if you are interested in car gadgets, there is a cool device called Car Hud Display, that you will be interested and please refer the things before buying Car HUD Display.
How do you use FM Transmitter?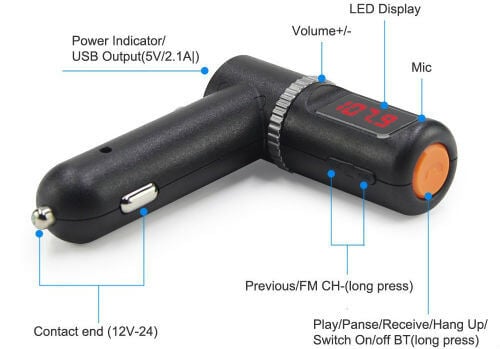 These Bluetooth Car Kit is using two modes of communication. This Car Adapter has a Bluetooth Receiver, and Transmitter to connect with a Bluetooth enabled Smartphone. In addition to this, there is an FM transmitter to transmit the sound signal to Car's audio system. These are the hardware parts you can see on a typical Bluetooth FM Transmitter.
Cigarette Light Port Connector (this is to power up the FM Transmitter)
Power Indicator (Optional)
LCD Display (this is to set up the device FM channel. Based on the device the display may be large or small)
Control Buttons (Previous/Next for controlling the music, and Phone button to answer/reject calls).
Microphone to use with phone calls
SD card slot (Optional: To play music from SD card)
USB Port (To charge the phone device)
USB Port (Optional: To play song from phone)
Aux Port (Optional: To play audio through AUX port)
This device can directly connect to your Car's 12V Cigarette Lighter Port to power up the Bluetooth Adapter.
How to use Bluetooth FM Transmitter to Call?
Since this FM Bluetooth kit can connect to the card audio system, it can deliver the phone calls through car audio. To make the calls clear, these Kits are coming with noise cancellation other interesting features.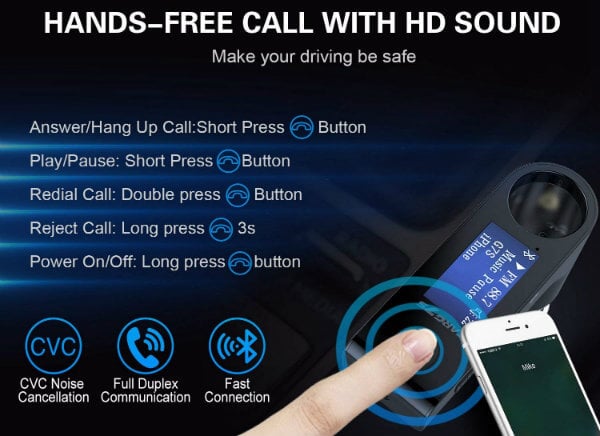 The car kit has one or two microphones with the device to capture your voice. Whenever this device routes the calls from your cell phone, the device is working as an independent Bluetooth audio system that works with built-in mic and car audio speaker system.
How to use FM Transmitter with Smart Phones?
Most of the smartphones with Bluetooth will work with this Bluetooth adapter for the car. You may experience some Bluetooth connectivity issue depends on the phone model and the device you are buying.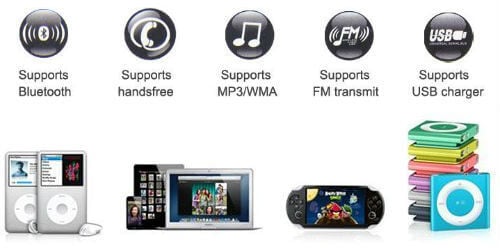 Please go through the specification and reviews before selecting your Bluetooth adapter for the car. With our testing, we found this Bluetooth car adapter is performing well with iPhone and Android phones such as Samsung, Motorola and Nexus devices.
How do I connect my Phone to Car Stereo through Bluetooth FM Transmitter?
You don't need any additional wiring for this device to work. The setup of the Car kit is very simple and can be completed with four simple steps, listed below.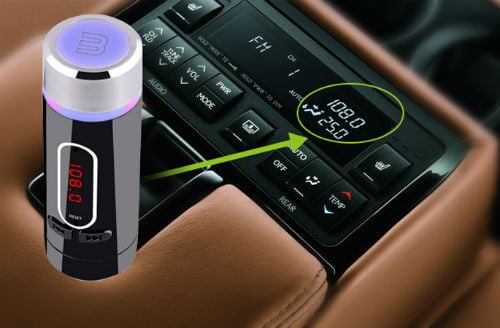 Connect the car Bluetooth adapter into Car's 12V Cigarette Light Plug to power up.
Turn on your smartphone Bluetooth and pair your phone with this adapter via Bluetooth (most of the device will make an audio tone when pairing successfully).
Now tune your car audio to an empty FM channel. This FM channel selection is crucial, and you have to select the empty channel. If you choose a channel that is already using by any other radio stations, then you may end up with noise or channel signal interference while you make calls with this Blue Tooth device.
The last step is to select the same FM channel on the device to transmit the signal. Once you select the same channel on the Bluetooth FM Transmitter, the Car Adapter will start to stream the music or phone call to your Car Audio Speakers.
Which is the Best FM Transmitter for Car?
Based on our research, reviews, we selected a couple of Bluetooth car adapter devices that works with iOS and Android phones. Please make sure your phone is compatible with the Bluetooth adapter before you buy. We have a complete list of best FM transmitter devices that t can buy from Amazon.
LDesign Bluetooth FM Transmitter for Car
Key features: Works with iOS, Android, FLAC/WAV/WMA Players | Extra cigarette lighter port | Incoming Phone Number Display | 5V-2.1A USB Charging | Built-in microphone | Supports A2DP | TF/MicroSD Card Slot | Support AUX output/input | Buy from Amazon
Nulaxy Wireless In-Car Bluetooth FM Transmitter
Key features: Works with iOS, Android, MP3, MP4 Players |  1.44" Inch Display | Incoming Phone Number Display | 5V-2.1A USB Charging | Built-in microphone | TF/MicroSD Card Slot | Support AUX output/input | Buy from Amazon
LDesign Wireless In-Car FM Adapter Car Kit
Key features: Works with iOS, Android, MP3, MP4 Players | HI-FI Stereo Sound Quality | Mic with Echo Cancellation& Noise Suppression | 5V-2.1A USB Charging | Built-in microphone | TF/MicroSD Card Slot | Support AUX output/input | Buy from Amazon
More Car Bluetooth Adapters: List of Car Bluetooth Adapter to connect your smartphone with the Car Audio System.
Bluetooth FM Transmitter Adapter Additional Features
This device is built for the hands-free call. There is a built-in microphone and an additional pair of Answer / Reject button is also coming on most of these car Bluetooth adapters. This makes you completely hands-free while you drive. Whether your phone is in your bag or pocket, you don't need to take the phone out to answer or reject the incoming call.
Related: Best built-in GPS Tablets To Replace Your Old GPS Device
In addition to the core feature of Hands-Free Call feature, these Car Adapters are capable of streaming music from your phone to your Car audio speaker system. Yes, you can listen to your favorite music from your Smart Phone music apps through your car audio system. This Car Bluetooth stream all music from your phone to Car Audio Speakers regardless of the app or method you use to play the music. Most of these devices are coming with an additional two USB Ports that can use to charge your phone.
Some of these Bluetooth Car Kit offers to play music stored in USB stick if you connect your thumb drive to this extra device port. These devices are built with additional volume control and channel selection button.
Since Hands-free calls make less distracting while you behind the wheel, in many states it is the legal way to make calls. If you own a vehicle that doesn't have a Bluetooth Car Stereo, then this article is for you. You can convert the car into a Bluetooth hands-free car with an inexpensive Bluetooth car kit.
Now, this is the time to relax and enjoy; you're going to convert your car's Audio System to a Bluetooth Hands-Free system without any additional wiring or long setup. Feel free to share your experience with your new Hands-free Bluetooth car adapter.