Garmin introduced to GPS unit with a built-in Dash cam to record the street while viewing the road map on the screen. The concept really works, you can share the same screen space for navigation map and Dash cam display while driving. Unlike regular dash cams, these GPS Dash Cam can record the street video with your coordinates, geographical location and most of all, the speed of the vehicle. When you search for a GPS with a built-in dash cam, you may not see too many products. Garmin is still the major player in this niche market.
Let us introduce a few GPS with dash cams, that can use to navigate with GPS route and record the street with built-in dash cams.
Garmin DriveAssist 50LMT
Garmin DriveAssist combined the GPS unit with a dash cam. The Garmin Drive Assist is the most feature-rich dash cam model in the list with built-in Map navigation. The GSP will work with route map, alerts, and warning as usual. The 50LMT has additional features compared to the low-cost versions, The Garmin GPS Dashcam can alert nearby red light, speed camera, and upcoming traffic jams with lifetime traffic updates.
While you watch on the route map, the built-in dash cam will work as its own. The Garmin Dash cam will continue to record the street and save video footage to the memory card. This Garmin Dash cam also features with impact sensing. The dash cam can record the video in case of a collision with the time and location stamp. The GPS with the dashcam is capable to give you forward collision and lane departure warning.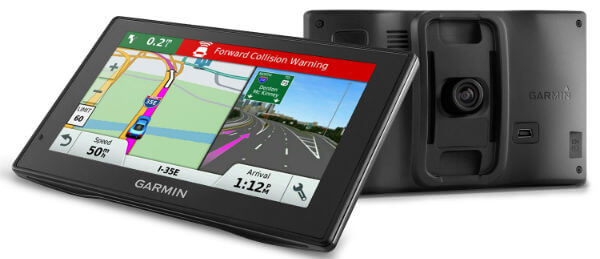 The built-in dash cam continually records your drive and automatically saves video footage on impact, while GPS records exactly where and when events occurred. Includes all the driver alerts with additional camera-assisted alerts like forwarding Collision Warning and Lane Departure Warning. Lifetime traffic helps you avoid traffic jams and learn time-saving detours.
Garmin integrated the Dash Cam feature in the map for live view, a feature called Garmin Real Vision. This feature will switch the GPS to Camera View when you approach the destination. And the GPS Dashcam will point to the destination with a bright arrow. On the downside, it is temperature sensitive and does not record Audio. In a nutshell, what Garmin has done here is that they've taken the absolutely brilliant drive assist platform and added a Dash Cam to it.
Key Features: HD Video | Record Angle: NA | Loop Recording: Yes | Auto Record: Yes | Night Vision: NA | Built-in GPS: Yes | Track: Speed, Street, Route, Arrival time | Display Size: 5″ | GPS Map: Yes | G-Sensor: Yes | Emergency Lock: NA | Battery: Li-ion | Warranty: NA | Buy from: Amazon
Related: 10 Best Front and Rear Dash Cams for Complete Video Footage
Garmin Speak Plus Dash Cam
Garmin Speak is the latest addition from Garmin. This device is coming with Amazon Alexa to communicate with you through voice commands. This Garmin Dash Cam will work with your car audio system. The integrated Alexa assistant can be used to do the voice command for navigation, access music, news, etc. The Garmin speak can connect through Bluetooth to your phone. You have to download the free Garmin Drive apps to your phone to start working with Garmin Speak. The Garmin Speak will connect through your phone to the internet for executing the Alexa commands.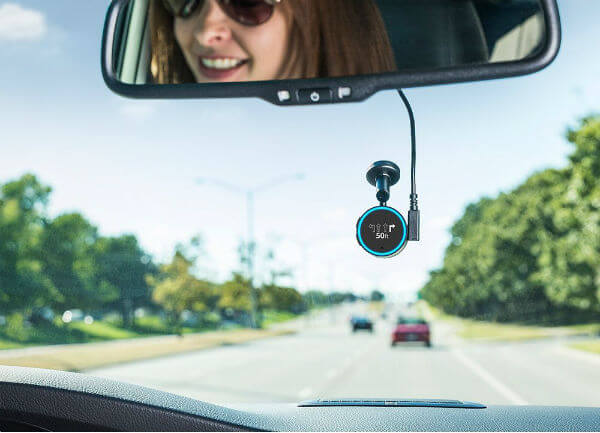 The built-in dash cam with Garmin GPS will record the street while you drive, The dash cam also featured with driver assistance that provides forward collision, lane departure warning, etc. You can download the free VIRB Mobile app to mobile to view the video footage on your phone.
Key Features: 1080p/30fps | Record Angle: 82° | Loop Recording: Yes | Auto Record: Yes | Night Vision: NA | Built-in GPS: Yes | Display Size: 5″ | GPS Map: Yes | G-Sensor: Yes | Forward Collision Warnings | Lane Departure Warnings | Warranty: NA | Buy from: Amazon
Rand McNally 8″ GPS with Dash Cam
This GPS with Dashcam is dedicated to truck drivers. The is GPS is coming with a pre-load map for truck drivers. If you are looking for a Car GPS with Dashcam, you have a very limited choice that we listed above. However, this GPS with dash cam module has car mode for regular drivers. You can switch between car mode and truck mode depends on the vehicles you drive.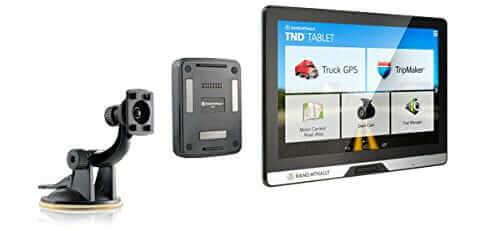 This is an 8" tablet preloaded with Map for truck drivers along with trip planning and logging features. For recording the footage with a dash cam. The tablet is coming with a 16GB internal memory. The additional SD card slot can be used to extend the memory and support up to 128GB size.
Key Features: 1080p/30fps | Loop Recording: Yes | Built-in GPS: Yes | Track: Speed, Street, Route, Arrival time | Display Size: 8″ | GPS Map: Yes | G-Sensor: Yes | Buy from Amazon
Garmin DezlCam Navigator with Dash Cam
A dedicated GPS unit with Dash Cam from Garmin for truck drivers. The display is coming with 6″ with pinch to zoom. The preloaded maps are for truck drivers and additional truck services, lodging and parking information. The are plenty of warning and alert equipped with this dash cam for Truck drivers including route warnings, including sharp curves, bridge heights, weight limits, steep grades, etc. Like other Truck Navigators, this one also has a Car mode that you can switch while you drive the car. All functions and alerts will work based on the car model.
The built-in dash cam records the street while you drive. The swivel lens is adjustable for optimal viewing angle. This GPS is equipped with G Sensor for impact sensing and the video footage will automatically store in a separate folder to avoid any automatic overwriting. The Garmin GPS Dash Cam is coming with an additional SD card for recording the road footage.
Key Features: 1080p/30fps | Loop Recording: Yes | Built-in GPS: Yes | Track: Speed, Street, Route, Arrival time | Display Size: 6″ | GPS Map: Yes | G-Sensor: Yes | Buy from Amazon
GPS Dash Cams are all in one device that works as a navigator and dash cam at the same time. There is no need to install two separate devices on your dashboard. You can rely on a single device that can act as both dash cam and GPS navigator same time.
The best car GPS with Dashcam on this list is Garmin Drive Assist. Its navigational features are intuitive and reliable while the entire design is quite elegant and gives a premium experience. The Truck navigation system listed here also coming with car mode, to switch the routes and alerts for the car driver. Those devices can be used as GPS with Dash Cam for car drivers too.