The dashcam markets are flourishing and more and more varieties are rolling out each day. Front and Rear Dash Cams are into the next level that can record both front and rear street view simultaneously while you drive. Dual channel Dash cam has both front and rear dash cams, both can record video footage at the same time and record into the SD card. The separate rear camera is ideal for recording the back traffic of the vehicle and also can be used as a backup camera.
Our list of the best front and rear dash cams include cams that offer a wider range of recording and good video quality.
Rexing V1LG Dual Channel Car Dash Cam
This dual dash cam comes first in this segment and has gained the trust of pro drivers all around the world. Rexing Front and Rear Dash cam give you the security of two footage recorders and that too, without any fixes or issues. Its eye catchy and compact and has a low profile design, allowing the V1LG to be your hidden watcher.
The V1LG comes with an HD rear and front camera that records videos in HD clarity(1080p). The back cam does this in 720p at 30fps. The "dynamic range" technology allows the camera to work at its best rate during dim light conditions. This feature also enhances the night recording by tuning the exposure.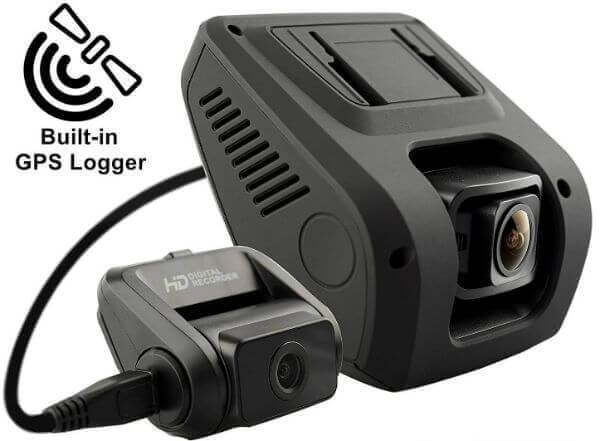 This front-rear dash cam comes with the pre-installed GPS logger which helps to log location and route tracking. You can get the location, date, and speed information without any separate module or application. The V1LG supports the class 10 or higher MicroSD up to 256GB. The feature of loop recording is worth mentioning here cause, when your SD gets full, new footages get recorded automatically by overwriting the old footages. The Collision Detector with gravity sensors in the dash cam detect a collision and record the footage. This footage gets stored in a particular folder and you can access them anytime.
Buy from Amazon: Rexing V1LG Dual channel dash cam
Crosstour Front and Rear Dual Dash
The Crosstour dash cam offers double surveillance and is one of the Best front and rear dash cam below the $100 mark. With its dual-channel recording, you can capture crisp and clear videos compared to those VGA rear modules. The front camera captures footages in 1080p at 30fps. The rear camera also offers good quality. Crosstour Dual Channel Dash Cam records footages in 720p at 30 fps. The Crosstour dash cam is sleek and compact can keep it hidden near the rear anywhere.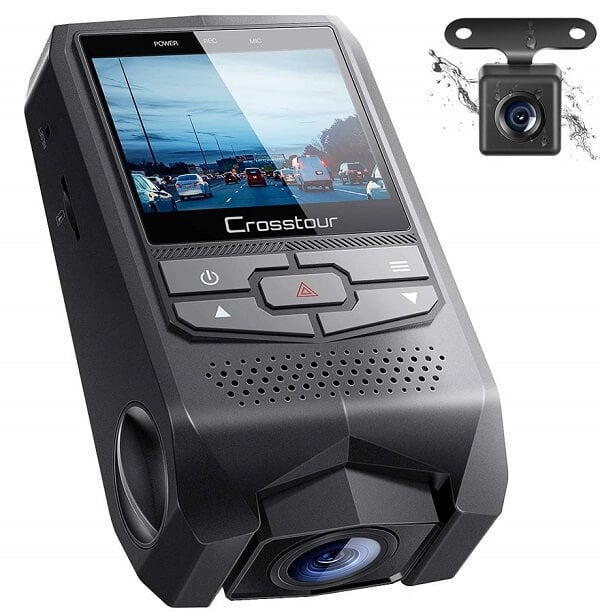 The 170° front wide angle, as well as the HDR recording, gives you sharp and wide videos every time. The rear cam offers up to 120° range and both these cams combined works as a good parking mode camera. The night vision is also remarkable and the HDR technology tries its best to give a decent output. Like most dash cams, the Crosstour dash cam is also water and temperature resistant. Also, it comes with the G sensor that enhances the accident recording. A thing to note is that this dual dash cam is expandable only up to 32GB.
Buy from Amazon: Crosstour CR600
Related: 10 Best Dual Dash Cams for Uber, Lyft and Taxis
Aukey Dual Dash Cam
Aukey Dual-lens camera is one of the best front and rear dash cam comes with a 1080P video quality and capacitor power supply for extreme weather conditions. This dual dash cam comes equipped with 1080p HD front and rear video footage recorder which is capable of recording both views in HD quality. The Sony Exmor sensor help capture super sharp video and is a perfect aid for night time driving.
The wide-angle lens with 170o front and 150o rear field view take care to cover maximum area of the street while driving. Aukey Dul Dash Cam's wide-angle camera captures every corner of the road, as well as the vehicle. The emergency recording feature is useful when you are in an accident that records real-time footage and securely saves in a dedicated location that avoids any further overwriting or loop recording until you manually delete that footage.
The Aukey dual dashcam equipped with an internal supercapacitor instead of a battery that can operate in extreme heat & cold conditions (-30°C – 75°C / -22°F – 167°F). Compare to battery powered dash cams, this capacitor built dual lens dashcam provide longer lifetime on the roads. You can connect the external GPS antenna if you want to record location and speed on dashcam footage. Aukey front and rear dash cam come with a 45- Day Money back guarantees and 24- month product replacement warranty card.
Buy from Amazon: Aukey Dual Dash Cam
Veckle Dual Channel Dash Cam
The Veckle released some awesome surveillance cams in the past. This dual channel dash cam record footages in HD 1080p at 30fps. The front camera offers only 145° wide angle view but thanks to its display quality, you can strike off that minor flaw. It can give you crisp and clear footages for a 3 lane traffic efficiently. The combination of Sony's Exmor sensor gives you decent footages both during day and night. The Veckle dual dash cam offers GPS connectivity. The camera can record your driving routes and driving speed and can stamp them into your footages.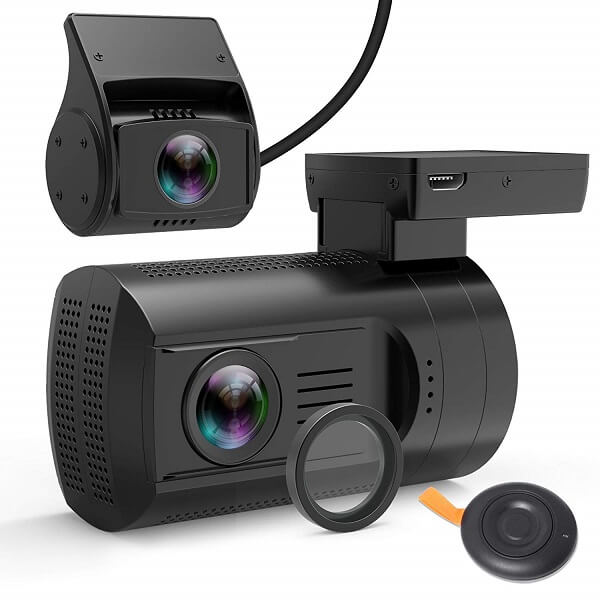 You can take a quick snap of the outside by simply holding the remote controller button for a second or two. Like most of its competitors, this dual dash cam offers other standard features such as the loop recording and fire protection and emergency footage mode. The front and rear cam casings are both temperature and water resistant. You also get a tiny LCD screen on the front cam casing. The operational conditions are DC 5V. You can either power it from the cigarette lighter port or from the car's battery by using adequate adapters. A thing to mention is that you need to equip an extra SD card for yourself.
Buy from Amazon: Veckle Dual Dash Cam
Related: Car Dash Camera Buying Guide – 7 Things You Need to Know.
Thinkware F800 Pro Dash Cam Front and Rear
The Thinkware F800 dual dash cam is coming with True parking mode feature and battery voltage discharge protection. F800 built with a 140o front camera and a 130o rear camera. The front cam records in HD 1080P whereas the rear records is capable for only 720P. The 2.1MP Sony STRAVIS Image sensor is to record every minute details with clear footage. The camera is coming with 32GB SD card.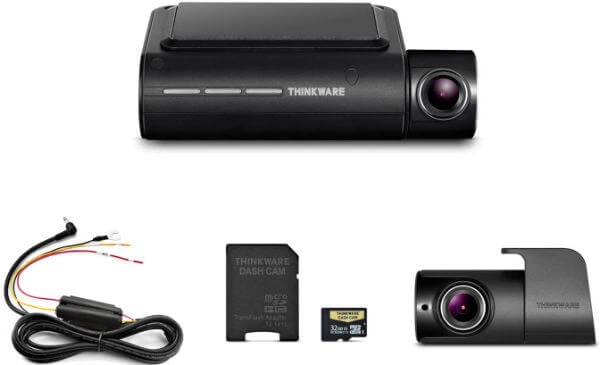 This dual dash cam is elegantly built and supports WiFi connectivity with iPhone and  Android. The camera supports Impact Detection and Motion Detection in parking mode. The hardware kit can be used to connect the camera direct to the battery 24/7 with battery drain protection. Thinkware is offering a wide temperature range (-4F to 158F) operation with capacitor power supply, ideal for heavy sunlight areas like Texas and Arizona. BlackSys offers one year guarantee for the dash cam.
Buy from Amazon: Thinkware F800 Pro Dash Cam
Apeman Full HD Front and Rear Camera for Cars
The Apeman C860 is one among those premium dual dash cams that offer 1440p recording. It offers full HD recording and has six high-quality lens assembly. The single front cam gets you a wider field of recording and encompasses 150° surveillance. But yet its a point to note that its former version offers 170° wide angle recording. The rear cam can record footages in 1080p at 30fps. Like other premium dual dash cams, it features loop recording, motion detection, and G sensor protection and emergency accident lock. We are not going detail into that part.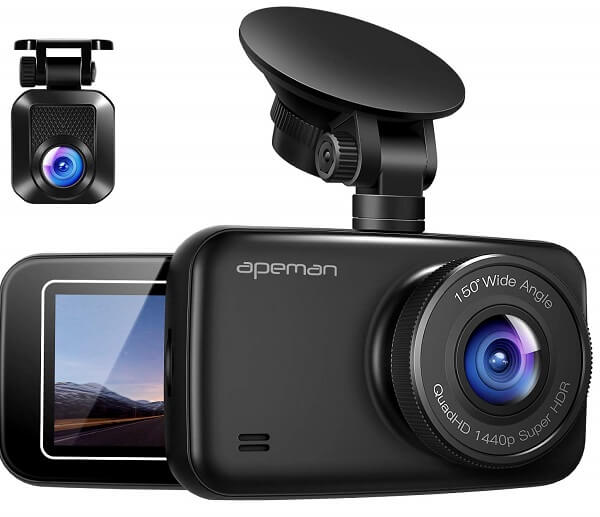 The Apeman C860 is compact and fits into your front and rear windshields. You get adhesive clips and attachments that make installation easy. You receive dual channel parking mode surveillance with this dash cam. When triggered by the G sensor, the ongoing footage gets locked into your SD card and saves it from overwriting. The front camera case features a 2.7″ TFT screen and the presence of a USB port makes transferring videos easy. A thing to keep in mind is that you don't receive SD card with the package. You need to equip at least a 32GB SD to operate the device.
Buy from Amazon: Apeman C860
BlackVue 2-Channel 1080P Full HD Car DVR Recorder
The BlackVue dual dash cam offers full HD 1080 recording, both at the front and rear. The front dash cam is capable of recording at 60fps while the rear cam does it at 30fps. The compact cylindrical design makes it easy to attach. The top part of the cam casing has strong adhesive stickers that keep it secure. The cylindrical design also favors 360° rotation. Hence you can rotate the whole mount if you need to get the inside view of your vehicle.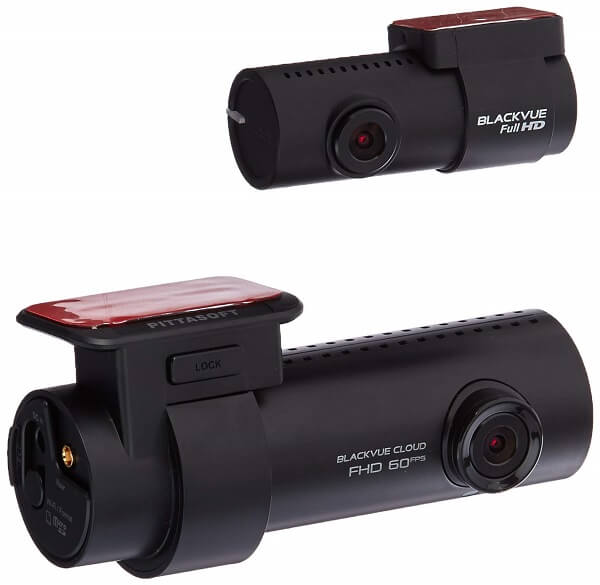 This front and rear dash cam have various recording modes such as the loop recording, parking mode surveillance and many more. The inbuilt G sensors detect motion and trigger automatic video recording. you can lock videos that are important from overwriting. The device comes with a standard 16GB memory space. You can also increase the memory capacity to 128 GB if you prefer. But yet, its worth mentioning that the BlackVue costs a pretty penny more. It is higher on the price table.
Buy from Amazon: BlackVue Dual Dash Cam
Crosstour 1080P FHD Front and Rear Dual Lens Dash Cam
The Crosstour CR900 is the updated version of the CR600. The prominent update in this version is the new design and its dual 1080p video recording. The CR900 comes with advanced sensors and has an assembly of six glass lenses. The revolutionary Novatek chip is present inside this camera module. This gives the CR900 an upper hand among all its competitors.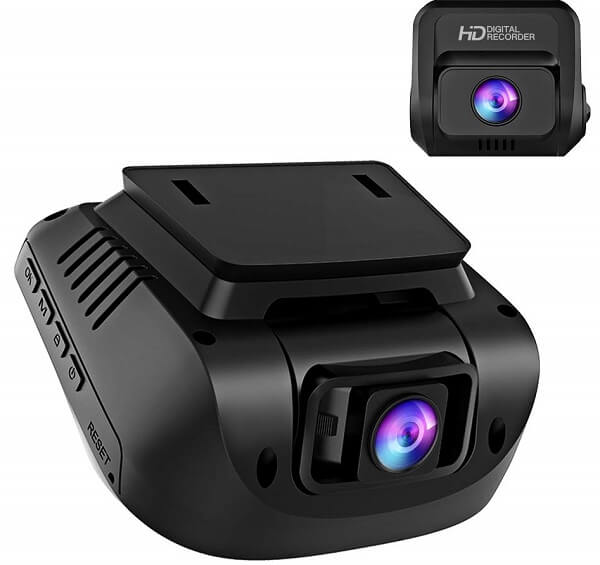 The main reason for its popularity is its reasonable price tag. It comes at only $100 and most device in this range offers only a fraction of the features that the CR900 gives. This front and rear dash cam come with both 170° wide angle recording. It also has other features such as loop recording, data overwriting, emergency video lock, etc. The Collision sensor and parking mode surveillance also do well. We are not going deep into this one as most of the other features resembles its older version, the CR600.
Buy from Amazon: Crosstour CR900
KDLINKS DX2 Dual Dashcam
The KDLINKS DX2 parking mode dashcam is a dual use camera built for people who are always on the go. The DX2 features a super wide 165-degree front camera combined with a 125 degree rear cam. The recording clarity is just superb, 1080p recording at 30fps does its job. The design is in a sleek and compact and also includes a large 3" screen. This dashboard surveillance camera also comes with night vision and nighttime footage recording.  The video recording is crisp and clear at night, thanks to its world-class F1.6 Six-Glass lenses.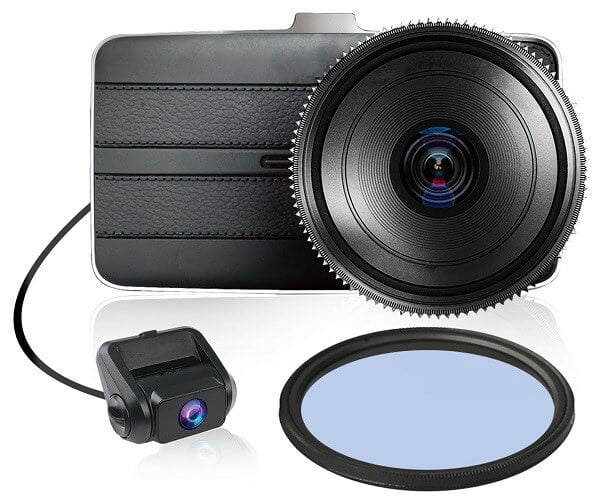 Apart from these, the DX2 also features the 3 axis accelerometer and the G sensor. The G sensor senses the changes around the vehicle during sudden braking, or during a crash an automatically starts recording footage. These recorded footages are stored safely and locked from being overwritten. Additionally, this parking mode dash cam also features a Li-polymer 3.7v 110mah battery that lets you take footages even in the parking time. But as most of the time, the device should be connected to the cigar lighter socket.
Also, the design and build quality are awesome and in fact, tested to work in all kinds of rough conditions and temperatures. The CPL filter feature also takes care to eliminate the lens glare that sometimes blurs the whole video.  The full package also includes a micro SD card of 32 GB storage capacity. The storage capacity can be increased up to 128GB if you need.
Buy from Amazon: KDLINKS DX2 Dual Dashcam
Street Guardian Dual Dash Cam
The Street Guardian offers dual channel video recording in full HD. This front and rear dash cam offer dual 1080p surveillance at 30fps. The device is small and works on the super capacitor power supply. The design part made sure that it is water and temperature resistant. This front and rear dash cam has a 7 element glass lens assembly and give crisp and clear video output. The presence of the Novatek processor makes it's working smooth and hassle-free.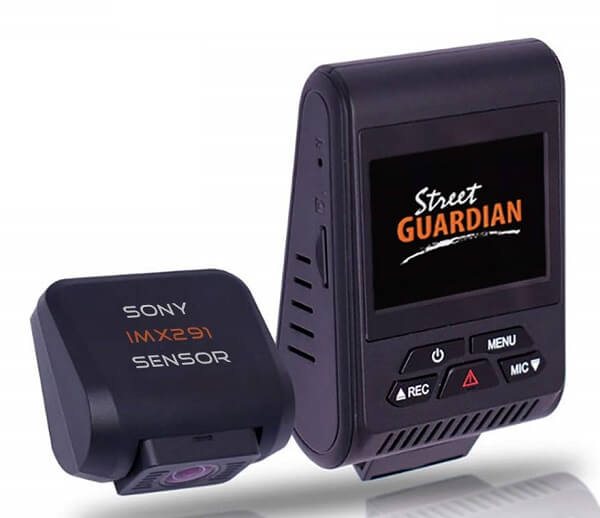 The loop recording and overwriting see to it that your storage never runs out. The collision sensors make sure that the device records footages and locks them for future reference. The GPS logging technology makes sure that you are going on the right track. This front-rear dashcam stamps date, time and the current speed of your vehicle at all times. This dual channel cam gets a small 2″ display panel on the front cam casing.
Buy from Amazon: Street Guard Dual Dash Cam
Peztio Dual Dash Cam
The Peztio dual dash cam offers a convenient mode of stealth surveillance for your vehicle. Front cam module has a 4″ inch IPS display and records footages in HD 1080p. The screen is touch-enabled,  and you can navigate through the main menu by touch gestures alone. The front camera encompasses a 170° view. You can record 5 lane traffic ahead of you with ease. The rear cam offers 130° wide angle view. Both outputs combined does give you decent quality. The nighttime recording is also crisp and clear. The F1.8 aperture gives clear visible footage even at night.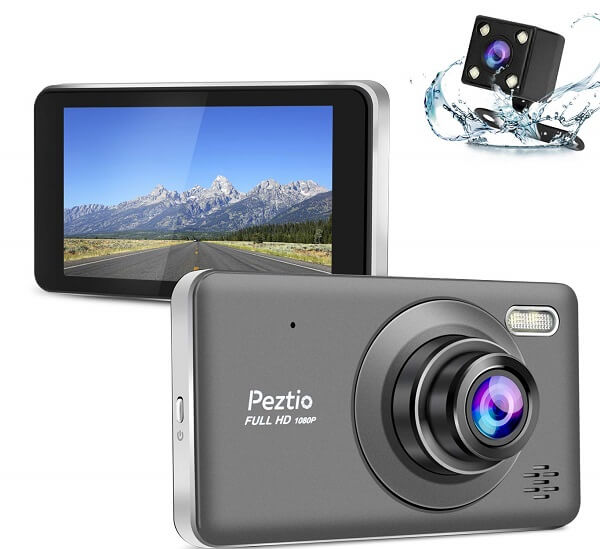 Apart from the video quality, the Peztio dual dash cam offers parking mode surveillance and impact sensors that trigger auto recording. This front-rear dash cam also features loop and footage lock features. You need to equip SD cards of at least 32GB to get the recording function to start. You can increase the storage size to 128GB as per your need. Overall, this front and rear dash cam is a decent performer in its class.
Buy from Amazon: Peztio dual dash cam
Best Car Dash Cam Front and Rear
The front and back dash cam is a great cost-effective investment. A dual channel dash cams can be a good companion when you are on the roads. A dual channel dash came is coming with front and rear dash cams. The rear dash cams are coming as a separate camera that can be wired in the back of the car to use as a backup camera. Make sure you choose the best one form our list by considering one more important aspect, its price tag. Surely, the price tag, as well as its degree of use, defines how much it suits you.