Are you tired with spam and advertisement email? Do you want to block few of those emails reaching from your inbox? There is an easy solution to filter emails and block. This step describing to delete an email automatically from a specific sender to your Gmail ID.
There are 2 methods to block email on Gmail. The first solution is pretty straight forward and can be done with 2 clicks to Block Email Sender on Gmail
Block Email Sender on Gmail
Before going to manual steps, you can simply visit the web version of Gmail and select the user to block him. After you log in, open the email you want to block.

Now tap on the down arrow key on the right top of the email block and click on the arrow key to get the email menu. Now click on the option Block "Sender". You will get a pop-up window for the block confirmation.

Once you confirm to block the sender, you can see a confirmation message like above screenshot.
Alternative Manual Steps to Block Email on Gmail (Old Screen Shots)
We described the steps to block emails on Gmail with Email ID. You can create a filter on your Gmail to delete the email automatically or send Email to the Spam folder. Please see the step by step direction to create Gmail filter to block email sender.
Step1. Login to your Gmail
First login to Gmail with your ID and look for the link 'Create a filter'(at the top of any Gmail mailbox, near the search buttons) or you can click on 'Settings' and filter.

Click on create Filters on top circled part. Select on filters in next step.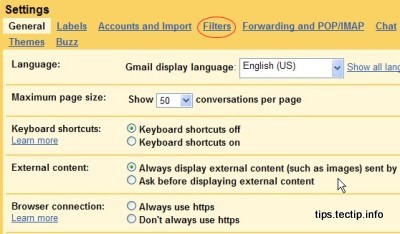 Step 2. Enter the Email Address to Block
Type the desired email address under From: You can block an entire domain by entering just that. 

To block all mail from [email protected] and [email protected], type "@example.com".To block more than one address, separate them with "|" (the vertical bar; typically above the backslash on the keyboard; not including the quotation marks).You can block both [email protected] and [email protected] by typing "[email protected]|[email protected]", for example.
Step 3. Select Action to Delete
Click Next Step » Make sure Delete it is checked under Choose action.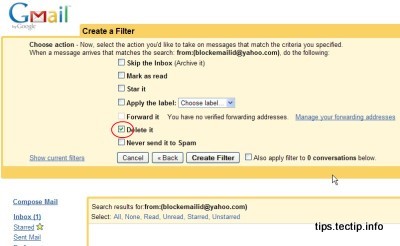 Step 4. Create the Filter
Click Create Filter. Now Check Also apply the filter to __ conversations below to delete previously received messages.

To archive and label instead of delete messages, choose to Skip the Inbox (Archive it) and Apply the label: under Choose action when setting up the filter.
Add a New Address to Gmail Block List
To add new senders to your block list, add them to an existing deletion filter using "|" (as above), or create a new filter if the From field has grown big and unwieldy.
Unblock Sender on Gmail
If you change your mind, you can unblock an email sender that you already blocked on the Gmail. To unblock a sender, go to Gmail settings > Filters and Blocked Addresses > Select the Email Sender/Address to unblock.

Now click on the bottom button "Unblock selected addresses" and you will get the pop-up window to confirm unblock. Click on the confirmation to unblock the sender that you already blocked.
If you want to block an email on yahoo, please check this article block an email on your Yahoo!
We described the two versions of the same solution with old and new screenshots to block and unblock Email on Gmail. Please get through the steps to block email on Gmail.