Are you experiencing a performance issue or slow speed on iPhone?  How do you check it's the time for iPhone battery replacement? Apple confirmed that iOS would throttle the performance based on iPhone battery life. This makes sense, and you can speed up the iPhone and get the iPhone performance back by replacing the old battery.
Before you go for iPhone 6 battery replacement, make sure the iPhone required a new battery. The battery test on the iPhone can give you an exact figure of iPhone battery wear level. Remaining battery life, total battery cycles run, the full charge capacity of iPhone battery, etc. Here, we are going to present you three best solutions to check iPhone battery life.
Check iPhone Battery with Third-party App
The easy answer is to install a proper battery check app from the iTunes Store. We checked on Battery Life test app that is available for free on iTunes. This app can display the approximate run time of iPhone while using 3G, Video Playing, etc. However, for a battery life test, we will be interested to know more about the battery life cycle, total capacity available on the battery to charge, etc.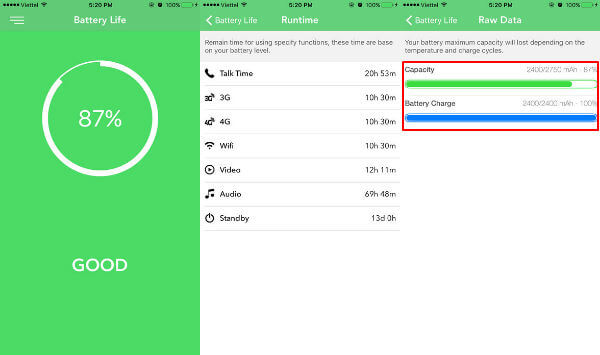 This app is good at calculating the raw data, monitor iPhone runtime, etc. in the Raw Data screen; the app shows the total capacity of the battery and iPhone battery charge capacity. However, this app is not showing the complete life cycle of the iPhone battery that runs in the entire life of the iPhone.
Download from iTunes: Battery Life
Those who want to try a different iPhone battery app, we listed an alternative app. Both of these battery apps can provide information about battery capacity, charge level etc.
Alternative App: Battery Life – check runtimes
Check iPhone Battery on Mac
Coconut Battery is one my favorite app to check the battery life of iPhone and Mac. This battery test app is coming as entirely free to use for Mac platform. This app is useful to show you a lot of information about the iPhone battery and different from iPhone battery apps available on iTunes.
Related: In addition to this old iPhone battery, there may have other reasons to affect your iPhone performance, like memory full lack of free space.
There is no dedicated iOS app from CoconutBattery team; you have to rely on the Mac app to check the battery of iPhone. First, download and run the coconut Battery app on Mac to test the Mac battery. To check iPhone battery, you have to connect iPhone to Mac with the lightning cable. After connecting the iPhone to Mac with the cable, click on the iOS device menu on the Mac CoconutBattery App. You can see a bunch of useful information about your iPhone on the screen.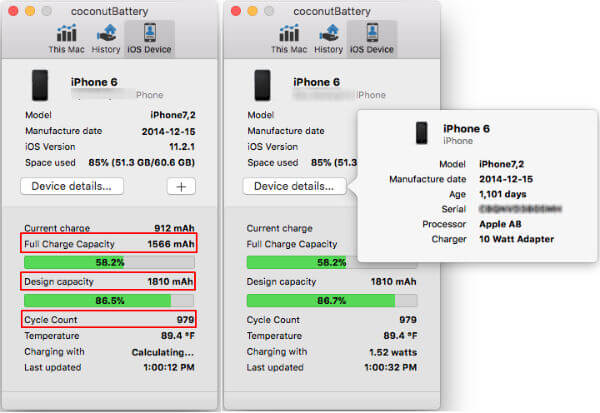 This includes full charge capacity and design capacity of iPhone battery. I tested iPhone 6 with the coconutBattery app, and my whole charge capacity was around 200mAh less than design capacity. And one more interesting factor is the cycle count that is showing as 979. As you can see the manufacture year is 2014, and I used this iPhone for three years. During the period I used to charge every night and discharge the phone in the daytime. This makes sense that my iPhone battery went through more than 950 charge-discharge cycles throughout this three years period. At this point, my iPhone is not supporting a full-day battery life and time to replace my battery.
Download Coconut Battery: Website
Check iPhone Battery on Windows
Coconut battery app is not supporting Windows users, and there is a similar tool for Windows users to check iPhone battery. The app is developed by CopyBot and offering the same functions to tets iPhone battery with Windows. You have to install the CopyBot app from the link give below and connect iPhone with a lightning cable to Windows PC. After you connect the iPhone to Windows machine, launch the program iBackupBoat on Windows. This will display the connected iPhone on the app sidebar.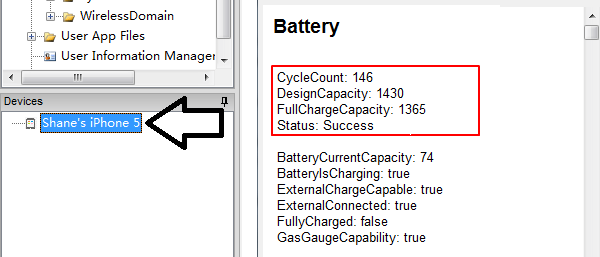 Now, you click on the iPhone icon to select the iPhone from the device list and click on more information to display the iPhone battery details. This includes the Cycle count of the battery that indicates how many times the battery charged and discharged in the entire life of iPhone. This iBackupBot will also display the Design Capacity and Full Charge Capacity, indicating the wear level of the battery and how much power can hold the battery.
Download CopyBot: Website (7 days free trial)
Apple has published a detailed article about Lithium-ion battery and how to maintain battery on Apple devices. You can replace your old iPhone battery from Apple's authorized service centers or Apple Store Genius Bar (3-5 days). Apple is also offering an online program to replace the iPhone battery at the cost of $79.00 ($29.00 discounted price) for eligible iPhone models. Please go to this Apple battery replacement page for more details and to initiate an iPhone battery repair.
How to Check iPhone Battery with Mac or Windows
There is no need to go for replace iPhone battery replacement if you are happy with the current iPhone performance and battery life. Also, anything under 600cycles of iPhone battery cycle count is good to go, and you can get a pretty good battery performance with the current one. The higher the difference in designed capacity and full charge capacity is showing the lack of capacity to hold the charge in iPhone battery. Based on these facts, if you can get a performance increase of 30% or more, go ahead and spend 79 bucks ($29.00 discounted price) on iPhone, that can extend your iPhone life for another three years.