Getting dedicated wireless or wired gaming headset can elevate your whole gaming vibe. There are tons of premium gaming headphones out there but they cost a pretty penny more. The Razer Kraken Tournament Edition Wired Gaming Headset is the one that can give a premium gaming experience without spending much.
Our team has been using the Razer Kraken Tournament Edition wired gaming headphones for a bit long and here is our honest take on this gaming marvel.
Content
Razer Kraken Tournament Edition Gaming Headset: Overview
The Razer Kraken Tournament Edition gaming headset comes packed with the THX simulated 7.1 surround sound, dual 50 mm drivers, and a USB audio channel into a very fine and comfortable design. With its smooth audio, solid build qualities, and sporty design, the USB gaming headset is by far the fanciest gaming headset we ever got on our testing lab.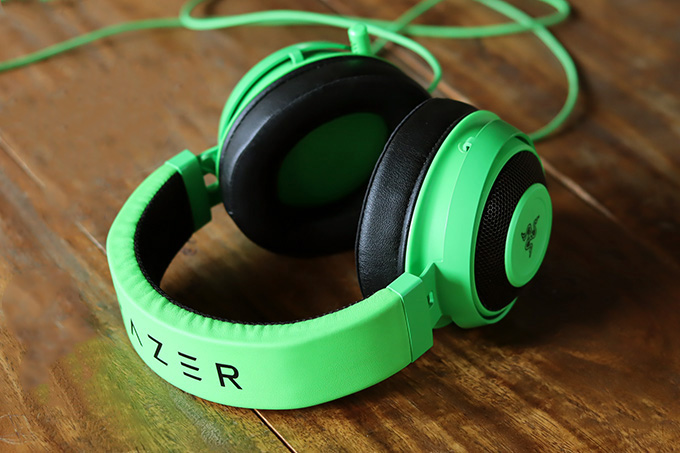 With the Razer Kraken Tournament Edition gaming headset, we have gone through all possible cases to put this piece of tech to the test. We'll also see whether if these headphones are for you or not. At around 100 bucks, the Razer Kraken is a real game-changer when compared to its peers. There is a lot to talk about this wired gaming headset from Razer, so sit back and read.
Razer Kraken Tournament Edition: Specifications
Razer Kraken Tournament Edition gaming headset is a real marvel at its price range. Before talking about anything, let us see the headset's complete hardware specifications.
| Specification | Razer Kraken Tournament Edition |
| --- | --- |
| Brand | Razer |
| Driver Size | 50 mm |
| Earcup Diameter | Major: 65 mm, Minor: 54 mm |
| Earcup Cushion Pad | Cooling Gel, Memory Foam |
| Cable Length | 1.3 m |
| Connectivity | Wired, 3.5mm and USB |
| Surround Sound | THX Spatial |
Design and Durability
If you are a pro gamer then you will definitely have felt that nothing much has changed in design this time with the Kraken Tournament Edition. It looks just like the Razer's good old ones with a big and chunky over-the-ear pair of gaming headset.
But with their native designs, they are constantly learning and tweaking in order to push forward their innovation. The whole gaming headset unit is made of aluminum alloy. This makes it rather durable and strong to the core. Also, the Razer Kraken Tournament Edition features a generous amount of razor green that is eye-catching but a bit odd.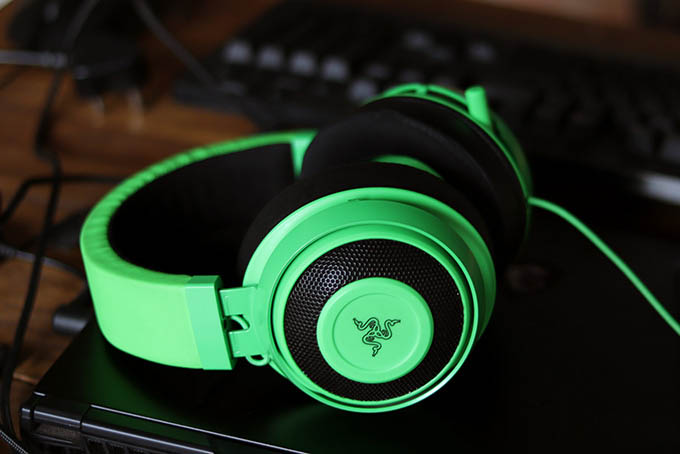 We did feel the green elements on the headset are a bit too much. If you feel the same, there is also the pure black version that is quite premium enough. However, if you are a game live streamer, having a green vibrant headphone over the head is a nice addition.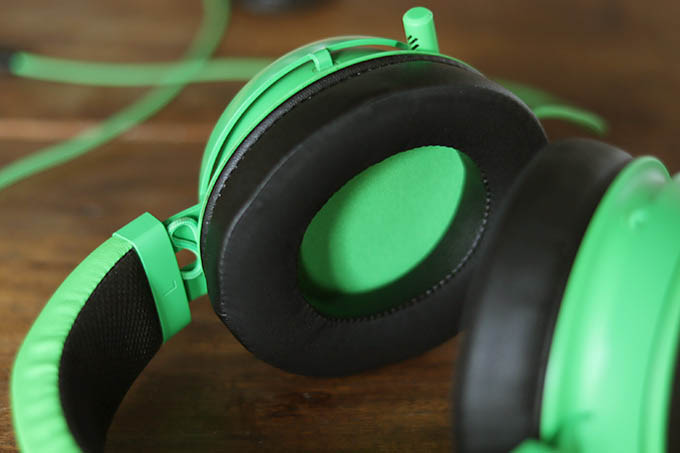 The earcups of the Razor Kraken are made of plastic. The plastic outer cover combined with the aluminum grill makes it look rather sturdy. The neckband that attaches to the earcups is adjustable. The pressure relief headband padding reduces the amount of stress to your neck in the long run. The ear cups are not that stiff compared to the other versions. The earpads are filled with cooling gel pads to avoid sweating and fatigue due to long-hour gaming.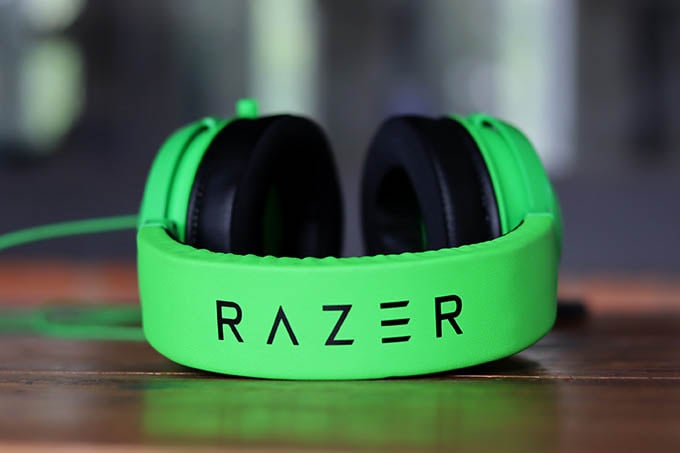 Being a wired gaming headset, the volume adjustor comes in line with the wired cable. There is also a one-click mute button attached to the controller unit in the headset wire. The cables are braided and flexible. You cannot remove or replace the headset, which is a bit downside here.
Talking about the audio design, the Kraken comes with a 50 mm dual driver that's built for immersive gaming. What makes it stand out is its DAX converter USB dongle. With the USB Audio controller, you can turn on Razors THX Spatial Audio. The THX Audio gives exceptional audio qualities throughout your gaming sessions and that too in surround sound 7.1. It also allows customization and lets you configure the audio profiles according to your gaming needs.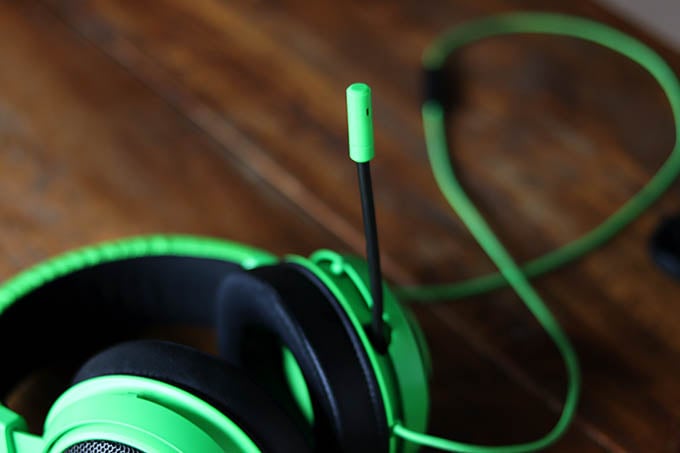 Let us talk about the next important thing to look at on this incredible gaming headset from Razer – microphone. The wired gaming headset has a telescopic extendible microphone unit, making the Kraken Tournament Edition a pretty cool gaming headset to look out for. The microphone is flexible and can be moved in or out with no effort.
The best part about the design is that it favors the 3.5 mm AUX other than the USB connectivity. This makes it easy to connect the gaming headset with your smartphone as a standalone. There is also a volume adjuster in line with the 3.5mm cable apart from that on the USB connecting module. This gives more flexibility to you and versatility points to the Razer Kraken.
Connectivity and Audio Control
The Razer Kraken Tournament Edition comes with wired connectivity. But wait, it features not one but two of the most essential ones, the 3.5mm connector, and the USB connectivity feature. Unlike the other USB gaming headsets for PC, this one can be used with both PC and mobile phones.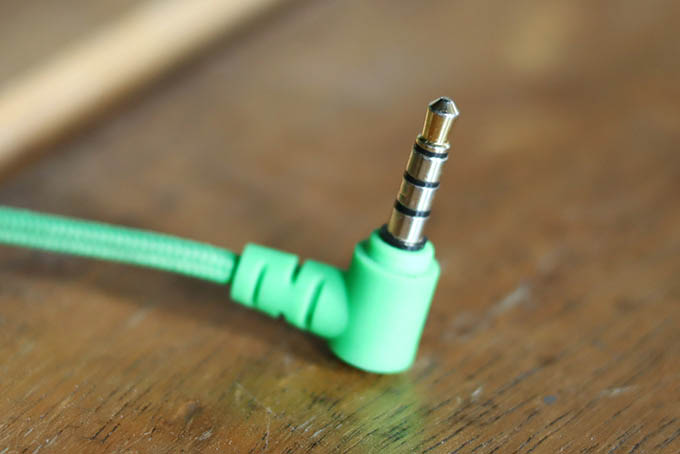 The 3ft audio cable is finely braided and works fine with gaming systems like the PlayStation 4 or the Xbox One. It is also pretty convenient if you are planning to couple it up with your smartphones. The main headset cable has a volume controller and mute button for your convenience while not using the USB adapter for spatial audio.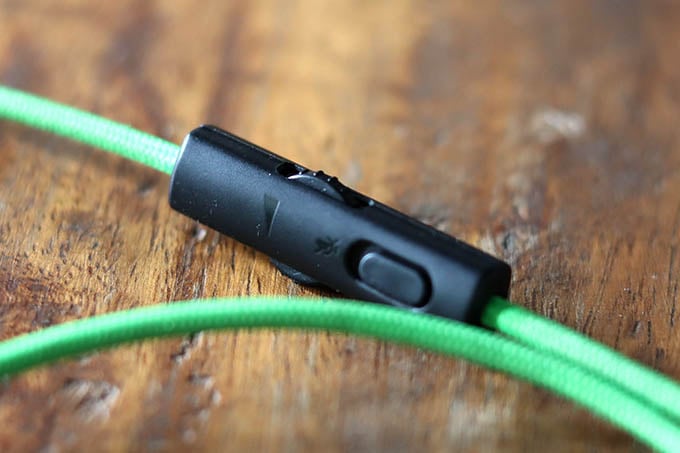 For the PC gamers, Razer exclusively developed USB connectivity. The additional cable is 2 ft and has a USB plug on one side and an audio controller on the other. The AUX input goes into the controller's pin and through this, you can connect it to your PCs via the USB plug.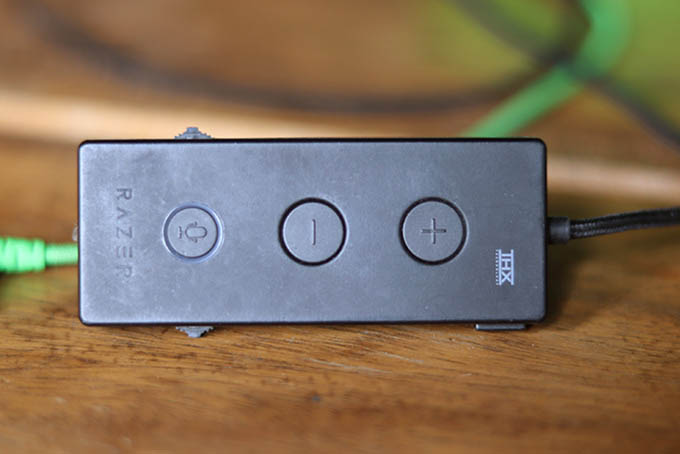 The controller unit and the AUX cable adds up to around 5 ft in total. The USB control unit is a small rectangular 3.4" remote unit that has the Volume controls and the Mic Mute button. A jog dial is also there for adjusting the bass and in-game voice on the left side of the unit. It can be used to make a perfect balance between game audio and chat voice, if you are using On the right side, you'll find the Razer THX Spatial Audio toggle button.
Related: 20 Best Discord Alternatives to Chat and Talk While Gaming in 2021
Sound Quality
The sound quality is pretty awesome during your gameplay with Razer Kraken Tournament Edition wired gaming headset. With the addition of the THX Spatial Audio, you get highly directional surround sound that turns your games into something realistic.
The Razer companion software gives realistic directions and gives a bigger idea of where noises are coming from. This is especially needed if you love Call of Duty and other Battle Royale games. However, the software does not seem to be working perfectly in many cases. We had to get rid of the Razer software from our gaming PC to get smooth gameplay while playing GTA V with Discord audio.
What's more, the gaming headset is a mammoth performer when it comes to bass boosts. A little bit of bass tweaking can really give you that complete immersive gaming experience you've been looking for.
Other certain features like sound normalization and other tweaks make it easy for you to talk to your game mates by controlling or keeping the balance between the in-game sound and the voice. Unfortunately, there are no inbuilt noise cancellation techniques to let you escape from ambient noise. However, the large earpads are doing a decent job of blocking most noise.
Software and Spatial Audio
The biggest bet with the Razer Kraken is its exclusive THX Spatial Audio. This software makes the gaming experience far more realistic through its directional sound propagation. With the amplifier unit plugged in, you can tweak a bit of bass physically.
Most of the customization and user sound profiles can be set through the Razer Synapse software. In order to get started you will need a Razer account and once that's done, you'll be mesmerized to see the number of sound tweak options available for the Kraken.
A slight software tweak from your PC can really give you a noticeable change of sound. The custom sound profiles make it easy for different purposes. You can preset gaming mode, casual mode, or movie mode according to your needs.
While mostly, keeping a pre set profile does 90% of the job, you can even adjust the bass through the amplifier module to get that perfect tone. There are actually 17 bass levels but the fact is that they completely square you off from the outside world.
Related: 7 Best RGB Fans For Gaming PC
Razer Kraken Tournament Edition: Pros and Cons
There are a lot of good things to notice about the Razer Kraken Tournament Edition wired gaming headset. In the meantime, there are many downsides to this headset you should take in account before buying one.
What we like:
Cooling gel-infused ear cushions reduce heat build-up and provide sound isolation.
Cross-platform compatibility
Inline audio and Bass adjustors
The game/chat balance option can fine-tune in-game audio and team communication.
Ultra-soft padded headband for comfort.
What we do not like:
Too much audio leakage
Complete isolation isn't always good
The Stereo is better when compared to the THX mode with certain games
Occasional Synapse software syncing issues
No noise cancellation
Key Features: Ergonomic design | Dual 50mm drivers | Bass tweaker | 3.5 mm Audio jack | USB plug-in | Cross compatibility | Amplifier module | Inline volume and playback control | THX Spatial Audio | Gel-infused ear cushions | Aluminum build | Ultra-soft padded headband
Pricing and Availability
The Razer Kraken Tournament Edition is a splendid piece wired PC gaming headset that suits pro gamers. It offers cross-compatibility and can work with almost all gaming platforms and PCs. If you are planning to upgrade your outdated gaming headphones to something that's pretty gamer-oriented then the Kraken Tournament Edition is for you.
You can get the Razer Kraken Tournament Edition from Amazon at just around 60-70 USD. It is one of the best-wired gaming headsets that you can buy below the $100 mark.
Today's Deal: $24.57 Off
Final Thoughts
The Razer Kraken is a great wired PC gaming headset that offers excellent performance combined with killer looks. With its virtual surround and the THX Spatial Audio, the Kraken is a tough contender in the $100 segment. If you are primarily PC oriented gamer, then you should definitely go for the Kraken Tournament Edition as it comes with the USB interface.
Plus, the cross-compatibility makes Razer Kraken pretty neat and user-friendly with most gaming consoles. A bit of flaw that you could occasionally feel is that the THX mode doesn't really do justice to the headphones. Also, there is real audio leakage. Putting a few things like this aside, the Razer Kraken Tournament Edition is a steal deal for the price it gets as the best PC gaming headset.