Always be prepared before it happens, if you have Android device whether it is phone or tablet, it is essential to install at least one of these cell phone tracking apps on your device before it gets lost. Google allows you to track lost phone with Android Device Manager.
There are many other apps from Google Play Store provides same or better features to track lost device. These cell phone tracking apps include free and paid apps with nice features. If you have one of these apps on your device, you can locate your device on the map after logging into your account on any computer. These apps can send you last call detail, recorded voice, and photos of the thief from lost device's camera to a remote location number or your account that will help to track device real-time.
Here are the Best Apps to Locate, Lock and Wipe Lost Android Device. These Live Mobile Tracking apps are coming with premium features that offer remote data retrieval to help you to retrieve call logs, SMS messages, and other personal data from the phone.
Android Device Manager
Android Device Manager app from Google locates lost devices and helps you to keep your device safe and secure along with the data inside.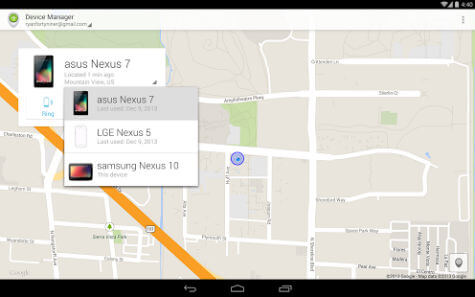 Android Device Manager lets you locate Android devices associated with your Google account, reset your device's screen lock PIN and erase all data on the phone.
Download: PlayStore
Related: 7 Free Android Apps to Lock Photos and Videos from Intruders
Avast Anti-Theft
Avast Anti-Theft app free cell phone tracker helps you to find and track your lost or stolen phone. This app helps to locate and Track your lost phone or droid on a map through their web-based mobile phone tracking feature which uses GPS tracker and other triangulation methods.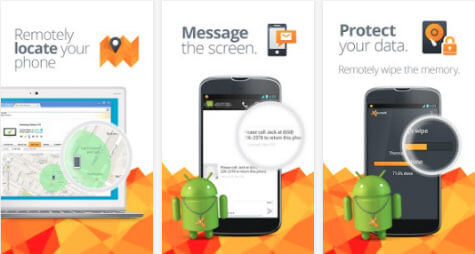 You can control your cell phone remotely and manage your device via a web-based interface or SMS if the phone is stolen by visiting https://id.avast.com/?target=https%3A%2F%2Fmy.avast.com%2F#login. This app can help to remotely lock or wipe the phone memory, to keep your data safe, and it can remotely take photos or listen to the audio of the phone's surroundings, set up a SIM Card Change notification to another device. Stealth Mode automatically hides the app on your phone whenever Anti-Theft is activated, so that a thief is not even aware of its presence.
Download Link
Prey Anti-Theft
Prey is the complete anti-theft application and it lets you track and locate your lost or stolen phone, tablet, and laptop. Locates and recover your device with geolocation and many more features. Prey is 100% FREE and you can protect up to 3 devices with one single account.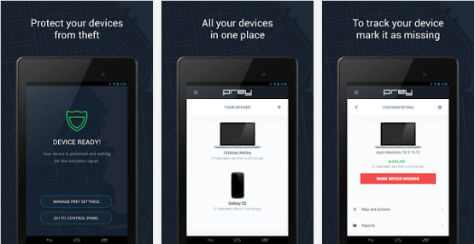 Once you log into Prey you can find your phone on a map through geolocation using both GPS and WiFi triangulation, take pictures using the built-in front and back camera, lock your device from any unwanted intruder, Trigger a loud alarm remotely even if your phone is put on silent, display a tailored alert message on the screen and gather the network information that your device is connected.
Download Link
Cerberus Anti Theft
Cerberus is a complete anti-theft application that offers the protection you can get to recover your misplaced, lost or stolen Android device. This app is providing free trial for one week, and then you can buy a lifetime license with one-time payment.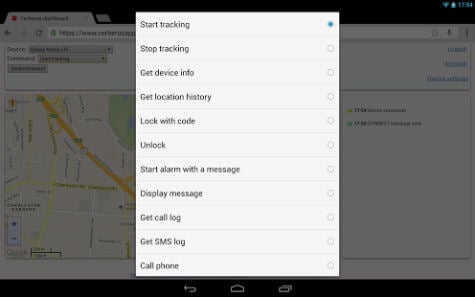 This app has three ways to protect your device, it can remote control through the website www.cerberusapp.com, Remote control via text messages, check SIM for devices that have a SIM card. You will automatically receive alerts if someone uses your phone with an unauthorized SIM card. Remote control allows you to perform many operations on your device, like locate and track your device, start a loud alarm even if the device is set to silent mode, wipe the internal memory and the SD card, hide Cerberus from the app drawer, lock the device with a code, record audio from the microphone, get a list of last calls sent and received, get information about network and operator the device is connected etc.
Download Link
Bitdefender Anti-Theft
Bitdefender Anti-Theft app locates, lock or wipe your lost or stolen Android devices anytime, anywhere. This app protects your personal information from prying eyes with Bitdefender Anti-Theft. This app makes difficult to uninstall by strangers by providing an additional layer of intelligent protection for mobile devices, giving you the chance to get your device back.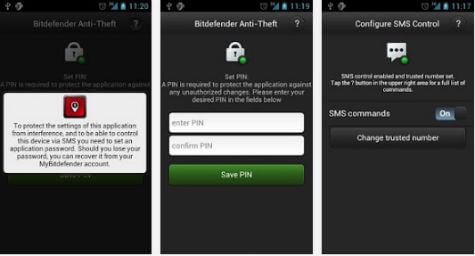 You can try this app for 30 days and upgrade to a yearly subscription service is via in-app purchase activation. This app supports multi-platform support like laptops, smartphones, and tablets. You can password control your device, wipe off data from your lost device, send alarm on Android devices. When somebody replaces the SIM card, this app sends new number to a phone number you have set. You can locate, lock or wipe your device with an SMS sent from another phone. Bitdefender Anti-theft cannot be uninstalled by unauthorized people and protects your device.
Download Link
360 Security
360 Security app is all-in-one speed booster and antivirus app that optimizes your background apps, memory space, junk(cache) files and battery power while keeping your device safe from virus, malware, vulnerabilities, adware, and trojans.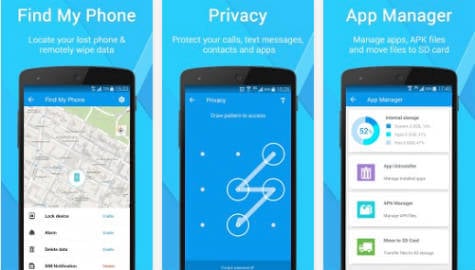 360 Security all-in-one anti-theft solution, shows your most beloved phone. A suite of features including, Erase, Locate, Alarm and Lock can assist you with retrieving a lost device and protecting personal data. You can trigger remote features via our web interface at http://findphone.360safe.com
Download Link
ESET Mobile Security & Antivirus
Protect your smartphone or tablet with Mobile Security & Antivirus, premium internet security solution from ESET.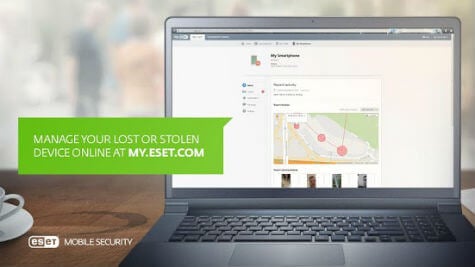 This app helps you to anti-theft activated by SMS commands to activate remote lock, remote siren, GPS location and remote wipe.
Download Link
Related: How to convert your old Android to a Motion Detector Camera?
These Android apps can track lost phone remotely and capable of wiping and erasing the phone memory to keep private data safe. You may be able to locate the phone with these live location tracking app before you completely wipe out the phone. We recommend installing at least one of this app before anything bad happen.