Black Friday is here, almost, and markets will be flooded with deals on everything. In most cases, the best deals are over before you know it. That means you need to do some preparations. If you're looking to get great smartwatch deals this holiday season, we've done the homework for you.
These are the best smartwatch deals you can hope to grab onto this Black Friday from popular names like Apple, Samsung, Pebble, Fossil, etc.
Apple Watch Deals
If you're in the market for a new watch and you happen to own an iPhone, there's no amount of money that can buy you a smartwatch better than the Apple Watch. Here are some of the best Apple Watch deals right now.
Apple Watch 6
Apple Watch Series 6 is the latest iteration of the widely successful Apple Watch. It comes in two sizes of 40mm (1.57-inch) and 44mm (1.73 -inch) and different color variants Blue, Red, Gold Aluminum, Silver Aluminum, Space Gray Aluminum. The feature list is pretty long and includes AMOLED display, GPS, 30% larger screen, Swimproof, ECG app, Blood Oxygen level, Electrical and optical heart sensors, Built-in compass, Elevation, Emergency SOS, and Fall detection.
This is the first and only Apple Watch as of now to feature a Blood Oxygen sensor. There are a ton of apps for the Apple Watch including apps for music streaming services. The Apple Watch also allows you to answer or end calls directly from the watch. There aren't many smart watches today that let you listen to music or answer calls without even pulling out your phone.
Pros
Always on Display
30% larger screen
Blood Oxygen sensor
Cons
Battery life is not that great with Always on Display turned on
Blood Oxygen sensor is not perfect
Apple Watch SE (Best for the price)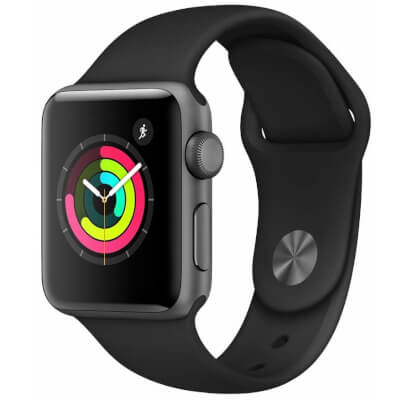 The Apple Watch SE  is two generations old but it still runs the latest watchOS 6. Series SE is available in Space Gray Aluminum in two sizes of 40mm (1.57-inch) and 44mm (1.73 -inch). It comes with the usual Apple Watch features such as AMOLED Display, GPS, Optical heart sensor, Digital Crown, Accelerometer and gyroscope, Swim proof, Aluminum case.
It is currently the cheapest available Apple Watch and you don't sacrifice all that many features either. Considering the lack of features such as an Always-on display,  Blood Oxygen meter, and ECG app. Overall, this is the best smartwatch deal if you're into Apple's ecosystem.
Pros
Cheapest available Apple Watch
Supports watchOS 6
Cons
No Blood Oxygen meter
No ECG monitoring
Samsung Smartwatch Deals
If your smartphone choices land you on the Android side of things, you don't necessarily need an Android Wear smartwatch. Samsung makes some of the better smartwatches on this side of the world.
Samsung Galaxy Watch 3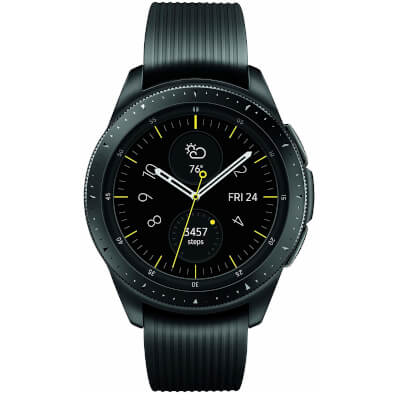 The Samsung Galaxy Watch 3 runs on Tizen-based OS 5.5 and is Samsung's best foot forward in the smartwatch space. The watch is available in 41mm and 45mm sizes featuring a 1.2-inch and 1.3-inch display respectively. Unlike Apple Watch, Samsung's watches have a circular design which is more like a regular watch.
The unique feature on Samsung Galaxy smartwatches is the rotating dial which is present here as well. The display is an AMOLED with a resolution of 360 x 360 pixels. Perhaps the most important aspect of a smartwatch is battery life. Samsung Galaxy Watch excels here with up to 56 hours of battery life.
Pros
Rotating bezel controls also protect the display
56 hours battery life
Advanced health monitoring
Trp detection
Cons
The app ecosystem on Tizen-based wearable OS is not good enough.
Feels big on medium-sized arms
Not ideal for wearing to bed for sleep tracking
Today's Deal: $241.61 Off
Samsung Galaxy Watch Active2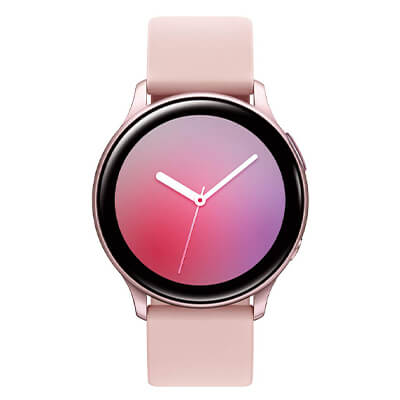 The Samsung Galaxy Watch Active2 is for those of you who are into an active lifestyle where you swim, do river rafting, and other physical activities. It's meant to survive those things and is certified to survive 50m underwater with an IP68 rating. The watch includes features like enhanced sleep tracking analysis, auto workout-tracking, automatic heart rate alerts, and pace coaching.
Active2 runs on Tizen-based OS 4.0 and features either a 1.2-inch (40mm) or 1.4-inch (44mm) AMOLED display with a resolution of 360 x 360 pixels. It is a Galaxy smartwatch so it does offer Samsung Pay support. The Galaxy Watch Active2 also supports an eSIM and is ECG certified. 4GB of internal storage allows you to store a lot of your music on board as well that you can directly listen to.
Pros
Smaller and lighter
Always on Display
eSIM
Gym friendly
ECG certified
Cons
No rotating bezel
The app ecosystem on Tizen-based wearable OS is not good enough
Not a lot of differences from the first generation
Fitbit Smartwatch Deals
When it comes to smart bands and fitness trackers, Fitbit is a popular name. The company has been trying to find the same success in the smartwatch industry.
Fitbit Versa 3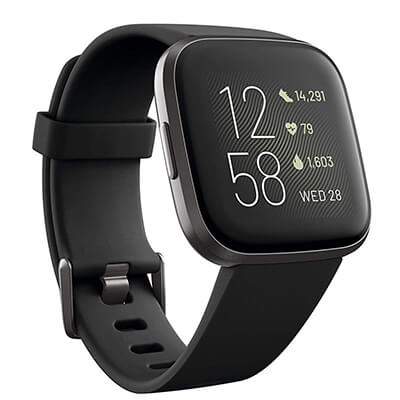 The Fitbit Versa 3 is the latest and greatest smartwatch deal from the company but is it the best? Google has just bought Fitbit so we may see Android Wear watches in the future but Fitbit Versa 3 runs the Fitbit OS. The watch features a rounded square design with an OLED display which has a resolution of 300 x 300 pixels.
One of the most defining features of the Fitbit Versa 3 is the 6+ days battery life on offer here. You could charge it once and go to work all week, only needing to charge on the weekend. Unfortunately, the watch lacks wireless charging and uses magnetic connector pins to charge. It also featured with Google Assistant and Amazon Alexa.
Pros
Always on Display
Built-in Alexa & Google Voice Assistant
6+ days battery life
Cons
Fitbit Ionic Watch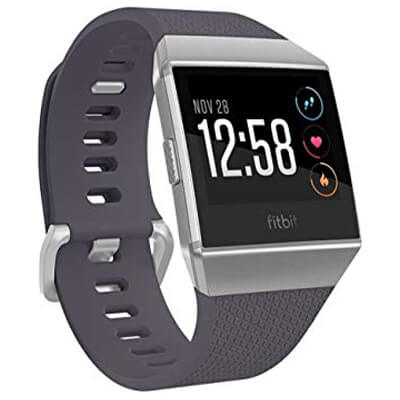 Love it or hate it, the Apple Watch stands out and is easily recognizable. Fitbit Ionic tries hard to be that iconic watch that is easily recognizable. It may or may not look good but the watch has a comfortable design, despite appearances. When it comes to Fitness tracking Fitbit is one of the more experienced companies out there. The Fitbit Ionic Watch benefits from that in its fitness tracking features.
The watch has a 1.42-inch LCD display with a resolution of 348 x 250 pixels. This is the weirdest display on a smartwatch, neither a square nor a circle. It runs on Fitbit OS as well like any other Fitbit smartwatch.
Pros
Includes Fitbit Pay
Comfortable to wear
4-day battery life
Cons
LCD Display
USB charging
Awkward and cheap-looking design
Fossil Smartwatch Deals
This is another name that is often heard of in the smartwatch industry and if you prefer an Android Wear or Wear OS watch, Fossil has probably the best smartwatch deals.
Fossil Men's Gen 5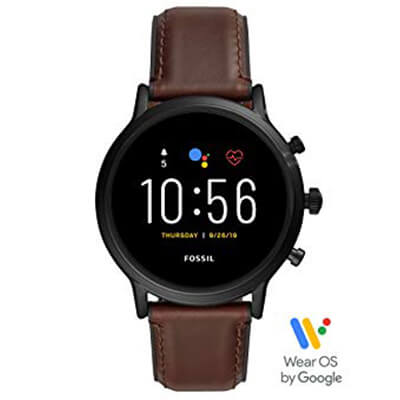 Wear OS smartwatches work with both iOS and Android, so the Fossil Men's Gen 5 does as well. It features heart rate tracking, GPS, Google Pay support, and is generally regarded as the best Wear OS watch. The design of the Fossil Men's Gen 5 is classy like many of the other designs by Fossil.
This watch finds a balance between being a smartwatch and a fitness tracker but doesn't go deep into either. It provides nearly 24 hours of battery life, charges wirelessly, and features a 1.28-inch AMOLED display with a resolution of 416 x 416 pixels.
Pros
Faster processor for the price
The best of Wear OS
All-round features
Always on Display
Cons
Weak battery life
Wear OS is still not on par with the competition
Today's Deal: $84.64 Off
Fossil Women's Gen 4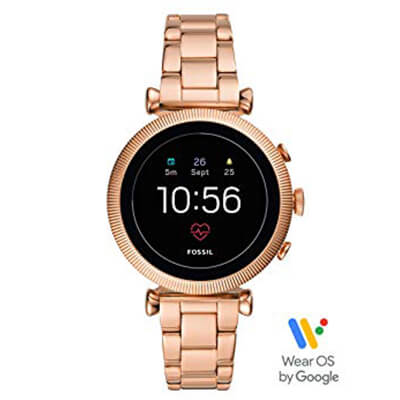 Fossil is one of the very few brands that actually targets its smartwatches towards men and women separately. The Fossil Women's Gen 4 smartwatch features the usual smartwatch features such as a heart rate monitor, GPS, water resistance, music control, notification sync, etc.
It runs on Wear OS so it does support Google Pay. The hardware buttons on the watch are customizable. Fossil Women's Gen 4 also features rapid charging tech which gives you up to 80% battery life in an hour. The watch size is 40mm.
Pros
One of the best smartwatches for women
Best Wear OS option for women
Stainless Steel build
Always on Display
Cons
24-hour battery life
Wear OS is still not on par with the competition
Garmin Smartwatch Deals
Garmin design, develop, manufacture, and market handhelds, portable, fixed-mount GPS-enabled products. The company is also very active in the smartwatch space and is one of the bigger names.
Garmin Forerunner 935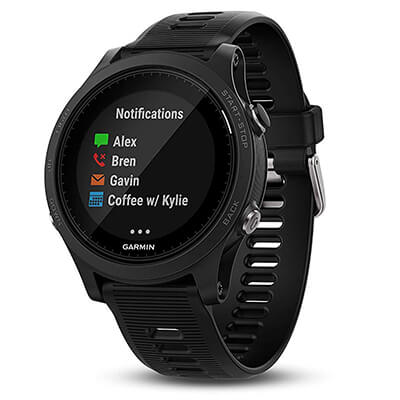 The Garmin Forerunner 935, if the name doesn't make it clear enough, is for people who run a lot. These can be triathlon runners or maybe you just go running every day. The watch is designed to work with both iOS and Android. It weighs only 49 grams and lasts more than a week on a single charge.
The Forerunner 935 has a 1.2-inch display with a resolution of 240 x 240 pixels. It provides advanced dynamics for running, cycling and swimming, including ground contact time balance, stride length and more. There's also a built-in barometer to detect elevation changes, altimeter and electronic compass in case you are that kind of a person.
Pros
Designed specifically for runners
A host of sensors not found on others such as a barometer, altimeter, etc.
14-day battery life
Cons
Uses a proprietary OS
Lack of third-party support
Today's Deal: $56.99 Off
Garmin Instinct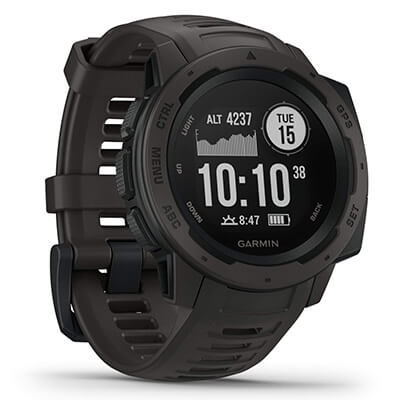 The Garmin Instinct is designed for adventurous people who love being outdoors. The watch is constructed to U.S. standard 810G for thermal, shock, and water resistance (rated to 100 meters). This GPS smartwatch is built for rugged environments. There are a lot of sensors including a 3 axis compass and barometric altimeter, GPS, GLONASS, Galileo, heart rate sensor, etc.
Since it is built for outdoor use, you can wear it to go camping or a mountain climbing adventure or anything you fancy. The 14-day battery life makes sure you don't have to return soon. Of course, the usual smartwatch features like notifications, activity tracking, etc. are also here.
Pros
Designed for rugged environments
Always on Display
14-day battery life
Cons
Uses a proprietary OS
Lack of third-party support
Today's Deal: $60.00 Off
Huami Smartwatch Deals
Huamei is a Chinese smartwatch, smart band, and fitness tracker manufacturer which makes the popular Mi Band for Xiaomi. The company also offers some of the cheapest, but also some of the better smartwatches.
Amazfit GTR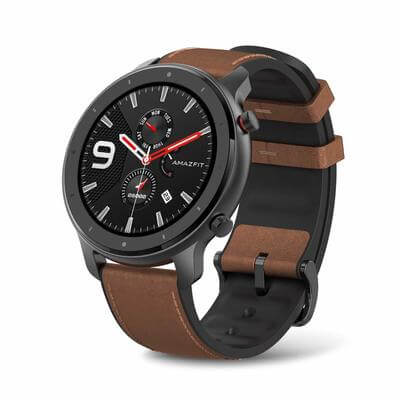 Amazfit GTR is the latest smartwatch in the market from the company and comes in two sizes of 42mm and 47mm. The 47mm version has a 1.39-inch display with a resolution of 454 x 454 pixels whereas the 42mm version has a smaller 1.2-inch display with a resolution of 390×390 pixels. Both these displays are AMOLED and have a pixel density of 326 PPI.
The Amazfit GTR runs on Huami's proprietary OS which works with an Android or iOS smartphone. The watch body is made of an Aluminum allow. The feature list is pretty standard with GPS + Glonass, all-day heart rate monitor, daily activity tracker rate, and activity tracking, etc. What makes it stand way ahead of the crows though it the nearly month-long battery life. The 47mm lasts for about 24 days on a single charge while the 42mm version lasts an impressive 12 days.
Pros
Affordable pricing
12 Multisport modes.
24-hour heart rate monitoring
24-day or 12-day battery life
Always on Display
Cons
No Call & Message Reply.
Uses a proprietary OS, lack of third-party apps
Watch face not customizable.
Lack of wireless charging
Amazfit Bip U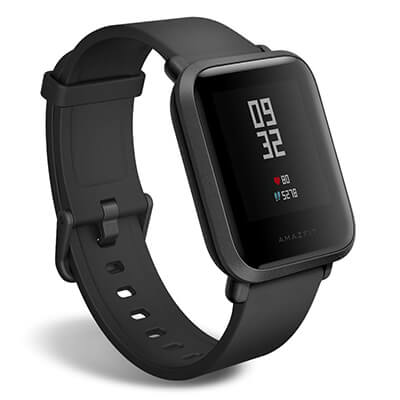 The Amazfit Bip U is another super affordable smartwatch from Huami which is known for affordable smartwatches (check all models). The 1.43-inch Transflective LCD display is what brings the price down for this watch. With inferior tech and a resolution of 176 x 176 pixels, it's not a good display but it is cheap. It also allows the watch to last 7-days straight on a single charge.
Another downside is that it charges via a USB port which makes a futuristic gadget like a smartwatch feel not so futuristic. The GPS is slightly off, performance is sluggish and the step tracking is occasionally prone to errors. So yes, it is not as great as the Apple Watch or the Fitbit but it is three worlds cheaper than them.
Pros
Incredibly, or ridiculously cheap
Mind-blowing, 7-day battery life
Decent smartwatch for the price makes for a great smartwatch deal
Cons
Uses a proprietary OS, lack third-party apps
Sluggish performance, occasional inaccurate measurements
TicWatch Smartwatch Deals
Some of the more interesting smartwatches over the years have come from Mobvoi, under the TicWatch brand. The company has shown that it isn't afraid of experimenting.
Ticwatch C2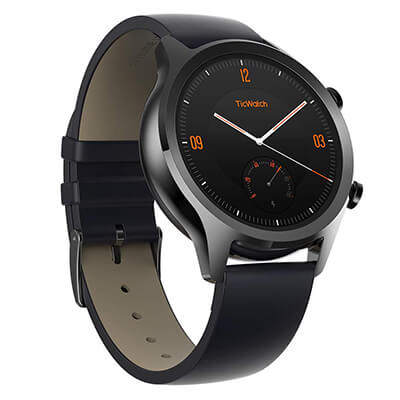 The TicWatch C2 does not offer unique, innovative features like the dual displays on the TicWatch Pro because it aims for affordability. It feels more premium than the first generation of the series and even the TicWatch E and TicWatch S. The display here is a 1.3-inch AMOLED panel with a resolution of 360 x 360 pixels. The watch is made of stainless steel and comes in black, rose gold or silver.
The watch runs Wear OS which gives you access to the Google Play Store. This lets you download thousands of watch faces because the built-in options are not enough. There is NFC and Google Pay support as well. The watch offers the usual fitness tracking features but it isn't water-resistant. The GPS and heart rate monitor are present but can be a bit slow. The battery lasts for about 1 to 2 days.
Pros
Affordable price
Google Pay support
Wear OS has enough apps
Cons
Limited strap selection
Outdated internal hardware
Lack of any water resistance
Ticwatch S2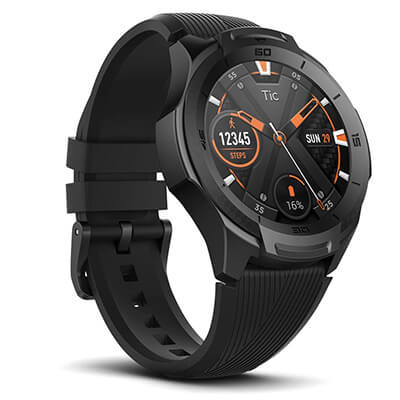 TicWatch S2 is geared towards sports unlike the C2 and is certified by US Military Standard 810G. The watch uses mostly polycarbonate material with a matte black color. The design is pretty generic but the 1.39-inch AMOLED display is bright and features an Always-on Display.
The step tracking is accurate enough and in line with the best smartwatches around but the distance measurement somehow is a little off. GPS tracking works as expected too. It's not the best smartwatch even for the price but it's certainly worth considering if you want to invest in Wear OS.
Pros
Wear OS has enough apps
Always on Display
Cons
Outdated internal hardware
Some measurements are inaccurate
Pebble Smartwatch Deals
Pebble smartwatches made a name for themselves for trying a very different approach. Instead of AMOLED or LCD displays which are power-hungry, Pebble smartwatches use an e-paper display.
Pebble 2
Pebble Time Round Smartwatch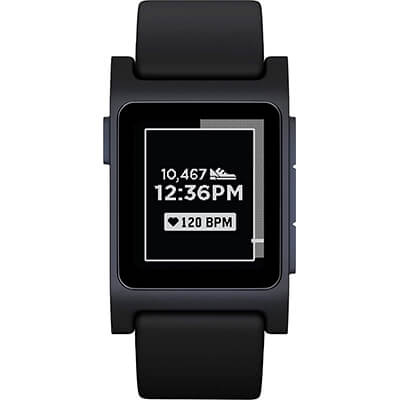 Pebble Time Round Smartwatch i sone of the thinnest watch with 7.5mm thin and weighing just 28 grams. The bright e-paper display is always on and the body color comes with silver and stone color. It benefits from it with 2-days battery life and a display that is always on and visible as long as there is light around you.
The watch uses USB charging and comes with the usual set of smartwatch features. You can track your heart rate, distance, sleep quality, sleep duration, steps, control music, etc. It runs on Pebble's proprietary Pebble OS platform. Pebble Watch 2 is water-resistant up to 30 meters.
Pros
Display is always on and visible in direct sunlight
2-days battery life
Cons
Proprietary os
E-Paper display doesn't look the best visually
Pebble Smartwatch Red
The first Pebble Watch also used a 1.2-inch e-paper display. The body is made of polycarbonate material and is also water-resistant. The battery life on offer is 7-days again. It also runs Pebble's proprietary Pebble OS. As with Pebble 2, the e-paper display helps in extending battery life and keeping the display visible at all times but looks awful compared to a good AMOLED or LCD display.
You can view notifications, emails, SMS, and even caller ID but cannot directly respond to any of these. Watch faces can be changed, music can also be controlled but the watch lacks any fitness tracking features. Although the watch does include a pedometer (step counter) which can be used by installing third-party apps.
Pros
Display is always on and visible in direct sunlight
7-day battery life
Affordable price
Cons
Outdated
E-Paper display not visually appealing
Lacks heart rate monitor
Bonus
If you've stuck around this long and still haven't found a good smartwatch deal, perhaps this one more could be the one.
Michael Kors Access Gen 5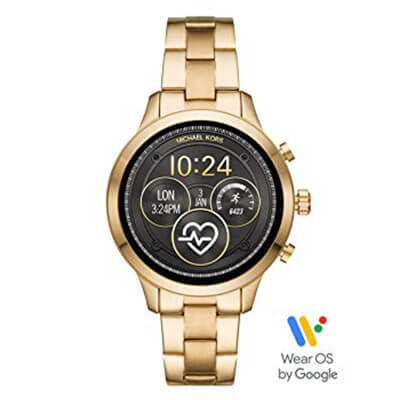 If there's one thing that does not suck about Wear OS watches it's the design. Michael Kors is not a name so known in the tech world because this is a fashion and luxury brand. They usually sell accessories, clothes, watches, etc. A smartwatch is a watch though and there is a real lack of luxurious-looking smartwatches. The display is 1.19-inch, AMOLED, and has a resolution of 390 x 390 pixels.
If you're looking for something like that, the Michael Kors Access Runway smartwatch might be of interest. It features heart rate tracking, smartphone notifications, NFC payments, GPS, rapid charging, Google Assistant, music storage & controls, customizable watch faces, custom goal & alarm settings, multiple time zones, and plenty of other things. The watch is also water-resistant 3ATM and has a battery life of nearly 24-hours
Pros
Luxurious, polished, desirable design
All basic smartwatch features
Rotating crown makes scrolling fun and smooth
Cons
Higher-than-average price tag for Wear OS smartwatches
---
Best Gifts 2019
These were some of the best smartwatch deals you can find online this holiday season. We've included the best two offerings from the most popular smartwatch brands which means obviously some smartwatches had to left out, even if they were good enough.