Message reaction with emojis was one of the best options on Instagram as you can just like a message instead of replying to it. We all would love such an option on WhatsApp; now you can react to WhatsApp messages from your phone or PC using emojis.
In this guide, we will see how to get WhatsApp message reactions and react to others' messages on your chat.
How to Get WhatsApp Message Reactions
As the name suggests, WhatsApp Message Reaction is a cool feature that allows you to react individually to the messages with an emoji, similar to that of Instagram and iMessage. Instead of with some short text or an emoji, you can simply choose one of the reactions and the other person can know.
With the new message reactions on WhatsApp, you can save your time from sending big photos, stickers, or GIFs in return for the messages. You can react to personal chats or group messages with a set of emojis.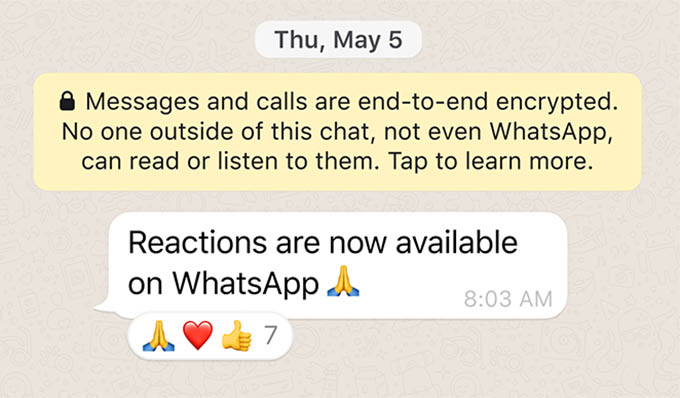 To get WhatsApp message reactions, you must have the latest version of WhatsApp on your phone. Head over to App Store or Google Play Store from your iPhone or Android phone and update WhatsApp. You will then have the Message reactions feature.
Related: How to Encrypt WhatsApp Backup to Google Drive on Android
React to WhatsApp Messages on Android and iPhone
WhatsApp users on iPhone and Android can react to any message on WhatsApp. But the person on the other side also should have the latest version of WhatsApp to see your message reactions.
If you are using WhatsApp on your Android or iPhone, follow the steps to react to any WhatsApp messages.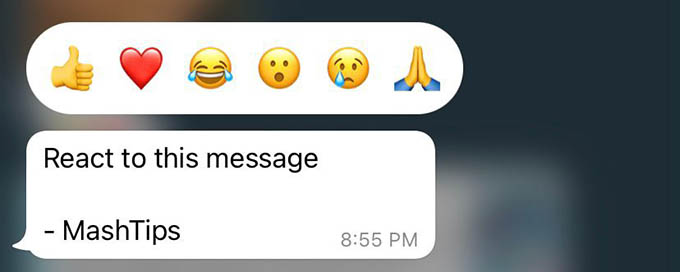 Launch the WhatsApp app and open any chat from your phone.
Long press any message until you see the six emojis popping up.
Tap any of the emojis to react to the message with it.
When you react to a message, the other person will see the emoji on their message. They will not, however, get a notification when you react to a message. You will also need to open someone's chat to see if they reacted to any messages.
Related: How to Hide WhatsApp Chats Permanently Without Deleting Them
React to WhatsApp Messages from the Web
Message reactions are available for WhatsApp Web users as well. If you signed in on WhatsApp Web on your PC or Mac, here is how you can send message reactions to your WhatsApp chats.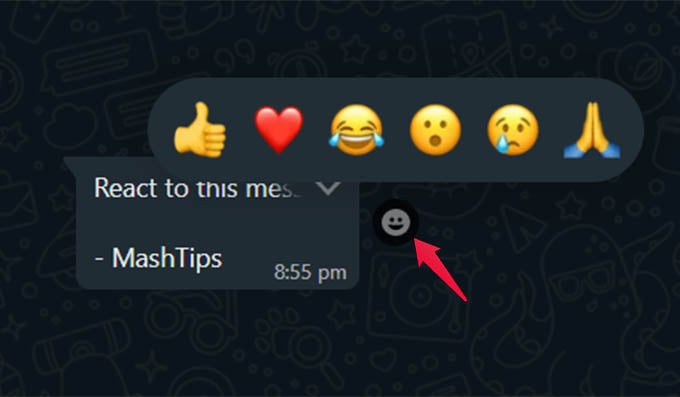 Go to WhatsApp Web on your computer and open a personal chat or group chat.
Move the cursor against the message and click the emoji icon that appeared beside.
Choose an emoji to react to the message.
Change Reaction on WhatsApp Message
Did you send the wrong emoji as a reaction to a message? Change it now before the other person sees it. You can switch reactions to WhatsApp Messages just as easily as reacting to them.

To change a message reaction, long-press the WhatsApp message again until you see all the reaction emojis.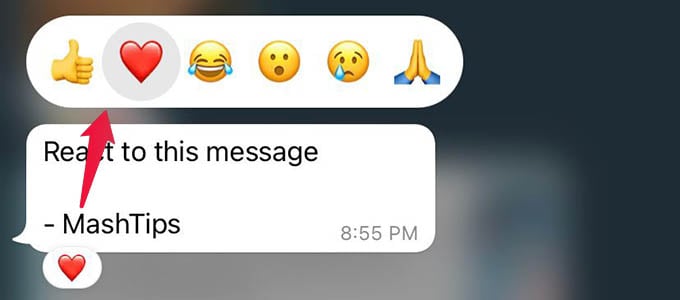 Select a different emoji to change your reaction to a different one.
Related: Your WhatsApp Web Can Get Hacked Easily If You Don't Take This Step
Remove Reaction from a WhatsApp Message
If you no longer want to keep a reaction to a message, you can remove it easily. Here is how you can remove the reaction emoji from a WhatsApp message.

Open WhatsApp and go to the message you want to remove reaction from.
Tap the reaction emoji on the message.
Now a menu will pop up with your reaction on it. Tap "You" from the menu to remove the reaction.
Related: How to Send Large Files on WhatsApp Without File Size Limitations
Customize Emojis on WhatsApp Message Reaction
Instagram's message reaction lets you use any emoji for the messages. Before using the same on WhatsApp, I expected customizable reactions for messages but it was not. As of now, WhatsApp only has six emojis for message reactions:
Thumbs up (👍)
Crying Face (😢)
Face with tears of joy (😂)
Face with an open mouth (😧)
Folded hands (🙏)
Heart (❤️)
You may get more emojis for message reactions in future WhatsApp updates. But for now, you only have these.
Related: WhatsApp on iPad: Here is How to Install and Use the WhatsApp Messenger
FAQ: WhatsApp Message Reactions
How can I remove the reaction or emoji?
First, you have to go to the chat screen where you want to remove your given emoji. Then you need to press the message for a few seconds. Next, tap on the given emoji again. Then it automatically will be removed from there. This is an easy way of removing the emoji you've mistakenly delivered.
Can I change reaction emojis on WhatsApp?
Yeah, it's straightforward. Tap on the same message you want to react to see the emojis. Now tap on the emoji you really want for your new reaction.
Why can't I react to messages on WhatsApp?
If you cannot react to messages on WhatsApp with emojis, you haven't received them yet. You have to update your WhatsApp to the latest version to get message reactions. Please note that it is only available on Android app version 2.22.10.74 and iOS app version 22.9.76.
WhatsApp Message reaction is the easiest way to reply to a text if you are too lazy to type anything. You can even react to messages from unsaved contacts on WhatsApp, sticker messages, and GIFs.