There was a time when people could only send text messages with a limited number of characters. Today, we can send everything from photos and GIFs to audio and video using messaging apps like WhatsApp. But sending large files on WhatsApp has never been easy and you must have failed to send huge files to your friends.
Here are the best ways to send large files and videos on WhatsApp without any file size limitations.
How to Send Large Files and Videos on WhatsApp
WhatsApp lets you share videos up to 16 MB and documents up to 2GB of file size. If the video you're trying to send is actually much larger than 16 MB, you can send the video as a document. Since the document file size limit on WhatsApp is 2 GB, you can send the video easily without losing quality. Below is how you can send large files on WhatsApp from your phone.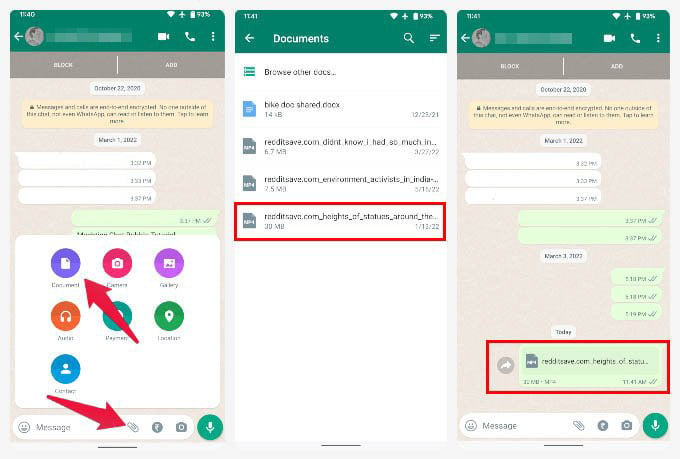 Open WhatsApp and enter the chat that you want to send the large video in.
Tap on the attachment (paper clip) icon, then select Document.
Select the large file or video to send.
Tap SEND on the pop-up that appears.
And that's it. The video, even if larger than 16 MB, will be sent. The recipient will also get the file as a document and will have to open the video using a media player app.
Related: WhatsApp on iPad: Here is How to Install and Use the WhatsApp Messenger
Send Videos Larger Than 16MB on WhatsApp
More often than not, the large file you're trying to send on WhatsApp is probably going to be a video. While the above method of sharing as a document will work, it's not the most convenient if you just want to share a meme or small funny video that exceeds the file size limit on WhatsApp. If the video you're trying to send isn't too big, you can always compress it to get it under the file size limit.
There are many easy-to-use and free online video compressors that you can use. To throw a few names, you can use veed.io, compress-video-online.com, or freeconvert.com. You can visit the website on your phone or any device with a browser. To give you a demo, we'll use freeconvert.com's video compressor.
Open a browser on your device and go to freeconver.com/video-compressor.
Tap on the Choose Files button. Select the large video you want to send on WhatsApp.
If the estimated compressed size is still more than the file size limit on WhatsApp, tap on the gear icon.
Select Target a file size (MB) from the drop-down menu next to or under Compression Method.
Enter the file size you want. Try not to lower the file size too much or everything in the video might get pixelated.
Select Apply Settings when done.
When you're ready, tap on the Compress Now! button.
Once the video gets uploaded and compressed, you can download it and send it on WhatsApp.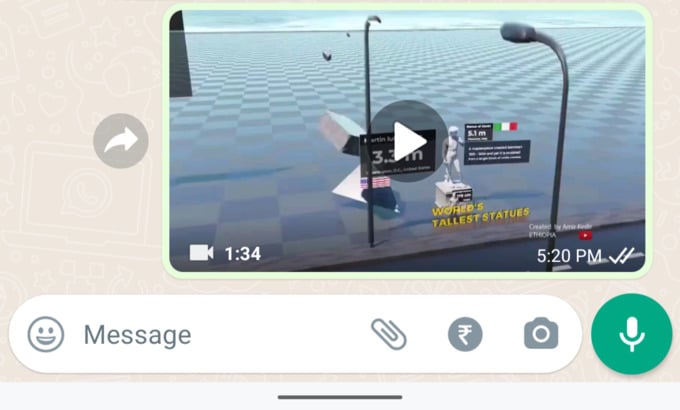 Again, make sure the video you're trying to send isn't way over the size limit of 16 MB. So, something that's 26 MB probably can be compressed without losing too much quality. But a video over 100 MB in size will probably lose all details if you compress it down to 16 MB. For even larger videos, just use the cloud storage method described above.
Related: How to React to WhatsApp Messages from Your Phone and Computer
Send Large Files on WhatsApp Over 2 GB
Now, 2 GB is big enough for most documents you would want to send, but sometimes there are even larger files that you may need to send. There are, however, workarounds using which you can definitely send large files on WhatsApp.
Upload Large Files to Google Drive and Share on WhatsApp
Your best bet to send large files over 2 GB is to use a cloud storage service such as Google Drive. Every Android user already has a Google Drive account and at least 15 GB of free storage. If you're an iPhone user, you probably use iCloud.
Since Google Drive is a cross-platform service that can be used on any phone, we'll use that for this tutorial. Keep in mind though that you can use any cloud service of your choice. For Android users, Google Drive is already installed, while iPhone users will have to download it from the App Store.
Download Google Drive: Android | iPhone (Free)
Open the Google Drive app.
Tap on the floating + button in the bottom right.
Select Upload.
Browse and select the file that you want to send.
Wait for the files to finish uploading.
Once uploaded, browse to the file on Google Drive or tap Locate file on the Uploaded notification.
Tap on the three-dot menu button next to the file name.
Select Manage people and links.
Tap Change under Restricted.
Tap Restricted again and then select Anyone with the link.
Go back and tap on the three-dot menu button next to the file again.
This time, select Copy link.
Open WhatsApp.
Enter the chat where you want to send the large file.
Paste the copied link.
Hit send.
The receiver now gets the Google Drive link. Since you've already changed the file permissions on Google Drive, anyone with the link can now access the file and download it easily.
Related: How to Make WhatsApp Audio and Video Call on PC and Mac
Use iCloud to Send Large Files on iPhone via WhatsApp
If you're an iPhone user, you are probably already using iCloud. In that case, you might not want to download Google Drive and you don't have to. As long as you have space on your iCloud for the file you want to send, that is.
Unlike Google Drive, which gives you 15 GB of free space, iCloud only gives you 5 GB. Your iPhone backups, photos, and videos also use up space from the allotted 5 GB. That's not a problem if you have bought more storage. So, make sure that your iCloud storage has enough space for the file you want to send.
Open the Files app.
Browse to the file you want to send and long press on it.
Select Copy from the options.
Go back and access your iCloud Drive and paste the file there.
Once the file is uploaded, long-press the file in iCloud and select Share.
From the available options, select Share File in iCloud.
Tap Share Options and configure your preferences.
When you're ready, go back and select WhatsApp from the list of apps available for sharing.
Select the chat that you want to share the file in and hit send.
If the large file you're trying to send is actually a photo or video, you can get the link directly from the Photos app. Long press on the photo or video in the Photos app and select the Copy link. Then, just go to WhatsApp, open the chat, paste the link, and hit send.
Related: WhatsApp Call Links: Everything You Need to Know
Use Other Cloud Storage Services
As mentioned already, you can use any other cloud services that you prefer over Google Drive or iCloud such as Mega, OneDrive, Dropbox, etc. All of them have apps available for both Android and iOS. Obviously, we can't include a tutorial for all of them here. However, there are some services that are designed specifically for the purpose of sending your files rather than storing them.
For example, once you've shared the file from Google Drive or iCloud, you have to manually delete the file from there. Otherwise, it's just taking up your precious storage space. Not to mention, you need to create an account on these services if you haven't already. This is where services like transfernow and WeTransfer come in. Transfernow lets you share files up to 5 GB for free, while WeTransfer gives you a 2 GB limit. Since WhatsApp already allows you to send files up to 2 GB in size, we'll show you how you can use transfernow to send large files on WhatsApp.
Open a browser and visit transfernow.net.
Tap on the big Start button in the middle.
Select the file you want to send.
Tap on the Create a link tab.
Enter your email. The rest of the fields are optional. You can also password-lock the file, schedule the availability, etc. using the icons below the input fields.
When you're ready, tap the Transfer button and wait for the file to finish uploading.
Tap on the Copy button next to the link.
Open WhatsApp and paste the link into the chat that you want to send the file in.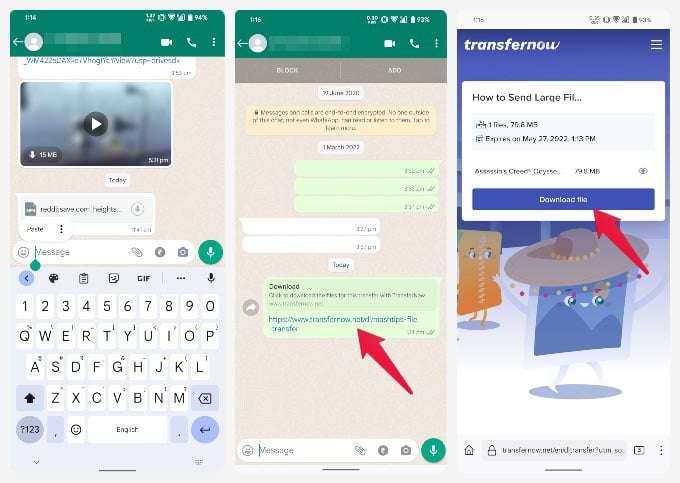 The recipient can simply click on the link and tap Download to download the file. Unless you changed the duration, the file will automatically be deleted in a week. There are, of course, many alternatives such as SendBig which lets you send files up to 5 GB without signup. Another service called SendTrasnfer gives you 10 GB, while FileTransfer.io will give you 6 GB.
Related: 8 Best Android Video Compressor Apps to Reduce Video Size Without Losing Quality
With WhatsApp said to introduce a Communities feature to the app, we may see WhatsApp further raise the file transfer limits in certain cases. Until then, these are the many ways you can work around WhatsApp's restrictions and send large files as well as videos on WhatsApp.