Are you looking for perfect gifts under budget for your spouse or family? There are smartphones, smart home speakers, gadgets, games, pretty tough to make the right decision. That is why we listed the best gifts under $50; those are ideal gifts for dad, spouse, or kids. This list of cool gifts under $50 is going to be amazing gadgets for your family to enjoy the rest of the year.
We selected this list and made sure all the products under 50 bucks, typically carrying a price tag of $20-$50. This list contains home gadgets, car gadgets, and your favorite Tile Bluetooth tracker that is going to be the companion for your spouse's keychain and bag.
Let's see the list of the best tech gadget gifts under $50 for these holidays to surprise your family.
Best Gifts 2019
Google Nest Mini

Google Home Mini is the smartest home speaker you can get under 50 bucks. Google launched the Google Home speaker series powered by Google Assistant. This small smart speaker can control entire home smart gadgets with your voice commands.
You can turn on the TV, play music, start favorite shows from Netflix, adjust the room temperature, play games with kids, call to Google contact numbers, and the list is endless. With the right smart gadgets and this mini smart speaker from Google, you can convert your entire home to smart home and control with voice commands.
Even though this is a small speaker compared to Google Home and Alexa, it featured 360 sound with a 40mm driver. The mics are sensitive enough to capture your voice with far-field voice recognition. This is one of the tech gifts under $50 for men or your entire family.
Buy from Google
Amazon Echo Dot with Clock 3rd Gen.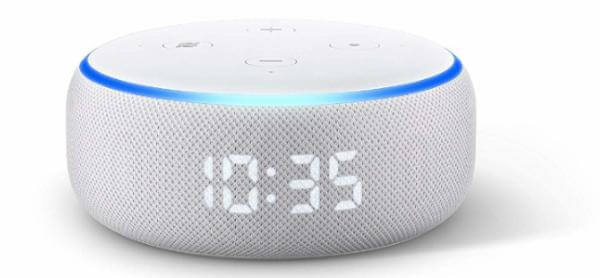 When we talk about smart home speakers, the first one in the market was launched by Amazon, powered with Alexa. Now you can have Echo Dot from Amazon, priced under $50, which will be a perfect gift.
This voice-controlled speaker will do the same things as Google Home, but with Alexa's assistant from Amazon. This voice-controlled device can play music, control smart gadgets, make calls, read news and books, etc. Check here for Smart Home Devices for Alexa, Compatible with Amazon Echo.
Like Google Home, you can connect this device to intelligent home gadgets and control home appliances such as TV, AC Unit, Lights, etc. with Alexa voice commands. The Mics are built with far-field technology to capture your voice from a distance. This smart home device is going to be an excellent investment, and Amazon is adding new features and voice commands to make this Alexa powered smart speaker more powerful.
Buy from Amazon
Kasa Smart WiFi Plug by TP-Link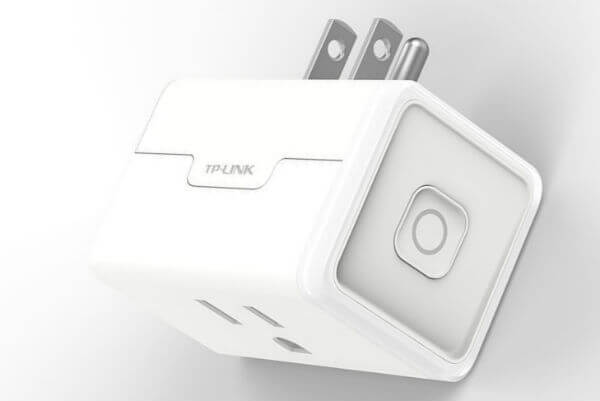 This is a beautiful, cute, low price; smart power outlet can be controlled by smartphones or smart speakers with Alexa or Google Assistant. This Wi-Fi integrated smart device supports remote control that can turn ON /OFF any device connected to this smart plug from your smartphone.
This power plug can be scheduled to turn ON in a fixed time and auto OFF after a period. Forget about the regular power outlets, and this is the smartest feature-rich outlet you can buy this gift under $50 that can control with Google Home and Amazon Alexa. You can have more smart plugs to work with Alexa and Google Home.
Buy from Amazon
Roku Premiere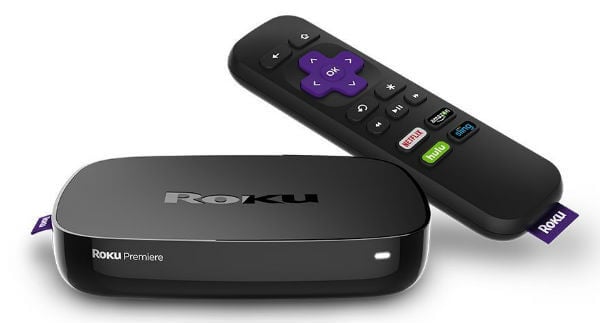 This is an ideal gift for your family that can save money. This Roku 4K streaming device is an alternative to cable TV. The fast quad-core processor powers this streaming box and supporting 802.11ax dual-band wireless to convert your TV to smart TV.
The Roku Premier delivers an ultra-clear and crisp image with 4K support. There are hundreds of Roku free and paid channels available to replace your existing cable TV channels. Check here for more Roku Free Channels List – News, Sports, Movies, Kids.
The free channels include news, games, sports, movies, etc., and those can offer 24/7 entertainment with zero monthly payment. For movie lovers, there are a couple of free movie channels dedicated to movies, including YouTube, with 4K streaming support. Premium channels are also available, and you can subscribe to that for a monthly price. This is going to be a one-time investment for family entertainment that can save money for years.
Buy from Amazon
Broadlink RM Pro Universal Remote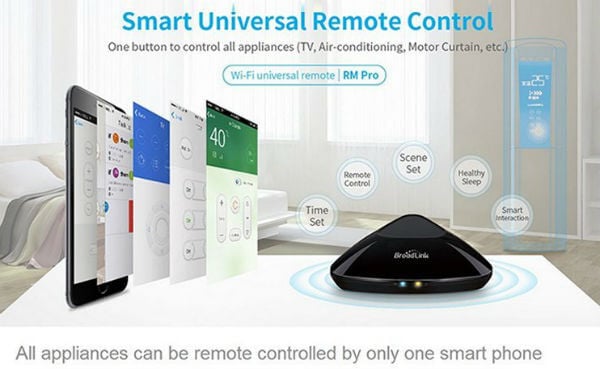 Piled with too many remotes at home and searching for DVR remote today? Ohh.. yaaa.. throw out all of them and switch to a universal remote. You can control all entertainment system from your smartphone remote app. There rea more Universal Remote Control for TV that you can try from Amazon.
This BraodLink RM Pro replace all your remote with a smartphone remote app that is compatible with Android and iPhone. This module integrates all your RF and IR devices functions and controls your TV, DVR, and other devices at home. With RM Pro remote control app, you can create customized activities to control home entertainment.
You can set home/away mode, sleep/wake-up mode, and smart triggers with multiple devices. The remote control app IHC (intelligent home center) App is compatible with iOS and Android smartphones. This smart remote connect your WiFi network and even support IFTTT functions.
Buy from Amazon
SoundPEATS True Wireless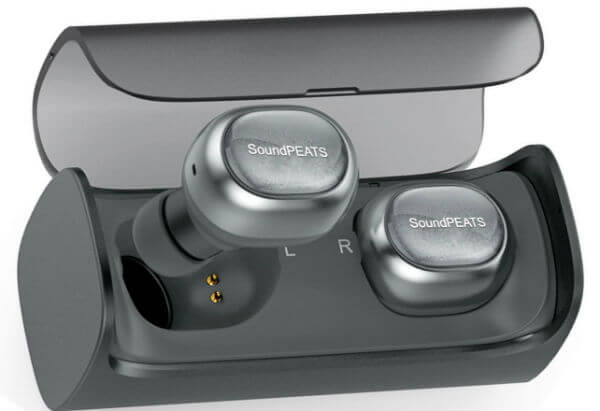 The latest flagships from Apple and Android killed the audio jacks from their smartphones. You may already have bought Apple iPhone X or Google Pixel 2, which comes with an additional cable to connect wired headphones to the smartphone.
It's time to switch to wireless headphones, and there are tons of wireless headphones already on the market. SoundPEATS wireless headphone is under a $50 budget, which offers real wireless experience with ergonomic design. Check here for more Truly Wireless Earbuds for iPhone and Android.
This ultra-compact earbud can replace Apple's Air Pods for connecting with iPhone X or old models. The two separate batteries offer a longer backup time of up to 6 hours working time. The manufacturer is offering a 12 months warranty on this $35.00 true wireless headphone.
Buy from Amazon
LUMAND Wireless In-Car Bluetooth FM Transmitter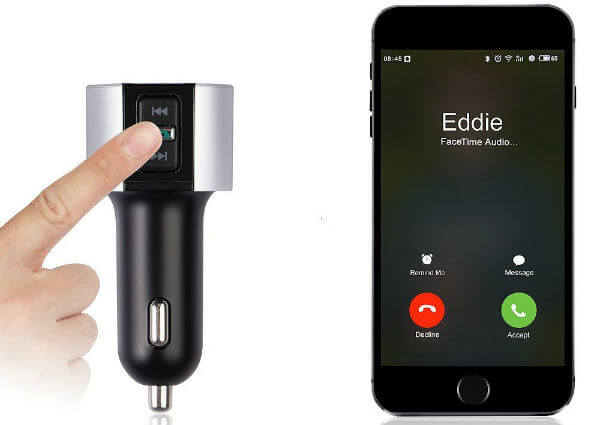 This Car Charger with FM transmitter is an ideal gift if you don't have a built-in car Bluetooth. This FM transmitter can connect a smartphone via Bluetooth to your car audio. You can make hands free calls, play songs directly from iPhone or Android with your car audio system. Don't forget to check the Best Car Gadgets Must-Have for a Safe Drive.
When you are shopping for a car charger, consider this FM Transmitter Car Charger that gives an additional feature for few more bucks that will be a useful gadget for the car. This FM car charger also supports to play songs from an SD card that can be inserted into the device's micro SD card slot.
This Wireless FM transmitter equipped with dual USB two devices. You don't need any additional wiring to connect this device, insert into the car cigarette lighter port and turn on car FM radio, ready to go.
Buy from Amazon
YI 2.7″ Screen Full HD 1080P60 165 Wide Angle Dashboard Camera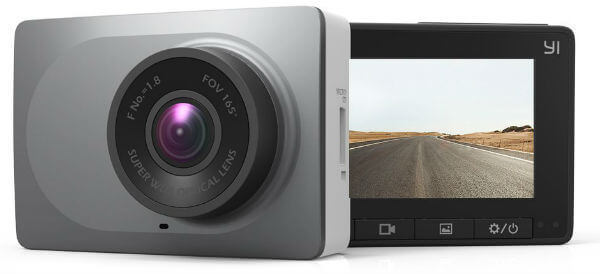 There is no more introduction required for dash cams. Dashcams can automatically turn on and start video recording while you drive. The loop recording feature lets the camera to overwrite on the old video records, to offer a continues recording even the memory card is full.
There is a complete buying guide available from us and listed the minimum required features of dash cams on that dash cam buying guide. If you don't have enough budget, see the list of Budget Dash Cam in All Price Ranges from $25-$200.
The YI dashcam with an advanced driver assistance system optimized to provide real-time lane departure. The G-Sensor enables the camera to auto record in case of any impact or unusual movements. This HD camera offers a 1920×1080 resolution in 60fps with 165 wide-angle coverage, consider as one of the best Dash Cam with G-Sensor. This is an ideal gift for your spouse, who is driving more than 10 miles a day.
Note: Dashcam footages can be used as a proof in case of an accident, please check your state's laws and regulations before using the dash cam on your vehicle.
Buy from Amazon
Tile Mate – Key Finder

Are you the one who loses the key all the time and search under the couch? This is an essential gift for you that can save time. Tile-Mate is one of the best Bluetooth tracker device that is smaller in size and can track with a mobile phone app.
This community-based network can even search for your lost item through peer-peer connection with other Tile Mate devices. This Bluetooth tracker can be attached to your keychain or bag, and you can trigger the device to generate sound from the smartphone. This Bluetooth tracker can help to trace back the lost phone.
The Tile mate will ring your smartphone by double-pressing the Tile button. With one-year battery life, this device is an ideal gift for your family that comes with the budget, 50 bucks.
Buy from Amazon
La Crosse Wireless Weather Station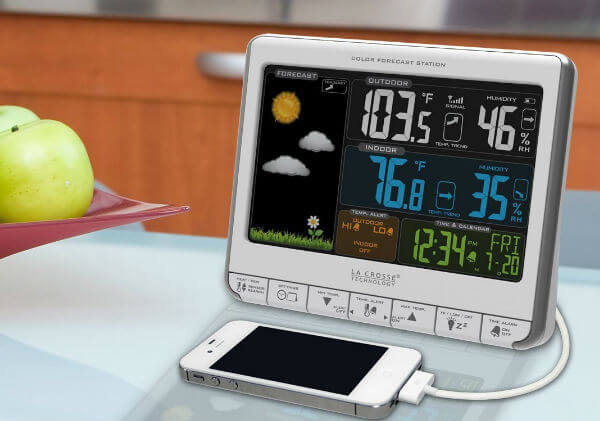 This is an essential gadget for your home if you have kids and old people, and they are to be prepared for severe weather ahead. This wireless weather station provides an accurate reading of the outside temperature with a colored forecast display.
This weather station is coming with a weather-resistant outside temperature sensor to communicate with the base unit, which provides an accurate reading within 200 ft range. The adjustable backlight display helps to read in dark light. The device displays the month, day, and date, along with the indoor and outdoor temperature in color weather icons, your kids going to love it.
Buy from Amazon
VAVA Cool Mist Humidifier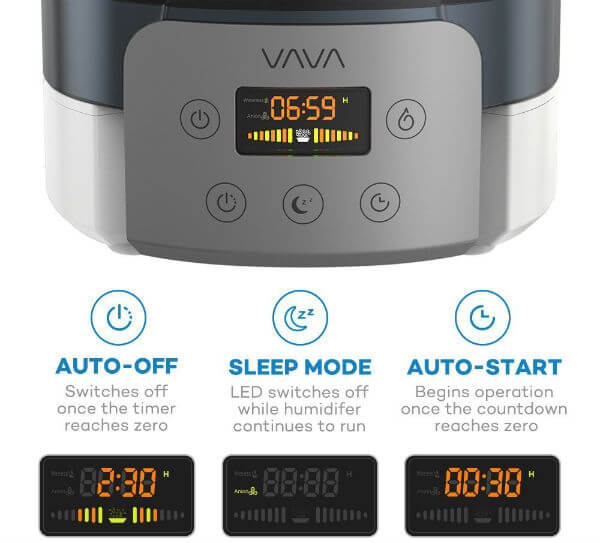 A good quality humidifier is an essential gadget for US homes, especially in winter months. This VAVA humidifier has a top filling water tank with 2.5 L capacity. The 360° makes sure to get the mist at all angles, and you can set to any angle you want.
The four different mist settings can use to control the amount of Mist produced. Compare to other humidifiers, and the VAVA model is topwater filling, easy to maintain, and no need to worry about bacterial contamination.
The humidifier has the Timer to set the working time from 30 minutes to 24 hours. The smart LED screen with Auto ON/Off offers maximum safety and touch button for easy use. The power consumption is considerably low (below 30 watts) and very quiet in operation.
Buy from Amazon
Pebble Smartwatch Black
Smartwatches are cool gadgets for personal use, and Pebble smartwatch is going to be the best bet if you are looking for a smartwatch with 4-5 days' battery life and sleek in design. This smartwatch costs just 50 bucks and can use with both Android and iPhone.
You can view your notifications, text messages, caller ID, and calendar by syncing this watch with smartphones. There are hundreds of watch faces and apps available to suit your styles and choice that can be downloaded. And after all, you have 5-7 days of battery backup with a full charge, and this is one of the low-cost smartwatches that you can buy for this low price.
Buy from Amazon
Samsung Fast Charge Wireless Charging Stand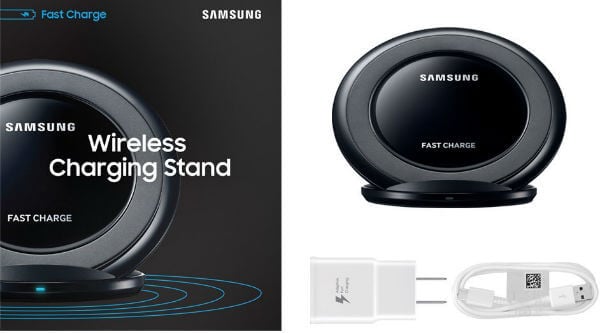 Time to buy a wireless charger for all smartphones at home? There is no need to check the cable and cable compatibility. Just one wireless charger that is going to support both Android and iPhones (Qi Compatible). This wireless charger from Samsung supports fast wireless charging and portable design. You can check more Wireless Car Chargers for iPhone and Android.
This wireless charger is compatible with all Qi-enabled devices, including iPhone X and iPhone 8. This device supports fast charging for most of the Samsung smartphones such as Galaxy Note 5, Galaxy S6 edge+, Galaxy S7, and Galaxy S7 edge. There are plenty of other wireless charges available on the market that is dedicated to iPhones. We have a good list of wireless chargers that will be helpful in choosing the right one for you.
Buy from Amazon
VIKASI Thumb Drive for iPhone and Android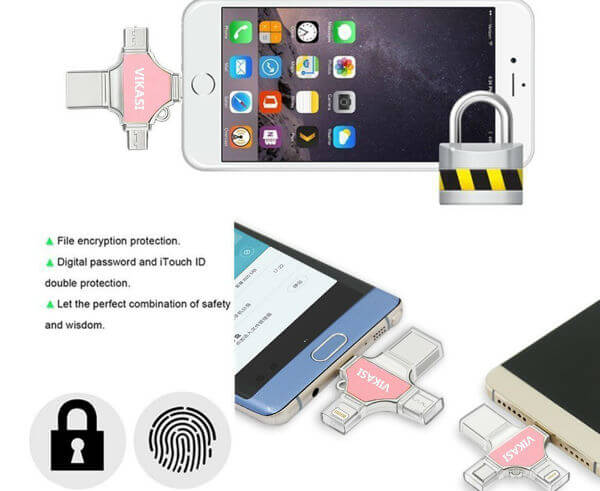 Smartphone cameras are perfect now and coming with almost DSLR quality. When you consider the photos and other sensitive data on your Android or iPhone, there may have hundreds of favorite pictures that you don't want to miss.
There are solutions available for Google Photos backup and other Cloud backup services to store your data. What about a device that can connect to your Android or iPhone port and allows you to backup all information from the smartphone? These are dedicated backup devices with 64GB or 128GB memory that can connect to Android or iPhone and back up the entire device.
The additional port in USB 3 is for fast file transfers. For connecting the smartphones, ports are available with this device like lightning port (for iPhone) and Type C USB (for Android) with 40MB transfer speed. A free app "iUSB Pro" is also coming with this device that will support most of the video and audio formats.
These formats can be played on the iPhone or Android itself without using any codecs. You can protect your device data with a password or Touch ID to offer the best security. If you are worried about the data loss from a smartphone, this is an ideal gift for her.
Buy from Amazon
Teryei Solar Power Bank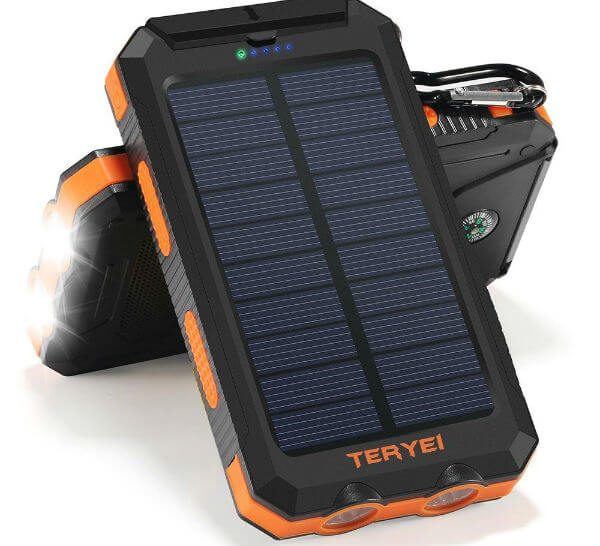 You can't tolerate the loss of smartphone battery power, especially while going for hiking, camping, or other outside activity. The best solution to get additional battery power is battery banks those will support to recharge phone battery for a couple of extra times.
When you shop around for a battery bank, buy one with a solar charger as an extra feature. This will save your life when you trap without power for a long time. There are more Solar Chargers for Cell Phones & Tablets to recharge your phone.
These solar chargers can charge your battery pack and reserve the power into the battery pack for a long time. There is no additional power source required for this device other than Solar power.
This power bank has a 1500 mAH battery capacity. There are two USB ports with 2.1A maximum capacity, and additional LED lights are also available on this device. This power bank is waterproof, rainproof, and shakes proof, which is ideal for hiking and camping in all weather conditions.
Buy from Amazon
RFID Blocking Leather Wallets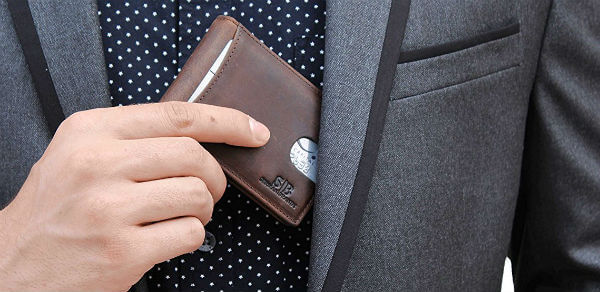 Do you want to protect your husband's ID and credit card numbers? This would be an ideal gift for him if he used to carry a bunch of plastics within his wallets. This RFID blocking leather wallet is the perfect gift for him to protect the credit and debit cards from unauthorized scans.
The RFID secure technology protects the information from unauthorized scanning. This wallet is made with full grain genuine leather and fits 6-8 cards plus US bills coming in a size of 4"x 3" x 0.4".
Buy from Amazon
Let's have your family some fun with these latest tech gadgets in the market. The good thing about that, all these are budget-friendly and low-cost gifts that priced under 50USD. We are pretty sure that gadgets like Roku 4K streaming devices are going to save you money on cable TV and the Tile Bluetooth tracker to save some time and help you to track your phone or valuable stuff.