The iOS 14 is almost here with some stunning features and major facelifts. You must be eagerly looking forward to trying the latest iOS version update with your iPhone. But wait, does your iPhone support the latest iOS 14 update? Find it here.
We will guide you through the latest iOS 14 update, and you can find all details here.
List of iOS 14 Compatible iPhone Models
When Apple released the iOS 13 update last year, several evergreen iPhone models from iPhone 5 and iPhone 6 have been removed. Although, Apple still keeps those devices with iOS 12 updates for major tweaks and security updates. Therefore, there have been many questions raised this year. Mostly, the iPhone 6s users were worries since it was the oldest iPhone model that was compatible with the iOS 13 last year. Will your iPhone or iPod receive iOS 14 and next iOS updates? Find out from the list below.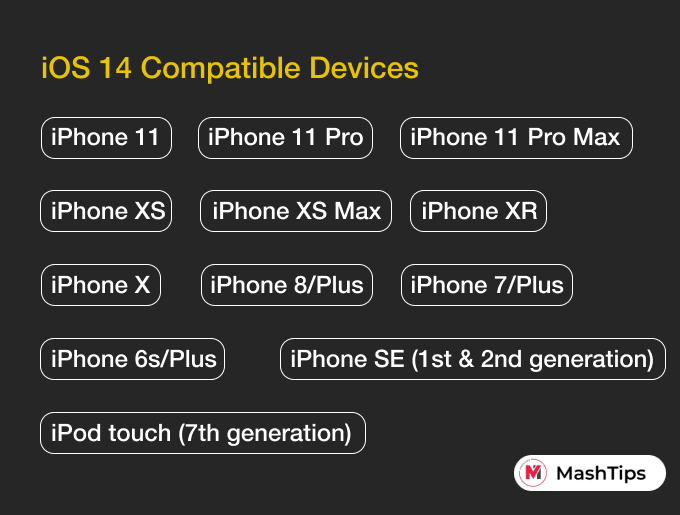 iPhone 11
iPhone 11 Pro
iPhone 11 Pro Max
iPhone XS
iPhone XS Max
iPhone XR
iPhone X
iPhone 8
iPhone 8 Plus
iPhone 7
iPhone 7 Plus
iPhone 6s
iPhone 6s Plus
iPhone SE (1st generation)
iPhone SE (2nd generation)
iPod touch (7th generation)
Even though Apple has extended the iOS 14 support to iPhone models back to iPhone 6s and 6s Plus, there is nothing much to hope for next year. Both the iPhone 6s and iPhone 6s Plus are less likely to get iOS 15 updates on 2021.
Things to Do Before Updating to iOS 14
Are you ready to update your iPhone to iOS 14? Here is a checklist that we think should go through before updating your iPhone to the latest iOS update, iOS 14.
Take a full device backup to your Mac or PC.
Make sure you have a stable Wi-Fi connection to download iOS 14 update. You can also update iPhone to iOS 14 without WiFi, using mobile data.
Ensure enough storage space to download and install the update.
Finish syncing any data that needs to be synced with the cloud.
Delete the beta profile if you are upgrading to the stable release.
Uninstall unnecessary or very old apps to avoid app support issues.
iOS 14 Updating Troubleshooting and FAQs
Here are some commonly asked questions and troubleshooting tips for installing iOS 14 on your iPhone or iPod.
When is iOS 14 Releasing?
Apple announced the iOS 14 in WWDC 2020. Following the Developer Beta, the iOS 14 Public Beta is available. You can now install the iOS 14 public beta by enrolling in Apple Beta Software Program.
What is iOS 14 Beta?
The iOS Beta or iOS 14 Beta by Apple is the pre-released version of the iOS that you can install and test the features on your iPhone even before it is released for public users worldwide. The Beta version of iOS 14 may contain lots of bugs and issues, that might affect your usability. Apple releases the stable version for iOS only after rectifying issues from the Beta version. As of now, only the iOS 14 Developer Beta is out and the public beta will release very soon.
Can I Get iOS 14 Beta on My iPhone?
Yes. You can get iOS 14 Beta on your iPhone if you are using a model that supports the latest iOS updates. Go to the Apple Beta Program to enroll your iPhone in the iOS 14 public beta program and then you will get update after installing the profile.
How to Get iOS 14 Beta on iPhone?
To get the public beta version of iOS 14, visit Apple Beta Software Program and install Beta Profile from the Safari browser on your iPhone. After verifying the profile from Settings, you can check for updates from Settings > General > Software Updates.
How to Install iOS 14?
If you have a beta profile installed, you can get the update automatically on your iPhone. To install iOS 14 on your iPhone, go to Settings > General > Software Update. If you see the "Download & Install" button with the iOS 14 update, tap on it to start the installation. make sure your iPhone is connected to a stable Wi-Fi connection and is having enough battery charge.
Will iPhone 6s Get iOS 14?
Yes. iPhone 6s users can get iOS 14 updates. But, unfortunately, iPhone 6 users will still not be able to get the latest iOS updates.
What Can I Expect With iOS 14?
As Apple's one of the biggest software update in an entire year, the iOS 14 sports tons of new features and changes fr the iPhone users. Here are some of the latest additions you will get with iOS 14.
Home screen widgets. See how you can use the widgets on the home screen of your iPhone.
Picture-in-picture for videos.
Back Tap gestures.
New privacy features for personal data and photos.
App library to browse all apps.
Changes in iMessage.
App Clips, etc.
How to Downgrade from iOS 14?
Are you facing issues after updating your iPhone to the latest iOS 14? You can rollback or downgrade from iOS 14 to iOS 13 with your iPhone. But, you should take an entire backup of your iPhone before updating to iOS 14 from iOS 13. Before updating to iOS 14, connect your iPhone with PC or Mac and take a device backup. Therefore, you can then restore to the older version using the backup saved on your PC/Mac.