How do you check a number that is already in WhatsApp? Well, you have to save that number into your iPhone or Android contact. Then you have to start a chat, and you realize that guy with that number is not in WhatsApp. This is really annoying. however, WhatsApp introduced a new feature in the latest update (ver. 2.19.30), where you don't need to save the number to check it.
You can check a phone number in WhatsApp number before saving the number into your phone. Let's see how to check it.
How to Check a Number on WhatsApp?
WhatsApp allows you to check the number on WhatsApp before you save it. This feature makes your life a bit easy.
Open WhatsApp Chat App on Android or iPhone
Tap on the Right Top Pencil icon for New
Tap on New Contact
Now enter the Phone Number with Country Code

Note: Here no need to enter the name or any other field. Type the number direct.

WhatsApp will check the number while you type.
Once you complete the number, WhatsApp will show you the status of that number.

You can see the status of the number "WhatsApp Account" in the screenshot here.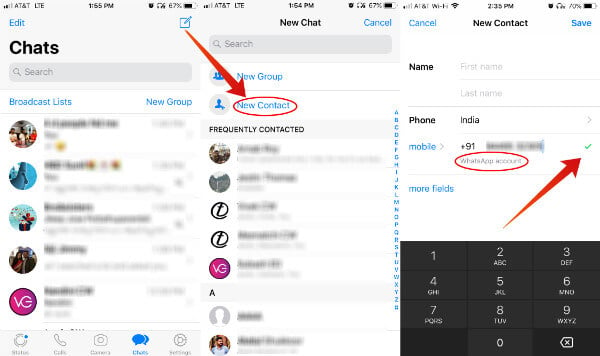 That's it, pretty much you are done. Please make sure you are typing the right country code. Here I type for US "+1" and for India I typed "+91". If you don't know the country code, you can select the country from the Phone field on the WhatsApp New Contact screen and WhatsApp will pick the right country code for you.
Also Read: How to Block a WhatsApp Group from Adding your Number
WhatsApp Number Status Messages
Are you just curious what are the other messages you can see? Or just in case, if the number is not in WhatsApp, what will you see there? We have checked a few more options and I see the other status messages while checking that a number on WhatsApp.
Not on WhatsApp
Already in contact (also WhatsApp number with a green arrow)
Checked too many numbers

I was aggressive to see the numbers and WhatsApp is warning you to slow down -:)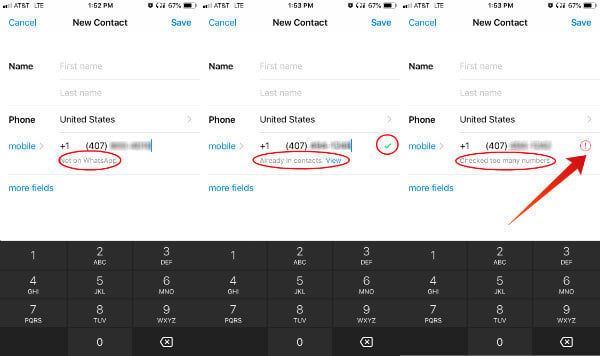 The time you are saving here is you don't need to create a contact with First Name, Last Name, etc. if you don't want to add a non-WhatsApp number.
There is no need to waste your time. Just type the number directly on the WhatsApp New contact and immediately WhatsApp will tell you that number is registered with Whatsapp or not.